Did you know you can make perfectly seasoned tofu in the air fryer? Air Fryer Tofu cooks in just 15 minutes, for an easy source of plant-based protein that you can add to any meal.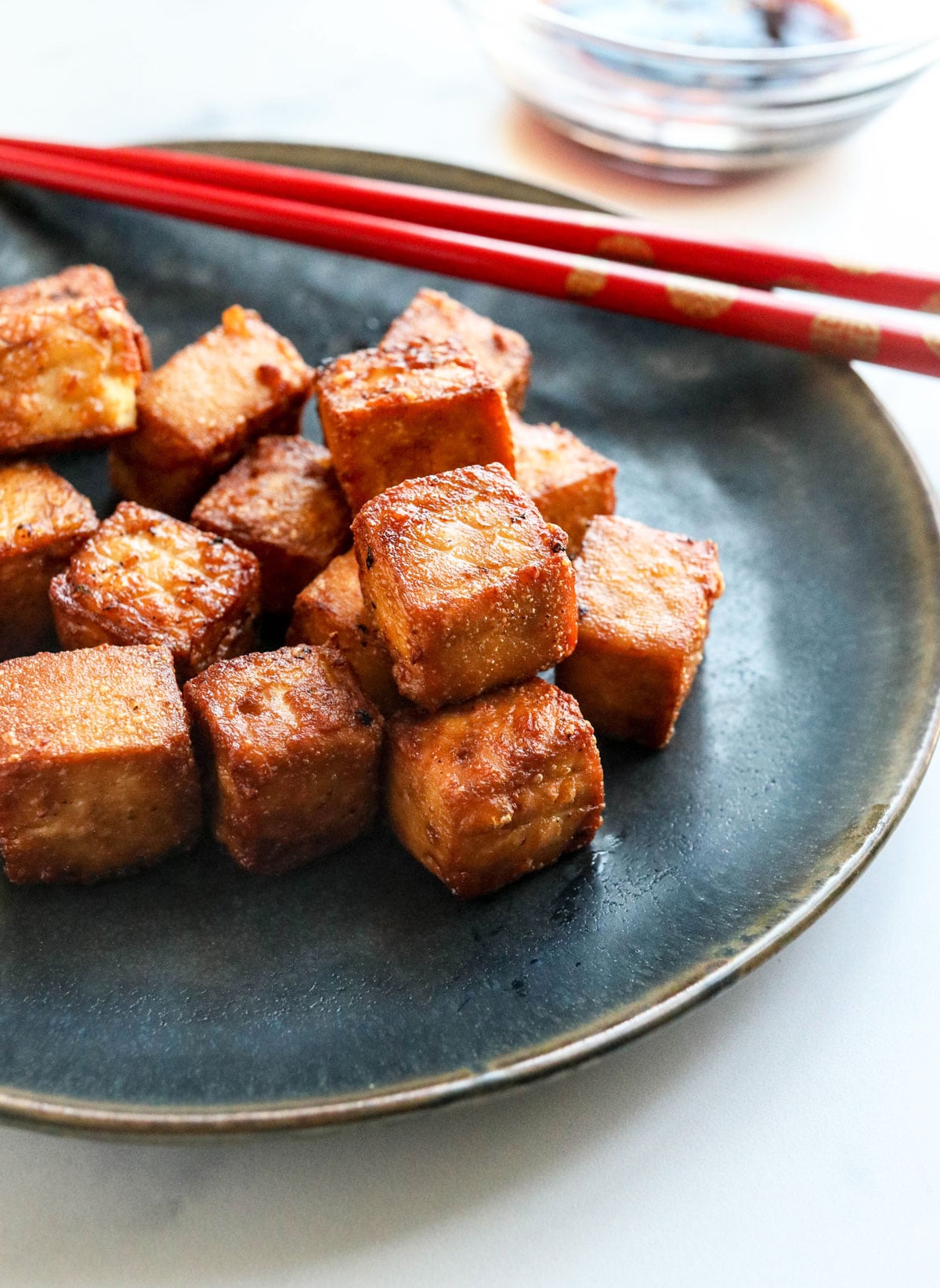 Which Type of Tofu is Best?
If you're going to put tofu (also called bean curd) in the air fryer, it's best to choose a firm variety that is NOT silken. I would go with firm or extra-firm, when you can find it. I prefer the ones that are packed in liquid in the refrigerated section.
Here's what to look for:
Organic. A lot of soybeans grown in the USA are genetically modified. Since GMOs can be controversial, you can avoid them by choosing an organic brand.
Simple ingredients. Like most things, it's important to check the ingredient label when shopping for tofu. Look for a short ingredient list, including soy beans rather than soy protein isolate.
Refrigerated containers. In my experience from reading labels, the refrigerated varieties of tofu tend to be made with less-processed ingredients when compared to the vacuum-sealed containers that are shelf stable.
Benefits of Tofu
If you're curious about tofu, here are a few reasons why you might want to give it a try.
Tofu is also a super-affordable source of protein, when compared to meat. Organic tofu is less than $2 for a 14-oz package, and it packs 9 grams of plant-based protein per 3-ounce serving.
How to Make it Crispy
If you want to make restaurant-quality tofu at home, the key to getting a crispy texture is to add some sort of starch to the mix. I usually use arrowroot or tapioca starch, but corn starch is also a common option, too.
The starch adds a layer to the outside of the tofu that can crisp-up, but it's still not the same as something that has been deep-fried. You would need more flour & oil for that sort of experience, so I want to make sure you adjust your expectations.
If you'd rather skip the starchy coating, you can do that, too! I usually make this tofu using only the simple sauce, and it still turns out nice and firm. I just wouldn't call the texture "crispy."
How to Season It
My go-to seasonings for tofu are:
Tamari (gluten-free soy sauce)
Toasted sesame seed oil
Sriracha (optional; for spice)
Once you press the moisture out of the tofu, you'll let it briefly marinate in the sauce, then toss it with starch, if you want a crispier coating. The starch helps the seasoning stick to the tofu better, too!
How to Cook it in the Air Fryer
Tofu cooks best at 375ºF in the air fryer. Any hotter, and there's a chance the edges will burn. Here's what else you need to know about cooking air fryer tofu:
Grease the air fryer basket. Tofu likes to stick, so it's a good idea to use a spray oil on the bottom of the air fryer basket.
Toss frequently. I like to cook tofu in 5 minute intervals, so I can shake the basket often and prevent sticking. If you let it cook for 15 minutes straight, the bottom of the tofu might glue itself to the bottom of your air fryer basket.
Don't use silken. Silken tofu will most likely crumble when you attempt to take it out of the package, so it's not sturdy enough for shaking in an air fryer basket. Stick to firm or extra-firm varieties for best results.
I hope you'll enjoy this air fryer tofu soon! Try it on my Sweet Sesame-Lime Cabbage Salad for extra-protein, or add it to Cauliflower Fried Rice, for a plant-based meal.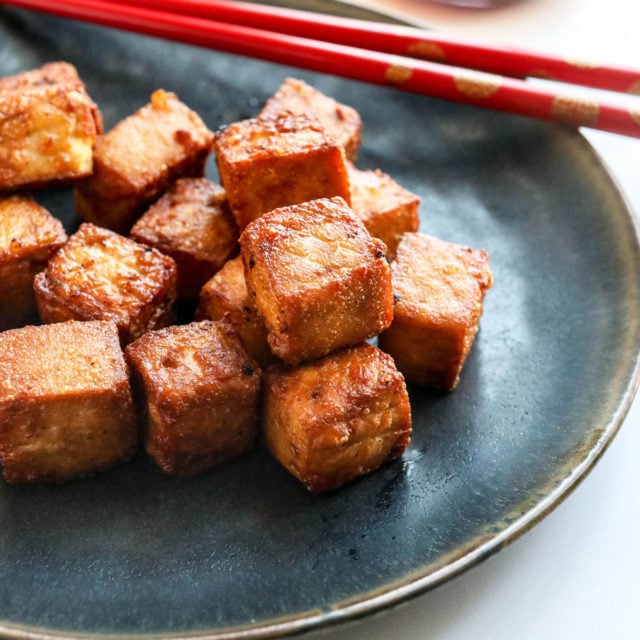 Air Fryer Tofu (Perfect every time!)
Here's how to make crispy air fryer tofu in just minutes. This fool-proof cooking method is a great way to add plant-based protein to any meal.
Equipment
Ingredients
1

(14 ounce) block

extra-firm tofu

(not silken)

2

tablespoons

toasted sesame seed oil

2

tablespoons

tamari

(gluten-free soy sauce)

1

tablespoon

arrowroot starch

(optional; or corn/tapioca starch)
Instructions
Cut the block of tofu into roughly 1-inch cubes. Arrange the cubes in a single layer, close together, on a lint-free towel, and then cover the cubes with the other side of the towel. Place a heavy, flat object on top of the towel to help press out the moisture, like a cutting board with books on top, or a heavy cast iron skillet. Let it rest for at least 10 minutes.

Meanwhile, mix together the toasted sesame oil and tamari (you can use soy sauce if you're not gluten-free) in a small bowl. When the tofu is done being pressed, transfer it to a large bowl and toss with the sauce.

Sprinkle the arrowroot starch, if using, over the seasoned tofu and stir until you can't see any more of the white powder. Transfer the tofu to the air fryer basket, arranging the pieces in a single layer without overlapping.

Cook the tofu at 375º for 15 minutes, tossing the tofu every 5 minutes so that it will cook evenly without sticking to the bottom of the air fryer basket. The tofu will be golden and firm to the touch when it's done, but the inside will still be soft and creamy.

Serve warm on its own, or add this tofu to your favorite salads or main entrees for extra plant-based protein. Tofu can be stored in an airtight container in the fridge for up to 3 days.
Notes
Nutrition information is for 1/4 of this recipe, and is just an estimate, not a guarantee.
For a spicy flavor, try adding 1-2 tablespoons of sriracha. For a sweet & spicy flavor, I like to add equal parts maple syrup and sriracha.
You can omit the arrowroot starch, if you prefer. The tofu just won't have much of a coating in that case.
Nutrition
Calories:
129
kcal
,
Carbohydrates:
4
g
,
Protein:
8
g
,
Fat:
9
g
,
Saturated Fat:
1
g
,
Sodium:
565
mg
,
Potassium:
172
mg
,
Fiber:
1
g
,
Sugar:
1
g
,
Calcium:
31
mg
,
Iron:
1
mg
If you try this Air Fryer Tofu, please leave a comment below letting me know how you like it! And if you make any modifications, I'd love to hear about those, too. We can all benefit from your experience.
–
Reader Feedback: What's your favorite way to use tofu? Would you like to see more tofu recipes in the future?