Air Fryer Zucchini is a must-try! It's a crispy, gluten-free side dish that cooks in just 15 minutes, with the help of your air fryer. My family can't get enough of it!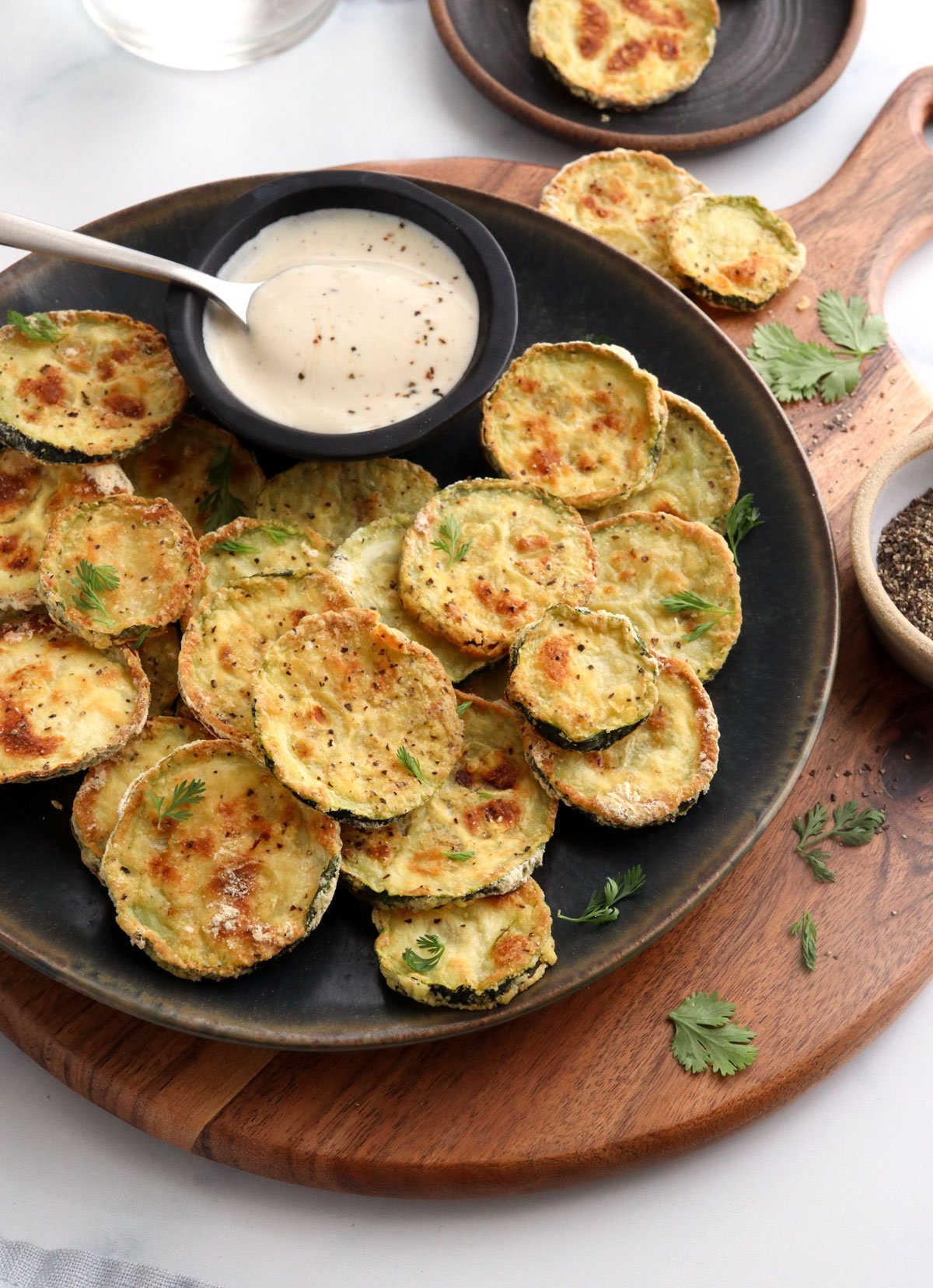 This air fryer zucchini is inspired by pan-fried zucchini, which is dredged in flour and cooked in butter or oil, but this version uses only a fraction of the oil, and features chickpea flour for a gluten-free and protein-rich option.
Chickpea flour isn't universally appealing before it's cooked, but it crisps-up nicely and the flavor blends in perfectly with this simple seasoning mix. You can make homemade chickpea flour in just minutes, too!
This side dish is delicious on its own, but if you want to try it with a dip, it's delicious with Creamy Tahini Dill Dressing or Vegan Ranch.
Ingredients You'll Need
To make crispy zucchini in the air fryer, you'll make a simple coating with the following ingredients. This gives the zucchini just enough structure, so it isn't soft or soggy after cooking.
Here's what you'll need:
Chickpea flour
Salt
Garlic powder
Black pepper
You can also make zucchini in the air fryer with no breading at all. In that case, just toss the zucchini with olive oil and seasonings, and cook as directed below.
How to Make Air Fryer Zucchini
1. Slice. Start by slicing the zucchini into thin circles, about 1/8-inch thick. The thinner you slice the zucchini, the crispier they will be. Thicker slices will be more mushy in the middle, which is still delicious, if you prefer a softer texture or want to save space on your air fryer tray.
Making thinner slices means you'll have more slices to cook, so you may to need to cook more than one batch to finish off a whole zucchini.
2. Coat. Mix the flour and seasonings in a large bowl and set it aside. Toss the zucchini slices with olive oil, then dredge each slice in the flour mixture, flipping the zucchini slice over to coat both sides. Shake off any excess flour, then place the slice on your air fryer tray.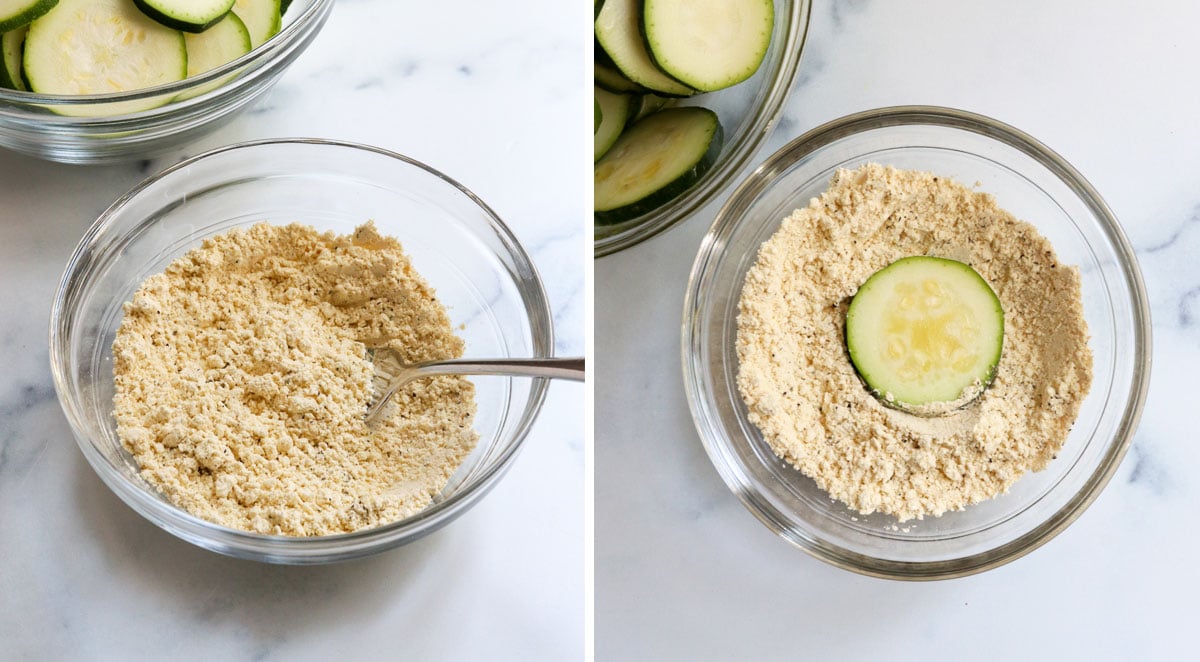 Repeat with the remaining slices, adding them to the air fryer basket as you go. Don't overlap the slices for the crispiest results.
3. Cook. Preheat the air fryer to 400ºF then cook the tray of zucchini slices for 10 minutes. Flip, and remove any slices that are getting golden already, then cook until the rest of the slices are golden and lightly crispy around the edges, about 5 more minutes.
On average, it takes about 15 minutes for the air fryer zucchini to cook, but this will vary based on your air fryer at home. Be sure to keep an eye on them after the 10-minute mark.
4. Enjoy! As soon as the zucchini is golden, serve it right away. These have the best taste and texture while they are still warm. They can start to dry out when they are totally cool, but they're still tasty, either way.
Helpful Tips & FAQ
Can I use a different flour? The most similar flours to chickpea flour would be all-purpose flour, whole wheat flour, or buckwheat flour. I don't recommend using oat flour, almond flour, or coconut flour, as they don't crisp-up quite the same way.
Can I skip the breading? Yes! You can dip these in grated Parmesan cheese for a grain-free coating, or skip the coating all together and just toss the zucchini with olive oil, garlic powder, salt & pepper. The thinly sliced zucchini will still become slightly crispy around the edges when cooked in the air fryer.
Can I use a different veggie? Of course! Try Air Fryer Cauliflower, Brussels Sprouts, or Air Fryer Broccoli for more guidance.
Which air fryer is best? Check out my air fryer review, where I tested 9 different models in my kitchen. There's a comprehensive video included, so you can see each model in action, too.
More Air Fryer Recipes
Get the most out of your air fryer with these other recipe ideas.
I can't wait to hear what you try!
Air Fryer Zucchini
Air Fryer Zucchini is a must-try! Crispy zucchini slices are coated in the perfect seasoning, and cook in just 15 minutes for a fast & flavorful side dish.
Equipment
Ingredients
1

large

zucchini

(about 12 ounces)

1

tablespoon

olive oil

1/4

cup

chickpea flour

1/2

teaspoon

fine sea salt

1/2

teaspoon

garlic powder

1/2

teaspoon

black pepper
Instructions
Preheat the air fryer to 400ºF and slice the zucchini into thin circles, about 1/8-inch thick. Transfer the slices to a bowl and toss them with the tablespoon of olive oil.

In a small bowl, mix together the flour, salt, garlic powder, and pepper. Dip each slice of zucchini into the mixture, flipping it to coat both sides of the zucchini, and shake off any excess flour.

Place the zucchini slice on the tray of your air fryer, and repeat the process with the remaining slices. Arrange the coated zucchini in a single layer, and when the tray is full, cook the zucchini at 400ºF for 10 minutes. (You may have to work in batches, if your air fryer tray isn't large enough for all of the zucchini.)

When the timer goes off, flip the zucchini slices over and remove any pieces that are starting to turn dark brown. (Thinner/smaller pieces will cook faster than thicker/larger pieces.) Return the zucchini to the air fryer and cook for 5 more minutes, or until the zucchini is evenly golden.

Repeat with any remaining zucchini that hasn't been cooked yet. If you need to warm up the whole batch, you can pop all of the zucchini back into the air fryer (no need for a single layer this time!) for 2 minutes at 400ºF, just to make sure everything is warm. Serve right away, as this zucchini is best when it's fresh from the air fryer! Leftovers can be stored in an airtight container in the fridge for up to 5 days, if you want to add them to salads or bowls later.
Video
Notes
Nutrition information is for 1/4 of the batch. This information is automatically calculated, and is just an estimate, not a guarantee.
Nutrition
Calories:
76
kcal
,
Carbohydrates:
7
g
,
Protein:
3
g
,
Fat:
4
g
,
Saturated Fat:
1
g
,
Polyunsaturated Fat:
1
g
,
Monounsaturated Fat:
3
g
,
Sodium:
302
mg
,
Potassium:
282
mg
,
Fiber:
2
g
,
Sugar:
3
g
,
Vitamin A:
166
IU
,
Vitamin C:
14
mg
,
Calcium:
18
mg
,
Iron:
1
mg
If you try this Air Fryer Zucchini, please leave a comment below letting me know how you like it!
–
Reader Feedback: What would you like to cook in the air fryer next? Let me know if you have any requests!