These are some of the best Almond Flour Cookies I've ever made. They taste remarkably like the cookies I grew up eating, with a chewy texture, but these are naturally gluten-free and grain-free!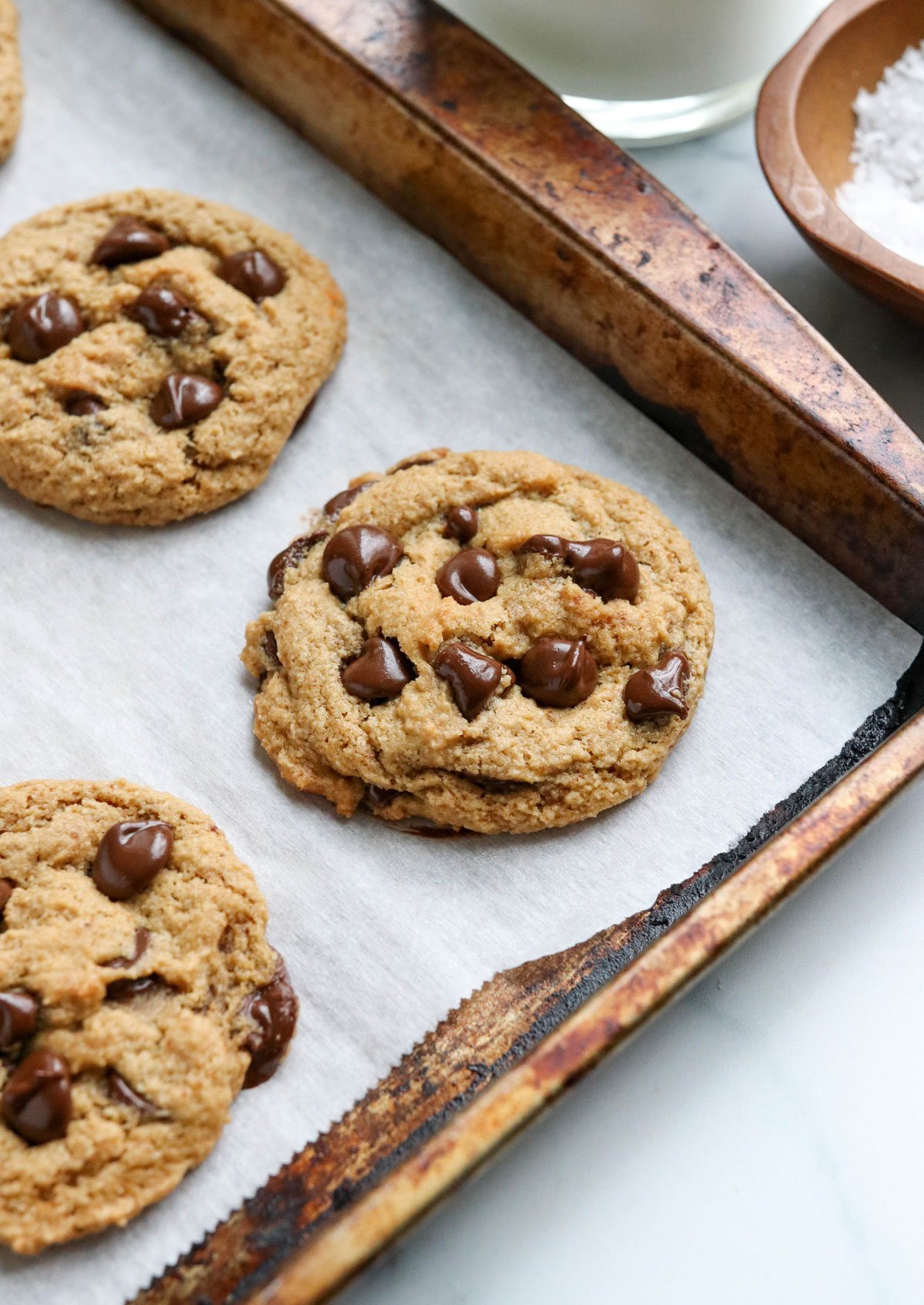 Dunk them in almond milk, or keep a stash of dough in your freezer (tips below!) for a sweet treat anytime you need one.
Ingredients You'll Need
How do you make cookies with almond flour? Interestingly enough, you can use many of the same ingredients that you would use for regular cookies. The main difference, is that you'll use less butter, since almond flour already contains plenty of fat on its own.
Here's what you'll need:
Blanched almond flour
Eggs
Butter, or coconut oil
Granulated sugar (I use coconut sugar)
Vanilla
Baking soda
Salt
Need an egg-free or dairy-free recipe? Try my Vegan Almond Flour Cookies, which are naturally sweetened with maple syrup. They have been a fan favorite for years!
This recipe is just another variation, for those who want more of an authentic, chewy chocolate chip cookie made with almond flour.
How to Make Them
Cream together the butter and sugar. Just like making regular chocolate chip cookies, it's important to get the softened butter & granulted sugar incorporated. You can also use a 1/4 cup of melted coconut oil to keep these dairy-free.
Add in the egg & vanilla. Mix again, until the batter looks uniform.
Mix in the dry ingredients. It's time to add the almond flour, baking soda, and salt! Stir until there are no more visible white flecks of almond flour. The mixture should be thick and slightly sticky.
Fold in the chocolate chips. I like using mini ones so the chocolate is distributed evenly, but you can use any size you like. Try chopping up your favorite chocolate bar, if you prefer!
Bake. These bake slightly longer than traditional cookies, about 10 to 12 minutes.
Cool. Let them cool on the pan for at least 15 minutes before serving, to allow them to firm up. They get slightly crispier as they cool.
Tips for Working with Almond Flour
How does almond flour affect cookies? Cookies made with almond flour will typically become softer as they sit at room temperature. I recommend storing these cookies in the fridge or freezer if you don't plan on eating them all the same day you make them! The cold cookies will retain their firm texture, but if you let them come to room temperature, they will soften up.
How to measure almond flour: Scoop the measuring cup into your container of almond flour, and then swipe off the excess flour with the back of a knife. I've included the weight in grams, if you prefer to use a kitchen scale for more accurate measurements.
Blanched almond flour vs Almond Meal. Blanched almond flour is made from almonds that have had their skins removed, so it is very fine and works well for crispy, or fluffy baked goods. Almond meal is made from whole ground almonds, so it contains brown flecks from the almond skins, and create more dense, cake-y baked goods. Keep this in mind so you'll have the correct expectations when making substitutions.
Storage Tips
Almond Flour Cookies will soften significantly if you leave them at room temperature for more than 12 hours. I recommend storing these in an airtight container in the fridge or freezer for the best texture.
I learned the hard way by leaving the lid off the cookies in the fridge that they become very soft, even when chilled, if they are not in an airtight container. Freeze them for extra crunchy cookies!
We like to eat them straight from the freezer sometimes, or try storing the unbaked dough frozen, as directed below.
How to Freeze the Dough
Since these cookies taste so amazing when they are freshly baked, I like to bake only what I think my family will eat over the next 48 hours. Then I freeze the rest!
Here's how to freeze the dough:
Drop the cookie dough onto a lined baking sheet, just like you would if you were going to bake them, but be sure to use a pan or plate that will fit on a flat surface in your freezer.
Place the pan in your freezer for 1 to 2 hours. When the cookie dough feels firm, transfer the frozen dough balls to an airtight container. They frozen cookie dough will be easy to separate this way, and will keep well for at least 3 months frozen.
To cook the frozen cookie dough, grab as many pieces as you want to cook, and place them on a parchment lined baking sheet. Then, preheat your oven to 325ºF. The cookie dough will thaw slightly, as your oven preheats.
Bake the frozen cookie dough at 325ºF for 12 to 15 minutes, or until the edges look lightly golden. They taste just as good as when you stirred together the cookie dough!
Pro Tip: Be sure to let your oven preheat for at least 15 to 20 minutes, to make sure it fully reaches the proper temperature. My oven always beeps too early, according to the extra thermometer I keep inside my oven.
More Grain-Free Cookie Recipes
Need to use another flour? Try my Coconut Flour Cookies, Chickpea Flour Cookies, Almond Butter Cookies, or Flourless Peanut Butter Cookies for more grain-free inspiration.
Almond Flour Chocolate Chip Cookies
These Almond Flour Chocolate Chip Cookies turn out perfectly chewy and are naturally gluten-free! This recipe tastes like the real thing, without using grains.
Instructions
Preheat the oven to 350ºF and line a large baking sheet with parchment paper. In a large bowl, combine the butter and coconut sugar, and mix well.

Add in the egg and vanilla, and mix again. Then add in the salt, baking soda, and almond flour. Stir until a thick batter is formed.

Fold in the chocolate chips, then scoop the dough using a tablespoon or 1-ounce cookie scoop. Drop the dough onto the lined baking sheet, then bake at 350ºF for 10 to 12 minutes, or until the cookies spread and the edges look lightly golden. Let the cookies cool for at least 10 to 15 minutes on the pan before trying to eat one warm, so they will firm up a bit.

These cookies have the best texture at room temperature the same day you bake them. If you need to store them, don't keep them at room temp. Store them in an airtight container in the fridge for up to a week, or in the freezer for up to 3 months. They are even crispier when they are cold! See tips in this post for freezing the dough and baking it from frozen, for freshly baked cookies anytime.
Notes
Nutrition information is for 1 of 24 cookies. This is automatically calculated, and is just an estimate, not a guarantee.
Nutrition
Calories:
125
kcal
|
Carbohydrates:
10
g
|
Protein:
3
g
|
Fat:
9
g
|
Saturated Fat:
4
g
|
Polyunsaturated Fat:
1
g
|
Monounsaturated Fat:
1
g
|
Trans Fat:
1
g
|
Cholesterol:
15
mg
|
Sodium:
113
mg
|
Potassium:
39
mg
|
Fiber:
1
g
|
Sugar:
6
g
|
Vitamin A:
91
IU
|
Vitamin C:
1
mg
|
Calcium:
39
mg
|
Iron:
1
mg
If you try these Almond Flour Cookies, please leave a comment below letting me know what you think! And if you make any modifications, I'd love to hear about those, too.
–
Reader Feedback: Which kind of cookie (and flour preference!) would you like to see next?