These Almond Flour Cookies are the best! They are made with gluten-free almond flour, which is high in protein and may help you to avoid a blood sugar spike later. They are inspired by my Paleo Chocolate Chip Cookies, with a few tweaks to make them as fool-proof as possible. All you need is a few ingredients to get started!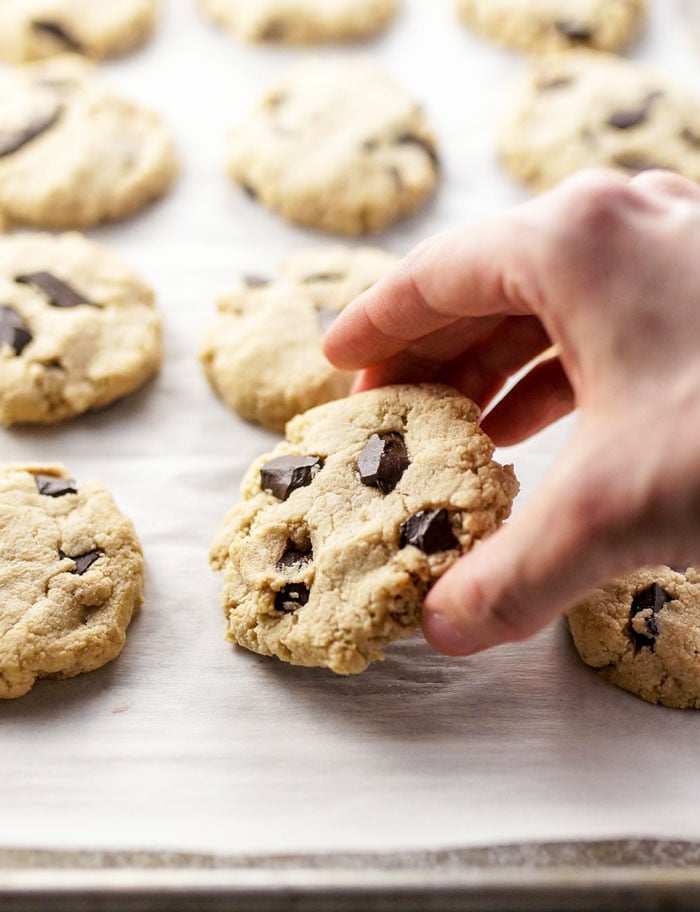 Almond Flour vs. Almond Meal
When I first worked on this recipe, I didn't know there was a difference between almond flour and almond meal. They were still relatively "new" ingredients to me, so I thought they could be used interchangeably. And they can… sort of.
The results are just slightly different depending on which you use. Both options are made from ground almonds, but almond flour is made from blanched almonds (almonds with their skins removed) and almond meal is made from whole almonds, including their skins.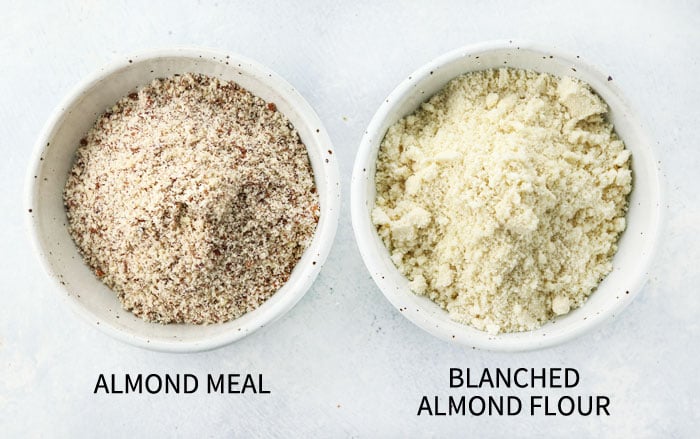 Flavor-wise, the type of ground almonds you use won't make much of a difference– these almond flour chocolate chip cookies will taste delicious either way.
Texture-wise, using almond meal will result in a more of a soft and cake-like cookie, while blanched almond flour will result in a crispier and more buttery cookie, similar to shortbread. You can still get a soft and tender inside when baking with almond flour; the final texture will ultimately come down to how long you bake them. The longer you bake them, the crispier these almond flour cookies will be.
Can You Substitute Almond Flour for Regular Flour in Cookies?
If you have another cookie recipe that you love, you can try swapping almond flour for the regular flour using a 1:1 ratio to see if the dough holds together. Whether or not that swap will work will vary by the recipe. Usually you need an egg to help with binding, but this recipe is an exception! As a result, this cookie recipe is vegan and paleo-friendly.
Is Almond Flour Good to Bake With?
While researching my first cookbook, Everyday Detox, I discovered that it's safer to heat certain nuts, including almonds, at lower temperatures to prevent acrylamide formation. (A potential cancer-causing substance.) That's why I've started baking with almond flour at a lower temperature than most recipes calls for, using a temperature of 250ºF.
Compared to other flours, almond flour is higher in calories and fat, so keep in mind that these cookies are more filling than a normal cookie. (Which can be a good thing!)
These Almond Flour Chocolate Chip Cookies are:
Gluten-free and grain-free
Egg-free, without using an egg replacer
Naturally sweetened with pure maple syrup
Higher in protein and healthy fats (each cookie has 4 grams of protein!)
Vegan and Paleo friendly
I know many of you love the recipe I posted back in 2012, so I'm leaving it there in case you prefer it, but below you'll find my updated recipe. I hope you'll enjoy it!
How to Make Almond Flour Cookies (1-Minute Video):
Almond Flour Cookies (with NO eggs!)
These Almond Flour Cookies are gluten-free, vegan, and paleo friendly. Naturally sweetened with maple syrup for a healthier cookie! 
Instructions
Preheat the oven to 250ºF and line a large baking sheet with a silicone mat or parchment paper.

In a large bowl, combine the almond flour, oil, maple syrup, salt, baking soda, vanilla, and vinegar and stir well to create a uniform, sticky dough. (It's important that your maple syrup is at room temperature, otherwise the coconut oil will solidify and the mixture will be more difficult to stir.) Fold in the chocolate chips.

Drop the dough by heaping tablespoons onto the baking sheet, then use your hands to gently flatten and shape them. (They won't spread a lot with baking.) Get your fingers wet with water to help prevent sticking while you work with the dough.

Bake until the cookies are firm to the touch around the edges, about 30 minutes at 250ºF. (If you are in a hurry, you can bake them for just 12 minutes at 350ºF, if you're not concerned about the acrylamide formation I discussed earlier in this post.) For a more crispy and crunchy cookie, you can bake them up to 45 minutes at 250ºF. Because of the low temperature, these cookies will not turn golden brown around the edges, so don't be alarmed by their pale color. 

Remove the cookies from the oven and let them cool on the pan for at least 10 minutes before attempting to remove them. They will firm up more as they cool. Serve warm or at room temperature. These cookies can be stored at room temperature for up to 3 days, but they will have the best shelf life and texture when stored in an airtight container in the fridge or freezer.
Notes
These cookies tend to get softer when stored in an airtight container at room temperature, so I highly recommend you store them in the fridge or freezer. They may last indefinitely in the freezer, but they rarely last more than a month in our home before we eat them all. They have a very crunchy texture when served directly from the freezer, which is what my husband prefers!
Nutrition
Serving:
1
cookie
|
Calories:
205
kcal
|
Carbohydrates:
12
g
|
Protein:
4
g
|
Fat:
16
g
|
Saturated Fat:
6
g
|
Sodium:
102
mg
|
Potassium:
62
mg
|
Fiber:
2
g
|
Sugar:
7
g
|
Calcium:
69
mg
|
Iron:
0.8
mg
Nutrition (per cookie) Calories: 205, Fat: 16g, Carbohydrates: 12g, Fiber: 2g, Protein: 4g
Substitution Notes:
If you try this recipe, please leave a comment below letting me know how you like it! If you make a substitution, I'd also love to hear how it works for you. We can all benefit from your experience!
–
Reader Feedback: Do you prefer more soft and cake like cookies, or the crisper, shortbread-like variety?