Vegan Almond Flour Cookies are the perfect gluten-free treat, made with protein-rich almond flour. They require only a handful of ingredients to get started, without using eggs or butter. I love how they're crispy on the outside, and buttery-tender on the inside, almost like a shortbread cookie!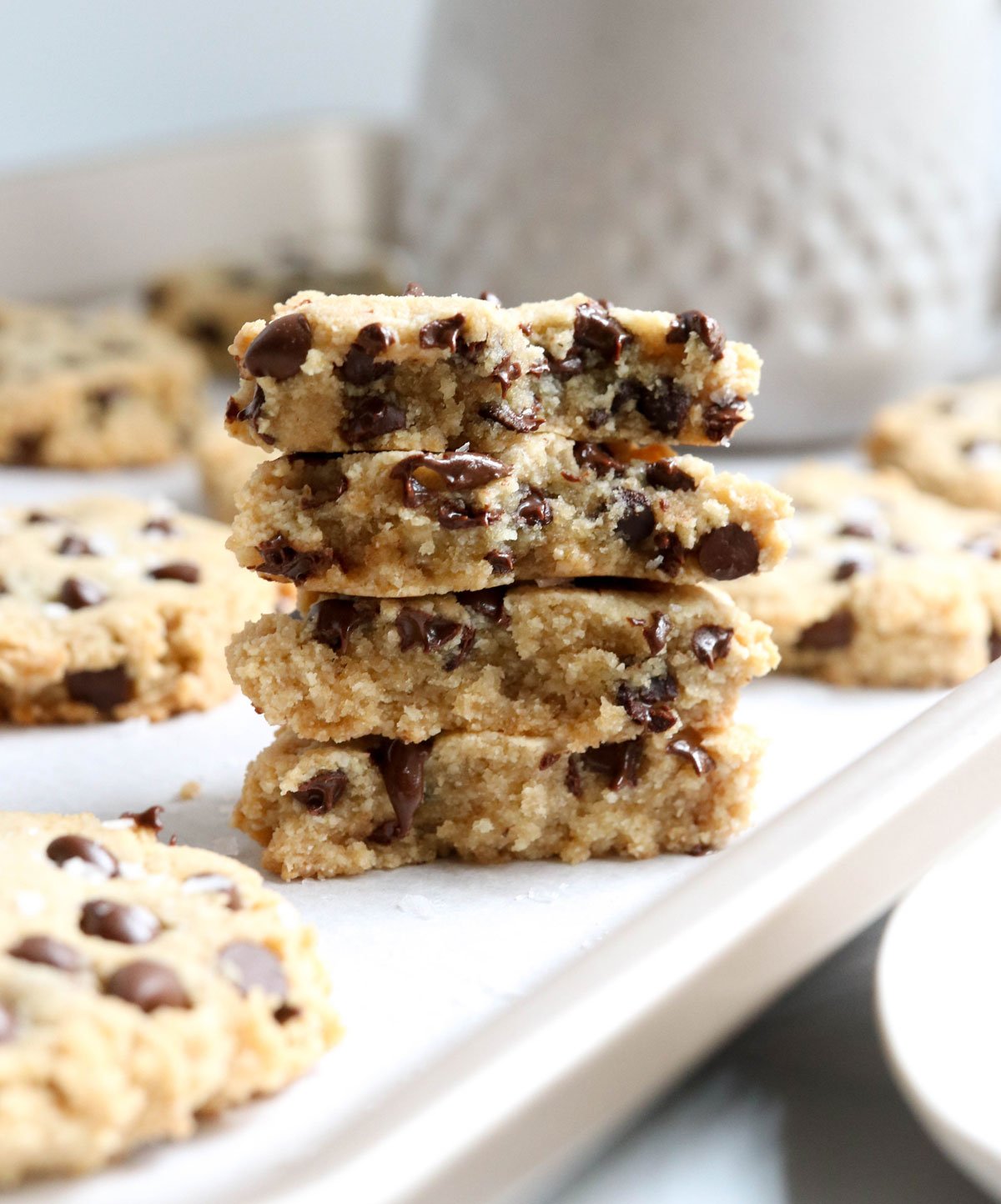 Why You'll Love Them
No raw eggs in the dough. That means you can taste-test as much raw cookie dough as you'd like to!
Simple ingredients. The only specialty ingredient here is the almond flour, which is simply made from ground almonds. There's no need to use multiple flours or starches, the way some other gluten-free cookie recipes require.
Gluten-free & dairy-free. These cookies are perfect for those on a gluten-free, dairy-free, paleo, or vegan diet.
Naturally Sweetened. All you need is 100% pure maple syrup to sweeten the cookie dough. If you'd like to avoid the refined sugar from chocolate chips, you could use crunchy cacao nibs, or find a brand that uses natural sweeteners, like Hu brand.
Higher in protein. Each cookie has 3 grams of plant-based protein, to help keep you feeling satisfied.
Every time I make these cookies, my family declares them their favorite! And trust me, they've tasted a lot of cookie recipes over the years.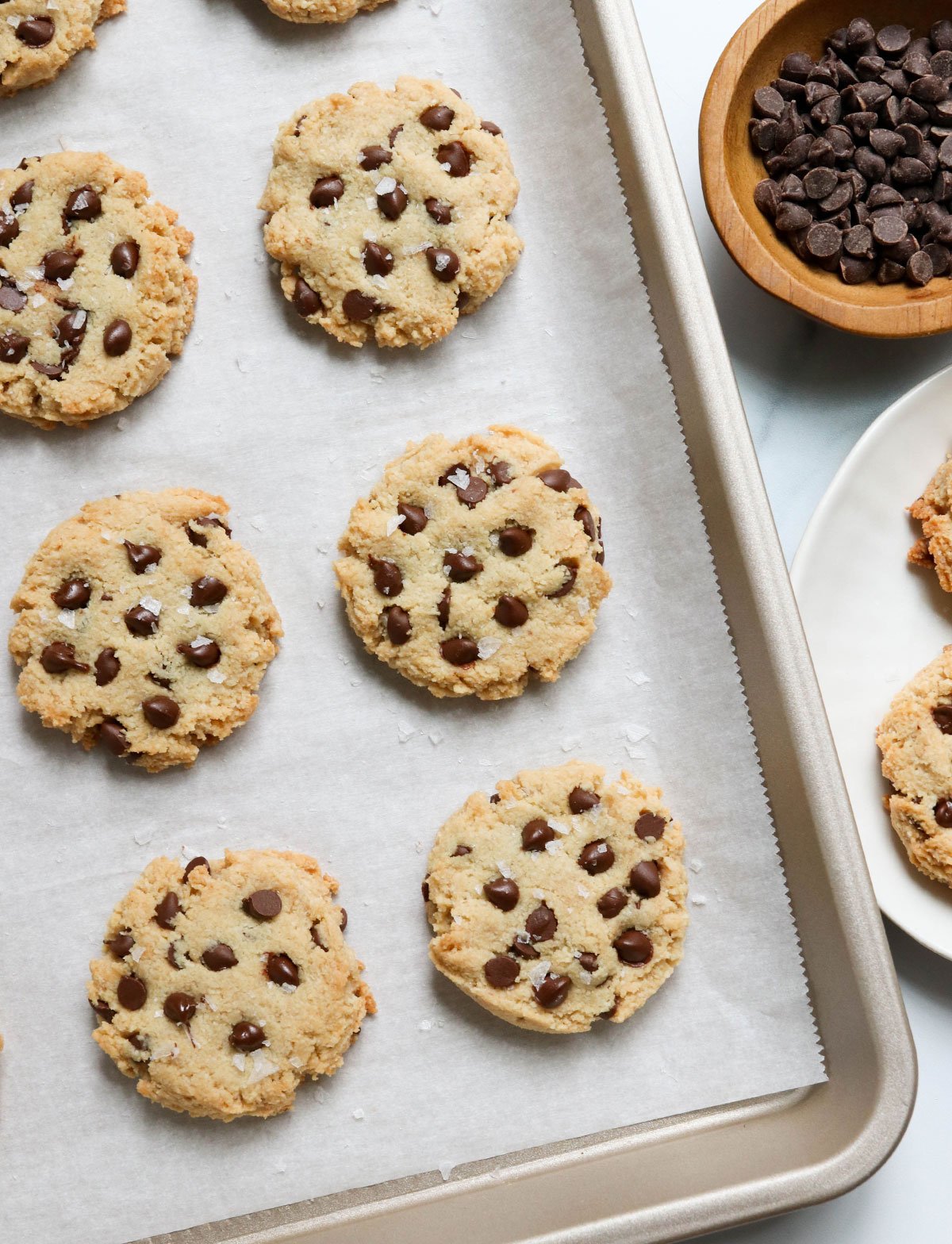 Tips for Working with Almond Flour
Use blanched almond flour. Blanched almond flour is made from blanched almonds (almonds with their skins removed) while almond meal is made from whole almonds, which includes their skins. Ssing almond meal will result in a more of a soft and cake-like cookie, while blanched almond flour will result in a crispier and more buttery cookie, similar to shortbread.
Don't make substitutions. Do not be tempted to use coconut flour, oat flour, or any other type of flour in its place. I've got you covered with coconut flour cookies, oat flour cookies, and buckwheat cookies, if you need other gluten-free options.
Flatten the cookies. Since these cookies are egg-free, they won't spread like traditional cookie dough. Be sure to use your hands to flatten the dough before baking! (If you get your hands slightly damp, the dough won't stick to them as much.)
Use recipes that call for almond flour. As a general rule of thumb, don't expect to be able to use almond flour in recipes that call for all-purpose flour. Almond flour is less dense and has more fat compared to grain flours, so it's best to work with recipes that specifically call for it, like my Almond Flour Banana Bread or Almond Flour Biscotti.
Be sure to check out all of my almond flour recipes for more ideas!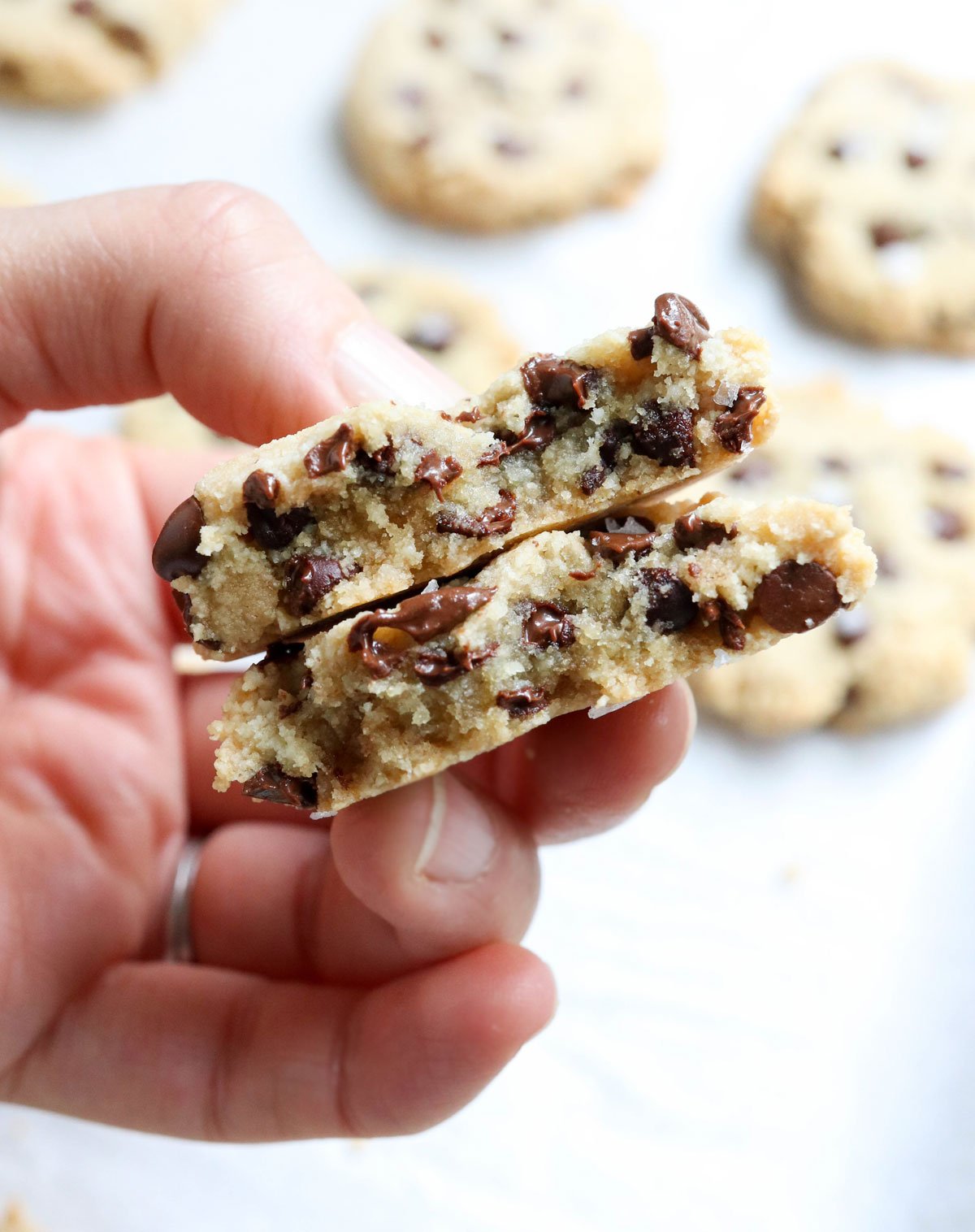 Concerned about Acrylamide?
If you have a copy of my first cookbook, you may already know that heating certain nuts, including almonds, at a lower temperature may help to prevent acrylamide formation. (A potential cancer-causing substance, according to the FDA.)
I'm often too impatient these days to bake cookies for a longer time, and I don't consider home-cooked food to be a huge acrylamide risk in the grand scheme of things. (Smoking is substantially worse than any food source, FYI.) A review of 15 epidemiologic studies couldn't find any consistent evidence suggesting that dietary exposure increases the cancer risk in humans.
With that being said, if you'd like to lower your risk of acrylamide exposure, just to be on the safe side, you can bake these cookies at 250ºF for 30 minutes. Keep in mind, the cookies will not be lightly golden when you bake them at this temperature– they will remain very pale in color, which is the point, since browning is a sign of acrylamide formation.
For an extra-crispy cookie, you can even extend the baking time to 45 minutes at 250ºF.
Where else can you find acrylamide? It's also found in coffee and some coffee substitutes, and other certain foods, like potatoes and grains. It's not typically found in raw foods, or foods that have been cooked by steaming or boiling. (Hence, why I also love pressure cooking so much.)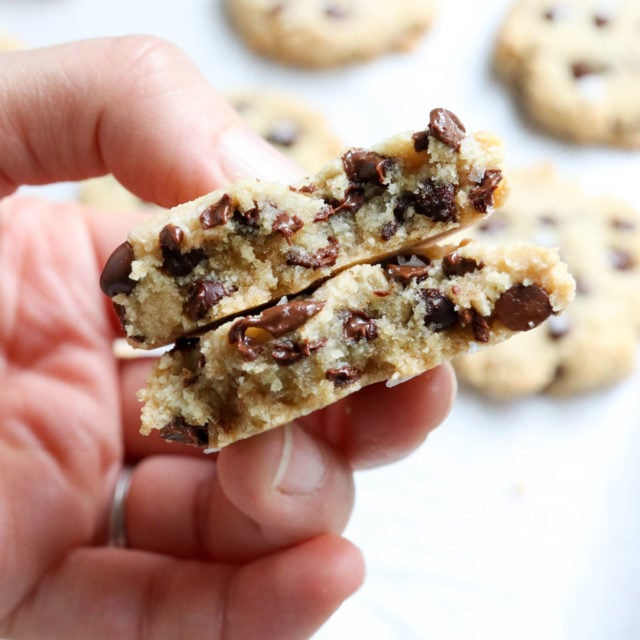 Vegan Almond Flour Cookies
Vegan Almond Flour Cookies are gluten-free and paleo friendly. Naturally sweetened with maple syrup, they remind me of a buttery shortbread cookie with chocolate chips inside!
Instructions
Preheat the oven to 350ºF and line a large baking sheet with parchment paper. In a large bowl, stir together the almond flour, baking soda, and salt.

Add in the melted coconut oil, maple syrup, vanilla, and vinegar, and mix again, until the dough looks uniform, with no clumps.

Fold in the chocolate chips, then use a tablespoon or 1-ounce cookie scoop to scoop the dough onto the prepared pan. You will get roughly 18 small cookies from this batch, so you may need to use 2 pans, or cook 2 separate batches.

Use your hands to flatten the cookies then bake at 350ºF for 12 minutes, or until the edges look lightly golden.

Let them cool on the pan for at least 15 minutes before serving; they will firm up as they cool. Serve warm, or at room temperature. Almond flour cookies get softer if you store them at room temperature overnight, so I recommend serving these the day you make them, or keep them in an airtight container in the fridge or freezer for the firmest texture. They are extra-crispy if you serve them straight from the freezer.
Notes
Nutrition information is for 1 of 18 cookies. This information is automatically calculated, and is just an estimate, not a guarantee.
*Tip: Using room temperature maple syrup will prevent the coconut oil from thickening up. This makes the batter easier to stir! If you use cold maple syrup, the cookie dough may appear more "dry" in texture, but it will still bake the same.
Nutrition
Serving:
1
cookie
,
Calories:
135
kcal
,
Carbohydrates:
9
g
,
Protein:
3
g
,
Fat:
10
g
,
Saturated Fat:
4
g
,
Polyunsaturated Fat:
1
g
,
Monounsaturated Fat:
1
g
,
Trans Fat:
1
g
,
Cholesterol:
1
mg
,
Sodium:
67
mg
,
Potassium:
11
mg
,
Fiber:
1
g
,
Sugar:
6
g
,
Vitamin A:
11
IU
,
Vitamin C:
1
mg
,
Calcium:
37
mg
,
Iron:
1
mg
If you try these Vegan Almond Flour Cookies, please leave a comment below letting me know how you like it! If you make a substitution, I'd also love to hear how it works for you. We can all benefit from your experience!
–
Reader Feedback: Which type of cookie should I make next?