Almond Flour Muffins are naturally gluten-free, while being quick and easy to prepare. They're perfect for breakfast or a snack on-the-go, with 7 grams of protein per muffin!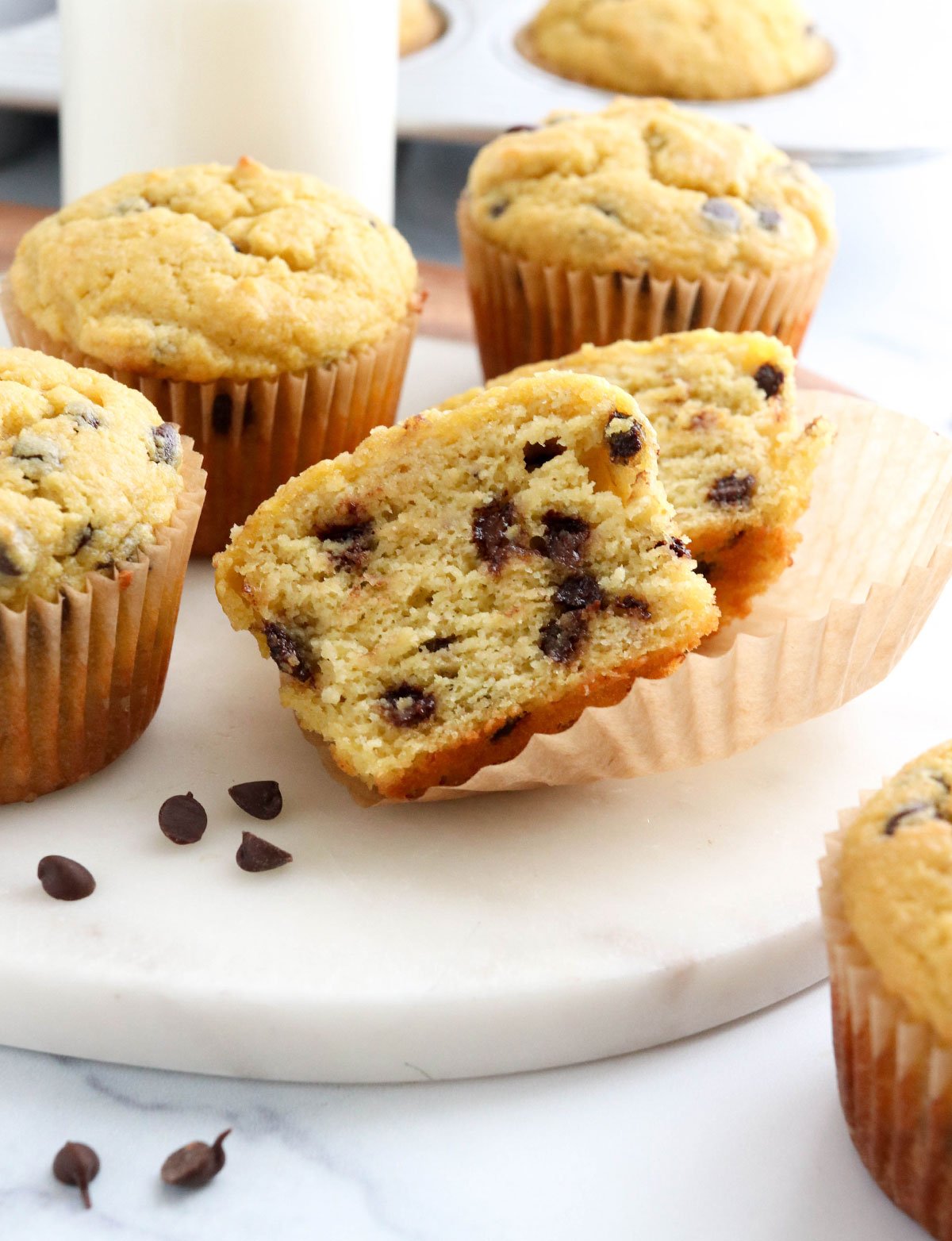 Ingredients You'll Need
To make the best almond flour muffins, you'll need just a few simple ingredients.
Blanched almond flour. Use finely ground almond flour made from blanched almonds (so the brown skins have been removed). This will give you the best, fluffy results! Almond meal is made from whole almonds, so it has brown flecks throughout the flour, and will give you denser, more mushy muffins.
Eggs. This is not the sort of recipe where you want to experiment with a flax egg substitute, since you'll need 4 eggs to make 12 muffins. As a result, these muffins are higher in protein!
Honey or maple syrup. I've tested this recipe with both of these natural sweeteners, and both work. The honey will make the muffins taste slightly sweeter, but the taste is more noticeable in my opinion. Maple syrup is more neutral in flavor, so that's my go-to lately.
Baking powder. I use baking powder to help get a double rise out of these muffins. If you would rather use baking soda, use only 1 teaspoon for the whole batch, plus 2 teaspoons of vinegar to help the baking soda bubble up.
Banana. The banana adds natural sweetness, so you don't need as much added sweetener, and it helps with binding. I have not tested these muffins without it, but you can reference my almond flour cake recipe if you'd like a banana-free option.
Oil. I use olive oil in this recipe, because you can't taste it and it doesn't solidify when it touches cold eggs from the fridge. (Coconut oil or butter will make the batter much thicker, if your eggs are cold.) Any oil should work in this recipe, though.
How to Make the Best Almond Flour Muffins
To make this almond flour muffin recipe, start by mashing the banana. I like to use a plate, rather than a bowl, for mashing, so the fork has a flat surface to work with.
Add the mashed banana to a large bowl, then add in the rest of the muffin ingredients. (Everything but the optional add-ins, which you'll stir in later.)
Mix until smooth. The batter will be thicker than traditional muffin batter, but that's okay!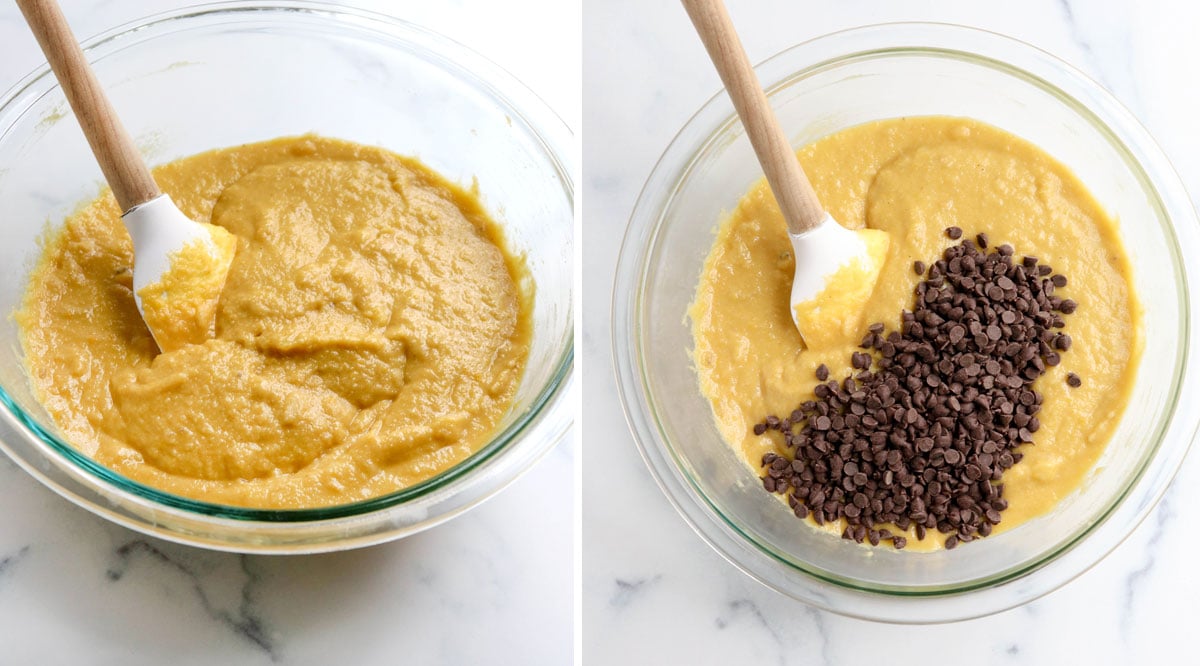 Note: I purposefully use olive oil in this recipe, because it doesn't solidify when chilled. If you'd rather use coconut oil or melted butter, be sure to use eggs that are room temperature, otherwise the batter may thicken significantly and might be difficult to scoop.
Finally, you'll stir in any add-ins you like. My kids prefer mini chocolate chips these days, but you can also use fresh berries, like blueberries or raspberries. (Frozen berries might add too much liquid to this recipe, FYI.)
My Raspberry Chocolate Chip Muffins have been a fan favorite for years, if you want to try that combination, too!
Bake until the muffins rise, and then let them cool completely before serving. I love the fluffy texture!
What's the Difference Between Almond Flour and Almond Meal?
This recipe calls for almond flour, which is simply finely ground almonds that have been blanched first. Since the skins are removed in blanched almond flour, it usually looks pretty light in color. You can make your own almond flour, if you can't find it at the store.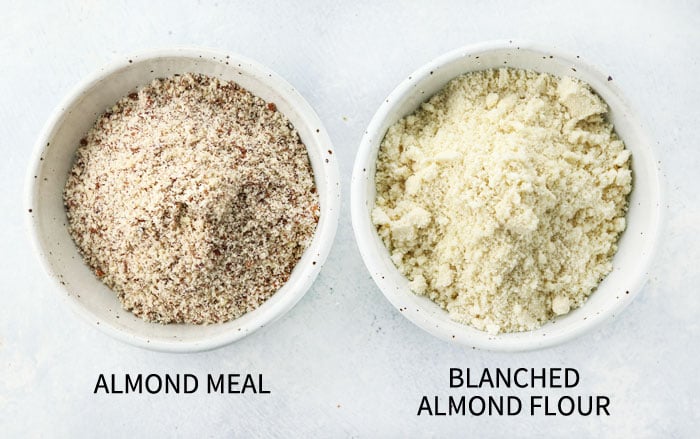 Almond meal is also made from finely ground almonds, but usually the skins have been left on, giving it a more dark and speckled look. Almond meal tends to create a denser, more cake-like texture in baked goods, while blanched almond flour usually creates a more fluffy result, but in my experience they can be used interchangeably if you keep those differences in mind.
Can I use Coconut Flour Instead of Almond Flour?
While almond meal and almond flour can be used interchangeably, that is NOT the case for coconut flour. Coconut flour is much more dry and dense when compared to almond flour, and as a result you don't need to use much of it, but it does require an unusual amount of eggs for structure. (Usually 2-3 times more than traditional recipes.)
Instead of substituting coconut flour, I recommend starting with a recipe that already calls for it so you can modify from there, if needed. My Coconut Flour Lemon Poppy Seed Muffins, Coconut Flour Banana Bread, or Coconut Flour Orange Cranberry Muffins are a good place to start.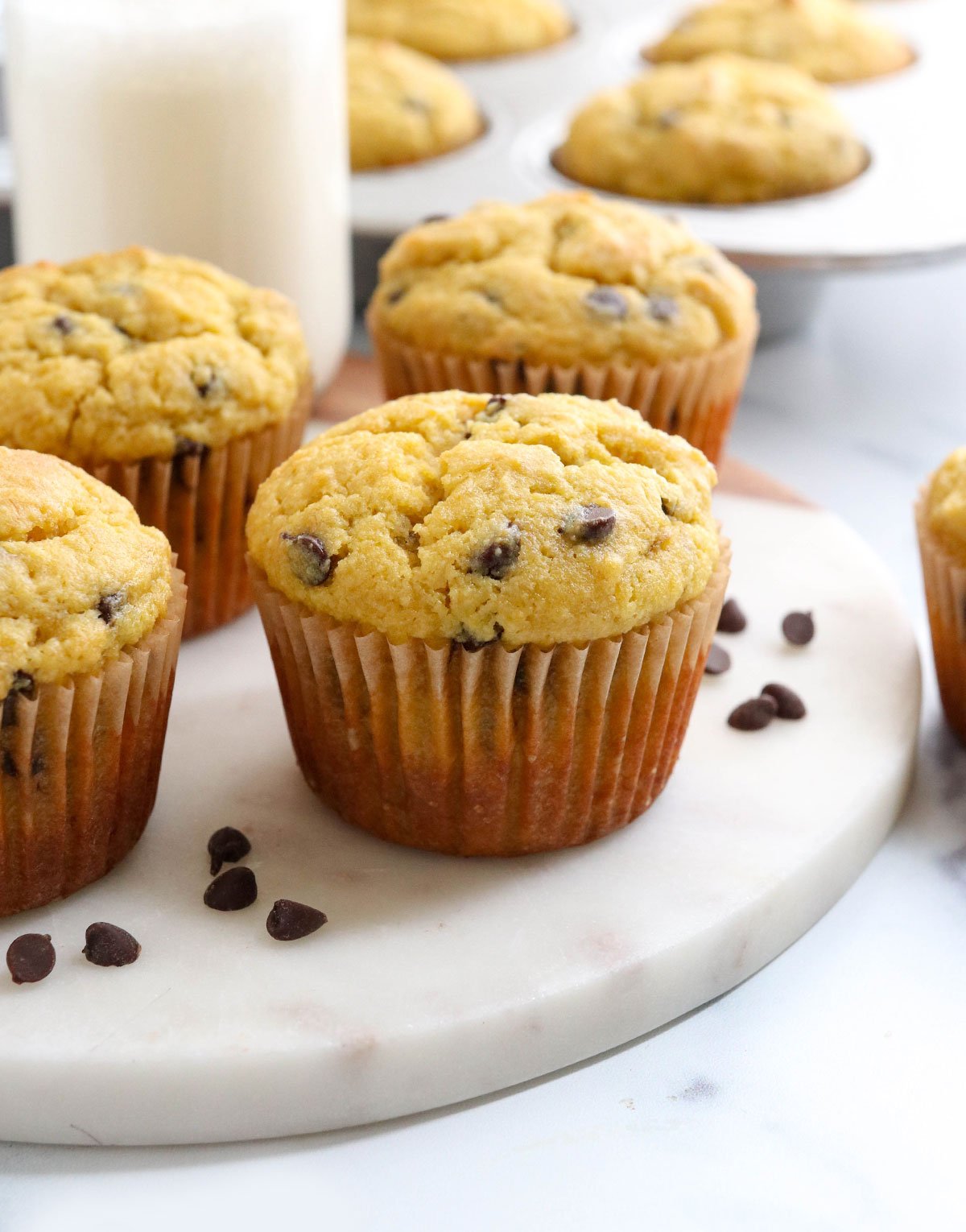 Substitutions
I don't have an official egg-free version of this recipe yet, but I do have a Vegan Almond Flour Banana Bread that I think would make a great starting point! Just bake it in a muffin tin and add in blueberries, if you like.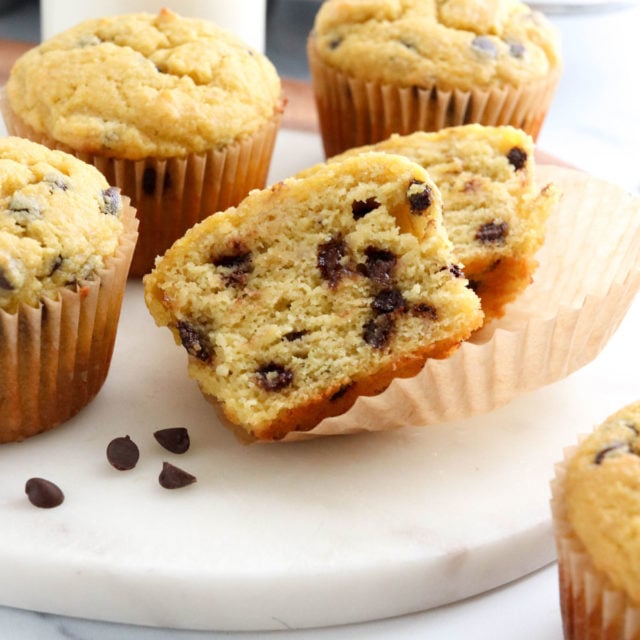 Almond Flour Muffins
Almond Flour Muffins are naturally gluten-free, while being quick and easy to prepare. They're perfect for breakfast or a snack on-the-go, with 7 grams of protein per muffin!
Ingredients
2

ripe

bananas

(184 grams; mashed)

2 1/2

cups

blanched almond flour

(287 grams)

4

large

eggs

(200 grams)

1/4

cup

maple syrup

(80 grams; or honey)

2

teaspoons

baking powder

(8 grams)

1/4

teaspoon

salt

(2 grams)

1

teaspoon

vanilla

(4 grams)

1/4

cup

olive oil

(57 grams; or other oil)
Instructions
Preheat the oven to 350ºF and line a muffin tin with 12 liners. On a plate, use a fork to mash the bananas until smooth, then add them to a large bowl, along with the almond flour, eggs, maple syrup or honey, baking powder, salt, vanilla, and oil.

Stir well, until the batter is smooth. It will be thicker than normal muffin batter. Fold in the chocolate chips, or berries, if using.

Use a heaping 1/4 cup measure to scoop the batter into each muffin liner. Bake until the tops are lightly golden, about 25 minutes.

Let the muffins cool completely, then serve. For best shelf life, store these in an airtight container in the fridge for up to a week.
Notes
Nutrition information is for 1 of 12 muffins, without the optional add-ins. This information is automatically calculated, and is just an estimate not a guarantee.
See the full post for substitution ideas.
Update note: This recipe was updated in May 2021 to fill a 12-cup muffin pan. This increased the ingredients slightly, and I also added the olive oil to help prevent the muffins from sticking to paper muffin cups. See below this recipe card for the original measurements.
Nutrition
Calories:
217
kcal
,
Carbohydrates:
10
g
,
Protein:
7
g
,
Fat:
18
g
,
Saturated Fat:
2
g
,
Cholesterol:
62
mg
,
Sodium:
70
mg
,
Potassium:
105
mg
,
Fiber:
2
g
,
Sugar:
5
g
,
Vitamin A:
87
IU
,
Vitamin C:
1
mg
,
Calcium:
94
mg
,
Iron:
1
mg
Update note: This recipe was updated in May 2021 to make a full 12 muffins, because they go too fast in our house! The original recipe called for only 2 cups almond flour, 3 eggs, 3 tablespoons honey, 1 banana, 1 teaspoon baking powder, 1/4 teaspoon salt, 1 teaspoon vanilla, and 1 cup fresh berries, as the add-in. (This makes only 8 muffins, hence why I increased the recipe.)
If you try these Almond Flour Muffins, please leave a comment below letting me know how you like them. And if you make a substitution, please let me know how that works out, too. We can all benefit from your experience!
–
Reader Feedback: What's your favorite muffin flavor?