This Almond Flour Cake is light and fluffy, made with easy ingredients that you probably already have in your pantry. It's perfect for a birthday celebration, and no one will be able to tell that it's gluten-free!
Why Almond Flour is Good for Baking Cakes
I love working with almond flour because it's made with just one ingredient– ground almonds. It's higher in protein than traditional white flour, and it's also higher in fat, which means you'll need less oil in this recipe than you might expect.
Almond flour gives this cake a subtle nutty flavor, and it's amazingly light and fluffy for having such a simple ingredient list. I think it tastes more like a traditional birthday cake, when compared to my other Healthy Birthday Cake recipe. (Which is 100% fruit-sweetened!)
Can you Substitute All-Purpose Flour for Almond Flour?
Almond flour is heavier than white flour, so it requires more leavening agents (like baking powder or baking soda). It also needs less oil and eggs than a recipe calling for a wheat-based flour.
If there's another type of flour that you have on hand, I suggest you search for a cake recipe that calls for the type of flour you have, so that you don't have to handle the guess-work yourself. An almond flour cake will be much different than a coconut flour cake!
It took me over 15 attempts to get the ratios for this almond flour cake recipe just right, so I mention this so you won't waste your ingredients by making substitutions.
If you don't have almond flour on hand, I have a Coconut Flour Cupcakes recipe, as well as a Coconut Flour Carrot Cake recipe here on my website, if you would rather use coconut flour.
How to Make the Perfect Almond Flour Cake
This recipe requires just 1 bowl and about 10 minutes of time to stir together the batter. There's no need to whip egg whites or do anything fancy!
My only tip when making this recipe is to stir in the coconut oil last, so that the eggs and maple syrup can lose some of their chill if they are cold from the fridge.
Coconut oil can thicken the batter, or clump up, when it touches cold ingredients, so adding the coconut oil in at the end usually makes the batter smoother.
Don't be surprised if it thickens up slightly after sitting in the bowl. It will still bake just fine!
This amount of batter fills one 9-inch pan or two 6-inch pans. I chose the smaller pans for these photos, so I could make a pretty two-layer cake. (It's topped with my Vegan Frosting which is made without powdered sugar!)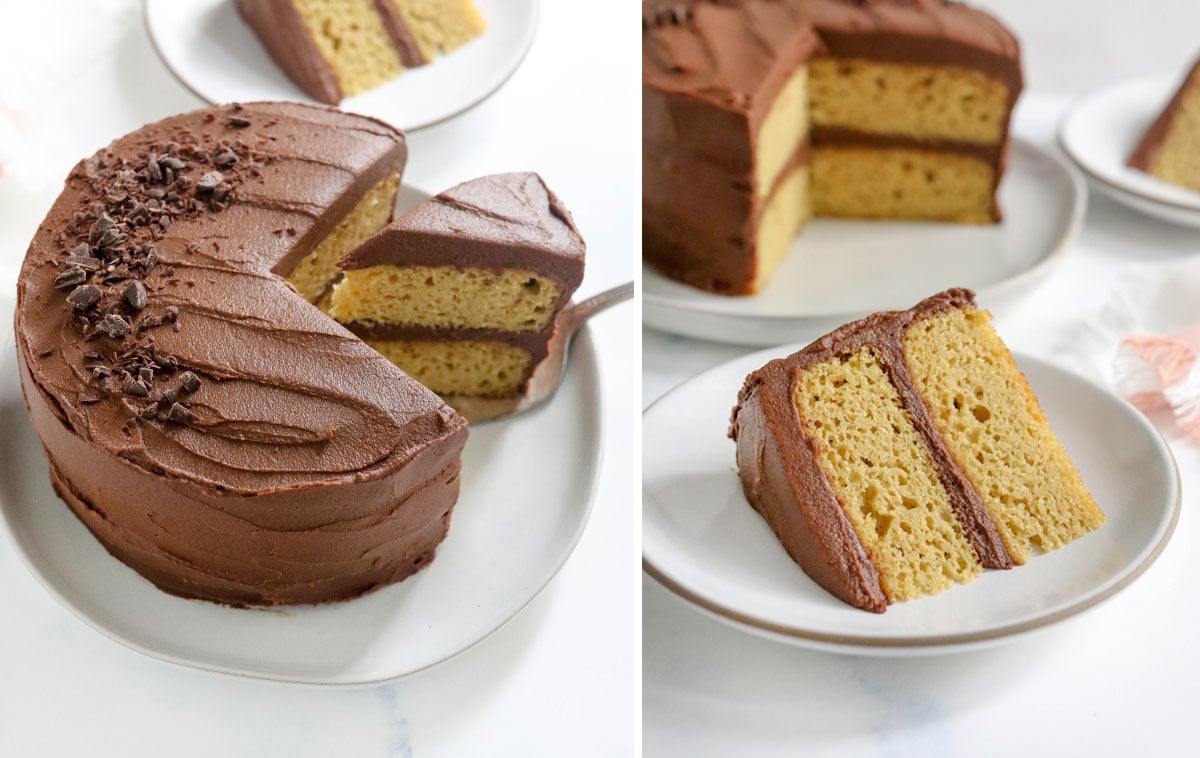 How to Make Almond Flour Cupcakes
If you would prefer to bake this recipe as cupcakes, this recipe will make 12 cupcakes. Line a muffin pan with 12 paper liners, then divide the batter evenly among them. (I usually use a scant 1/4 cup measure.)
These cupcakes should bake in about 25 minutes at 350ºF, or until the edges are lightly golden and the center feels firm to a light touch.
For a chocolate cupcake, be sure to try my Chocolate Almond Flour Cupcakes recipe. (You can also use that recipe to bake a cake, if you want to bake it using the timing in the cake recipe below.)
Almond Flour Cake
This is the best almond flour cake! This healthy recipe is light & fluffy, and is perfect for a gluten-free birthday celebration or party.
Equipment
Ingredients
1 3/4

cups

blanched almond flour

(181 grams)

4

large eggs

(193 grams)

1

tablespoon

arrowroot starch

(6 grams)

1/2

cup

maple syrup

(150 grams)

2

teaspoons

baking powder

(8 grams)

2

teaspoons

vanilla extract

(8 grams)

2

tablespoons

melted coconut oil

(22 grams)

1/4

teaspoon

salt
Instructions
Preheat the oven to 350ºF and grease a 9-inch pan, or 2 6-inch pans. I like to add a square of parchment paper to the bottom of the pan, to ensure that my cake will come out later.

In a large bowl, combine the almond flour, eggs, arrowroot starch, maple syrup, baking powder, vanilla, and salt. Stir well until the batter is smooth and no lumps remain, then add in the coconut oil and stir again until very smooth.

Pour the batter into the prepared pan(s) and smooth the top with a spatula. Bake at 350ºF until the top is golden and the center of the cake is firm to the touch, about 30 to 35 minutes.

Let the pan cool in the pan for 15 minutes. then run a knife around the edge of the pan and flip it over on to a plate to release the cake. Let it cool completely before frosting and serving.
Notes
I have only tested this version with blanched almond flour, so I can't say how substitutes may affect it. My guess is that almond meal will produce a denser, less fluffy cake.
Nutrition
Calories:
175
kcal
,
Carbohydrates:
14
g
,
Protein:
5
g
,
Fat:
12
g
,
Saturated Fat:
3
g
,
Cholesterol:
55
mg
,
Sodium:
71
mg
,
Potassium:
118
mg
,
Fiber:
2
g
,
Sugar:
9
g
,
Vitamin A:
79
IU
,
Calcium:
86
mg
,
Iron:
1
mg
Nutrition information is for 1 of 12 slices without frosting. This information is automatically calculated and is just an estimate, not a guarantee. For more accurate results, use the labels on your ingredients at home.
If you try this recipe, please leave a comment below letting me know what you think! If you make any modifications, I'd love to hear about those, too. We can all benefit from your experience.
–
Reader Feedback: What's your favorite cake flavor? Try my Chocolate Almond Flour cupcakes or my Coconut Flour Carrot Cake if you want to change things up!