Did I ever tell you about the time I did a raw food detox? It was nearly 10 years ago, but for 30 days I ate exclusively raw foods, including plenty of this salad. It's the best detox salad EVER.

During that time, I ate some variation of this salad for 30 days straight, along with plenty of fruit smoothies, raw fudge, and banana soft serve. To my surprise, I lost 17 pounds in a month.
I wish I could say those results lasted forever, but when you take drastic measures and lose weight that quickly, it can also come back just as fast. In fact, short detoxes, cleanses, and diets like that are exactly why I struggled in a cycle of yo-yo dieting, binge eating, and body image issues for so long. I think I lost and regained the same 20 pounds for nearly a decade! If you can't maintain a routine over the long term, or have to keep starting your diet over and over again, then it isn't really "working" for you– even if you see amazing short term results. I knew there had to be a better way.
That's why my approach to detoxing now is different than it used to be. It's why I don't give you drastic cleanses to do in my books, and why you'll never see me sell you on some fad detox gimmick– because there are no shortcuts. To get lasting results, and ultimately support your body's natural detoxification organs like the skin, liver, and kidneys, you need to make lifestyle changes you can maintain forever. (Not just for 30 days!)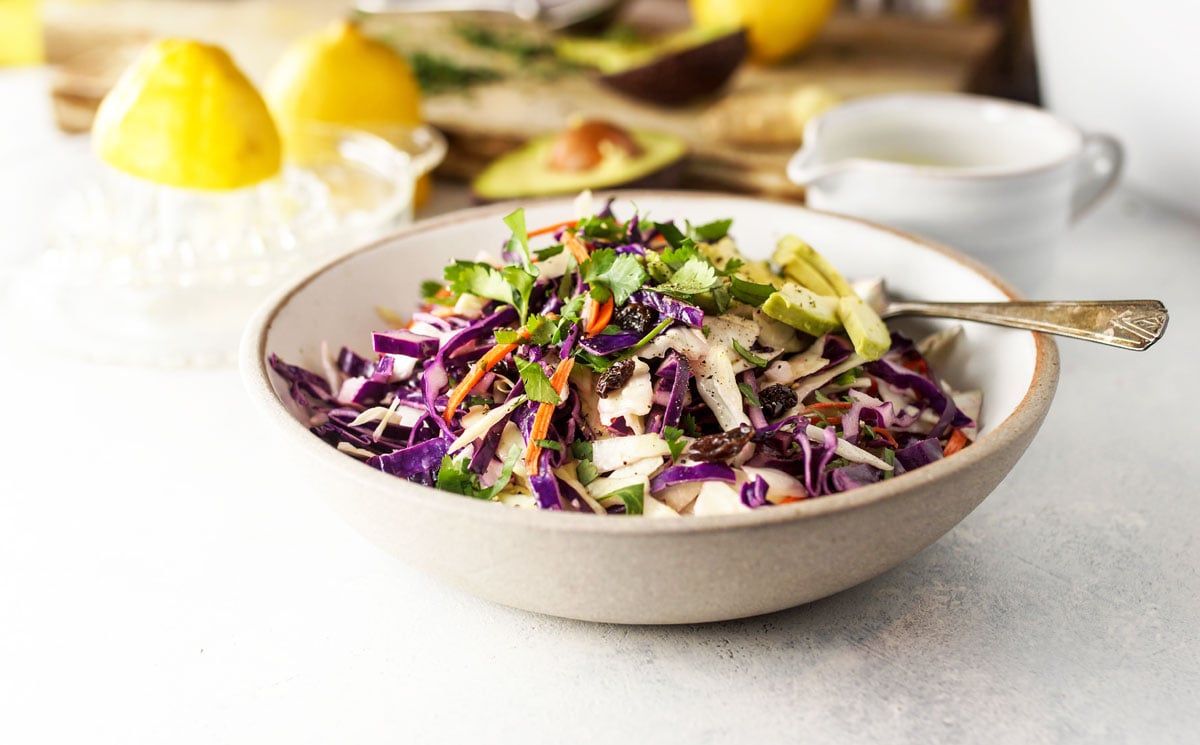 A simple way to start is by adding this detox-friendly salad to your life. It's jam-packed with nutrients to support your body's detoxification system, and can be made ahead of time to fit into your busy schedule. These ingredients make this salad a detox powerhouse:
Cabbage is loaded with vitamin C and sulphur, which help to remove free radicals and uric acid from the body.
Raw carrots are thought to help balance your hormones by binding to and removing excess estrogen from the body, while also helping to remove bad bacteria from the gut.
Avocado contains healthy fats which may protect the liver and help with better absorption of fat-soluble nutrients in the body.
Fresh parsley is a powerful herb loaded with chlorophyll, antioxidants, and healing compounds that are thought to help increase urine flow and remove any harmful bacteria from the urinary tract.
Raisins are loaded with fiber, antioxidants, and a considerable amount of iron, and may help to relieve constipation and anemia
Ginger has anti-inflammatory properties and stimulates circulation and digestion, which may help to remove waste from the colon and liver.
Raw honey is loaded with antioxidants, promotes restorative sleep, and may help to ward off infections and provide natural allergy relief.
Lemons are thought to balance the pH of the body, detoxify the liver, promote skin repair boost the immune system, and strengthen the digestive system.
When you throw all of these powerful ingredients into one detox salad, the results are delicious. I like to make a big batch of dressing and pre-chop the veggies at the beginning of the week, so preparing a healthy salad takes less than 5 minutes when I need something fast. You can even buy bags of pre-shredded cabbage and carrots to make this as easy as possible. I hope you'll enjoy it as you gradually work on your health goals.
This detox salad typically serves one as a meal, but the dressing makes 1 1/2 cups so you'll be able to serve it over many more salads during the week ahead.
The Best Detox Salad with Lemon-Ginger Dressing
A nutrient-rich salad that is easy to throw together and naturally supports the body's detoxification system.
Servings:
(plus extra dressing)
Equipment
Ingredients
Lemon Ginger Dressing (makes 1 1/2 cups)
3/4

cup

freshly squeezed lemon juice

1/2

cup

extra-virgin olive oil

1

to 1 1/2-inch knob of fresh ginger

, to taste

1

clove

garlic

2

tablespoons

raw honey
Salad
4

cups

shredded cabbage

(green, purple, or both)

1

large carrot

, shredded

Handful of fresh flat-leaf parsley

, roughly chopped

1/2

avocado

, sliced

2

tablespoons

raisins
Instructions
To prepare the dressing, combine all of the ingredients in a blender, starting with just 1-inch of fresh ginger, and blend until smooth. Add more ginger to taste, if desired, and set aside.

To prepare the salad, toss together the cabbage, carrots, and parsley in a large bowl and top with the sliced avocado and raisins.

Top the assembled salad with 3 to 4 tablespoons of the lemon-ginger dressing and let it marinate for 5 to 10 minutes before serving. Store leftover dressing in an airtight container in the fridge for up to a week.
Nutrition
Calories:
361
kcal
,
Carbohydrates:
35
g
,
Protein:
4
g
,
Fat:
26
g
,
Saturated Fat:
3
g
,
Sodium:
55
mg
,
Potassium:
734
mg
,
Fiber:
10
g
,
Sugar:
13
g
,
Vitamin A:
5306
IU
,
Vitamin C:
71
mg
,
Calcium:
74
mg
,
Iron:
2
mg
Nutrition information is for roughly half the salad with 1/4 cup of dressing. Keep in mind that this information is automatically calculated using generic ingredients, so it's just an estimate, and not a guarantee.
As always, feel free to make substitutions as needed, and leave a comment below letting us know what works for you! If you need a vegan alternative to the honey, I'd recommend trying dates or pure maple syrup.
–
Reader Feedback: Do you have any fun detox stories to share? I could probably write a novel on all of my detox-gone-wrong stories, but I'll save those for another post!
SaveSave