This is the best Coconut Flour Banana Bread you'll ever try. It's easy to make, not overly sweet, and reminds me of the real thing– without using gluten or dairy.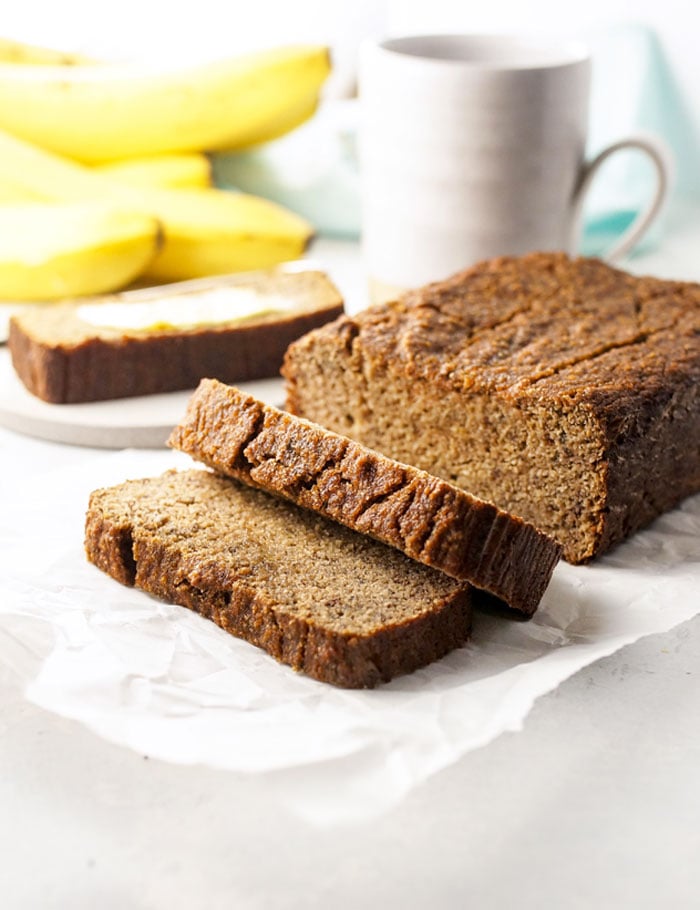 What You Need to Know About Coconut Flour
I've said it before, but I'll say it again: Coconut flour is SO tricky to work with. You'd think by now, after developing recipes like my Coconut Flour Zucchini Bread, Coconut Flour Carrot Cake, and Coconut Flour Lemon Poppy Seed Muffins, I would have a pretty good idea of how to make practically any baked good with coconut flour.
However, it still took me 6 different attempts to get this recipe right. My picky toddler has deemed this coconut flour banana bread to be the "best ever," so I suppose my effort was worth it!
How to Sweeten It Naturally
The resulting Coconut Flour Banana Bread is moist, without being gooey in the middle, and is also not overly sweet. It could still pass as "normal" banana bread, which is why I added just a touch of natural sweetener, but you could definitely omit the coconut sugar entirely if you don't mind having a less-sweet bread for your family.
(See the notes below the recipe if you are interested in using maple syrup instead. I tested that, too, but the results are more moist.)
Keep in mind that the riper your bananas are, the sweeter the banana bread will be, so be sure to use bananas with LOTS of black spots on their skin for best results.
How to Measure Coconut Flour
When making this recipe, be sure to use the "scoop and swipe" method for measuring. I dip the measuring cup into the bag of coconut flour to get a heaping scoop, then use the back of a knife to swipe the excess off the top.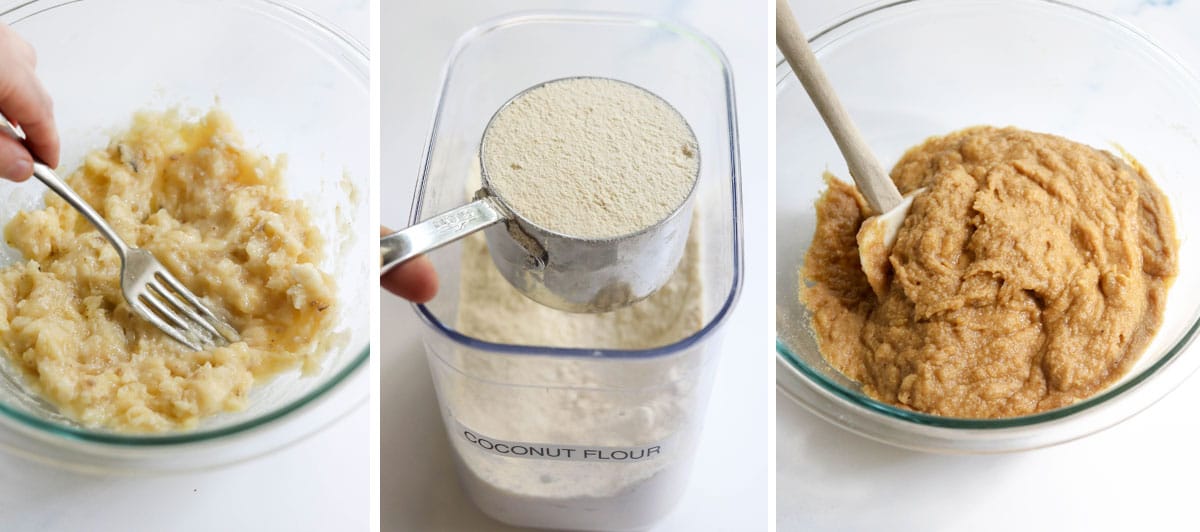 This should leave you with a measuring cup of coconut flour that has a perfectly flat and leveled top.
I've also included the weight of the ingredients in grams in the recipe below, if you prefer to measure using a food scale.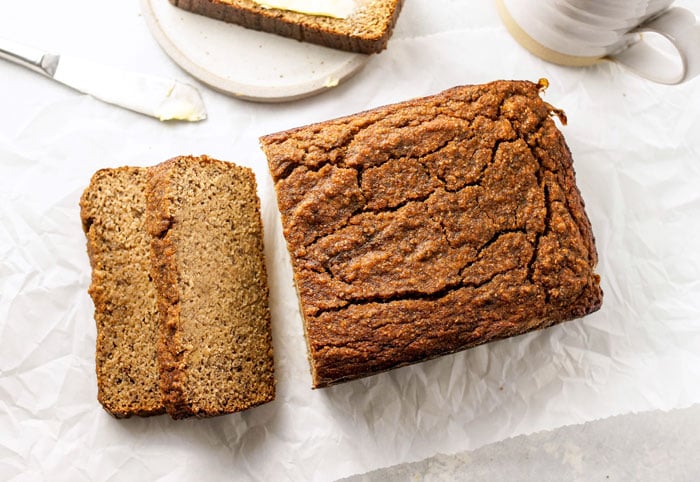 This Coconut Flour Banana Bread recipe is:
Gluten-free and grain-free
Naturally sweetened, with the option of using NO added sugar if you prefer
Oil-free
Nut-free (technically coconut is classified as a fruit)
Fast to prepare! The batter can be ready in just 10 minutes before baking it.
Higher in protein
Super-moist and delicious!
Why You Need So Many Eggs with Coconut Flour
Like most coconut flour recipes, this one does require more eggs than a recipe using any other type of flour. Coconut flour is freakishly absorbent, and because of that it requires eggs for both structure and moisture.
Trust me when I say that I used as few eggs as necessary to produce a good result. On the bright side, the eggs do give this bread more protein in each slice.
If you need a vegan recipe, check out my Vegan Almond Flour Banana Bread recipe, or the Vegan Buckwheat Banana Bread (which is nut-free) found in my first cookbook.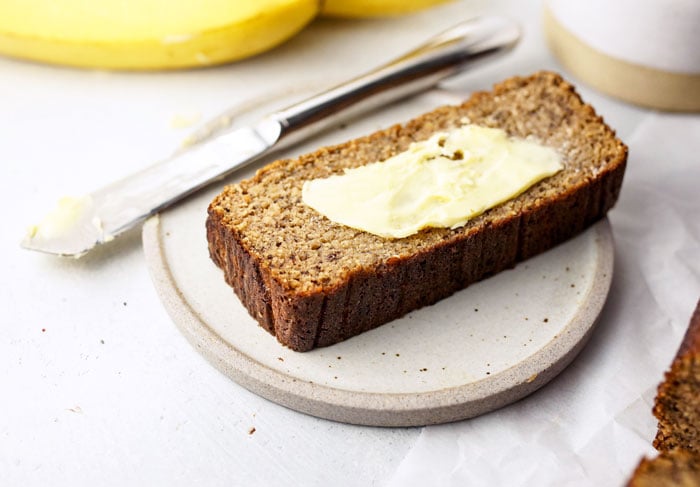 Tip for Stick-Prevention
Coconut flour tends to stick to pans more than other varieties of flour, so I like to line my loaf pan with parchment paper to guarantee the banana bread will easily release from the pan later.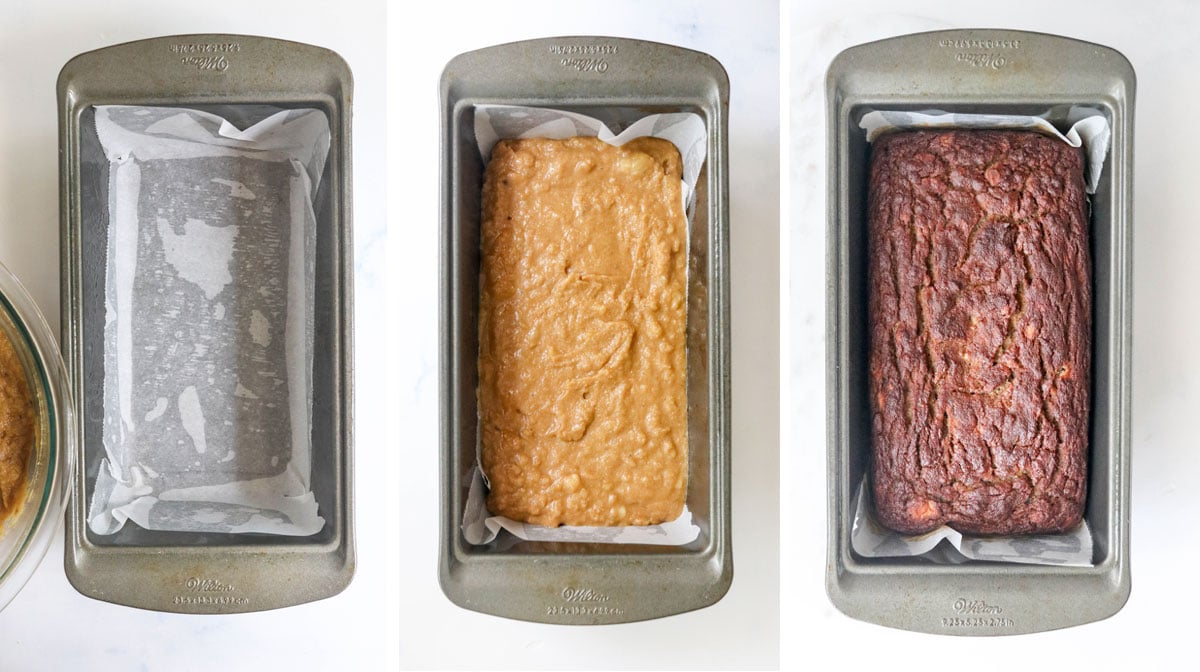 To make your life easier, spray the pan with a little bit of oil, then press the parchment paper into the bottom of the pan. The light coating of oil will hold the parchment paper in place, so it doesn't wiggle around while you pour the batter in!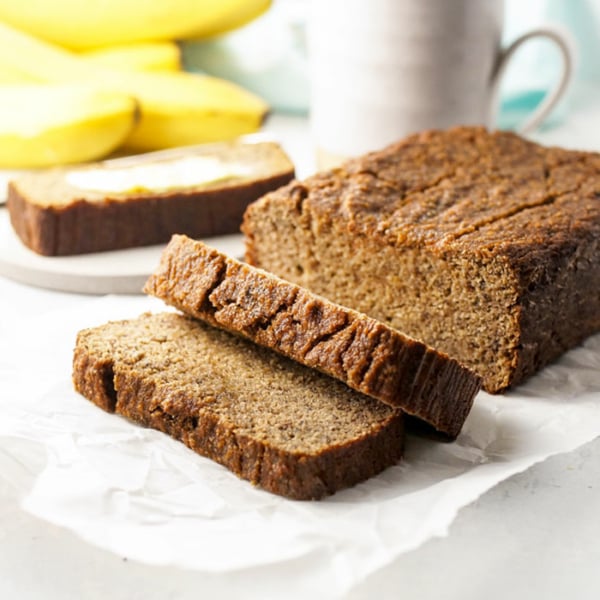 Best Ever Coconut Flour Banana Bread
This is the BEST coconut flour banana bread recipe! No oil or added sugar required, this bread is moist and healthy. Gluten-free, nut-free, Paleo.
Ingredients
3

very ripe bananas

(344 grams; not including peels)

3/4

cup

coconut flour

(87 grams)

5

large

eggs

(250 grams)

1/3

cup

coconut sugar

(50 grams)

1

teaspoon

ground cinnamon

(1 gram)

1

teaspoon

baking soda

(6 grams)

1

teaspoon

baking powder

(5 grams)

1/4

teaspoon

fine sea salt

(2 grams)

1

teaspoon

vanilla extract

(4 grams)
Instructions
Preheat the oven to 350ºF and line a 9-inch by 5-inch loaf pan with parchment paper.

In a large bowl, mash the bananas with a fork. Add in the coconut flour, eggs, coconut sugar, cinnamon, baking soda, baking powder, salt, and vanilla. Use a whisk to stir the batter well, breaking up any lumps so a smooth batter is formed. (You can also use an electric hand mixer to do this.)

Pour the batter into the lined loaf pan and bake until the center of the loaf has risen and started to crack, feeling firm to the touch, about 45 to 55 minutes. Cool completely before slicing and serving.

Because this loaf is moist, be sure to store it in an airtight container in the fridge for best shelf life. It should last at least a week when stored in the fridge, though you might eat it all before then!
Nutrition
Calories:
128
kcal
,
Carbohydrates:
18
g
,
Protein:
5
g
,
Fat:
4
g
,
Saturated Fat:
2
g
,
Cholesterol:
93
mg
,
Sodium:
229
mg
,
Potassium:
199
mg
,
Fiber:
4
g
,
Sugar:
9
g
,
Vitamin A:
153
IU
,
Vitamin C:
3
mg
,
Calcium:
34
mg
,
Iron:
1
mg
Nutrition information is for 1 of 10 slices. This information is automatically calculated, so it's just an estimate and not a guarantee.

Recipe Updated: 6/30/2020
I slightly modified this recipe to help prevent the soggy middle that some readers were reporting, and I added the weights for those who like to be exact with a kitchen scale.
If you are still in love with the original version, I only changed 3 things: I reduced the number of bananas from 4 to 3, I added a teaspoon of baking powder to help it rise even more, and I increased the coconut sugar from 1/4 cup to 1/3 cup. Feel free to change these things back if you prefer the original recipe.
Substitution Notes:
There is no substitution for coconut flour, so if you'd like to use another flour please see my two suggestions that I mentioned earlier in this post.
I did test this recipe using 1/4 cup of maple syrup, and the result was slightly sweeter and much more moist. I thought it was "too moist" to serve to company, but the results were just fine if you're only serving this to your family. You can also omit the sweetener entirely if you don't mind it tasting less sweet.
I don't think flax or chia eggs would work in this recipe, because they would result in a very gooey center. Feel free to experiment, if you like, but I also mentioned my two vegan banana bread recipes earlier in this post if you'd prefer to start with those.
If you try this recipe, please leave a comment below letting me know what how you like it. And if you make any modifications, I would love to hear about that, too! We can all benefit from your experience.
–
Reader Feedback: Do you have a favorite quick bread that I haven't covered yet? Be sure to check out my Coconut Flour Zucchini Bread and Vegan Pumpkin Bread, too!