Flax eggs are an easy egg substitute made with 2 simple ingredients. This alternative is perfect for vegan baking, those with egg allergies, or anytime you don't have eggs on hand for a recipe.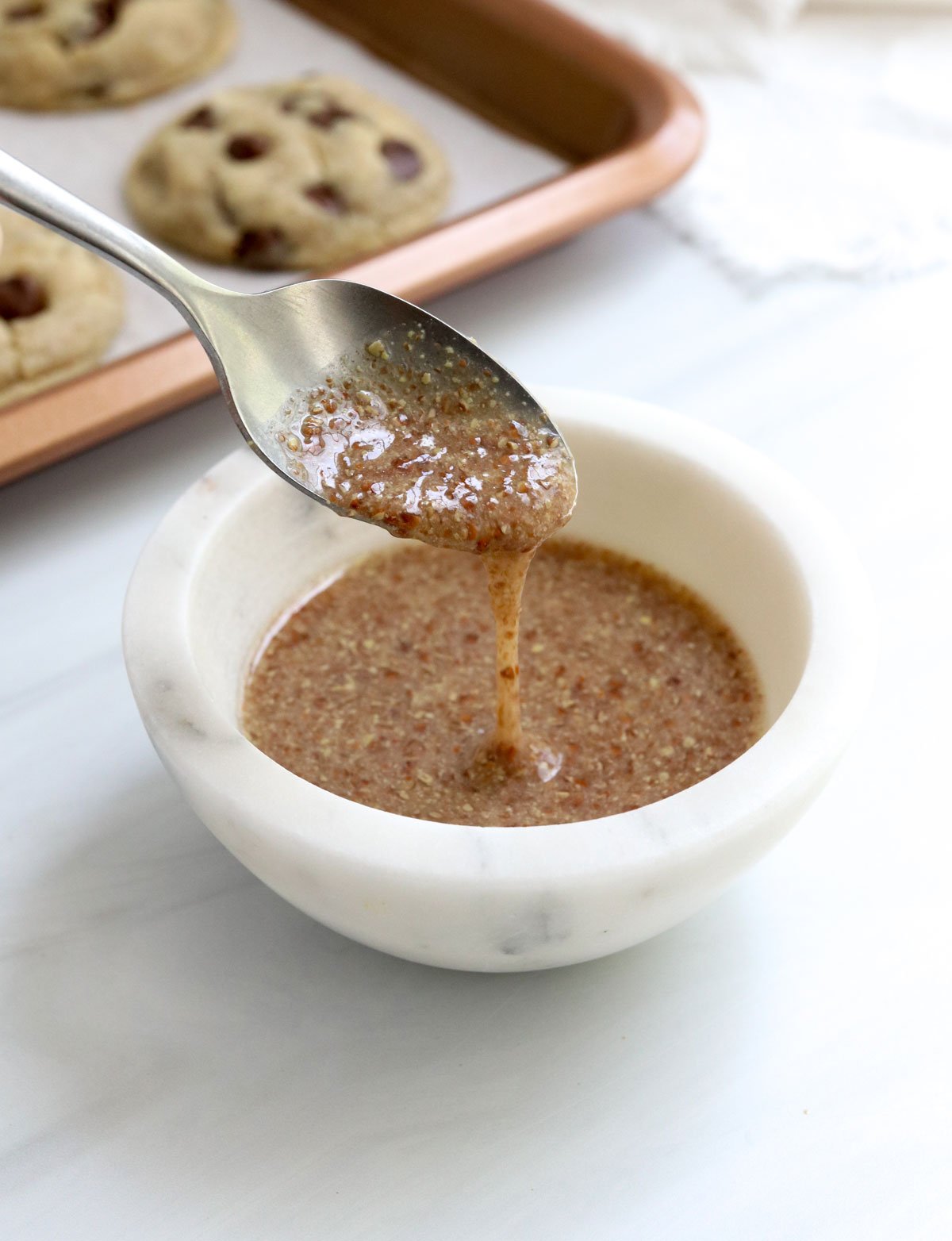 What is a Flax Egg?
A flax egg is a vegan egg replacement made from a combination of ground flax seeds and water.You can also use ground chia seeds, instead of flax, for a similar result.
When mixed together, the flax meal will start to "gel" with the water, creating the consistency of an egg that you can use in baking. Flax seeds are a great source of lignans and omega-3 fatty acids, so they make a healthy addition to recipes!
How to Make a Flax Egg
1. Grind the seeds.
If you are starting with whole flaxseed, you'll need to grind them first. Add a few tablespoons of seeds to a coffee grinder, spice grinder, or high-speed blender, and pulse briefly until the seeds are finely ground. (In most cases, a food processor won't work to grind the seeds, because it's so large.)
You can skip this step if you start with flaxseed meal, or a bag of ground flaxseeds that you bought at the store.
2. Mix.
Add 1 tablespoon of ground flaxseed to a small bowl, along with 3 tablespoons of water. Use a fork or small whisk to mix well, then let the bowl rest for 5 to 10 minutes.
The mixture will thicken up as it sits. If you are not ready to use it yet, you can store it in the fridge for up to 12 hours.
3. Enjoy!
Once the mixture has thickened, it's ready to use in your recipe. Keep in mind that a flax egg won't work perfectly in all cases, so be sure to check out the tips below.
Note: The most common flax egg ratio is 1:3, meaning 1 tablespoon of ground flax seed to 3 tablespoons of water. However, when you are making something with a very runny batter, like quick breads, you can use less water for the flax egg. Try a 1:2 ratio (using just 2 tablespoons water) for the flax egg replacement when making a bread or cake that calls for 1 or 2 eggs.
How to Use Flax Eggs
Chicken eggs help not only act as a binder in a recipe, but they can also help with lift and structure. Flax eggs don't do all of those things, so be sure to adjust your expectations when using them.
Try them in:
Cookies. Cookies are relatively flat and usually require only 1 egg. Flax eggs will work well here!
Brownies. If you love a brownie with a gooey center, then flax eggs will work here, too. They don't provide as much rise and structure as eggs do, but they will hold a brownie recipe together in most cases.
Recipes that call for all-purpose flour. Wheat flour and all-purpose flour contain gluten, which make them both very forgiving in recipes. Flax eggs will usually work well in muffins and breads that are made with regular white flour.
Don't use them in:
Recipes that call for more than 2 eggs. In general, the more eggs you need to substitute, the more issues you may run into. Using more than 2 flax eggs could result in baked goods that are gooey or have an underbaked texture.
Paleo & gluten-free recipes. If you are using almond flour or coconut flour, flax eggs will not provide the structure required. (If you don't mind a gooey cookie or brownie, they could still be helpful in that case, but experiment at your own risk.) Even grain-based flours, like oat flour and buckwheat flour work better with real eggs, so the result could be more gummy or dense when leaving the eggs out.
Flourless recipes. If a recipe doesn't call for flour at all, it's probably relying on the eggs for structure. Flax eggs won't work well in this case.
For tested egg-free recipes, start with a vegan recipe which will naturally be egg-free anyway!
Common Questions
Can you taste the flax egg in baked goods? When you use a flax egg instead of a regular egg, the flavor isn't too noticeable, but it might add a slight texture. When I use flax eggs in a quick bread, it reminds me of a bran muffin. Still delicious, but with extra fiber!
Does it matter which kind of flax seed I use? Golden flax seeds and brown flax seeds will both work well as a flax egg. The golden variety has less monounsaturated fatty acids and antioxidants, but it does blend in a little better to baked goods thanks to its lighter color.
Can I use chia seeds instead? Yes! You can make a chia egg by grinding the chia seeds and mixing 1 tablespoon of ground seeds with 3 tablespoons of water. (Chia seeds don't technically have to be ground in order to gel, but the texture of your baked goods will be better if you take the time to grind them first.)
Egg-Free Recipes to Try
Looking for a tested egg-free recipe? Try these popular ones to get started.
How To Make Flax Eggs
Flax eggs are an easy egg substitute made with just 2 ingredients. You can mix it up in just minutes, for an easy egg replacement in recipes.
Instructions
Add the ground flax seed and water to a bowl and whisk well. Let the mixture rest for at least 5 minutes.

When the flax egg looks thicker, you can use it as an egg replacement in recipes. If you don't need to use it right away, you can store it in the fridge for up to 12 hours.
Notes
Nutrition information is for 1 flax egg. This information is automatically calculated, and is just an estimate, not a guarantee.
You can use ground chia seeds instead of flax seeds, to make a chia egg.
Flax eggs work best in recipes that call for all-purpose or whole wheat flour and don't call for more than 2 eggs. Try them in cookies or brownies where you don't mind a slightly softer, gooey center.
Do NOT use flax eggs as an egg replacement in recipes that call for almond flour or coconut flour. Flax eggs won't provide the structure that chicken eggs do, so they also aren't a great fit for flourless recipes.
See the full post above for more tips on using flax eggs.
Nutrition
Calories:
37
kcal
,
Carbohydrates:
2
g
,
Protein:
1
g
,
Fat:
3
g
,
Saturated Fat:
0.3
g
,
Polyunsaturated Fat:
2
g
,
Monounsaturated Fat:
1
g
,
Sodium:
4
mg
,
Potassium:
57
mg
,
Fiber:
2
g
,
Sugar:
0.1
g
,
Vitamin C:
0.04
mg
,
Calcium:
19
mg
,
Iron:
0.4
mg
If you try this flax egg recipe, please leave a comment and star rating below letting me know how they worked out for you!