This smoothie is loaded with ingredients to help support your body's natural detox organs, including wild blueberries and fresh cilantro. As strange as cilantro might sound as an addition to a smoothie, it's surprisingly delicious!
I don't know about you, but I tend to get in smoothie ruts. I could drink the same coffee smoothie all week long (because it's addictive!), but I know I should get more variety in my diet by switching up the ingredients I use more often. This smoothie is a great way to do that, and is properly combined to help optimize your digestion and avoid bloating.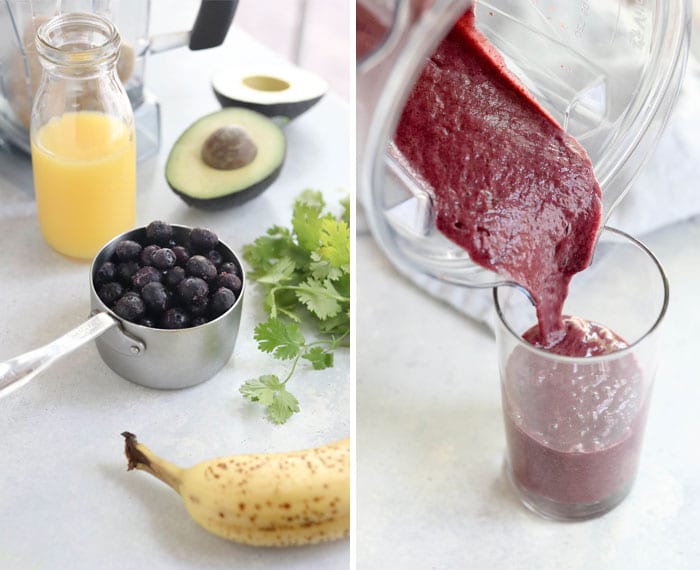 Detox Smoothie Ingredients
If you've been reading here for a while, you know I don't believe in taking some special detox tea or supplement to "detox" your body. Your body already comes equipped with what it needs to detox on its own, like the liver, kidneys, and even your skin.
All you need to do is feed it high-quality foods that help support those functions, and avoid processed ingredients or chemicals that might hinder their them.
Wild Blueberries: These wild berries are loaded with antioxidants that may help to repair oxidative damage in the body, and they may help draw heavy metals out of brain tissue. Wild blueberries are thought to have extra phytochemicals that cultivated blueberries don't, and they are easily available in the freezer section at most grocery stores.
Fresh Cilantro. Cilantro has been found to bind toxic heavy metals that can be found in the body, like arsenic, aluminum, lead, and mercury. It is also thought to help loosen them from our tissues, and may help eliminate them from the body. You can read more about cilantro's benefits here.
Banana. Though some people fear the sugar in banana, it's loaded with manganese which is important for healthy brain function and are thought to help reduce damage from free radicals. The fiber in bananas may also help prevent constipation. (If you don't love bananas, try using a few pitted dates instead, for added sweetness, fiber, and iron.)
Avocado. Eating fat stimulates the release of bile from the gallbladder, making avocado an ideal addition to a detox smoothie. Avocados contain monosaturated fatty acids, which are thought to lower "bad" cholesterol and raise the "good" HDL cholesterol.
Orange Juice. Oranges are known for being high in vitamin C, which is thought to help the body rid itself of toxins, while also boosting the immune system. For the most health benefits, use freshly squeezed orange juice, or even a whole orange without seeds to get the benefit of the fiber, too.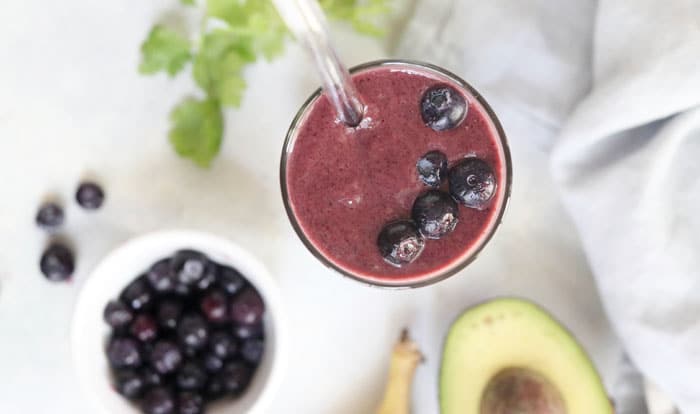 I find that the combination of the orange juice and banana help the cilantro taste more palatable, but as always, feel free to experiment with the ingredients you might have on hand. Frozen pineapple or fresh lemon juice could compliment the flavor, too!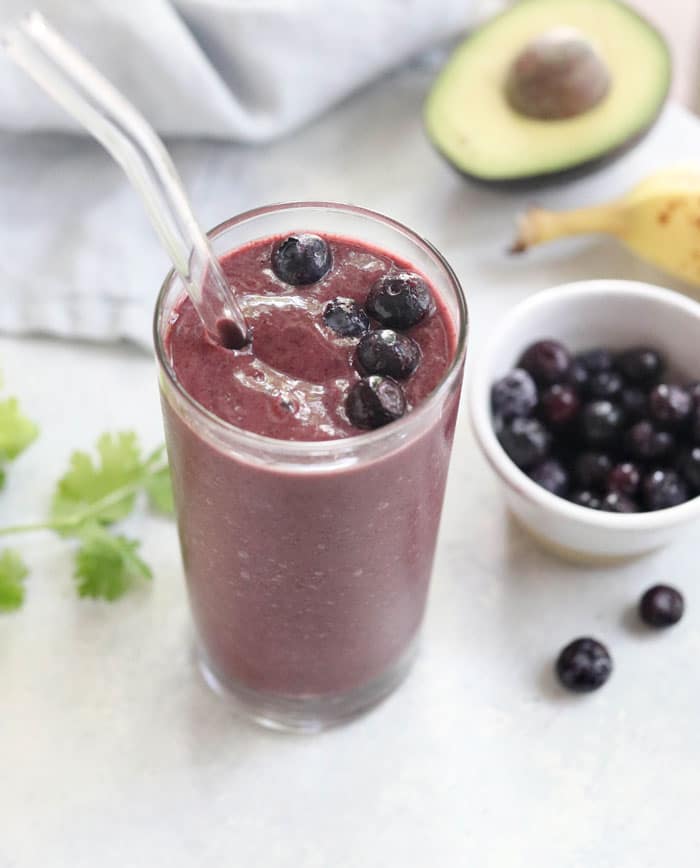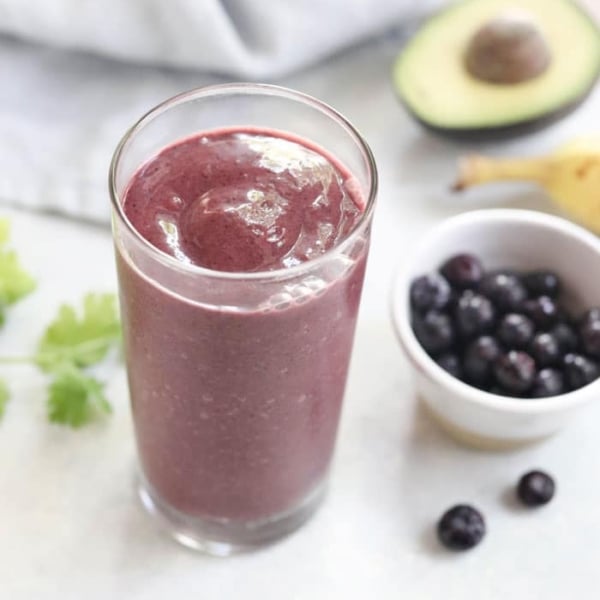 Blueberry Detox Smoothie
This blueberry detox smoothie is packed with wild blueberries and fresh cilantro, which may help to promote heavy metal detox in the body. Though it might sound strange, it tastes delicious!

Ingredients
1

cup

frozen wild blueberries

1

small handful fresh cilantro leaves

(see note)

1

frozen banana

, cut into pieces for easy blending

1/4

avocado

1/2

cup

orange juice

1/4

cup

water
Instructions
Combine the blueberries, cilantro, banana, avocado, orange juice, and water in a blender and blend until completely smooth. Serve right away.

Notes
Note: In my experience, it's best to start with using a small amount of potent herbs, like parsley and cilantro, and build up the amount you use over time. Start with a very small handful of cilantro, and if you don't experience a headache after drinking the smoothie, you can add a little more next time.
Nutrition
Calories:
326
kcal
,
Carbohydrates:
65
g
,
Protein:
4
g
,
Fat:
8
g
,
Saturated Fat:
1
g
,
Sodium:
11
mg
,
Potassium:
1028
mg
,
Fiber:
9
g
,
Sugar:
39
g
,
Vitamin A:
610
IU
,
Vitamin C:
91.7
mg
,
Calcium:
14
mg
,
Iron:
1.2
mg
Per serving: Calories: 326, Fat: 8g, Carbohydrates: 65, Fiber: 9g, Protein: 4g
Recipe Notes:
To lower the sugar content, you can use just 1/4 cup of orange juice or eliminate it all together, replacing it with water. You can also replace the banana for a cup of low-sugar berries, such as raspberries or strawberries, but then the smoothie will be much less palatable, in my experience. (More like drinking it for medicine, than enjoyment.)
This smoothie was inspired by Medical Medium, who has a detox smoothie that includes powders like spirulina (<affiliate link) and barley grass juice powder (<affiliate link). Feel free to experiment with adding any extra supplements you like!
Reader Feedback: What is YOUR favorite smoothie combination lately?