These Cauliflower Tacos are the perfect vegetarian dinner! They taste like a restaurant-quality meal, that you can make in just 30 minutes, featuring seasoned roasted cauliflower and a creamy cilantro coleslaw.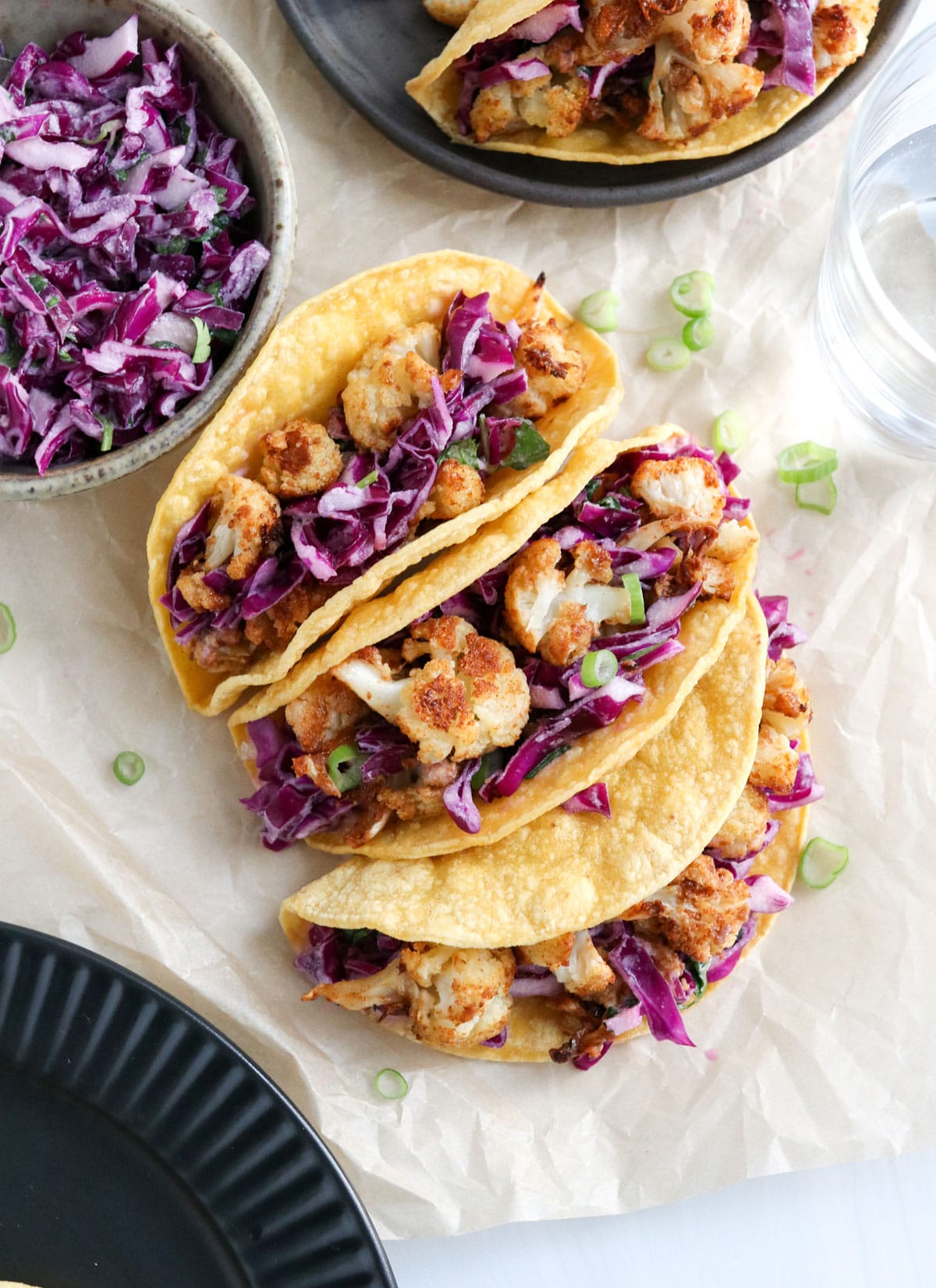 If you love cauliflower pizza and cauliflower fried rice, this is a fun new way to serve this versatile veggie.
Why You'll Love Them
Roasted cauliflower is perfectly seasoned with a slightly smoky taco seasoning, then roasted to perfection in just about 20 minutes. While that cooks, you can stir together the simple creamy dressing for the coleslaw!
It's all ready to serve at once, for an easy vegan meal.
This recipe is:
Gluten-free
Vegan
Paleo (if you use a grain-free taco shell)
Loaded with veggies
Super-flavorful
and incredibly easy!
If you need to make a swap, this recipe is also flexible. You could use your favorite store-bought taco seasoning on the cauliflower, if you prefer, or any other spices you happen to have on hand.
Ingredients You'll Need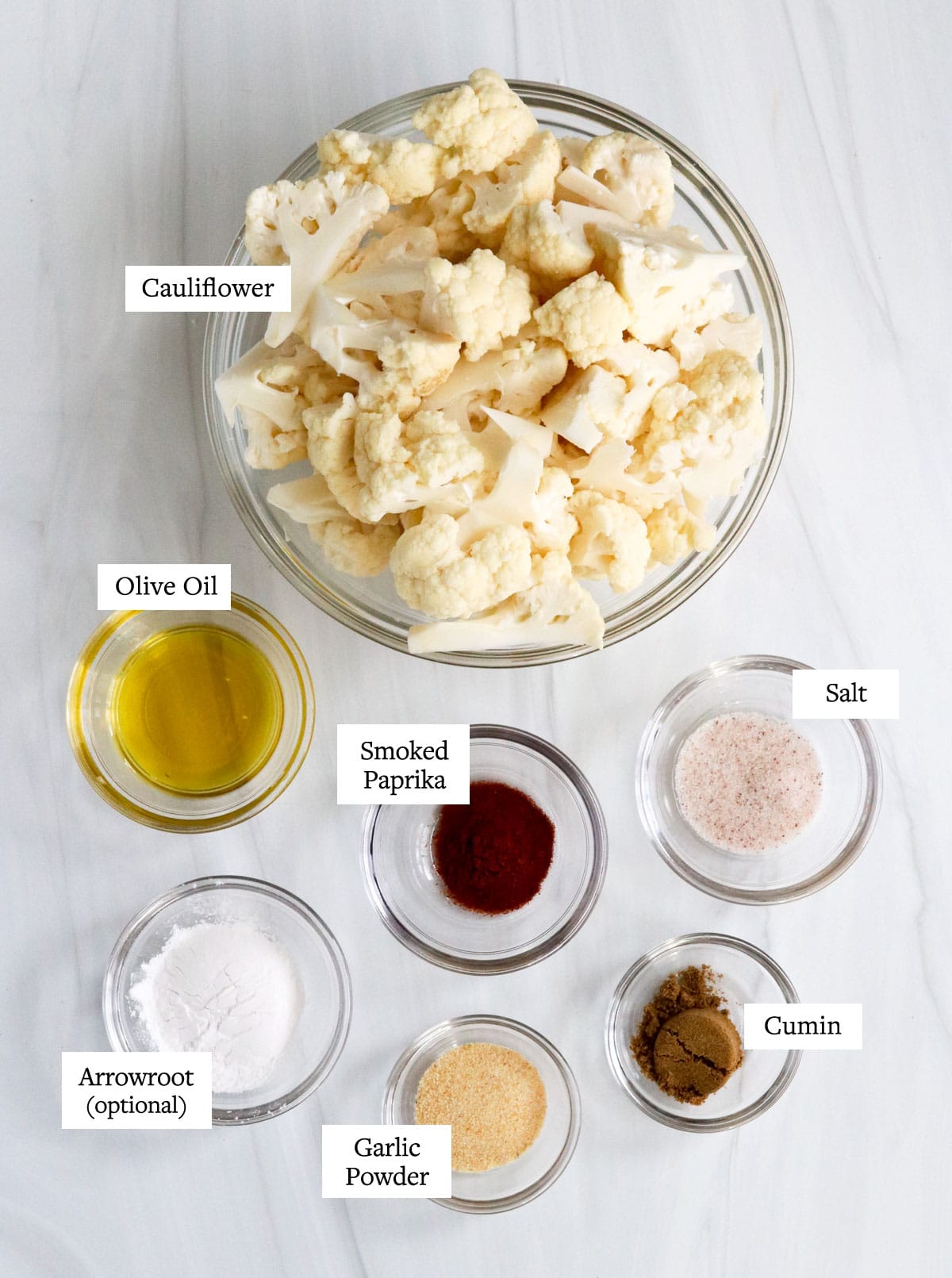 What's in cauliflower tacos?
Cauliflower florets
Cumin
Garlic powder
Smoked paprika
Salt
That's the basic seasoning for the cauliflower, and then you can toss the seasoned cauliflower with a little arrowroot starch or corn starch, if you'd like slightly crispier results.
See suggestions below if you need to make a substitution. This recipe is very flexible!
How to Make Cauliflower Tacos
1. Roast the cauliflower. Cut the cauliflower into bite-sized florets for the most crispy results. Toss them with olive oil, then season with the spices and toss again.
For extra-crispy results, sprinkle the seasoned cauliflower with a tablespoon of arrowroot or corn starch and toss briefly. This will help it crisp-up in the oven a bit more, but is totally optional.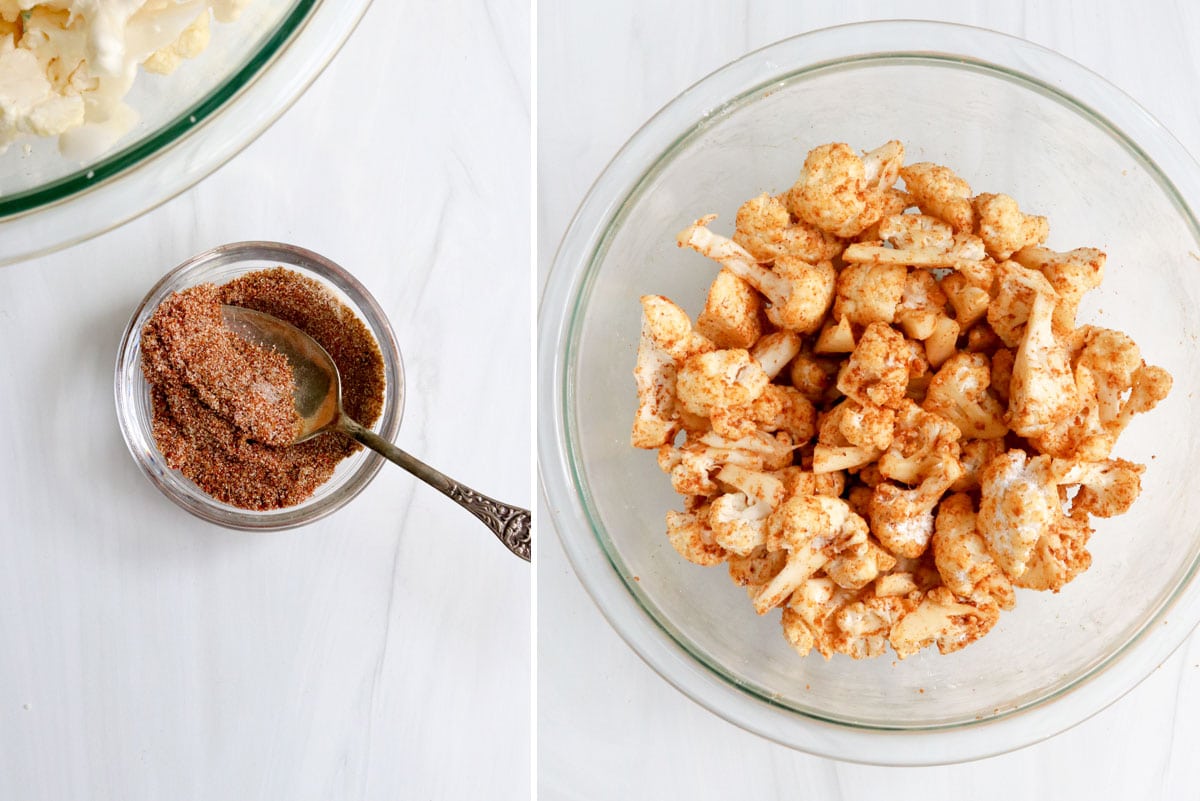 Roast at 400ºF for 20 minutes, or until the cauliflower is golden on the bottom. You can stir and return the pan to the oven to cook for another 5 minutes, if needed.
2. Make the cabbage slaw. While the cauliflower is roasting in the oven, in a large bowl (you can wipe out the same one you just used for the cauliflower) combine the tahini, lime juice, garlic, salt, and water.
Mix well, until a creamy dressing is created at the bottom of the bowl, then toss in the shredded cabbage and cilantro. Stir to coat the cabbage in the dressing, then let the slaw marinate for at least 10 minutes before serving, to let the flavors meld.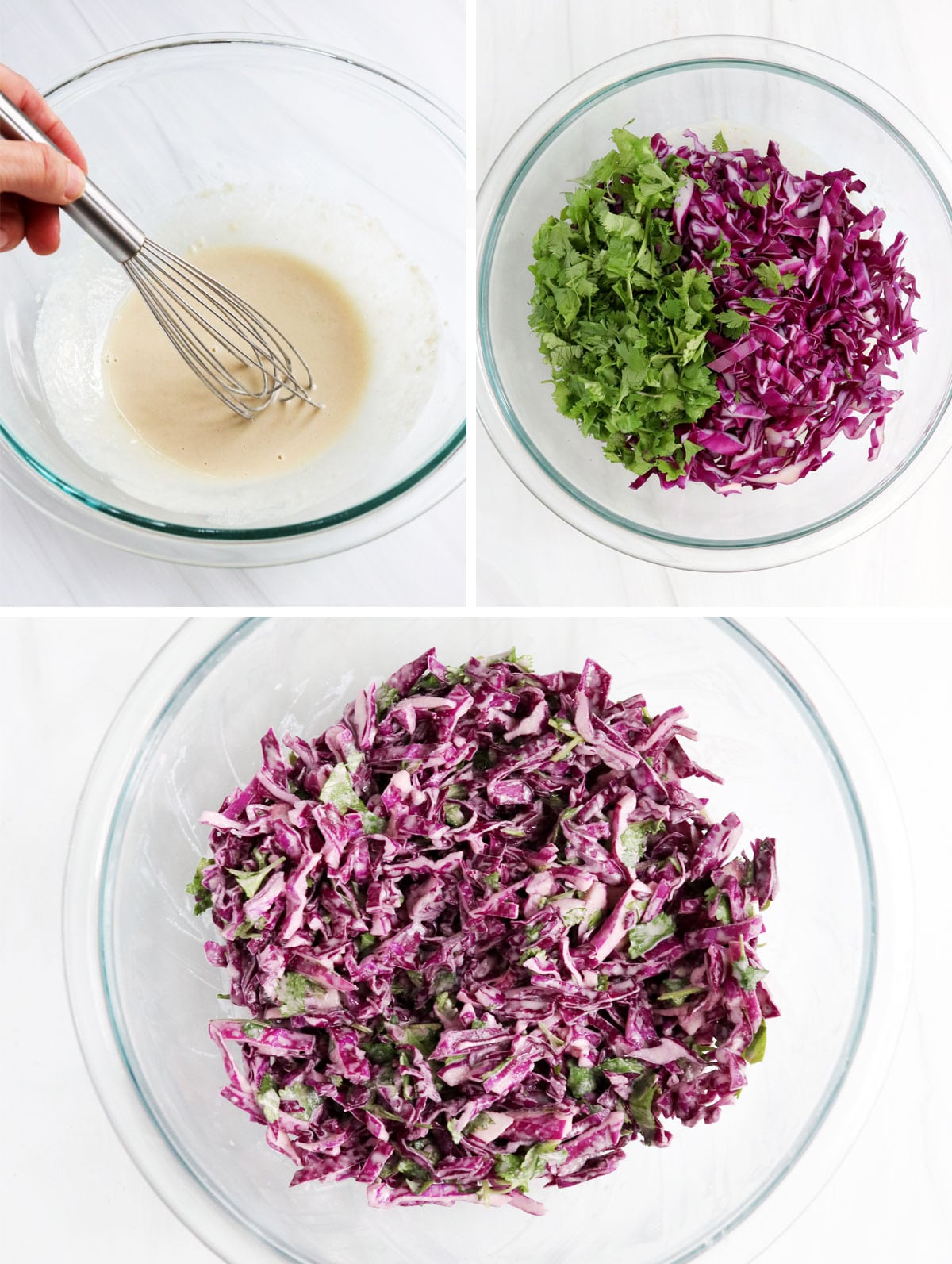 3. Serve. Prepare the taco shells in a pan over medium-high heat, lightly greased with oil, and cook them for about 30 seconds on each side to help make them pliable. (Different taco shells will require slightly different methods– be sure to read the package!)
You can also warm them up in the oven on a large baking sheet, if you'd like to prepare several tortillas at once. Brush each side lightly with oil, and add them to the bottom shelf of your oven while you keep the cauliflower warm on the top shelf.
When the tortillas are pliable, which takes about 1-2 minutes in the oven at 400ºF, you can serve the tacos warm, with several pieces of roasted cauliflower and a generous serving creamy slaw to finish it off.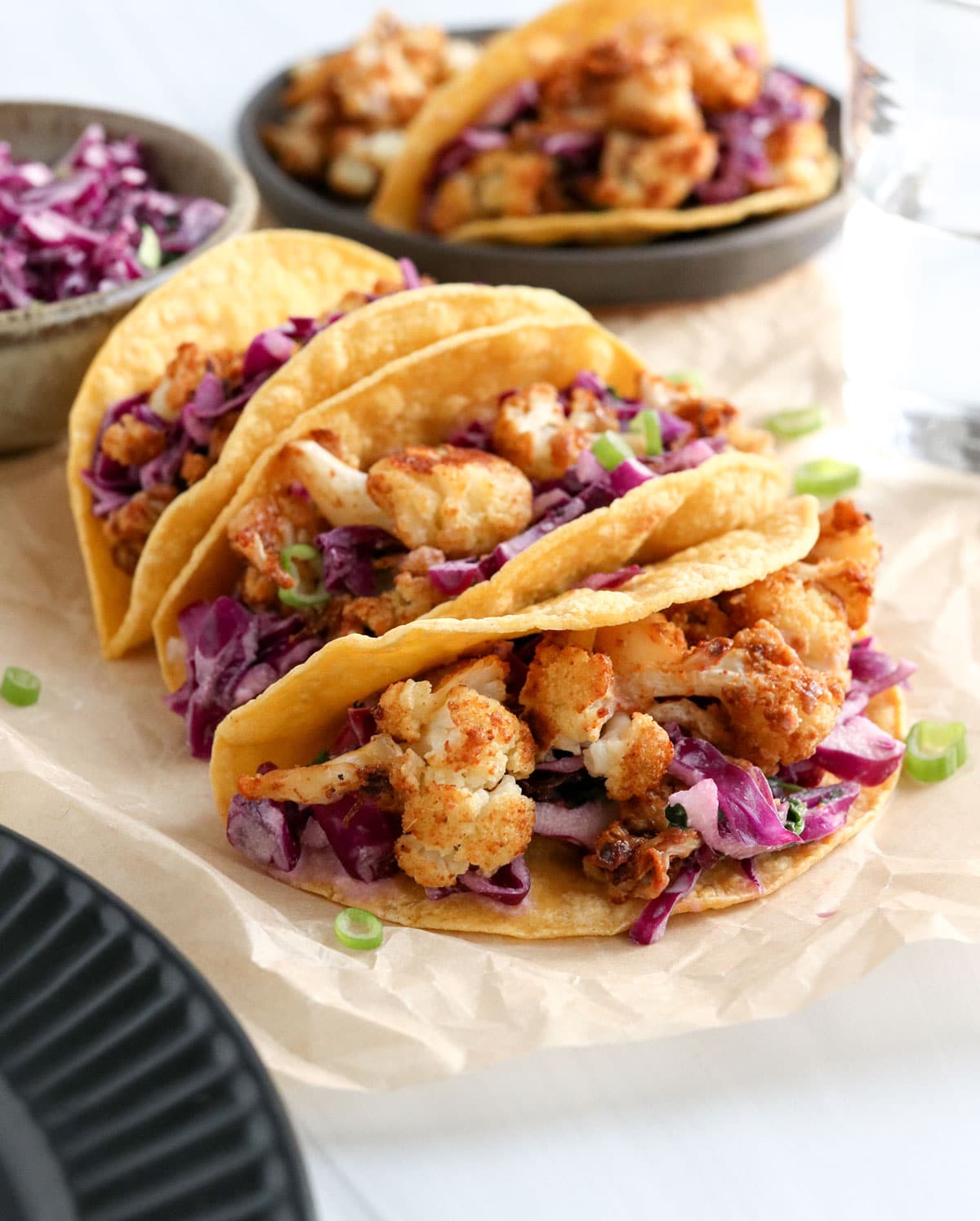 Note: Want to make crispy taco shells? Corn tortillas need to bake for 5 to 6 minutes, until they are golden to become extra-crispy. Try to bend them while they are still warm, because they will harden as they cool!
If you want to add sliced avocado, extra cilantro, or a few chopped green onions inside, feel free to make these your own. But the roasted cauliflower and slaw is enough that you don't "need" to prepare any other toppings if you don't want to.
Expert Tips & Common Questions
Which tortillas work best? I tend to use corn tortillas or cassava flour tortillas to keep this recipe gluten-free. If your family can tolerate gluten, you can also use flour tortillas for a soft taco.
Seite brand makes almond flour, coconut flour and cassava flour tortillas for a paleo option, and Food for Life brand makes wonderful sprouted wheat tortillas, if you prefer a whole wheat option.
Can I swap the tahini? I use tahini as the base of the creamy coleslaw dressing to keep this recipe nut-free, but you can use almond butter or cashew butter with very similar results. You could also use mashed avocado as the base, for another creamy option, or your favorite store-bought mayo.
How long do cauliflower tacos last? You can store the leftover cauliflower and slaw in separate airtight containers in the fridge for up to 3 days. The cauliflower won't become quite as crispy when you reheat it, but you can warm it up in the oven at 400ºF for 5 to 10 minutes, until piping hot again.
When serving the leftover slaw, you might need to add an extra squeeze of lime juice to help brighten up the flavors again. Citrus tends to mellow when it's stored, so that usually needs to be boosted for leftovers.
Can you cook cauliflower tacos in an air fryer? Yes! The air fryer will cook the cauliflower even faster than the traditional oven method. Check out my air fryer cauliflower tutorial for timing and tips.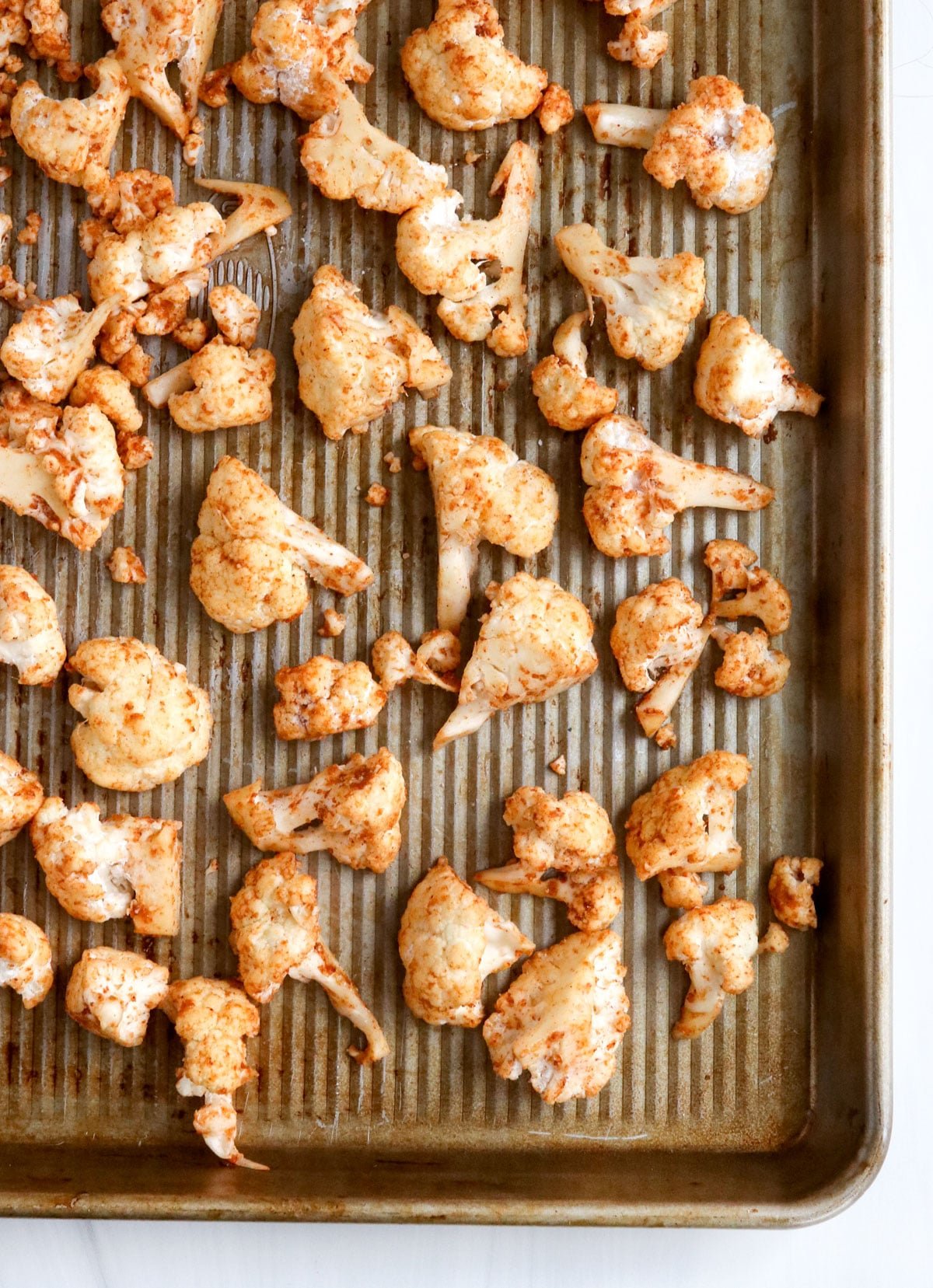 Flavor Variations
Want a buffalo cauliflower taco? Try Buffalo Cauliflower Wings recipe as an alternate filling. It would be delicious with this creamy slaw, or with some vegan ranch drizzled on top.
Don't like smoked paprika? You can leave it out for a more simple seasoning, or add in a 1/4 teaspoon of dried oregano for a slightly different flavor combination.
I can't wait to hear what you think of these cauliflower tacos. I hope you love them as much as my family does!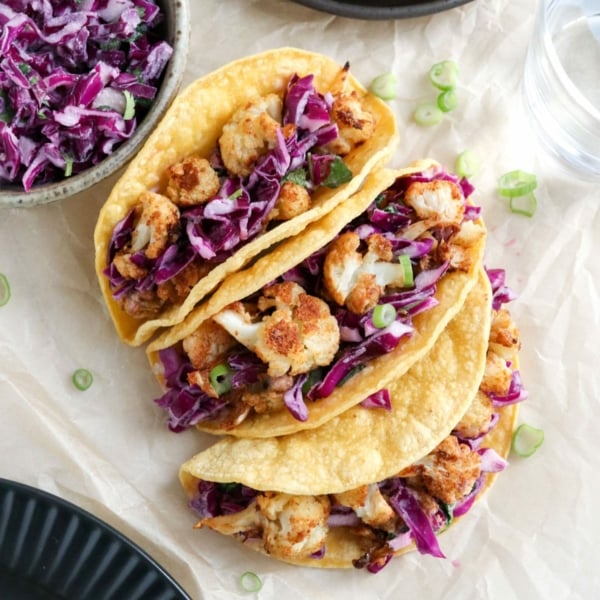 Cauliflower Tacos with Creamy Slaw
These roasted cauliflower tacos are the perfect vegetarian meal that you can whip up in 30 minutes. Paired with an easy cilantro slaw, it tastes like it came from a restaurant!
Ingredients
Roasted Cauliflower Tacos
1

pound

cauliflower

, cut into florets

1

tablespoon

olive oil

1

teaspoon

garlic powder

1

teaspoon

ground cumin

1/2

teaspoon

smoked paprika

3/4

teaspoon

salt

1

tablespoon

arrowroot starch

(or corn starch; optional)
Creamy Cilantro Slaw
2

tablespoons

raw tahini

(I use Artisana brand)

1

tablespoon

lime juice

1/4

teaspoon

garlic powder

(or 1 clove, finely minced)

1/2

teaspoon

salt

1/2

teaspoon

maple syrup

12

ounces

shredded cabbage

(about 3 cups)

1/4

cup

freshly chopped cilantro

, tightly packed

8

corn tortillas

, for serving
Instructions
Preheat the oven to 400ºF and cut the cauliflower into small pieces so they will cook quickly and evenly. In a large bowl, toss the cauliflower in the olive oil.

In a small bowl, mix together the garlic powder, cumin, smoked paprika, and salt. Shake the mixture over the cauliflower and toss well. For extra-crispy cauliflower, you can sprinkle on the arrowroot or corn starch last, and toss again until you no longer see white powder. (This is optional-- the cauliflower is delicious either way.)

Arrange the seasoned cauliflower on a large baking sheet, spreading the pieces out as much as possible. (Don't crowd the pan, or the cauliflower will steam instead of getting crispy.) Bake at 400ºF for 20 to 25 minutes, until the cauliflower is golden.

While the cauliflower is cooking, in a large bowl combine the tahini, lime juice, garlic, salt, maple syrup, and 1 tablespoon of water. Mix well with a whisk, and add more water, just 1 tablespoon at a time, until the mixture looks creamy. (You shouldn't need more than 2 tablespoons of water total.)

Add in the shredded cabbage and cilantro, and stir well, until the veggies are evenly coated in the dressing. Set the bowl aside to let the slaw marinate, for at least 10 mintues before serving.

To prepare the corn tortillas, you can spray them with olive oil on both sides, and arrange them in a single layer on a large baking sheet. (You may have to do this in batches-- I can only fit 4 tortillas per pan.) Place the tortillas in the oven to warm up on the bottom shelf for about 5 minutes, while the cauliflower finishes roasting. The shells will crisp up as they cool, so be sure to fold them over quickly after removing them from the oven, before they firm up.

Serve each taco shell with a generous portion of the creamy slaw, topped with a few pieces of roasted cauliflower. You can add any other toppings you like, such as sliced avocado or green onions, but the flavor is delicious even without any extras. Store leftover cauliflower and slaw in separate airtight containers in the fridge for up to 3 days.
Video
Notes
Nutrition information is for 1 of 8 tacos, using corn tortillas. This is just a rough estimate, not a guarantee!
To keep this recipe gluten-free, be sure to use tortillas made from corn, cassava flour, coconut flour, brown rice flour, or almond flour. You can also use thinly sliced jicama as a vegetable-based taco shell. (Trader Joe's sometimes sells pre-sliced ones!)
Nutrition
Calories:
254
kcal
,
Carbohydrates:
39
g
,
Protein:
8
g
,
Fat:
10
g
,
Saturated Fat:
1
g
,
Polyunsaturated Fat:
3
g
,
Monounsaturated Fat:
5
g
,
Sodium:
804
mg
,
Potassium:
647
mg
,
Fiber:
8
g
,
Sugar:
6
g
,
Vitamin A:
221
IU
,
Vitamin C:
87
mg
,
Calcium:
120
mg
,
Iron:
2
mg
If you try this Cauliflower Taco recipe, please leave a comment and star rating below letting me know how you like them!
–
Reader Feedback: Would you like to see more vegetarian dinner ideas, or something different next time? Let me know in the comments!