This Champagne Vinaigrette is a versatile salad dressing to keep stashed in your fridge. It has a sweet and tangy flavor and will leave you craving your next salad.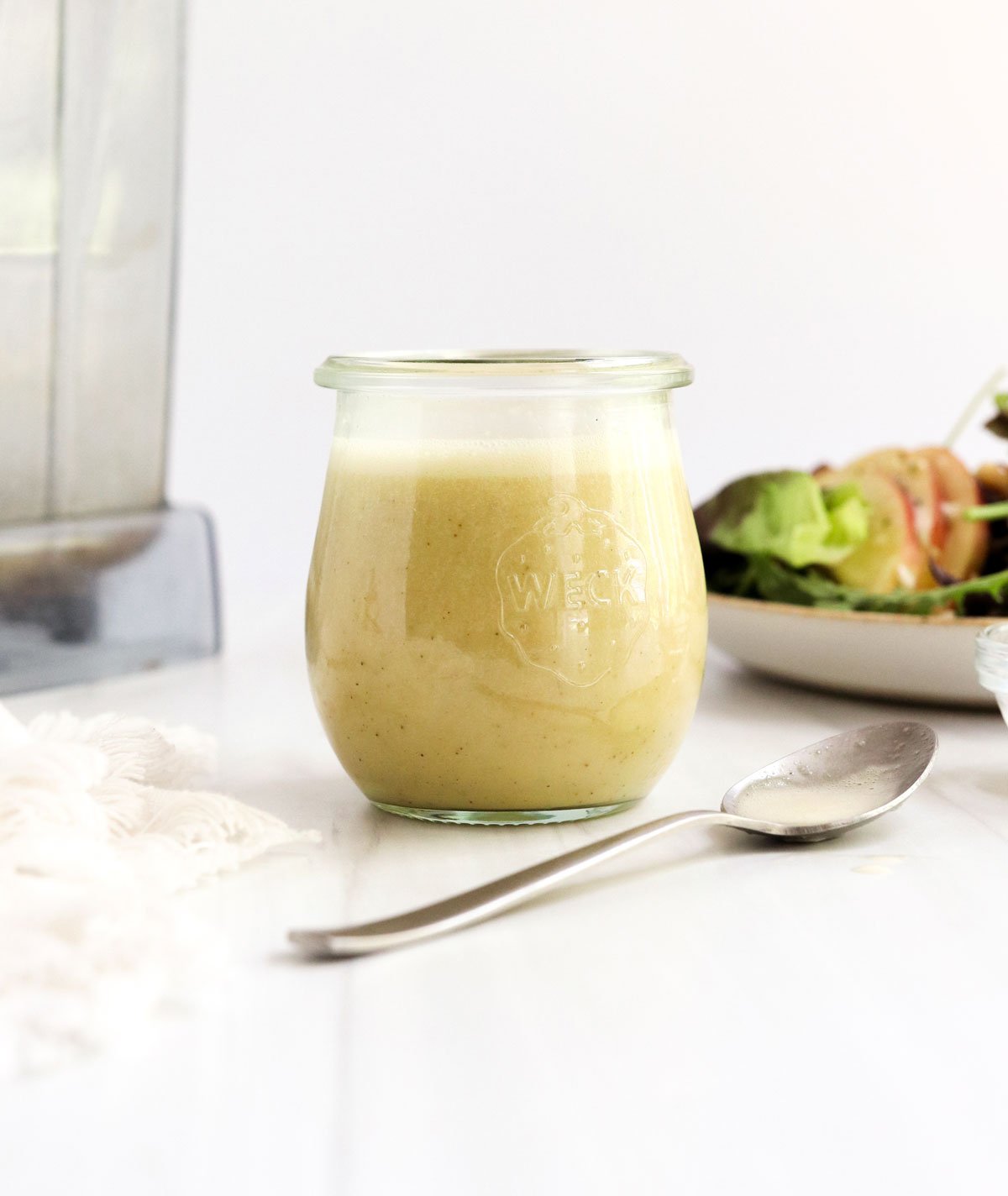 This recipe is inspired by the Honey Champagne Vinaigrette from The Mixx, one of my favorite local restaurants in Kansas City. It's often served over their Garden of Eden salad, which features field greens, chopped apples, candied pecans, and gorgonzola cheese. 
The combination will make you want to lick your plate clean!
Ingredients You'll Need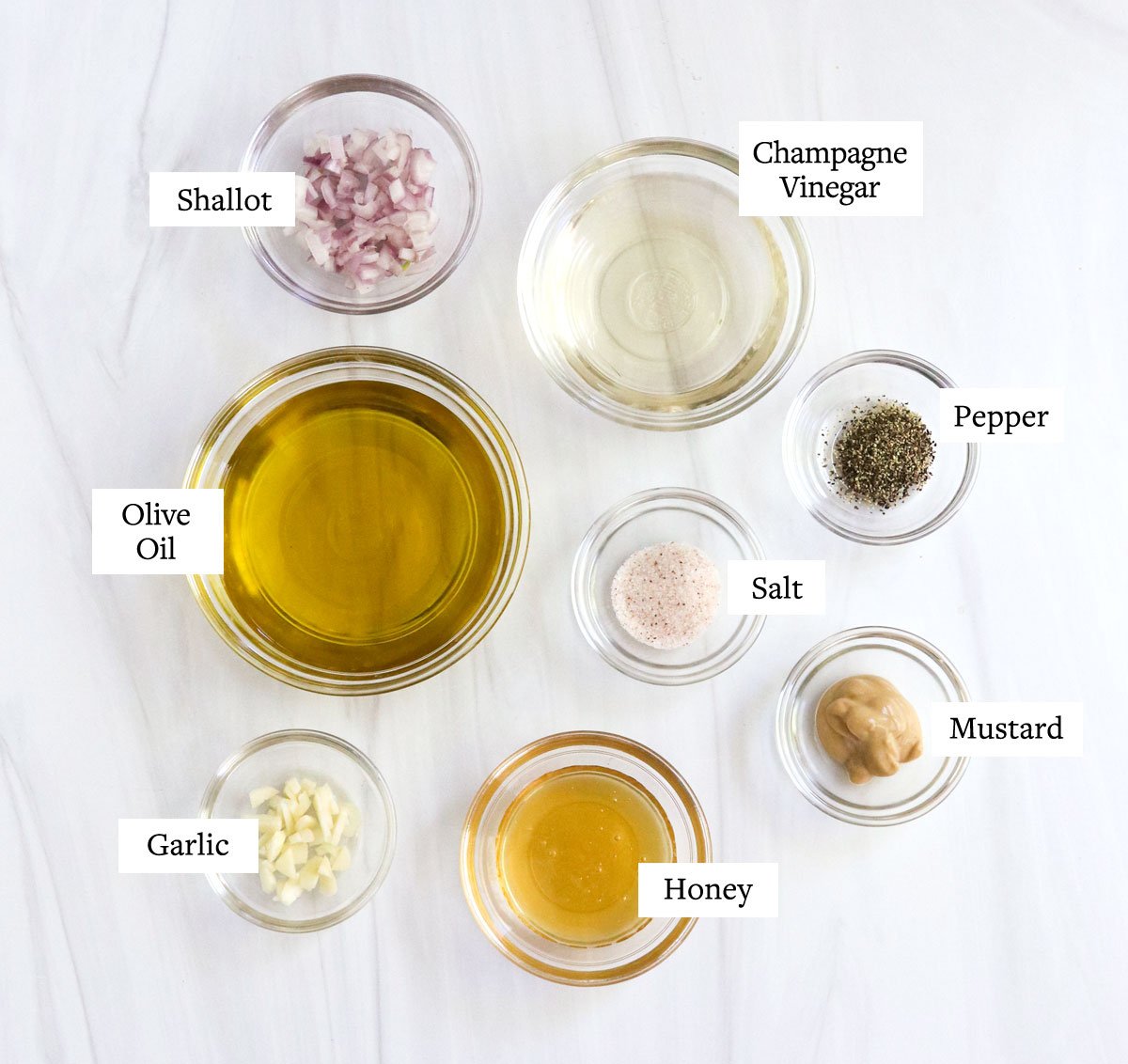 This dressing recipe is simple to prepare and flexible enough that you can use practically any ingredients in your pantry. I tend to keep my homemade salad dressings on the lower-oil side of things, so I also like to add a splash of water to help dilute the vinegar flavor even more.
As a result, the dressing will be a little more runny in texture, and you'll need to stir or shake it well each time you're ready to use it. But it also won't thicken in the fridge as much as a traditional oil-based dressing.
How to Make Champagne Vinaigrette
1. Gather the ingredients.
As you measure the ingredients, you can add them to a blender or directly into a bowl or mason jar. If you plan on stirring this together, be sure to mince the shallot and garlic finely.
You can skip the chopping part if you plan on letting the blender do the work for you.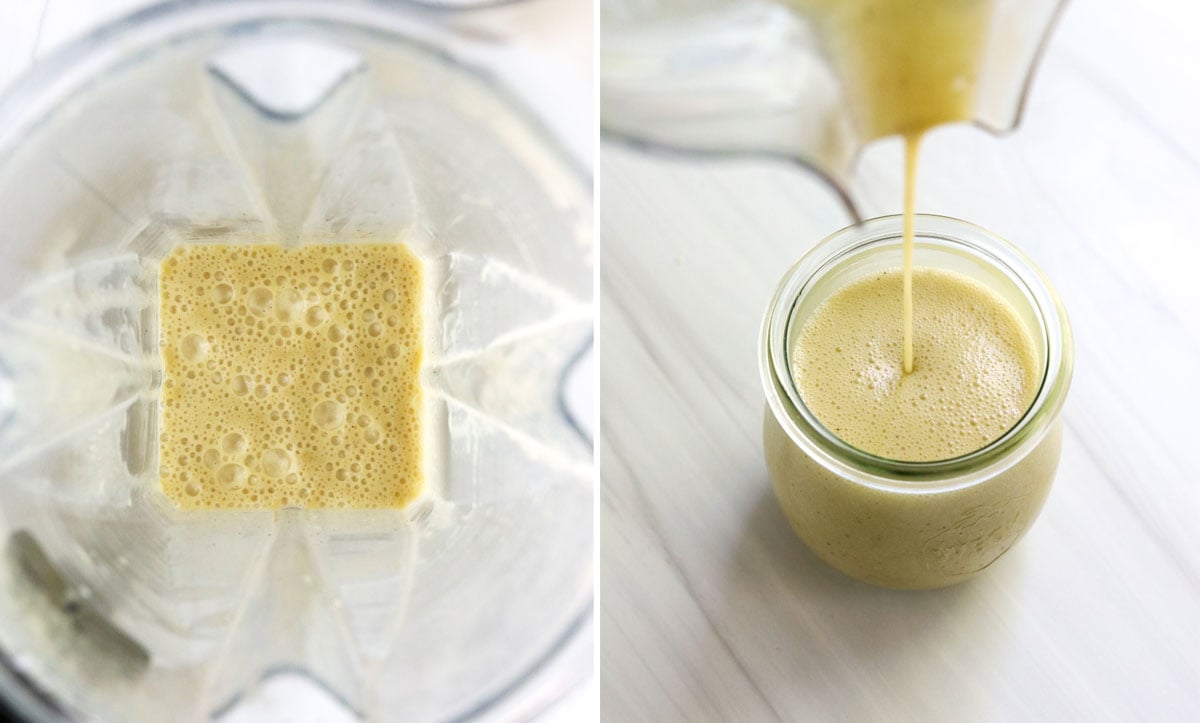 2. Mix.
Secure the lid on your blender, and blend until the dressing looks very smooth. Alternatively, you can use a whisk to vigorously stir the ingredients together or secure the lid on your mason jar and shake well.
Adjust any flavoring to taste, adding more honey if you'd like a sweeter flavor or a little more salt or vinegar if you prefer a more tangy flavor.
3. Enjoy!
This dressing is ready to serve right away over your favorite salad ingredients. Or, you can store it in an airtight container in the fridge for up to 1 week. Be sure to shake the dressing well each time you use it again, as separation is normal.
Try serving this dressing over spicy arugula, baby spinach, or chopped romaine lettuce. I can't think of a salad ingredient this wouldn't be delicious with!
Note: When you use extra virgin olive oil in a homemade salad dressing, it can thicken when chilled in the fridge. This is totally normal! Let it sit on the counter for 30 minutes before serving, or hold the sealed jar under warm running tap water for a few minutes to help it thin out again.
Frequently Asked Questions
What is champagne vinegar?
Champagne vinegar is a dry white wine vinegar, which tends to be milder in flavor and acidity than other vinegar types. It's made with the same grapes used to make Champagne— Chardonnay or Pinot Noir grapes– and can only be made in the Champagne area of France. Champagne vinegar is thought to be milder in flavor than other white wine vinegar, making it perfect for cooking and salad dressings like this one!
Is there alcohol in champagne vinegar?
Bacteria eat up most of the alcohol originally found in wine during the fermentation process for making vinegar. As a result, very little alcohol is left in the final product. (The trace ethanol found in vinegar is typically under 2%, which is considered negligible by most standards.)

If that small amount of alcohol is an issue, try one of my dressings using lemon juice instead, such as my Lemon Tahini Dressing or Lemon Poppy Seed Dressing.
Looking for more salad dressing recipes? Try Honey Balsamic Dressing, Apple Cider Vinaigrette, or Italian Dressing for more ideas.
Champagne Vinaigrette
This Champagne Vinaigrette is lightly sweet and tangy, and goes perfectly over any number of salad combinations! It's the perfect dressing to meal prep for the week.
Ingredients
3

tablespoons

champagne vinegar

1/3

cup

extra-virgin olive oil

1

teaspoon

dijon mustard

1

tablespoon

finely chopped shallots

1

clove

garlic

, minced

3

tablespoons

honey

1/2

teaspoon

fine sea salt

1/4

teaspoon

ground black pepper
Instructions
Add the vinegar, oil, mustard, shallot, garlic, honey, salt, and pepper to a blender. Add 1 tablespoon of water, as well, to help thin-out the dressing, without using additional oil. (This improves the flavor!)

Blend until the dressing is smooth, and then adjust any seasoning to taste. You can add an additional 1 tablespoon of water, to help thin the texture even more, and you can add a splash of vinegar (or lemon juice) for more of a tangy flavor, or more honey for a sweeter taste.

Transfer the dressing to an airtight container and store it in the fridge until you're ready to use it. This dressing will keep well in the fridge for up to a week. If the dressing thickens when it's chilled, let it come back to room temperature by setting it on the counter for 30 minutes, or you can run the sealed jar under warm running water, until it's runny in consistency again. It's normal for dressing to separate in the fridge, so shake well before each use.
Notes
Nutrition information is for roughly 2 tablespoons of dressing, assuming you get 1 cup of dressing from this recipe. This is automatically calculated, and is just an estimate, not a guarantee.
Nutrition
Calories:
107
kcal
,
Carbohydrates:
7
g
,
Protein:
1
g
,
Fat:
9
g
,
Saturated Fat:
1
g
,
Polyunsaturated Fat:
1
g
,
Monounsaturated Fat:
7
g
,
Sodium:
153
mg
,
Potassium:
14
mg
,
Fiber:
1
g
,
Sugar:
7
g
,
Vitamin A:
1
IU
,
Vitamin C:
1
mg
,
Calcium:
3
mg
,
Iron:
1
mg
Update Note: I recently modified this recipe in May 2022 to make it more like the Honey Champagne Vinaigrette served at The Mixx and Caffetteria restaurants here in Kansas City. If you prefer the sugar-free version, you can find the measurements below:
1/4 cup champagne vinegar
2/3 cup extra virgin olive oil
1 tablespoon chopped shallot
1 minced garlic clove
1 teaspoon dried tarragon (or 1 T freshly chopped)
1 tablespoon stone ground mustard
1/2 teaspoon salt
1/2 teaspoon ground black pepper
I'd love to hear which version you prefer! If you try this Champagne Vinaigrette, please leave a comment and star rating below, letting me know how you like it!