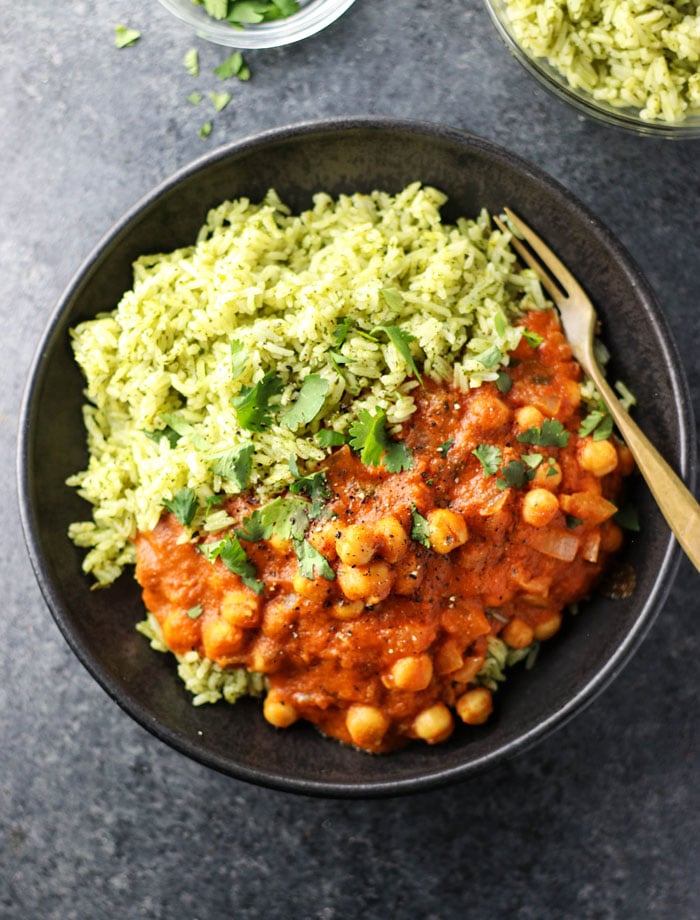 Need a new dinner idea this week? Try this Vegan Chickpea Tikka Masala. It comes from my friend Kathryne's new cookbook, Love Real Food, which was just released this week!
If you're not familiar with Kathryne's blog, Cookie and Kate, she shares delicious vegetarian recipes made with whole food ingredients. Along with some cute pictures of her dog, Cookie! Not surprisingly, her cookbook is loaded with beautiful photography and plenty of crowd-pleasing vegetarian recipes. 
There's a nice variety in these 100 "feel good" recipes, including recipes that call for gluten, eggs,  soy, and dairy, but I love how Kathryne has noted substitution ideas at the bottom of many of her recipes to help readers make them gluten-free, egg-free, soy-free, or nut-free to accommodate special diets and allergy needs.
Some of her other recipes that I'm excited to try include:
Fresh Taco Salad with Avocado Lime Dressing
Kale and Quinoa Salad with Plumped Cranberries and Lemon Dressing
Fresh Greek Nachos with Herbed Tahini Sauce
Beans and Greens Quesadillas
Lemony Almond Blueberry Cake
Strawberry Balsamic Ice Cream Sundaes
If this Vegan Chickpea Tikka Masala recipe is any indication, I have a feeling that all of the recipes in this book will be a hit. What I especially love is the "green rice" that you serve it with.
Normally, a recipe that has two parts might turn me off from trying it. As you may know, I like things to be as fast and easy as humanly possible, and that does NOT usually involve making two recipes for a single meal. However, trust me when I say this green rice actually comes together really fast and is totally delicious! The flavor is mild, yet very refreshing. I look forward to using my leftover green rice as the base for a burrito bowl later this week.
To make things as easy as possible, I actually cooked my green rice in my Instant Pot instead of using the stove. It doesn't get much easier than dumping the ingredients in the pot and pressing a button! The rice turned out perfectly using the "rice" setting (12 minutes on low pressure), in case you want to do the same.
This Vegan Chickpea Tikka Masala is loaded with fragrant spices, without being too spicy, and gets its creaminess from dairy-free coconut milk. Since this is a quick stove-top meal, you can taste as you go until the flavor is just right for you! I ended up adding some extra coconut milk, salt, and a splash of maple syrup to balance out the acidity of the tomatoes, so feel free to adjust it as you see fit for your family. This recipe will set you up for success!
Vegan Chickpea Tikka Masala with Green Rice
Chickpea Tikka Masala with Green Rice
Ingredients
Green Rice
2

cups

packed baby spinach

(about 2 ounces)

1

jalapeño or serrano pepper

, seeded, deribbed, and roughly chopped

¼

large yellow onion

, roughly chopped

2

cloves

garlic

, roughly chopped

2

tablespoons

extra-virgin olive oil

½

teaspoon

fine sea salt

1 ¾

cups

water

, divided

1 ½

cups

long-grain brown rice

, preferably basmati, rinsed
Chickpea Tikka Masala
1

tablespoon

grated or minced fresh ginger

3

cloves

garlic

, pressed or minced

1

tablespoon

ground coriander

1 ½

teaspoons

ground cumin

½

teaspoon

ground turmeric

¼

teaspoon

ground cardamom

Pinch of ground cinnamon

Pinch of cayenne pepper

(optional, if you like some heat)

1

box

(28 ounces) whole tomatoes or diced tomatoes, with their liquid

1

tablespoon

extra-virgin olive oil

¾

large yellow onion

, finely chopped

½

teaspoon

fine sea salt

1

can

(15 ounces) chickpeas, rinsed and drained, or 1 ½ cups cooked chickpeas

¾

cup

canned coconut milk

, or more if needed

½

cup

chopped fresh cilantro

, plus more for garnish
Instructions
To prepare the green rice: In a food processor or blender, combine the spinach, jalapeño, onion, garlic, olive oil, salt, and ½ cup of the water. Blend until smooth. Pour the mixture into a medium saucepan, reserving the food processor or blender bowl for later.

Add the remaining 1 ¼ cups water to the pan and bring the mixture to a boil over high heat. Add the rice, reduce the heat to low, cover, and cook on a low simmer until the rice is tender and has absorbed all of the liquid, about 40 minutes. There will be a layer of green on top, so you'll need to take off the lid and check underneath with a fork to be sure it's done. (If the rice has absorbed all of the moisture but is still a little crunchy, add a couple more tablespoons of water and cook for a few minutes longer.) Once the rice is done, remove the pot from the heat and let the rice steam, covered, for 10 minutes.

Meanwhile, to prepare the chickpea tikka masala: The tikka masala comes together quickly, so before you get started, prepare the ginger and garlic and place in a small bowl. In another small bowl, combine all of the ground spices (coriander, cumin, turmeric, cardamom, cinnamon, and cayenne, if using). Place both bowls near the stove so they are handy.

Rinse out the food processor or blender bowl. Pour the tomatoes and their liquid into the food processor or blender and blend until smooth.

In a large, nonreactive skillet or Dutch oven, warm the olive oil over medium heat until shimmering. Add the onion and salt. Cook until the onions are soft and translucent, 5 to 7 minutes. Add the ginger and garlic and cook until fragrant, about 1 minute. Add the ground spice mixture and cook, stirring constantly, until fragrant, about 30 seconds. Add the puréed tomatoes, chickpeas, coconut milk, and cilantro. Increase the heat to medium-high and bring to a simmer, then reduce the heat to low to maintain a gentle simmer. Cook, stirring occasionally, until the sauce thickens, about 20 minutes.

Fluff the rice with a fork, stirring the green on top back into the rice, and season with additional salt if necessary (I always need at least ¼ teaspoon more). Season the tomato mixture with additional salt until the flavors really sing (again, I always need at least ¼ teaspoon more). If necessary, add another splash of coconut milk to mellow the spices.

To serve, spoon the rice into individual bowls and top with the chickpea masala. Finish the bowls with a light sprinkle of chopped cilantro. If you have leftovers, store the rice and masala separately. Leftover masala is also great with warm whole-grain naan.
Notes
Tip: A "nonreactive" skillet is one that will not react with acid, such as stainless steel, enamel-coated (like Le Creuset), or one with a quality nonstick surface. Don't use your cast iron skillet, since the acidity in the tomatoes can eat away at the seasoned surface that you've worked so hard to maintain
Nutrition
Serving:
1
g
,
Calories:
206
kcal
,
Carbohydrates:
4
g
,
Protein:
1
g
,
Fat:
21
g
,
Saturated Fat:
10
g
,
Sodium:
590
mg
,
Potassium:
149
mg
,
Sugar:
1
g
,
Vitamin A:
30
IU
,
Vitamin C:
5.3
mg
,
Calcium:
20
mg
,
Iron:
1.1
mg
Per Serving: Calories: 206, Fat: 21g, Carbohydrates: 4g, Fiber: 1g, Protein: 1g
Text excerpted from Love Real Food, © 2017 by Kathryne Taylor. Reproduced by permission of Rodale Inc
. All rights reserved.
Substitution Notes:
I haven't tried any substitutions with this recipe yet, but I imagine you could use quinoa instead of rice for extra protein, or perhaps even make the green rice using "cauliflower rice" as a grain-free option.
As always, please leave a comment below if you try something different so we can all benefit from you experience.
—
Reader Feedback: What has been your favorite dinner this week? I love hearing new ideas, or being reminded of old favorites!