You may have already tried my chocolate avocado pudding, but if you're not a fan of avocado, this Chocolate Chia Seed Pudding is for you. It's quick & easy to prepare, and has a rich chocolate flavor!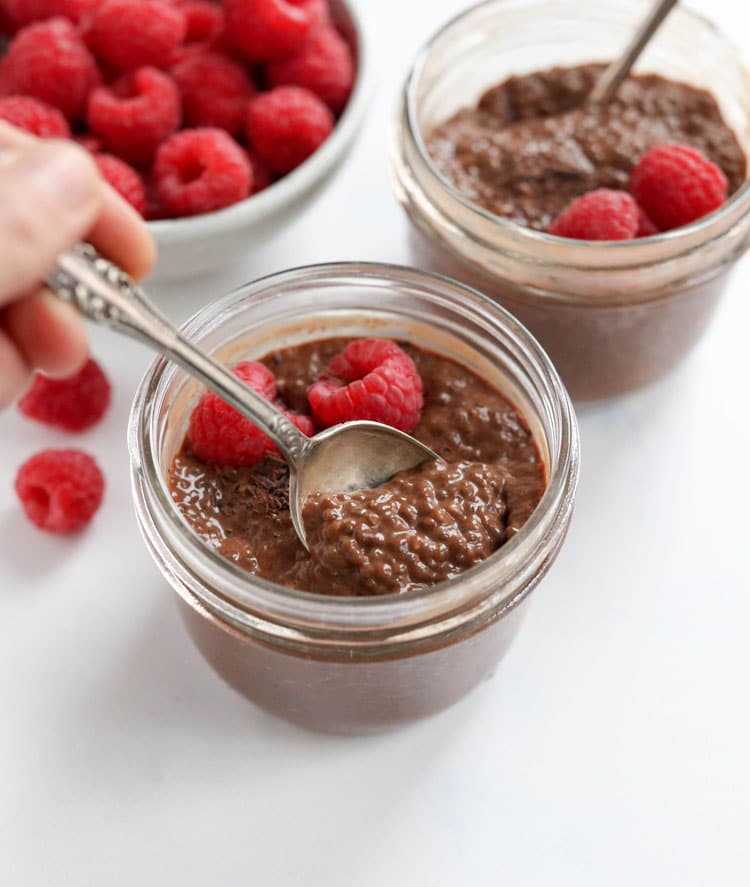 Is Chia Seed Pudding Healthy?
This pudding reminds me a little bit of tapioca pudding, only this one is made with chia seeds, which are loaded with antioxidants, plant-based protein, omega-3 fatty acids, and fiber.
They have so much fiber, in fact, that a 1-ounce serving of chia seeds has only 2 "net" carbs. (Net carbs are the total carbohydrate count minus the fiber.) This pudding also has 8 grams of plant-based protein per serving.
Benefits of Chia Seeds
What's so great about chia seeds? Here are a few reasons why I love them.
Thanks to that fiber, chia seeds can leave you feeling full longer, so I think they make a great addition for breakfast or a healthy snack.
How to Make Chocolate Chia Seed Pudding
Making this pudding is incredibly easy. All you need to do is stir together the chocolate milk ingredients— almond milk, cacao powder, maple syrup, and a splash of vanilla– and then pour that over the chia seeds.
Use a whisk to make sure the chia seeds will get evenly coated with the chocolate milk mixture, then transfer the pudding mixture to the fridge to thicken up! The pudding should be ready to serve in roughly 15 to 20 minutes, but you can also keep it in the fridge for several days, as an easy make-ahead meal.
How to Thicken Chia Pudding
If you have a chia pudding that won't thicken up, or has a runny consistency, there are a few ways to fix that. Hopefully the following tips will prevent it from happening in the first place!
Use a whisk to stir the pudding. For some reason, the whisk does a better job of breaking up the chia seeds. A whisk will make sure the seeds get evenly coated with the liquid, so that they can gel and expand.
Use the proper liquid ratio. Some chia pudding recipes will call for too much liquid. I like using a ratio of of 1 tablespoon of chia seeds for every 1/4 cup of liquid. (Not including flavorings, like maple syrup.)
Add more chia seeds and stir again. If you have a runny chia pudding, you can always add more chia seeds to help it thicken up! Make sure you use a whisk again to stir it together, then wait for it to thicken.
Blend the pudding. If your chia pudding didn't thicken up, add it to a blender and blend until smooth. It will be thicker that way, with a more authentic, smooth pudding texture.
If you don't love chocolate pudding, try my easy make-ahead chia pudding recipe or vanilla chia pudding as an alternative, too.
Tips for Blended Chia Seed Pudding
If you don't like the texture of chia seeds, you can blend chia pudding to create a smooth consistency. Just add all of the ingredients to a blender, including the chia seeds, and blend until smooth.
Note: One thing to keep in mind about blended chia seed pudding, is that the blending process makes the chia seeds have a stronger flavor. I like to add an extra tablespoon of maple syrup to help combat this, when making the blended version, and you might want to add a little extra cacao powder, too.
How to Make Chia Seed Pudding without Added Sugar
In the recipe below I've made it as easy as possible to prepare this pudding by using maple syrup. It's easy to measure and takes just minutes to stir together.
However, I've also made this pudding with dates instead, for a 100% fruit-sweetened option. You can replace 1 tablespoon of maple syrup with 2 dates, and then make the chocolate milk in a blender before pouring it over the chia seeds, to make sure the dates are totally broken down.
I think it's important to note that studies have classified dates to be a low-glycemic food (source), and have found that even diabetics can consume them without significant glucose spikes (source). I personally find date-sweetened desserts to leave me feeling more balanced after I eat them, too– in other words, I can enjoy a portion, but don't feel like binging on more sweets later!
Chocolate Chia Seed Pudding (only 4 ingredients!)
This Chocolate Chia Seed Pudding is a quick & healthy breakfast, that tastes like chocolate pudding!
Ingredients
1

cup

non-dairy milk

(almond, oat, hemp, etc.)

2 to 3

tablespoons

raw cacao powder

(or cocoa powder)

2 to 3

tablespoons

maple syrup

(see notes for date substitution)

1/4

cup

chia seeds
Instructions
In a mixing bowl (with a pour spout, if possible) combine the milk, 2 tablespoons of cacao powder, and 2 tablespoons maple syrup. Taste the mixture, and add more cacao powder or maple syrup to taste. Keep in mind that the chia seeds will dilute the chocolate milk flavor slightly.

To make two individual servings, pour 2 tablespoons of chia seeds into two separate storage jars that have lids. Divide the chocolate milk between the two containers, and then use a whisk to mix well. (Alternatively, you can add the chia seeds to the chocolate milk mixture to stir well, then pour the chia pudding into the storage containers-- it's totally up to you!)

Transfer the pudding to the fridge to thicken up, for at least 15 minutes, but it will get even thicker the longer it chills. You can make this pudding up to 3 days in advance as a make-ahead meal option, as long as you store it in an airtight container in the fridge.
Notes
To make a fruit-sweetened chia pudding, replace the 2 tablespoons of maple syrup with 4 squishy Medjool dates. (Make sure to remove the pits!) You'll need to blend the chocolate milk mixture in this case, to break down the dates, then pour the mixture over the chia seeds and proceed with the recipe.
Nutrition
Calories:
222
kcal
,
Carbohydrates:
29
g
,
Protein:
8
g
,
Fat:
10
g
,
Saturated Fat:
1
g
,
Sodium:
65
mg
,
Potassium:
374
mg
,
Fiber:
9
g
,
Sugar:
15
g
,
Vitamin A:
464
IU
,
Vitamin C:
8
mg
,
Calcium:
327
mg
,
Iron:
3
mg
Chia pudding nutrition info above is for one serving, using 2 tablespoons of maple syrup.
Recipe Notes:
You can make this chia pudding recipe with almond milk, oat milk, hemp milk with great results.
If you're not vegan, you can replace the maple syrup with honey, instead.
If you try this recipe, please leave a comment below letting me know how you like it! And if you make any modifications, I'd love to hear about those, too. We can all benefit from your experience.
—
Reader Feedback: Have you tried chia pudding before? This chocolate version is a great way to get kids to try it, too!