Banana ice cream, also called nice cream, is my favorite healthy ice cream because it's quick and easy to prepare, with only 1 main ingredient required. Today I'm going to show you how to make it, without an ice cream maker!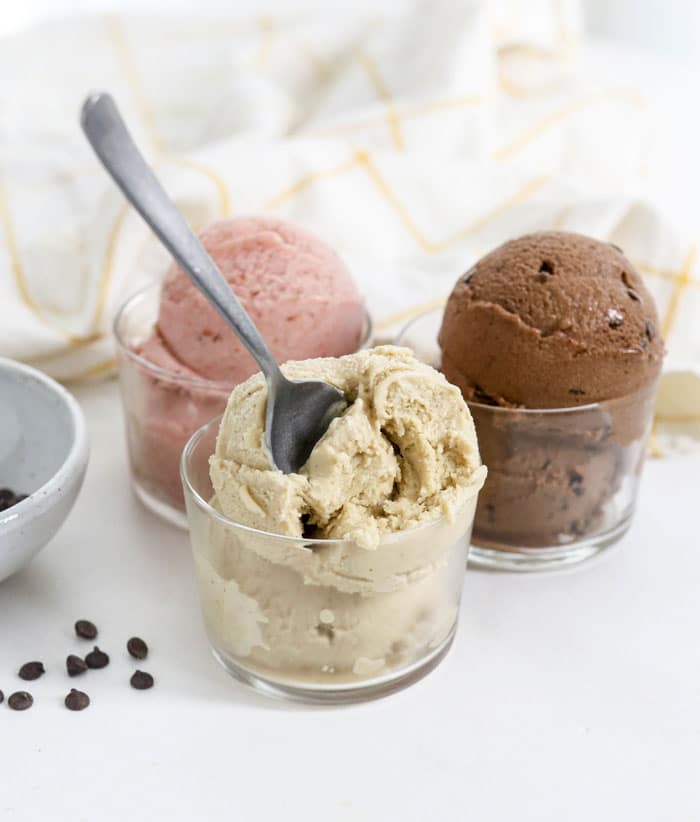 When you freeze a banana, it becomes unbelievably creamy, which is why it makes recipes like my Peanut Butter Banana Smoothie and Strawberry Banana Smoothie so milkshake-like.
How to Freeze Bananas
Before you freeze bananas for ice cream, it's important that you peel them first (or the peel could be stuck forever), and then slice them into coins. I cut each banana slice about 1/2-inch thick, but it's not important to be precise.
Cutting the banana into small pieces helps it break down faster when you blend it, giving you a thick & creamy ice cream, without making your food processor work too hard.
Once the bananas are sliced, arrange them in a single layer on a large baking sheet covered with parchment paper. You don't want them to freeze stuck to the pan, so it's important that there is a barrier like parchment paper or a silicone mat. I can usually fit about 4 to 5 large bananas onto a single pan.
Freeze the bananas overnight, then transfer them to an airtight container to store for longer. (This way they won't pick up the tastes or smells from your freezer.) Freezing the sliced banana on a pan first ensures that they won't stick together in a big clump, so they will be easier to blend for smoothies or ice cream.
How to Make It
Making banana ice cream is as easy as adding the frozen sliced bananas to the bowl of food processor fitted with an "S" blade, and then pressing a button. You don't have to add anything else, but you may need to stop and scrape the machine down once or twice to make sure everything keeps moving and blending.
Plain banana ice cream has a great texture, but it isn't super-sweet if your taste buds are used to traditional ice cream. (If you don't typically use sweeteners, it's plenty sweet on its own.)
For something a little sweeter, you can add a touch of maple syrup or honey to the food processor to blend along with the bananas, or try one of the flavor combinations below.
Flavor Variations
If you want to jazz up the flavor of your banana ice cream, try one of the following options. Keep in mind that these measurements are just suggestions, so be sure to taste it as you go and adjust the flavoring until it tastes perfect to you.
Peanut Butter + Banana (Add 1 tablespoon all-natural peanut butter per frozen banana; this is my favorite version! I've been making peanut butter banana ice cream for years.)
Strawberry Banana Ice Cream (Add 1/2 cup frozen strawberries + 1 tablespoon of maple syrup per frozen banana; you can also replace the maple syrup with 2 pitted dates + 2 tablespoons water.)
Double Chocolate Banana Ice Cream (Add 1 tablespoon unsweetened cacao powder + 1 tablespoon maple syrup per banana + a sprinkle of mini chocolate chips; optionally you can also add a splash of vanilla and 1 tablespoon of almond butter for added creaminess.)
Chocolate Peanut Butter Banana Ice Cream (Add 1 tablespoon peanut butter + 1 tablespoon cacao powder + 1 tablespoon maple syrup)
The combinations are endless, so feel free to also blend in any other ingredients you like, such as raspberries, blueberries, cinnamon, pumpkin, and more.
Can you Freeze It?
Banana Ice Cream has a "soft serve" consistency immediately after you make it, and you can serve it right away like that. However, if you want to make it ahead of time or if you want a scoop-able consistency more like traditional ice cream, transfer the ice cream to a dish that you can place in the freezer.
I find that banana ice cream is the easiest to scoop after it's been in the freezer for about 2 hours. If you freeze it overnight, it will be much harder in texture, and you'll need to let it sit out on the counter at room temperature for 15 to 20 minutes to let it thaw and soften up again.
You can freeze prepared banana ice cream in an airtight container for up to 3 months. Make sure it's tightly covered to prevent freezer burn.
How to Make Banana Ice Cream (Nice Cream)
Here's how to make Banana Ice Cream at home, using only 1 main ingredient. This recipe includes 5 different flavor combinations and a video to show how easy it is!
Ingredients
Instructions
Add the ingredients to the bowl of a food processor fitted with an "S" blade. If using dates in your recipe, process them with water first to help break them down, then add in the bananas and any other ingredients.

Process the bananas until they break down and have a smooth and creamy ice-cream-like texture. Serve right away for a soft serve consistency.

For a scoop-able ice cream, transfer the banana ice cream to a freezer-safe dish and freeze for 2 hours. Scoop and serve.

Leftover ice cream can be stored in a tightly covered container for up to 3 months, but it will harden so you'll need to let it thaw on the counter for 15 to 20 minutes before serving again.
Nutrition
Calories:
121
kcal
,
Carbohydrates:
31
g
,
Protein:
1
g
,
Fat:
1
g
,
Saturated Fat:
1
g
,
Sodium:
1
mg
,
Potassium:
487
mg
,
Fiber:
4
g
,
Sugar:
17
g
,
Vitamin A:
87
IU
,
Vitamin C:
12
mg
,
Calcium:
7
mg
,
Iron:
1
mg
Banana Ice Cream Nutrition (for 1 banana): Calories: 121, Fat: 1g, Carbohydrates: 31g, Fiber: 4g, Protein: 1g
Recipe Notes:
I typically use 1 frozen banana per person when making this healthy ice cream, but I've found that my 12-cup food processor handles 2 to 3 bananas better than just one on its own. You can use a mini food processor when making this ice cream for only one person, or you can make a larger batch and freeze it for later.
This recipe is a taste-as-you-go kind of process, so don't stop adjusting the flavor until it tastes perfect for you! You can always place the ice cream back in the freezer if it gets too soft from over-processing.
If you try this recipe, please leave a comment below letting me know how you like it. And if you try another flavor combination, I'd love to hear about it! We can all benefit from your experience.
–
Reader Feedback: Have you tried banana ice cream yet? I first started making it over 10 years ago, during a brief "raw food phase" that I was trying out, and it's stuck with me ever since!