If you want the creamy comfort of a latte, without using dairy milk, this recipe is for you. It's made with just 3 ingredients, including coffee that you can brew at home, and it's ready in less than 5 minutes with the help of your blender.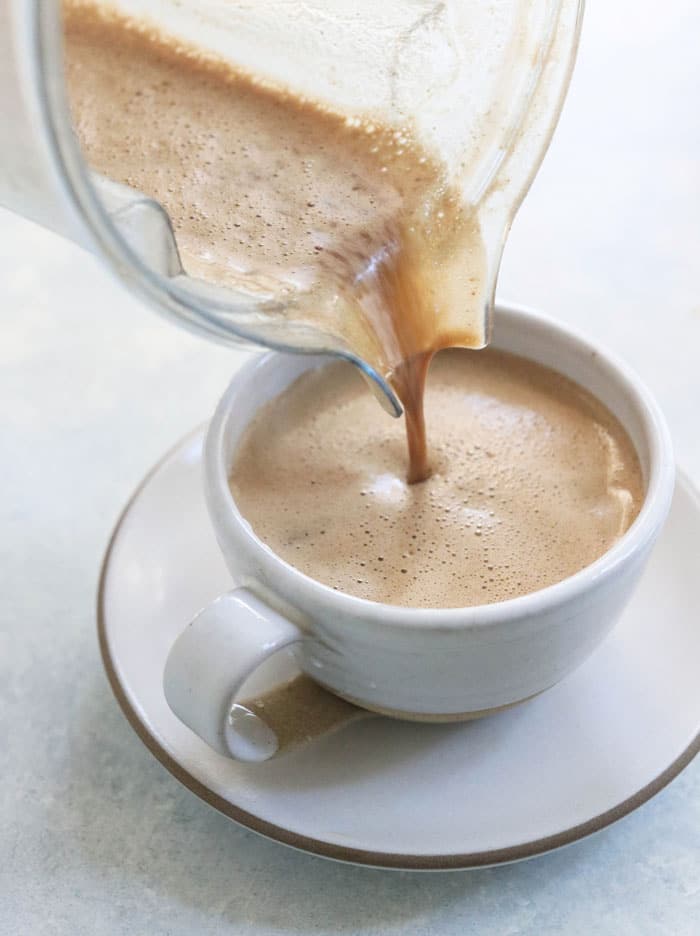 I gave up using real cream in my coffee a few weeks ago, and I'm not going to lie– I miss it. To the point that I'd almost give up drinking coffee… except for the fact that I love the taste. I also love the morning burst of energy that I get when I drink it, however temporary it may be. (If you're more of a tea person, try this London Fog instead.)
Inspired by my 2-minute almond milk, which uses almond butter and water to make an instant dairy-free beverage, I wondered what would happen if I added a spoonful of nut butter directly to my coffee in a blender as a way of "cutting out the middle man," so to speak. Why bother blending together nuts and water to make nut milk, when you can simply blend together coffee and nuts to make a creamy coffee?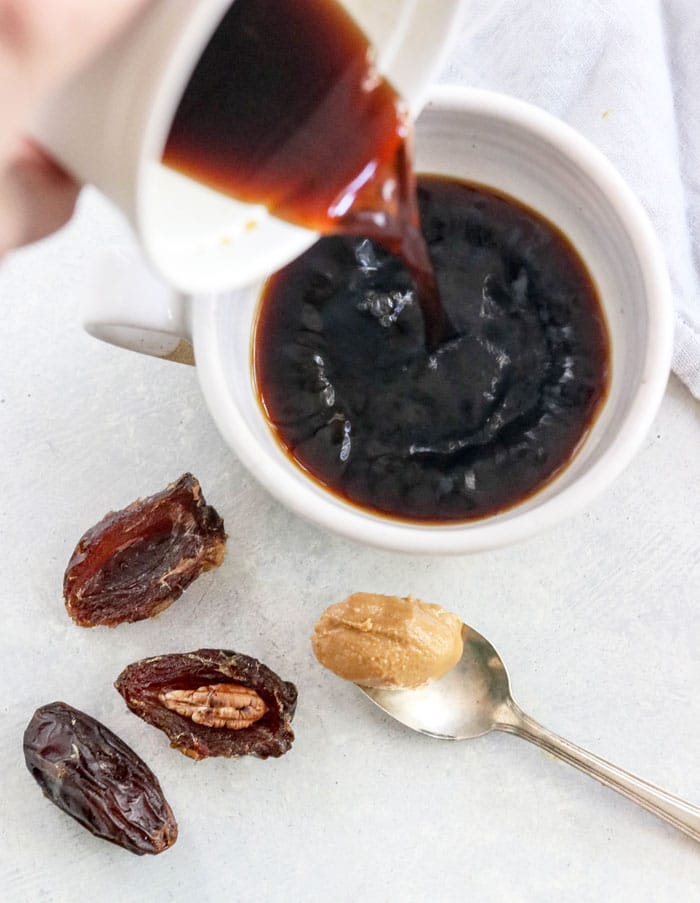 I figured the coffee flavor I love wouldn't be as diluted this way, and I was right.
I used cashew butter at first because it was already out on my counter, but almond butter works equally as well. (I think I might prefer the almond flavor!) Both become quite creamy when blended with liquid, so use whichever you like best.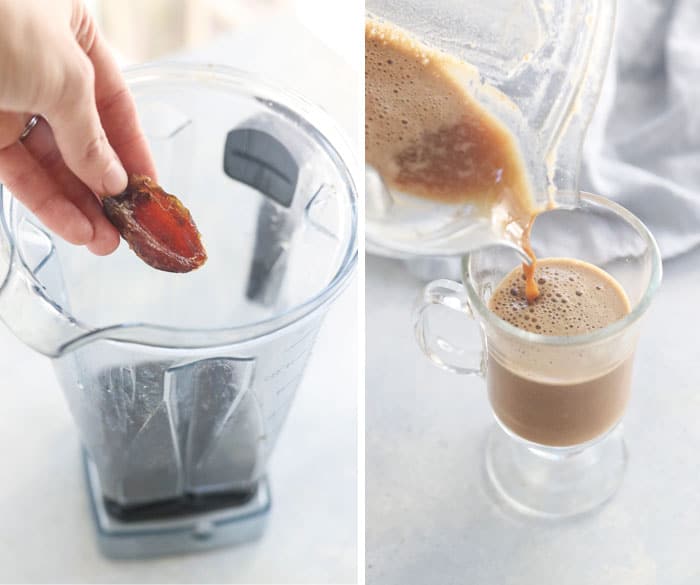 I added a pitted Medjool date for sweetness, as well, but that's optional. I think 1 date gives it a really nice, mild sweetness with an emphasis on the coffee flavor, and 2 dates makes it taste closer to a coffee house vanilla or caramel latte. (Still not as syrupy-sweet as those, though.)
I hope you'll enjoy this easy option for an easy & affordable vegan latte the next time you're in the mood for one.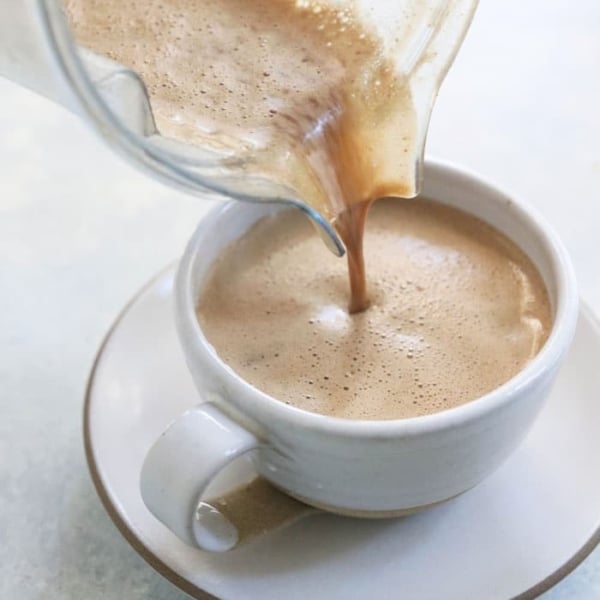 Instant Vegan Latte
This creamy vegan latte is made with just 3 ingredients, using coffee you can brew at home. It's naturally sweetened and dairy-free.

Ingredients
1

cup

hot brewed coffee

1

teaspoon

almond butter

(or cashew butter)

1

medjool date

, pitted (or more to taste)
Instructions
Combine the coffee, cashew butter, and date in a blender and blend until creamy. Taste and add another date, if you'd like something sweeter.


If you use a high-speed blender, you can pour this mixture directly into your cup and serve right away. If you use a standard blender, you may want to pour the mixture through a fine mesh sieve to strain out any random pieces of date that the blender may have missed.

Nutrition
Calories:
97
kcal
,
Carbohydrates:
19
g
,
Protein:
1
g
,
Fat:
2
g
,
Sodium:
5
mg
,
Potassium:
283
mg
,
Fiber:
1
g
,
Sugar:
15
g
,
Calcium:
15
mg
,
Iron:
0.5
mg
Calories: 97, Fat: 2g, Carbohydrates: 19, Fiber: 1g, Protein: 1g
Recipe Notes:
I imagine you could use any nut butter you like for this recipe, so feel free to try it with almond butter or even tahini, if you need a nut-free option. (Maybe oats would even work?)
I like a little sweetness to my latte, but you can leave out the date if you prefer.
For a cold latte, use cool coffee and then pour this mixture over ice to serve.
If you don't have cashew butter, try Pinch of Yum's version of Cashew Coffee, using whole cashews and honey.
As always, if you try something different with this recipe, please leave a comment below letting us know what you tried! We can all benefit from your experience.
—
Reader Feedback: Are you a coffee drinker? How do you serve your coffee? (And if you love the flavor of coffee as I do, you MUST try this coffee smoothie. It's life-changing.)