This Butternut Squash Soup is a delicious & healthy recipe, featuring apple, cinnamon, and a hint of cayenne. It's ultra comforting when the weather cools down, and it couldn't be easier to make!
How to Make Butternut Squash Soup
The hardest part of making butternut squash soup is preparing the fresh squash. It can take about 10 minutes to peel the squash, remove the seeds from the center (try making Roasted Squash Seeds, too!), and cut it into 1-inch squares.
Time Saving Tip: You can skip the peeling and cutting process by using a store-bought bag of frozen squash, instead. Many stores sell peeled and cut squash in their freezer section, so you can grab 2 pounds of frozen squash for this recipe if you prefer to do that.
To make the soup, you'll simply sauté chopped onion and apple together, followed by cinnamon and cayenne. Add in the squash, water, maple syrup, and salt, and let the mixture simmer together until the squash is falling-apart-tender, about 25 to 30 minutes.
To finish it off, you'll add in some almond milk or oat milk for creaminess, and then blend it until smooth. You can adjust any seasoning from there, and serve it warm!
Benefits of Butternut Squash
Is butternut squash soup good for you? If you're looking to boost your intake of vitamins A and C, this particular winter squash is high in beta carotene, which is converted to vitamin A in the body. This vitamin is essential for the immune system– so it's perfect to enjoy during cold & flu season.
Here are a few more benefits of butternut squash:
It's high in antioxidants, including vitamin E, vitamin C, and beta-carotene. Antioxidants may help to lower inflammation in the body and may also help lower the risk for certain cancers. (source)
Butternut squash has roughly the same amount of potassium as a banana. This mineral may help to lower blood pressure and reduce the risk of osteoporosis. (source and source)
It's low in calories (only 40 calories per cup) and is relatively high in fiber. Studies suggest that increasing dietary fiber, even without changing physical activity, may help with weight loss. (source and source)
Butternut squash is also affordable and easy to store, making it a more accessible healthy ingredient.
How Long Can You Keep Butternut Squash Soup?
This soup should keep well for up to one week in the fridge, as long as you store it in an airtight container. To reheat it, I recommend portioning out only what you think you will eat, so you don't end up reheating the whole batch of soup over and over again.
Be sure to taste the soup each time you reheat it and adjust the seasonings, as needed. Sometimes you need to brighten up the flavors with an extra pinch of salt or a squeeze of lemon juice after it's been stored.
Can You Freeze Butternut Squash Soup?
If you can't eat all of this soup in the next few days, you can freeze it to save for later! Soups tend to freeze very well, and this one can be stored in the freezer for up to 3 months in an airtight container.
To re-heat, I like to thaw it in the fridge overnight, then reheat it on the stove until smooth again, and totally heated-through. You can taste and adjust the seasonings, as needed.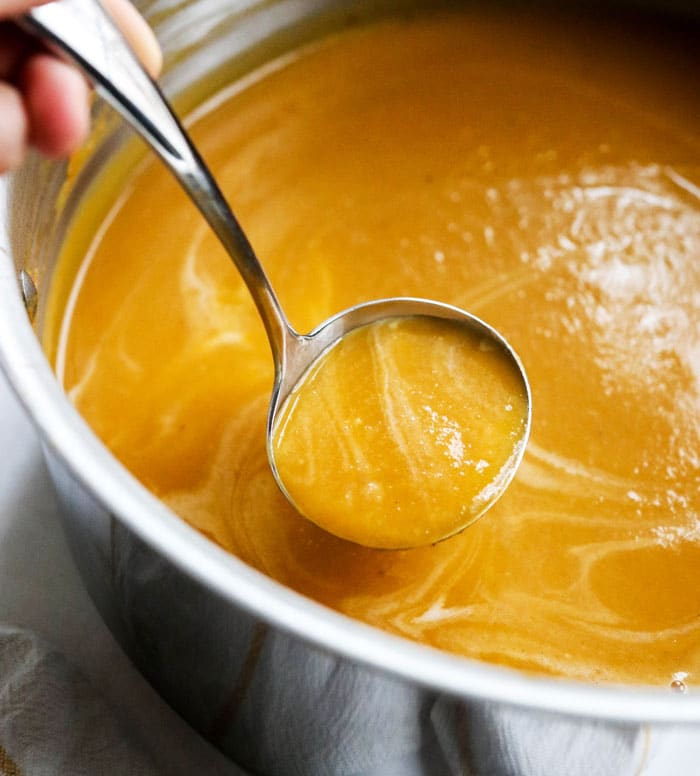 Instant Pot Butternut Squash Soup
I already have an Instant Pot Butternut Squash Soup recipe on my website (I love the addition of curry powder in that one!), but if you want to try this one in your pressure cooker, I recommend cooking this at high pressure for 10 minutes. Let the pressure naturally release for 10 minutes before manually moving the steam release valve to "Venting," to release the remaining pressure.
Keep in mind that you might want to use slightly less liquid in your Instant Pot when making this recipe, since there's no evaporation like there can be on the stove top. You can probably start with only 3 cups of water, and add more as you see fit after the cooking cycle is complete.
Easy Butternut Squash Soup
This Butternut Squash Soup is a healthy & delicious recipe, made with apple, cinnamon, and a touch of spice. It's so easy to make on the stove top, or in the Instant Pot.
Ingredients
1

tablespoon

olive oil

1

yellow onion

, diced

1

large apple

, cored and diced (I used a large Fuji apple)

2

cloves

garlic

, minced

1

teaspoon

ground cinnamon

1/8

teaspoon

cayenne pepper

2

pounds

butternut squash

, peeled, seeded, and cut into 1-inch chunks

4

cups

water

2

teaspoons

salt

1/2

cup

almond milk

(or oat milk)

2

tablespoons

pure maple syrup

Freshly ground black pepper
Instructions
Add the olive oil to a large pot over medium heat, and saute the onion and apple until softened, about 5 minutes. Add in the garlic, cinnamon, and cayenne, and stir for 1 minute.

Add in the butternut squash, water, and salt, and stir to combine. Bring the water to a boil, then lower the heat and cover the pot to let the soup simmer until the squash is fork tender, about 25 minutes.

When the squash is tender, add in the almond milk and maple syrup, and puree the soup with an immersion blender. (Alternatively, you can transfer the soup to a blender and carefully blend it, with your blender vent lightly covered with a thin towel so the lid doesn't blow off-- be careful not to burn yourself!)

Taste the soup and adjust any seasoning to taste, adding freshly ground black pepper, along with more salt or maple syrup, as desired. Serve warm.

Leftover soup can be stored in an airtight container in the fridge for up to a week, or in the freezer for up to 3 months.
Nutrition
Calories:
132
kcal
,
Carbohydrates:
29
g
,
Protein:
2
g
,
Fat:
3
g
,
Saturated Fat:
1
g
,
Sodium:
792
mg
,
Potassium:
606
mg
,
Fiber:
4
g
,
Sugar:
11
g
,
Vitamin A:
16106
IU
,
Vitamin C:
35
mg
,
Calcium:
96
mg
,
Iron:
1
mg
Recipe Notes:
To save time and effort, try using frozen squash instead of fresh. You'll need 2 pounds of frozen squash for this recipe.
I have not tried this recipe with canned butternut squash. Please let me know if you do! I'd love to hear how it turns out. If you have canned pumpkin on hand, try my Slow Cooker Pumpkin Soup to use it.
You can use any type of milk you like in this recipe. I use almond milk or oat milk to keep this one lower in fat, and slightly different than my other dairy-free soup recipes, but you can use coconut milk for a creamier effect.
If you try this recipe, please leave a comment below letting me know how you like it. And if you make a modification, I'd love to hear about that, too! We can all benefit from your experience.
–
Reader Feedback: What's your favorite way to use butternut squash? For a sneaky way to use it, try making my Hidden Cauliflower Mac n' Cheese with butternut squash instead of cauliflower. It gives it a nice orange hue!