Coconut whipped cream is an easy dairy-free alternative, made with just 3 ingredients. It's perfect for topping cupcakes, pies, and more! Today I'll show you how to make it, and which brands of coconut milk will work best.
What Does Coconut Whipped Cream Taste Like?
Coconut whipped cream tastes lightly sweet, with a hint of vanilla and coconut flavor. The coconut taste isn't overwhelming, so it pairs nicely with almost any recipe!
Coconut whipped cream is:
dairy-free
ultra-creamy
easy to make
vegan
naturally sweet
and Paleo friendly!
It's the perfect topping for puddings, cakes, and more.
How Do You Make Coconut Whipped Cream from Scratch?
To make coconut whipped cream from scratch, you'll need to start with a can of chilled coconut milk. Place a can in the fridge the night before you plan on making this, or stick it in the freezer for 30 minutes to help it chill faster.
For this recipe, you'll need only the solid part in a can of full-fat coconut milk. Save the liquid part at the bottom of a can for a smoothie recipe!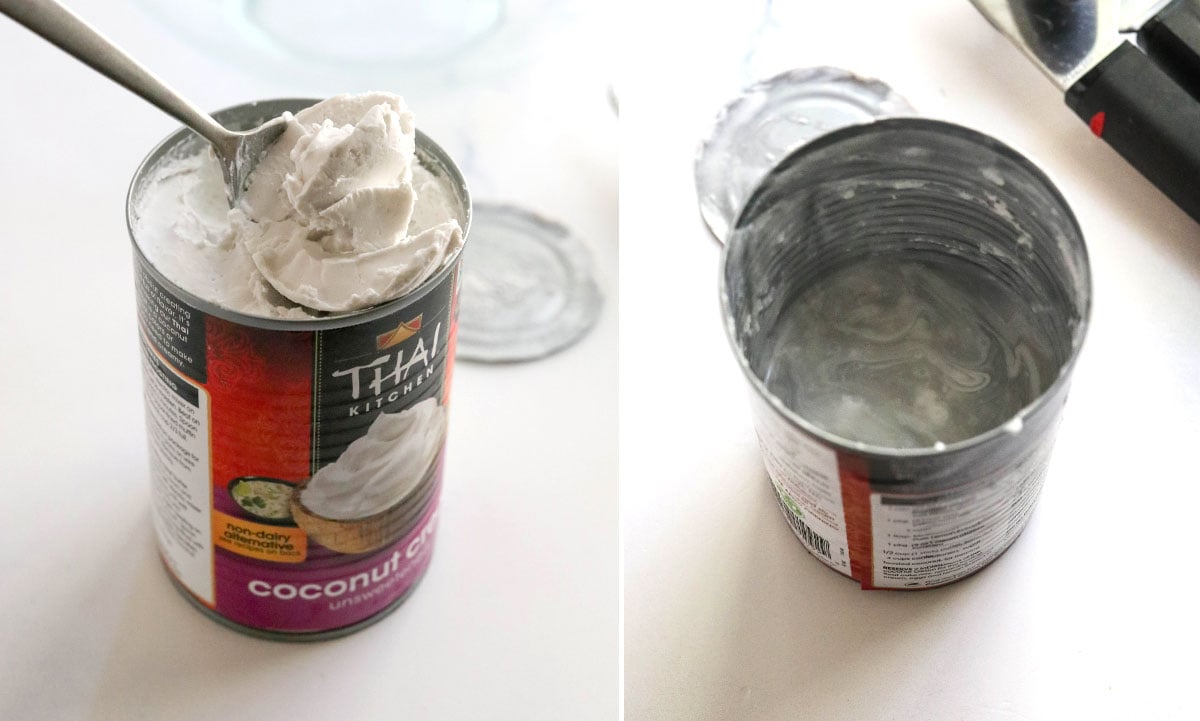 Don't buy "lite" coconut milk for this, because you won't get as much coconut cream, which is necessary for making dairy-free whipped cream.
Combine the solid coconut cream (you should get roughly 1 cup of cream out of a 15 oz. can) with maple syrup and vanilla extract. Use an electric mixer to mix them together until the cream looks smooth.
Note: The cream most likely won't look appealing or smooth at first, and that's okay! Just keep mixing. I find that an electric mixer works best for this, so it can continue to whip everything together until it's smooth and fluffy.
The whipped cream is ready when there are little to no lumps remaining, with a smooth texture. Coconut whipped cream isn't quite as light & airy as traditional whipped cream, but it's still perfect for topping a French Silk Pie, or serving with fresh fruit.
How Do You Thicken Coconut Whipped Cream?
If you find that your coconut whipped cream isn't thick enough, you can use powdered sugar as the sweetener, or add a tablespoon or two of arrowroot to the mix, to help thicken it up.
Coconut whipped cream will also soften at room temperature, so if you find that it's getting too warm and melting, just pop it back into the fridge, or freezer briefly, to help it thicken again.
Coconut whipped cream is even more solid once it's been stored in the fridge. Be sure to whip it again before serving, or let it sit at room temperature for 15 minutes and stir well, to help it become more smooth.
What's the Best Brand of Coconut Milk to Use?
I've been making coconut whipped cream for years, but recently put several brands to the test, to see how they stack-up.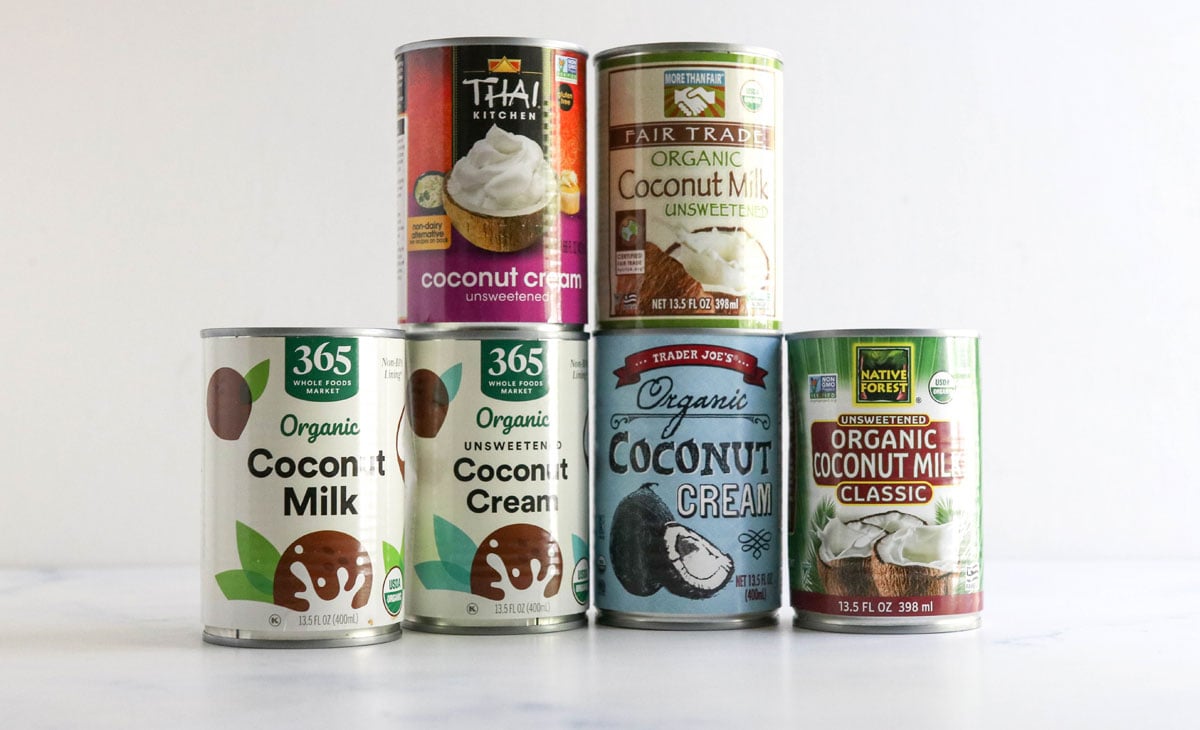 Here are my notes from experimenting with these brands:
Trader Joe's Coconut Cream: The solid cream has a very hard texture, like it has a higher ratio of coconut oil in it. It turns out "okay" for coconut whipped cream, but it's slightly lumpy with pieces of harder coconut oil throughout. I got 227 grams of cream from one can. This brand has no guar gum added, if you are looking for that option.
More Than Fair Coconut Milk: I got 230 grams of cream from this can, but the cream becomes very runny when mixed. I tried saving it with the addition of arrowroot starch, but it's not as thick as other brands, and I won't be buying this brand for the purpose of making whipped cream. If you can only find this brand, use powdered sugar as the sweetener to avoid any additional moisture.
Thai Kitchen Coconut Cream: This brand produces a lumpy coconut whipped cream, similar to the Trader Joe's brand. I got 215 grams from one can, which is just under 1 cup. This one isn't my top choice, but it works in a pinch. I'd probably use powdered sugar with this brand, to help it whip up without getting runny.
Native Forest. I got 210 grams of cream from this can, but it was also very runny when mixed. Adding arrowroot starch helped slightly, but it wouldn't be able to be piped as a dessert topping. If you can only find this brand, use powdered sugar as the sweetener to avoid any additional moisture.
365 by Whole Foods Coconut Milk: I'm very impressed by how smooth the coconut cream is in this can. I don't know why it's different, because the ingredients are the same as the two brands above, but it's really nice! I got 213 grams of cream from this can, which is slightly under 1 cup. It whips up very nicely, and holds its shape for piping.
365 by Whole Foods Coconut Cream: If you can find cans of "coconut cream" at the store, they usually have a higher ratio of the solid coconut cream inside. (There is still some liquid in there, too.) In this can I got 283 grams of cream, compared to the 213 grams I got out of the same brand's full-fat coconut milk. This also whips very nicely with maple syrup as the sweetener. I was able to add 2 tablespoons without it becoming runny.
My favorite brand (by far!) is the 365 brand from Whole Foods. This is not sponsored; just my honest opinion. Both the coconut milk and coconut cream produce a smooth coconut whipped cream, with a better, less-lumpy texture than other brands.
Here's how the solid coconut milk ratio compares for the 365 brand:
15 oz. can coconut cream: about 1 1/3 cups of solid coconut cream (283 grams)
15 oz. can full-fat coconut milk: slightly less than 1 cup of solid coconut cream (213 grams)
The can of coconut cream definitely seems to be the better value if your goal is to make whipped cream! In both cases, I still used the same amount of sweetener and vanilla, and both batches turned out delicious, so this recipe is relatively forgiving with the amount of coconut cream you get out of the can.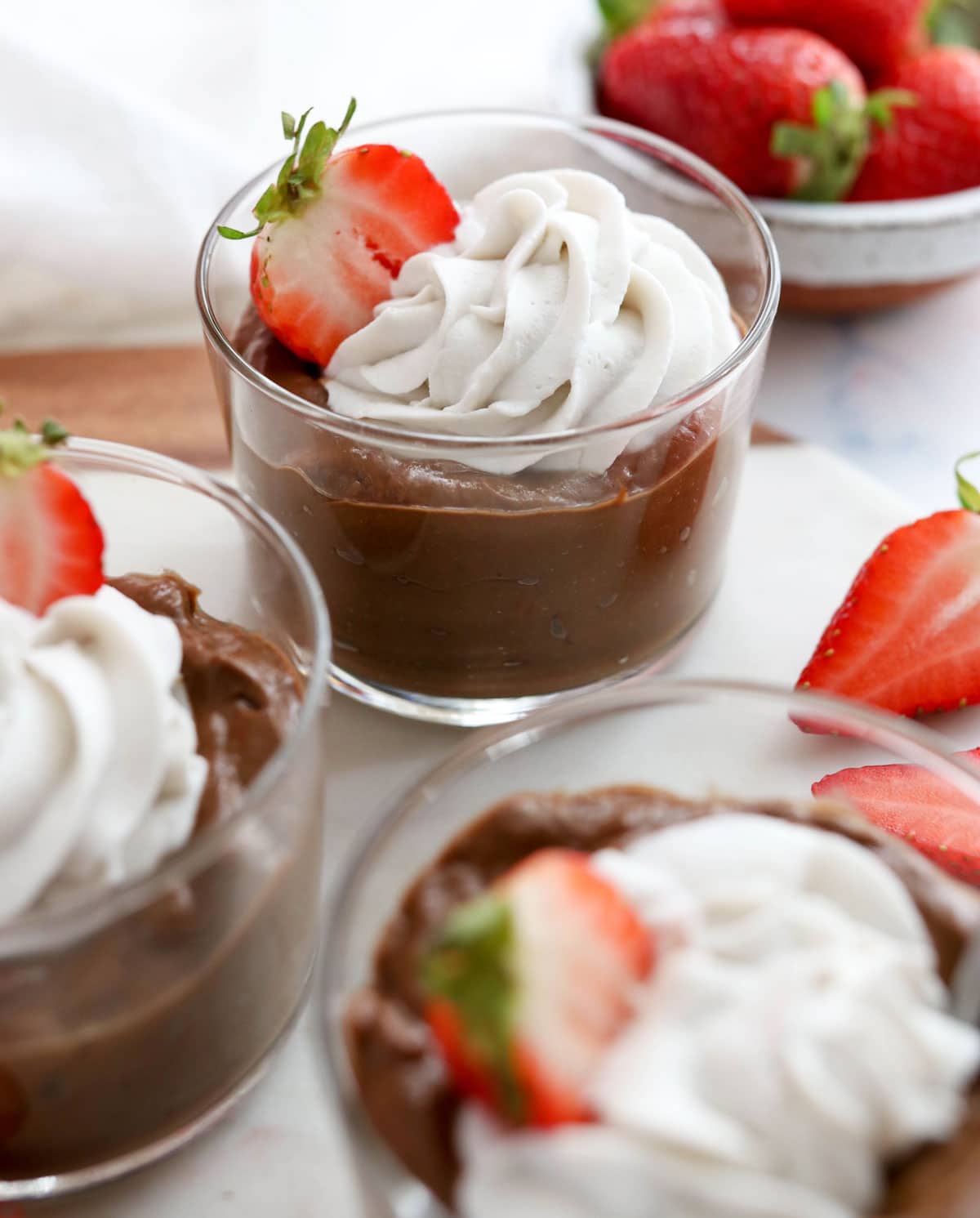 Pro Tip: For a piped look like the photos here, transfer the coconut whipped cream to a piping bag (like you'd use for frosting) and then pipe it onto your dessert. It will hold its shape for quite a while, as long as you don't leave it in direct sunlight or a warm room.
How to Sweeten It
My favorite vegan sweetener is maple syrup, but if you are worried about the added liquid making the coconut cream too runny, you can also opt for organic powdered sugar in this case. (Make sure it's organic if you need a vegan sugar option.)
In my experience, 1/4 cup of powdered sugar is equivalent to 2 tablespoons of maple syrup, sweetness-wise. I tested that amount with several of the brands listed above, and the results were perfectly sweet, without going overboard. (It basically tastes like regular whipped cream to me!)
Clearly, I don't use powdered sugar often, but it can really help save a bad batch of coconut cream if you're worried about it getting too runny. See my notes above regarding coconut milk brands.
How to Serve Coconut Whipped Cream
Just like regular whipped cream, coconut whipped cream is the perfect topping for a bowl of berries, or a baked dessert!
Try it as a topping on:
However you use this dairy-free whipped cream, I hope it's a hit!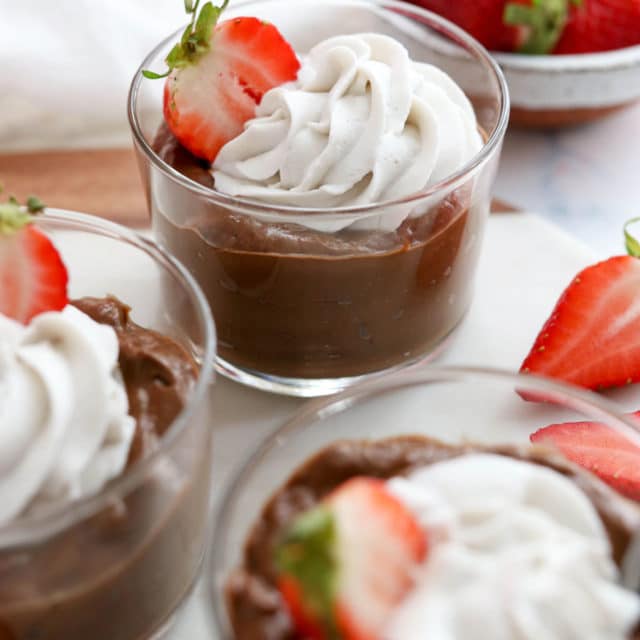 Coconut Whipped Cream (Dairy-free!)
Coconut Whipped Cream is the perfect dairy-free topping. It's light and fluffy, and perfect on hot chocolate, holiday pies, pudding, and more!
Equipment
Instructions
Start with a chilled can of coconut milk, that has been stored in the fridge overnight. (You can also freeze it for 30 to 60 minutes to speed the process.) When you remove the chilled can, be careful not to shake it. You want the cream that floats to the top to stay separated from the liquid portion at the bottom.

Carefully open the can of coconut milk and scoop the thickened cream into a large bowl. The amount of cream may vary in each can, but you should get roughly 1 cup (give or take) of coconut cream per 15 oz. can. Reserve the remaining liquid in the bottom of the can for a morning smoothie.

Add the pure maple syrup and vanilla extract to the coconut cream in the bowl. Use an electric mixer to beat everything together until smooth. This should take 1 to 2 minutes. Taste and add more sweetener, if needed.

Serve the coconut whipped cream right away, or store it in an airtight container in the fridge for up to a week. The cream will thicken up even more when chilled, but you can whip it again to help it fluff up, or just let it sit on the counter for 15 minutes, and stir well. For a "piped" look, scoop the cream into a piping bag with a frosting tip, and squeeze it onto your favorite desserts. (See brand recommendations in this post to see which brand of coconut milk works best for this.)
Notes
Nutrition information is for roughly 2 tablespoons of coconut whipped cream, made with only 1 tablespoon of maple syrup. This information is just an estimate, and not a guarantee.
I also tested this recipe with organic powdered sugar, and 1/4 cup will work as an alternative to the maple syrup. I assume honey would also work, if you don't need this recipe to be vegan.
Nutrition
Calories:
83
kcal
,
Carbohydrates:
3
g
,
Protein:
1
g
,
Fat:
8
g
,
Saturated Fat:
7
g
,
Sodium:
1
mg
,
Potassium:
80
mg
,
Fiber:
1
g
,
Sugar:
2
g
,
Vitamin C:
1
mg
,
Calcium:
5
mg
,
Iron:
1
mg
If you try this coconut whipped cream recipe, please leave a comment below letting me know how you like it! And if you make any modifications, I'd love to hear about those, too. We can all benefit from your experience.
Reader Feedback: What's your favorite dessert that calls for whipped cream?