Chocolate Pots de Crème are a rich and decadent dessert, that reminds me of a cross between a chocolate mousse and fudge. It makes such an impressive treat for a special holiday!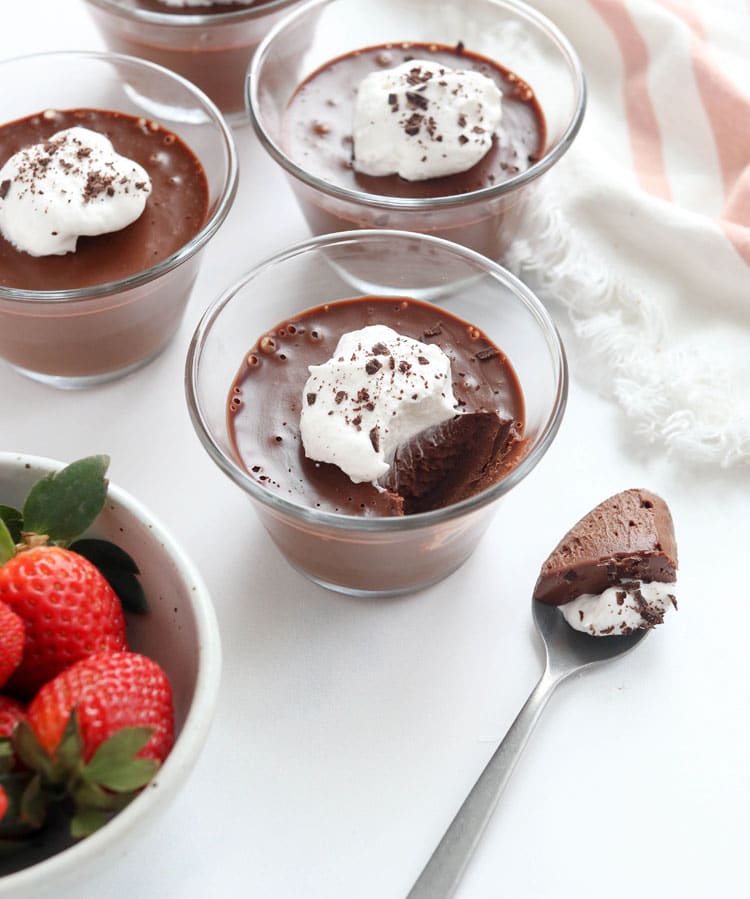 Healthier Chocolate Pots de Crème
This recipe is inspired by a traditional version I tasted at a local bakeshop called Dolce Bakery. Traditionally, chocolate pots de crème feature heavy cream, semi-sweet chocolate, refined sugar, and egg yolks.
This healthier version is naturally sweetened with pure maple syrup, and gets its dairy-free creaminess from cashews. If you've ever tried my Vegan Chesecake or Vegan Queso, you know how authentic a dairy-free version can be!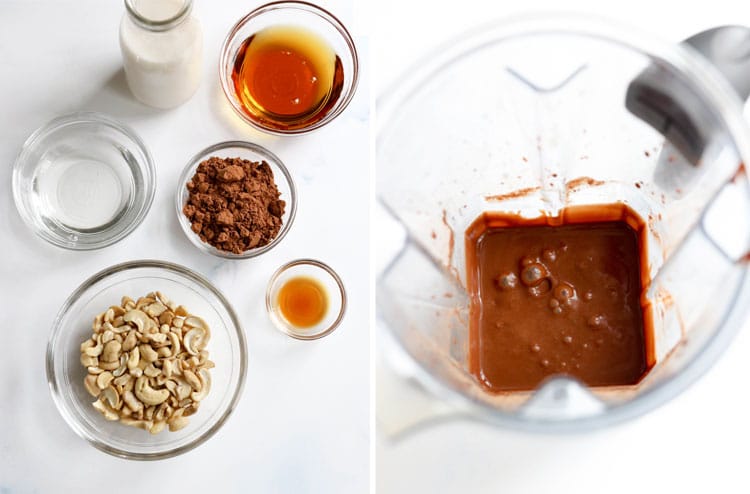 How to Make Dessert Set without Eggs
Instead of using egg yolks, this recipe uses coconut oil to help the chocolate pots firm up in the fridge. Coconut oil is solid when chilled, so don't be tempted to substitute another oil in its place. (I do cover a few substitutions in the notes below the recipe, though!)
Benefits of Soaking Cashews
This recipe calls for soaked cashews for two reasons. First, soaking the cashews helps soften them up so they will blend more easily in the blender. You want a silky-smooth mixture!
The second reason I like to soak cashews, is that it may help them digest better. In general, soaking nuts, like cashews, may help to lower their phytic acid content— which could prevent nutrient absorption.
This should make the nutrients in cashews more likely to be absorbed in your body!
This dessert is incredibly easy to prepare in your blender (I use my refurbished Vitamix in these photos), so I hope it will be a big hit with whoever you share it with.
More Vegan Chocolate Desserts
If you are looking for more dairy-free and egg-free dessert options, I hope you'll enjoy the following recipes, too!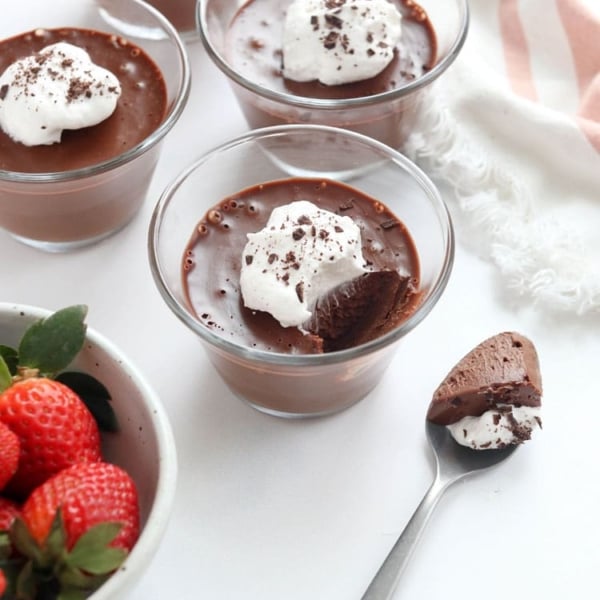 Chocolate Pots De Creme (Egg-free!)
Chocolate Pots de Crème are a rich chocolate dessert, reminiscent of chocolate mousse-- only denser and more decadent. This version is dairy-free & egg-free to suit special dietary needs.
Instructions
Drain and rinse the cashews well, discarding the soak water.

Combine the drained cashews, almond milk or water, coconut oil, cocoa powder, maple syrup, vanilla extract and salt in a high-speed blender, and blend until completely smooth and creamy. Stop and scrape down the sides, if needed, to make sure everything is mixed evenly.

Pour the mixture into 4 small dishes (each serving is roughly 1/2 cup), then place them in the fridge to chill until set, about 3 to 4 hours, or overnight.

Serve chilled, with coconut whipped cream, sliced strawberries, and/or shaved chocolate on the top, if desired.

You can make this dish up to 3 days in advance, but I recommend keeping the tops covered if you're going to make them more than 24 hours in advance. (That way the tops won't absorb any other flavors from your fridge.)
Nutrition
Calories:
306
kcal
,
Carbohydrates:
29
g
,
Protein:
4
g
,
Fat:
22
g
,
Saturated Fat:
14
g
,
Sodium:
80
mg
,
Potassium:
288
mg
,
Fiber:
3
g
,
Sugar:
19
g
,
Calcium:
48
mg
,
Iron:
2
mg
Nutrition info is for a single serving, but keep in mind these are very rich! You may only want to eat half at one time, or you may want to split them into eight 1/4-cup servings instead.
Recipe Notes:
If you're allergic to coconut, grass-fed butter would most likely work as a substitute for the coconut oil. (But the recipe would no longer be dairy-free or vegan.) As far as I know, no other liquid oil will provide the same results, but vegan butter substitutes that are solid in the fridge should work.
Other nuts may be able to replace cashews, but the result may not be as creamy. I used soaked hazelnuts in a different batch, and the result was very fibrous when compared to this creamy cashew version. Be sure to soak harder nuts, like almonds, for at least 8 hours for easier blending and digestion.
I don't use sugar-free substitutes, but if you have any success using stevia or another sweetener, please share your results in the comments below.
If you try this recipe, please leave a comment below letting me know how you like it. And if you make any modifications, I'd love to hear about those, too! We can all benefit from your experience.
—
Reader Feedback: What's your favorite chocolate dessert?