If you love the egg bites from Starbucks, you are going to love this easy copycat recipe! They are the perfect protein-packed option to meal prep for the week ahead.
Why You'll Love Them
They have a velvety texture. Unlike egg muffins, which are simply made with eggs, these homemade egg bites are blended with cottage cheese and shredded cheese, to achieve a silky texture reminiscent of Starbuck's egg bites. The result is less-rubbery than using eggs alone.
They are delicious. If you love the bacon & gruyere egg bites from the popular coffee shop, you'll love these, too. They have a savory flavor that melts in your mouth.
They are flexible. You can swap the variety of cheese or the add-ins for this recipe. It's delicious with roasted red peppers, spinach, and crumbled feta, for a vegetarian option. You can also use any leftover roasted veggies you happen to have on hand.
They are easy to reheat. You can pop these egg bites in the oven or air fryer at 350ºF for roughly 8 minutes to heat them through again. Or, they will reheat in the microwave in just 30 to 60 seconds.
No special equipment is needed. These egg bites cook in a standard muffin tin, rather than using a silicone egg mold. (Try Instant Pot Egg Bites if you prefer to use the silicone mold for copycat sous vide egg bites.)
Ingredients You'll Need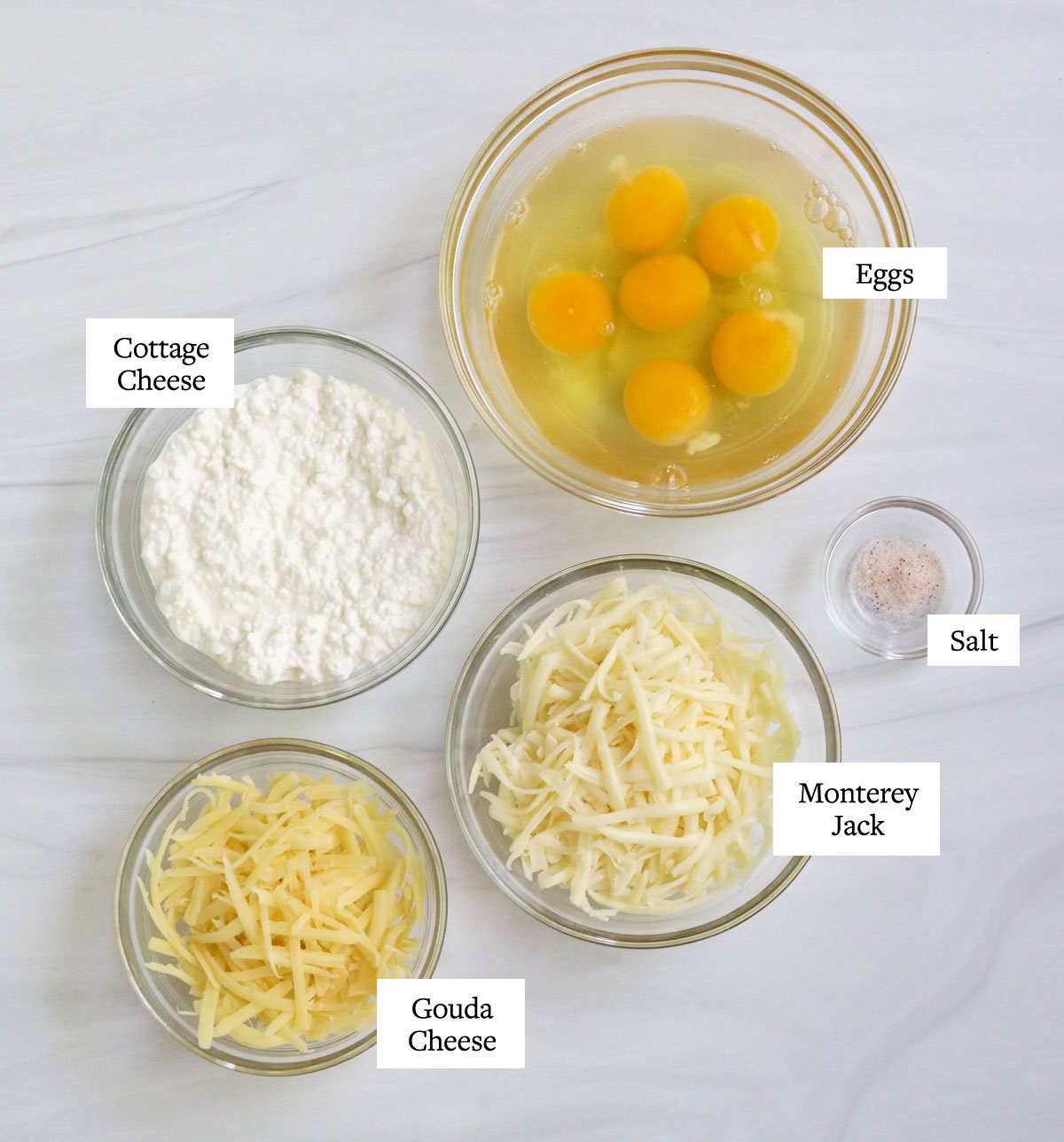 This combination will give you the most velvety texture, if you are looking for a copycat Starbucks egg bites recipe. Don't be tempted to use a low-fat cottage cheese without expecting different results! The 4% milkfat version contributes to the creamy texture.
You'll also need cooked bacon, if you are looking to make bacon & Gruyere egg bites. Be sure to check out the other flavor variations below for more ideas!
How to Make Egg Bites
1. Cook the bacon.
If you'd like to make a bacon egg bite, you'll need to cook the bacon first. You can cook just a few slices in a skillet until crispy, or you can cook an entire batch of bacon by arranging it on a rimmed baking sheet and baking at 400ºF until crispy, about 20 to 25 minutes, depending on the thickness. (You can also make Air Fryer Bacon for a fast, hands-off preparation.)
You can cook the bacon up to 3 days in advance, so this is something that can be done ahead of time. This recipe only calls for 3 to 4 slices, so it's a great way to use up any leftover bacon that you already have on hand.
2. Blend.
Add the eggs, cottage cheese, shredded Gruyere and Monterey jack cheese, salt, and black pepper to a blender and blend until the mixture is totally smooth, about 30 to 60 seconds.
3. Fill the Muffin Cups.
Preheat the oven to 325ºF and add 12 silicone liners to a muffin pan. (You can also just use cooking spray, if you prefer to grease the muffin pan.)
Pour the egg mixture into the pan, filling each muffin cup roughly 3/4 of the way full. Crumble the bacon into each muffin cup, adding about a tablespoon of bacon to each. (Or use any veggies you like, instead. I love using roasted red pepper and chopped green onions.)
You can fill the muffin cups all the way to the top with any toppings you enjoy.
4. Bake in a Shallow Water Bath.
Have you ever cooked egg muffins, only to have them puff up in the oven and shrivel as they cool?
Here's how to avoid that:
Fill a rimmed baking sheet with roughly 1/4-inch of water and then place the muffin pan directly in the pan of water. Carefully transfer the stacked pans to the oven. This cooking method will prevent your egg bites from puffing up too much, and then shriveling after they are cooked.
You will not get the same results from placing a pan of water on a lower shelf in your oven. Trust me, I tested it both ways. The muffin pan sitting directly in a pan of water will give you the most velvety egg texture.
Bake at 325ºF for 35 to 40 minutes, until the egg bites are golden on top. They shouldn't rise too much out of the top of the pan, which is what will prevent them from shrinking later. (If you bake these at 350ºF they will puff up and then shrink as they cool.)
Let the egg bites cool in the pan for at least 15 minutes before serving.
Storage Tip: You can store cooked eggs in an airtight container in the fridge for up to 5 days.
You can also freeze these for up to 3 months, if you want to make a larger batch. To thaw frozen egg bites, transfer them from the freezer to the fridge the night before you plan on reheating them.
Flavor Variations
Denver Omelet. Chop 1/2 a yellow onion, 1 green bell pepper, and a few slices of cooked ham, and divide them among the muffin cups. There's no need to saute the onion and pepper first, but you can if you prefer less crunch in your egg bites. Swap the gruyere cheese for shredded cheddar, instead.
Mediterranean. Chop 1 red bell pepper (or a roasted red pepper), 2 green onions, and 1 cup of fresh baby spinach or kale, then divide them among the muffin cups. Omit the gruyere cheese when blending, and add a few feta crumbles to each muffin cup, instead.
Mushroom & Gorgonzola. Saute 8 ounces of chopped mushrooms with 1/2 of a chopped yellow onion until very soft, about 8 to 10 minutes. You want most of the moisture to evaporate from the mushrooms, so they won't make the egg bites watery. Distribute the sauteed veggies among the muffin cups, and omit the gruyere cheese when blending the eggs. Add a few gorgonzola crumbles to each egg muffin, then bake as directed.
Roasted Vegetable. If you have 2 cups of roasted vegetables to use up, you can add in roasted tomatoes, sweet potatoes, broccoli, cauliflower, or anything else you happen to have on hand.
Substitutions
Using egg whites. If you prefer to use egg whites rather than whole eggs, the common substitute is to swap 2 eggs whites for every 1 egg. If you're using an egg substitute, a 1/4 cup of egg whites or egg substitute should replace 1 egg.
Using egg bite molds. If you prefer to use a silicone mold for a copycat Starbuck's egg bite recipe, you may prefer to cut this recipe in half, since it's made for a full 12-cup muffin pan. They may also need to bake slightly longer, in that case, depending on how deep the mold is.
Copycat Egg Bites
These homemade egg bites have a velvety texture that will remind you of the kind from the popular coffee shop! You can customize the flavor with any toppings you love.
Equipment
Ingredients
Egg Bites
6

large

eggs

3/4

cup

whole milk cottage cheese

(4% milkfat)

1/2

cup

shredded gruyere cheese

1/2

cup

shredded monterey jack cheese

1/4

teaspoon

fine sea salt
Optional Toppings
3 to 4

pieces

crispy cooked bacon

, crumbled into small pieces

1

roasted red bell pepper

, diced

3

chopped green onions

(white and light green parts only)

1

cup

fresh baby spinach

, chopped
Instructions
Preheat the oven to 325ºF and line a muffin pan with 12 muffin liners for easy removal later. In a blender, combine the eggs, cottage cheese, gruyere, monterey jack, and salt. Blend until very smooth, about 60 to 90 seconds.

Pour the egg mixture evenly into the 12 muffin cups, filling them about 3/4 of the way full. Sprinkle any toppings you love into each muffin cup, and use a spoon to stir them in. (You can mix & match the flavors you make, like adding crumbled bacon to half, and adding veggies to the other half.)

Fill a rimmed baking sheet with 2 cups, or about a 1/4-inch, of water. Make sure this pan is large enough that the muffin tin can sit directly inside the pan. Carefully transfer the pan of water holding the muffin tin full of eggs to the center shelf of the oven, and bake at 325ºF for 40 minutes, or until the tops of the egg bites look golden. The water bath and lower temperature will prevent the eggs from puffing up, so they won't shrivel as they cool later. This gives them an unbelievably creamy texture!

When the eggs are done cooking, carefully remove the muffin pan (and pan of water) from the oven. Be careful not to splash, since the water in the pan will be very hot! Let the egg bites cool in the pan for 15 minutes before serving. They should remove easily from the muffin liners.

Leftover egg bites can be stored in an airtight container in the fridge for up to 5 days. You can reheat them in the microwave using 30-second intervals, or reheat in the oven at 350ºF for 8 to 10 minutes, until the center is hot again.
Notes
Nutrition information is for 1 egg bite, not including any of the optional toppings. This information is automatically calculated, and is just an estimate and not a guarantee.
Note: If you use raw veggies, such as red bell pepper or chopped red onion, you may want to add an additional 5 to 10 minutes to the cooking time, to ensure the egg centers are fully cooked. The raw veggies add extra liquid into the egg mixture, so they need the additional time to cook-through in that case.
Nutrition
Calories:
92
kcal
,
Carbohydrates:
1
g
,
Protein:
7
g
,
Fat:
6
g
,
Saturated Fat:
3
g
,
Polyunsaturated Fat:
1
g
,
Monounsaturated Fat:
2
g
,
Cholesterol:
106
mg
,
Sodium:
188
mg
,
Potassium:
53
mg
,
Sugar:
1
g
,
Vitamin A:
237
IU
,
Calcium:
114
mg
,
Iron:
0.3
mg
If you try this egg bite recipe, please leave a comment and star rating below letting me know how you like them!