This Socca Pizza is one of my favorite ways to serve socca. The gluten-free flatbread crust is topped with a creamy white bean spread and colorful roasted veggies, for an easy & healthy meal.
What is Socca?
Socca is a simple gluten-free flatbread that originates from Nice, the fifth largest city in France. It's made with just four simple ingredients, including chickpea flour, which you can make at home in just minutes.
This chickpea flour pizza crust doesn't require any yeast, or kneading, so I consider it one of the easier options to make, but it does benefit from soaking for 30 minutes. Let the batter rest after you stir it together, if you can!
Note: In a hurry? The socca will still turn out okay if you need to bake it right away. In my experience, soaking the socca batter gives it a slightly smoother texture, but it's still delicious either way.
How to Make the Pizza
How do you make socca pizza? This Mediterranean-inspired version is easy, because the roasted vegetable toppings cook at the same time as the socca flatbread. (Hello, multi-tasking!)
Step #1: Stir together the chickpea flour batter. Set it aside to rest while you chop up the vegetables.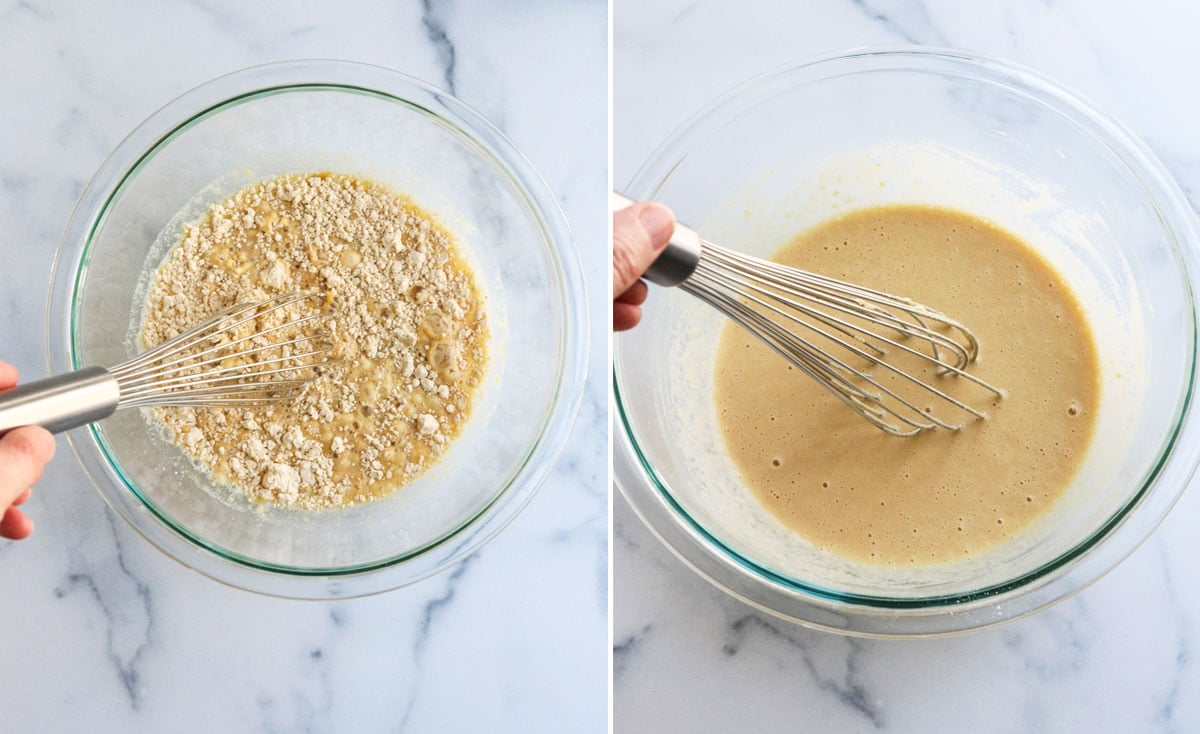 It's also a good idea to preheat your oven to 450ºF and set a 10-inch cast iron skillet inside, to heat up at the same time. A preheated pan will give you a crispier pizza crust later!
Step #2: Time to slice the veggies. You can use any veggies you have on hand, but I'm a big fan of adding roasted tomato and red onion on top. I also love it with zucchini or roasted cauliflower.
Arrange them on a parchment lined pan in a single layer, so they'll cook evenly.
Step #3: Cook the socca & roasted veggies. Use oven mitts to remove the pan from the hot oven, then grease it with olive oil and pour the socca batter inside.
Bake the socca on one rack in your oven, and the roasted vegetables on a separate rack, both for about 20 to 25 minutes.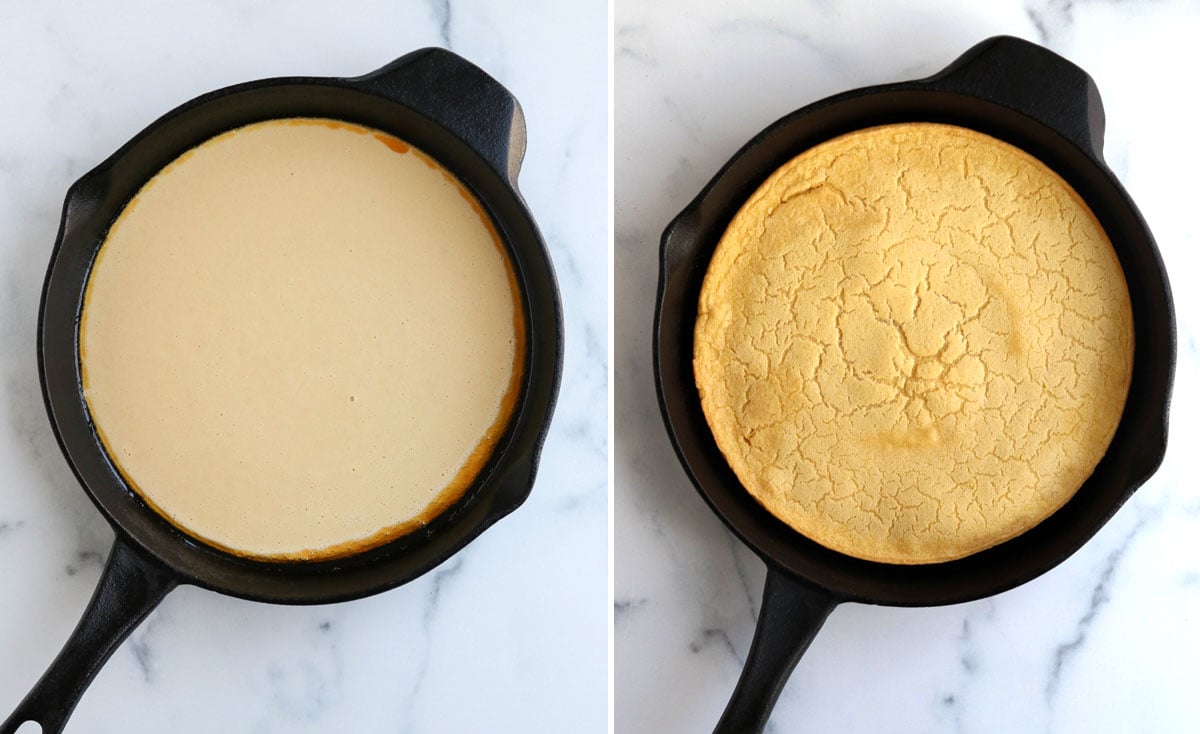 Step #4: Make the white bean spread. While everything else is cooking, you can toss these ingredients into a blender and blend until smooth.
Add more water, as needed, to make it spreadable, and adjust any seasoning to your liking.
Step #5: Add it all together. When the socca and veggies are done cooking, you can top the flatbread with the white bean spread, roasted veggies, and any other toppings you like.
When I have fresh arugula on hand, I like to add that, and if you like a sprinkling of cheese, a little feta is nice, too!
Meal Prep Tips
If you want to make all of these components ahead of time, this Socca Pizza makes an easy lunch during the week. Simply store the socca, white bean dip, and roasted veggies in separate containers in the fridge for up to 5 days.
When you're ready to assemble your lunch, all you have to do is spread a slice or two of socca with the white bean dip, and pile on the vegetable toppings! It takes me 5 minutes or less to assemble this as a cold, open-faced sandwich, or you can heat it up for a warmer option.
Socca Pizza with Roasted Veggies
Socca pizza is topped with Mediterranean-inspired flavors, for an easy & healthy recipe! I love how the crust is gluten-free and made with only 4 simple ingredients.
Ingredients
Socca
1

cup

chickpea flour

1

cup

water

1 1/2

tablespoons

extra-virgin olive oil

3/4

teaspoon

fine sea salt
Roasted Vegetables:
1

zucchini

, sliced into 1/2-inch half moons

2

Roma tomatoes

, sliced

1/2

red onion

, thinly sliced

1

tablespoon

extra-virgin olive oil

Salt & Pepper
White Bean Spread:
1

(15 oz.) can

chickpeas

, rinsed and drained

1/2

teaspoon

salt

1/2

teaspoon

ground cumin

1

tablespoon

fresh lemon juice

1

garlic clove

1

tablespoon

olive oil

2

tablespoons

water
Instructions
Preheat the oven to 450ºF, and place a 10-inch skillet inside the oven as it preheats. To prepare the Socca, combine the chickpea flour, water, olive oil, and salt in a large bowl. Use a whisk to stir it together, breaking up any clumps, and set it aside to let it rest while you slice the vegetables.

Line a large baking sheet with parchment paper. Slice the zucchini, tomatoes, and red onion into thin slices (about 1/4-inch thick) and arrange them in a single layer on the prepared pan.

Use oven mitts to remove the cast iron skillet from the hot oven, and add 1/2 tablespoon of olive oil into the pan. Swirl it around to grease the pan well, then pour the Socca batter in. Place the pan on the top shelf of your oven, and place the pan of roasted vegetables on the bottom shelf. Bake both at the same time, for 20 to 25 minutes, or until the socca looks golden around the edges, and the veggies look tender.

While you wait on the socca and veggies to cook, prepare the white bean spread. Add all of the ingredients to a blender, and blend until smooth. Add more water, just 1 tablespoon at a time, if needed to help everything blend smoothly.

When the flatbread and roasted veggies are done cooking, you can spread the white bean dip on top of the Socca, and pile the roasted veggies on top.

Add any other additional toppings you like, such as fresh arugula, a sprinkling of feta cheese, or some red pepper flakes for a little spice. Serve warm right away. Leftovers can be stored separately, in airtight containers, for up to 5 days.
Video
Notes
Nutrition information is for half the pizza, assuming you use all of the white bean spread. (I usually have leftovers, which I use for snacking during the week.) This information is automatically calculated, and is just an estimate, not a guarantee.
Nutrition
Calories:
494
kcal
,
Carbohydrates:
44
g
,
Protein:
16
g
,
Fat:
29
g
,
Saturated Fat:
4
g
,
Sodium:
1512
mg
,
Potassium:
975
mg
,
Fiber:
9
g
,
Sugar:
12
g
,
Vitamin A:
745
IU
,
Vitamin C:
31
mg
,
Calcium:
68
mg
,
Iron:
4
mg
If you try this Socca Pizza, please leave a comment below letting me know how you like it. And if you make any modifications, I'd love to hear about those, too!
–
Reader Feedback: Have you experimented with chickpea flour yet? Try my chickpea pancakes, if you want another way to use it!