Socca is a simple French flatbread made with just 4 ingredients. Made with chickpea flour, it's naturally gluten-free and couldn't be easier to prepare!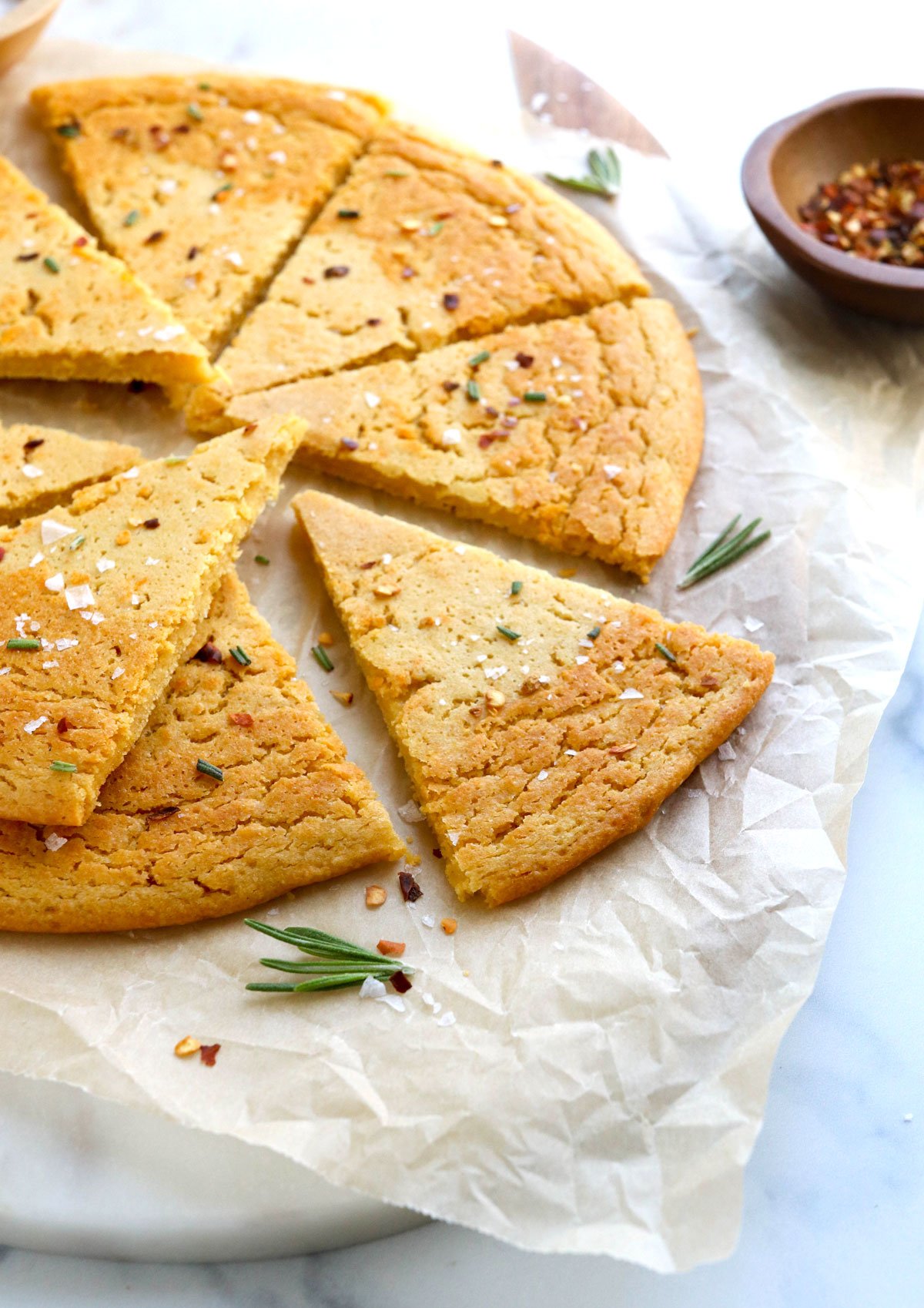 Ingredients You'll Need
What is socca made of? For the base recipe, you'll need just 4 simple ingredients.
Chickpea flour
Water
Olive oil
Salt
That's it! No eggs or yeast are required for this socca recipe, and you can get creative with the flavoring from here. I usually like to add in a clove of garlic, and any fresh herbs I have on hand, too.
How to Make Socca Bread
To make homemade socca, all you need to do is whisk together the 4 ingredients, plus any add-ins you like.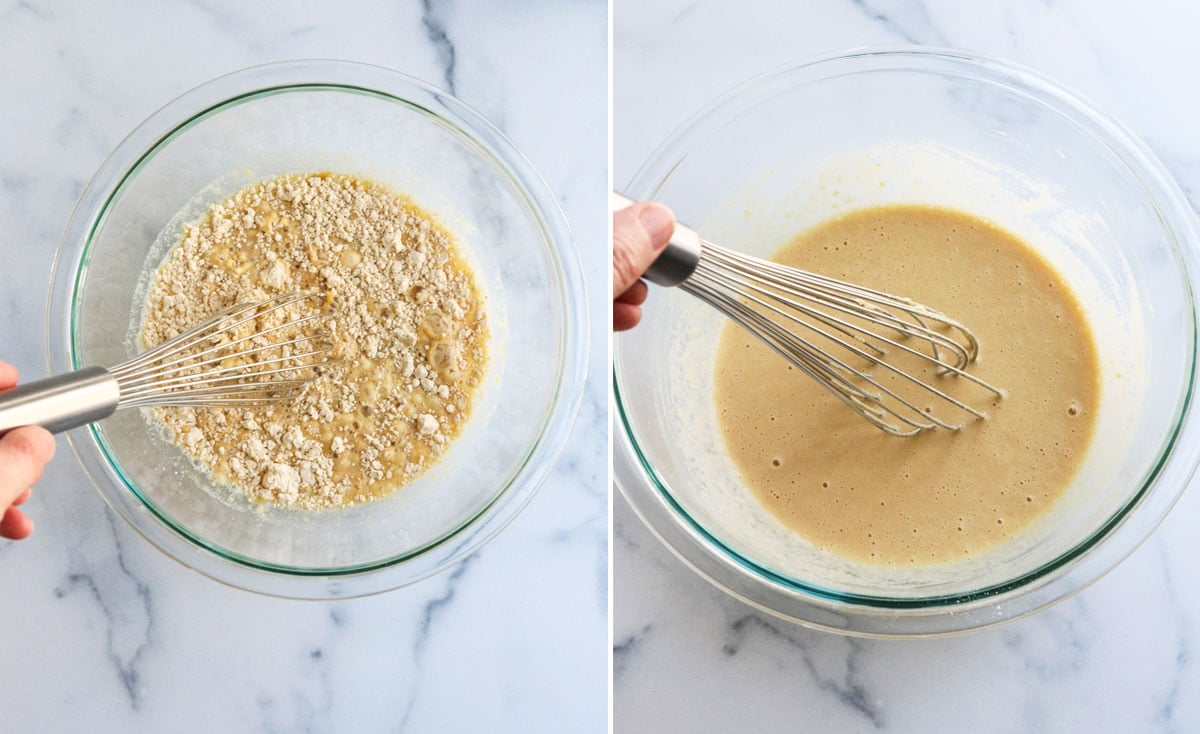 The key to getting a good texture is letting the batter rest for at least 30 minutes before cooking it.
Tip: I tend to be very impatient in the kitchen, so sometimes I'll cook the socca right away, without letting the batter rest.
So, be patient!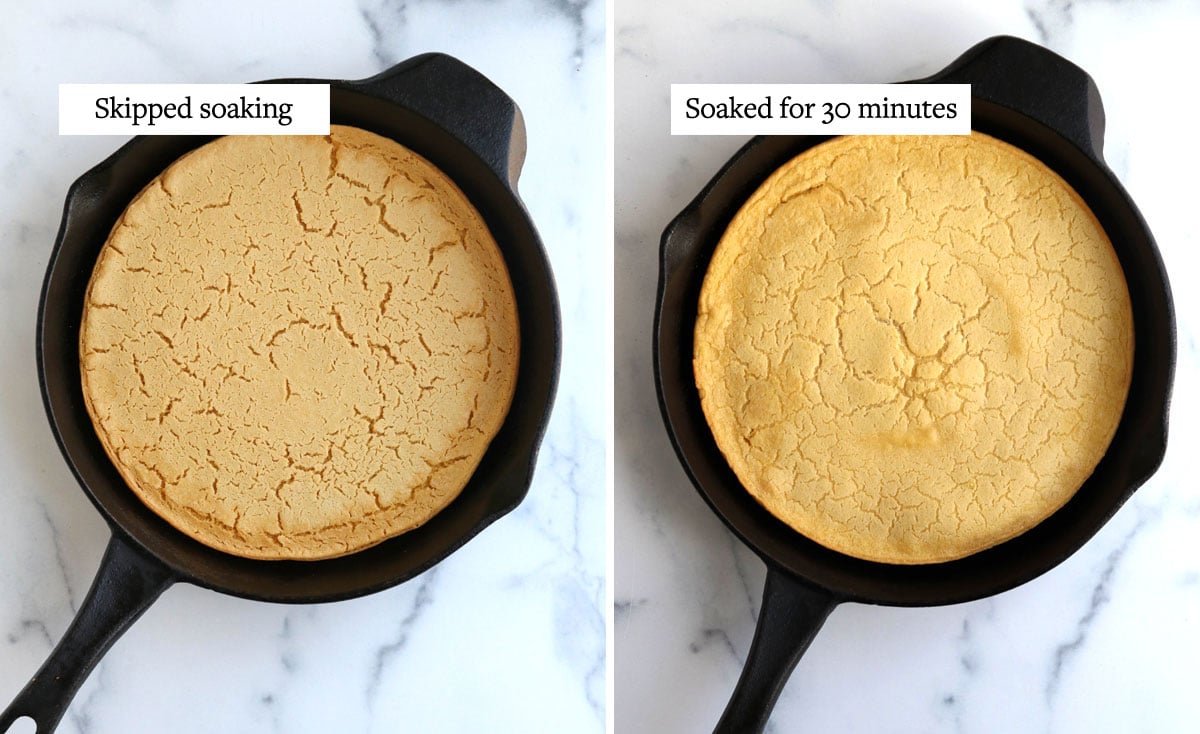 The result is usually not as pretty (the socca cracks a little more and sometimes splits in the middle when you skip the soaking step) but it is still delicious, if you need to make this faster.
While the batter is resting, preheat the oven to 450ºF and place an oven-safe skillet inside the oven to heat up at the same time. This also helps you achieve crispier results!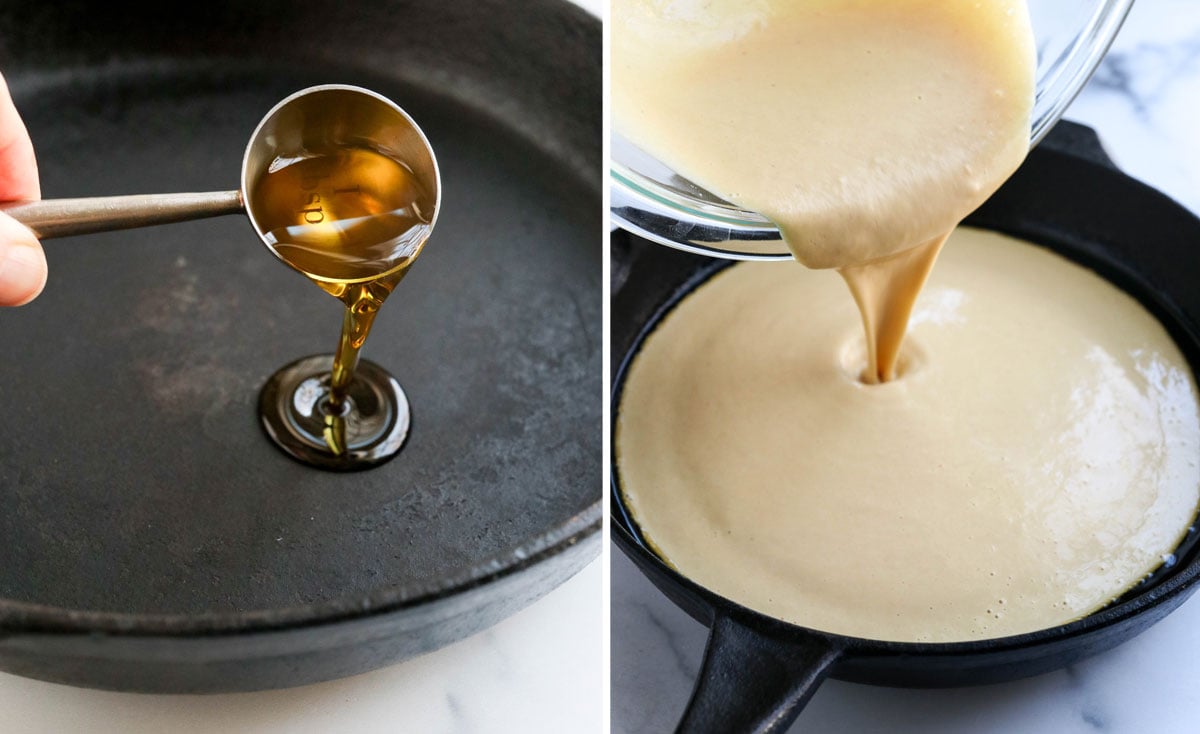 When 30 minutes have passed (or you can let it rest longer, if you'd like– up to overnight in the fridge) use oven mitts to remove the cast iron skillet from the stove and drizzle a little olive oil in the pan. Swirl it around, making sure the bottom and sides of the pan are evenly coated, then pour the socca batter in.
Bake the socca for approximately 20-25 minutes, or until the edges are golden. It's great if the top of the flatbread starts to turn lightly golden, too.
Note: If you find that the socca isn't golden enough after 20 minutes or so, you can also turn on your oven's broiler for the last 1 to 2 minutes of cooking, to speed things along.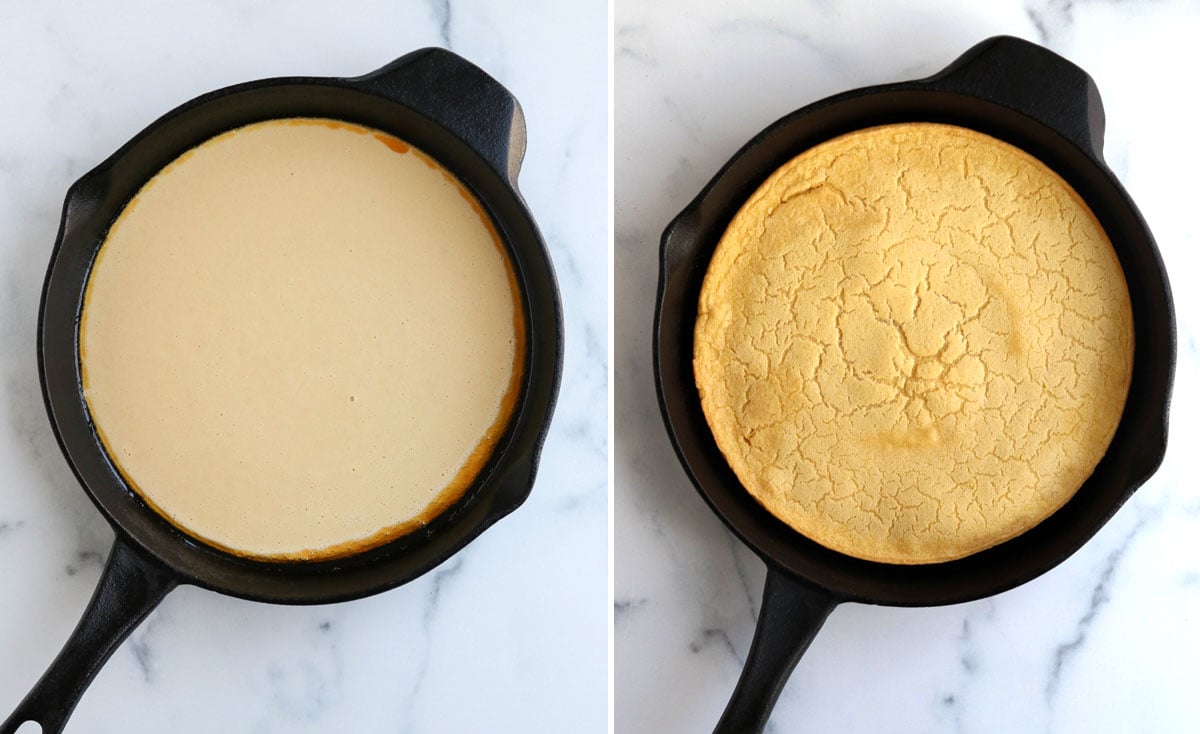 Remove the socca from the oven, and use a spatula to remove the socca. It should release from the pan very easily.
Slice and serve warm, with your favorite toppings. This makes a great socca pizza crust, and it's also delicious when served with hummus or chimichurri.
Frequently Asked Questions
What does socca taste like? Socca has a relatively neutral flavor once it's cooked, but it does taste like chickpeas. (Not surprising, right?) The batter tastes very bitter before you cook it, but I think the flavor becomes more mild after it's baked. I do recommend serving it with something flavorful, like hummus or spinach artichoke dip, as it's not too exciting by itself.
How do you pronouce socca? I studied French for four years, and my teachers always pronounced it "sock-ah." But, please, someone correct me if I'm wrong!
What size pan should you use? I keep a 10-inch cast iron skillet in my kitchen, so that's what I use, but I think a 12-inch skillet will also work, if you don't mind a thinner, crispier flatbread. Make sure the pan you use is oven-safe, up to 450ºF. (Including the handle!)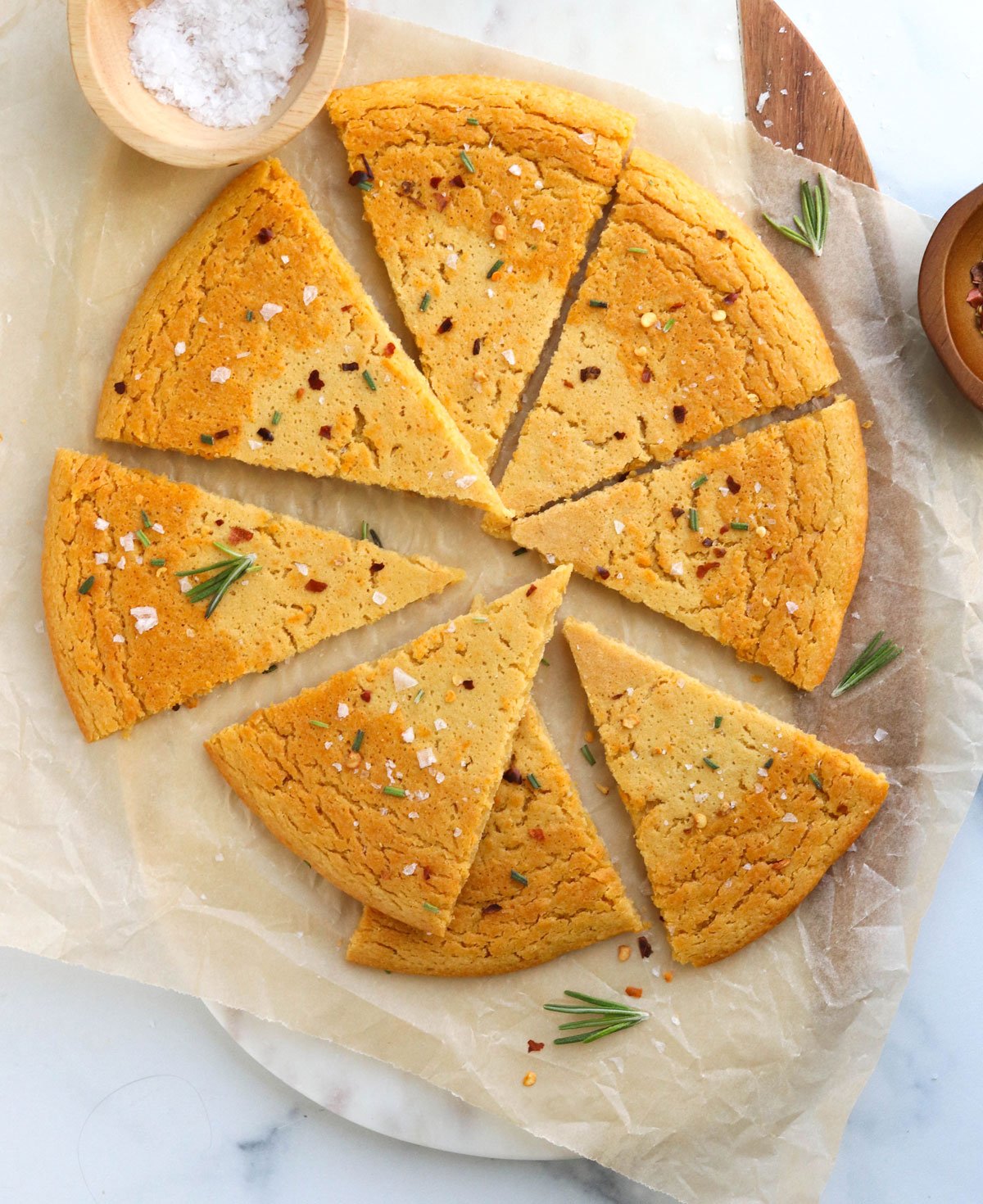 Socca Recipe
Here's how to make socca, which is a simple French flatbread made with 4 ingredients. It's naturally gluten-free and vegan, and it makes a great pizza crust, or bread to serve with soups and dips.
Ingredients
1

cup

chickpea flour

(109 grams)

1

cup

water

(8 ounces)

1.5

tablespoons

olive oil

(18 grams; plus more for greasing the pan)

3/4

teaspoon

fine sea salt

( 5 grams; I use Real Salt brand)
Instructions
In a large bowl, combine the chickpea flour, water, olive oil, and salt. Use a whisk to stir it together, and break up any lumps. Set it aside to rest for 30 minutes or more. (You can set it in the fridge overnight, if you want to make this in advance.)

Preheat the oven to 450ºF and place a 10-inch cast iron skillet inside, to heat up at the same time. When the batter is done resting, use oven mitts to remove the skillet from the oven, and pour roughly 1/2 tablespoon of olive oil into the pan. Swirl it around, to make sure the bottom and sides of the pan are coated well, then pour the batter into the skillet.

Bake at 450ºF for 20 to 25 minutes, or until the edges of the socca look golden and crispy. Remove the pan from the oven, and use a spatula to lift the socca out of the pan. (It should be very easy to remove.)

Use a pizza cutter to slice the socca into slices, and serve warm with your favorite toppings or dip. Leftover socca can be stored in an airtight container in the fridge for up to 5 days.
Video
Notes
Nutrition information is for 1/4 of this recipe. This is automatically calculated, and is just an estimate, not a guarantee.
Nutrition
Calories:
163
kcal
,
Carbohydrates:
17
g
,
Protein:
7
g
,
Fat:
7
g
,
Saturated Fat:
1
g
,
Sodium:
458
mg
,
Potassium:
254
mg
,
Fiber:
3
g
,
Sugar:
3
g
,
Vitamin A:
12
IU
,
Calcium:
16
mg
,
Iron:
1
mg
If you try this socca recipe, please leave a comment below letting me know how you like it. And if you make any modifications, I'd love to hear about those, too! We can all benefit from your experience.