These Halloween Dip ideas are perfect for your next Halloween party. Turn an everyday appetizer into fun Halloween food with just a few tweaks! (No food coloring required.)
If you are in charge of bringing some Halloween party food, you are going to love these easy dip ideas. Top your favorite dip with sliced veggies for a spooky ghost face, or create a "spider web" using sour cream or Greek yogurt. (Very little effort is required.)
Plus, you'll get some extra nutrients into your life during candy season. Kids and adults will all love these fun dip recipes!
Easy Halloween Appetizers
1. Spider Queso Dip
Top your favorite homemade queso dip with a spider web for a spooky look. Just add sour cream, Greek yogurt, or vegan sour cream to a piping bag. (Use a ziplock bag with one of the ends snipped off for a quick piping option.)
Complete this look by cutting pitted black olives in half. Cut the halves into 8 thin slices to create spider legs. Arrange one black olive half (cut side down) on the spider web, and place 4 olive slices on each side to make an olive spider.
You can add a spider web to your favorite taco dip (like my Vegan 7-Layer Dip) or refried beans, too.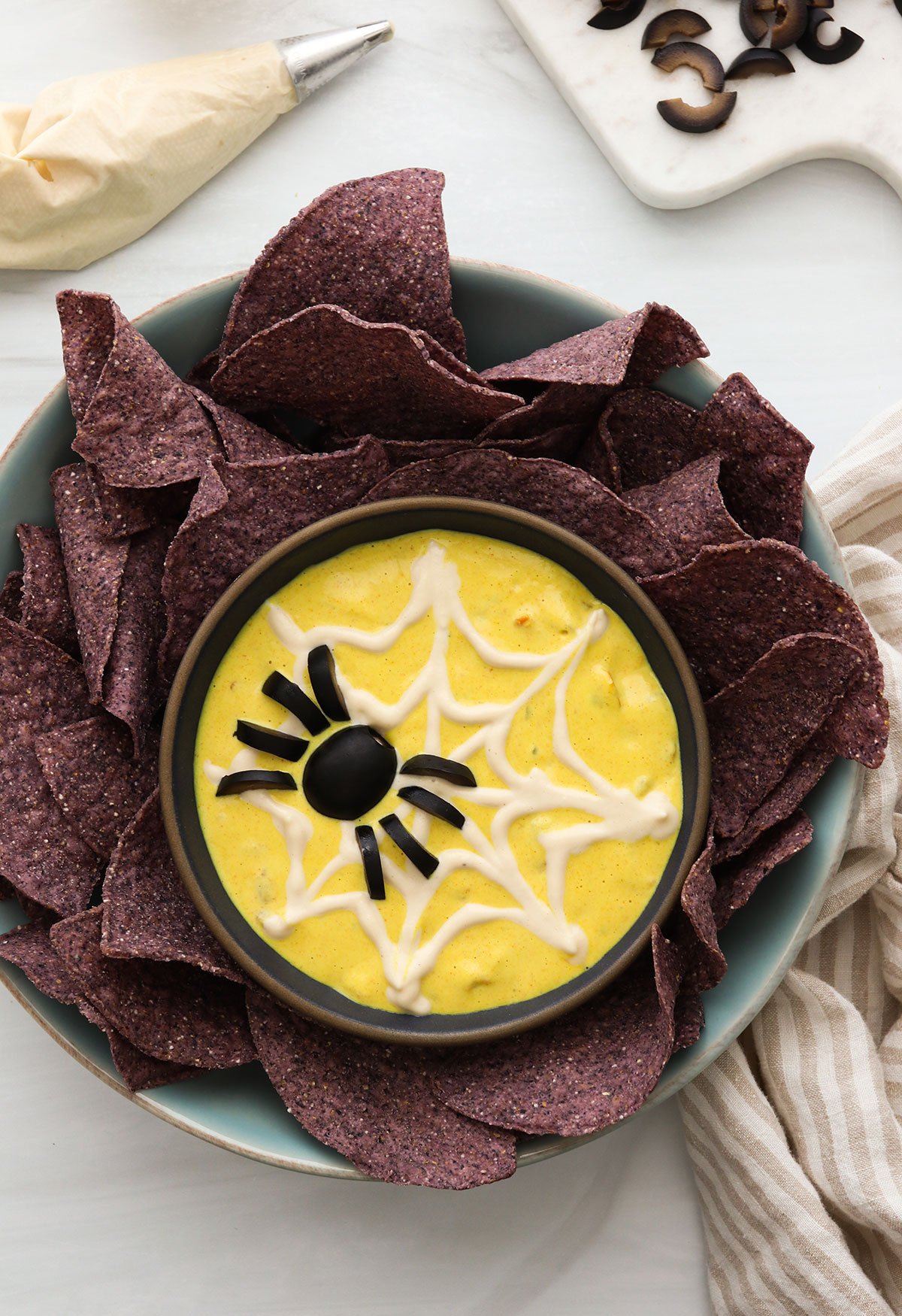 2. Easy Ghost Dip.
If you need a super-easy option, make your favorite ranch dressing look like a ghost! I found this fun ghost bowl at Target (affiliate link) to make the dip more ghost-like, but even if you use a round bowl it will still look like a ghost when you add two sliced olives for eyes plus an olive half for a mouth. 
You can decorate the eyes even more by adding a small sliced radish on top of each eye, plus a little green pea sliced in half to be "pupils." Get creative with any veggies you have on hand!
Serve with dark blue corn tortilla chips to make the white ghost dip "pop" even more.
3. Pretzel Witch Fingers with Cheese Dip
This option is a little more labor intensive because it requires making soft pretzels that look like witch fingers, but they are so fun! Find the full Pretzel Witch Fingers tutorial here. (My recipe is gluten-free, but you can use any other soft pretzel recipe you love.)
Serve these soft pretzels with nacho cheese dip or honey mustard for a delicious Halloween snack.
4. Graveyard Dip.
Turn your favorite dark-colored dip, like Chocolate Hummus or Bean Dip, into a spooky cemetery for a fun treat.
For this look, melt some chocolate chips and let them cool slightly.
Transfer the melted chocolate to a piping bag (or ziplock bag with an end cut off), and pipe the letters "RIP" onto graham crackers, or use a rice cracker for a gluten-free option.
Stick the tombstones into the dip for a graveyard look. When using a sweet dip, you can add some shaved chocolate or mini chocolate chips on top, too, which makes it look even more like dirt.
5. Puking Pumpkin Platter.
Carve a jack-o-lantern to have squinty eyes and a big open mouth. Then place it next to a serving platter and add guacamole to the center. 
Arrange some of the guacamole so it looks like it's coming out of the pumpkin's mouth, then surround the dip with tortilla chips and sliced veggies for dipping.
You can use store-bought guacamole for this recipe, but the flavors are so much better when you make it fresh! Plus, you can control the amount of jalapeño, salt, and garlic inside, if you are serving picky eaters.
6. Mummy Pizzas with Marinara Dip
This easy idea is especially a hit with kids! Top roasted sweet potato slices or your favorite sliced bread with marinara sauce and thin slices of white cheese (slice it off a block or use string cheese).
Arrange the cheese so it looks like mummy wrapping, and use black olives to make mummy eyes.
Bake the mini pizzas in the oven at 400ºF until the cheese is melted, about 8 to 10 minutes. Serve warm with marinara sauce for dipping. 
7. Monster Dip.
Start with a bowl of guacamole for a green monster look, or any other dip you love.
Arrange two sliced radish pieces on top of the guacamole, and add the sliced black olives over the radish slices. Red bell pepper can be used for lips, and slice jicama or more radish into triangles to make pointy teeth.
Adding sliced bell peppers and carrots to the top makes the monster look like it has crazy hair, and is also perfect for dipping. In case you're wondering, I used 5 avocados the make the bowl of guacamole below. I think you'd need to use a minimum of 4 avocados if you're trying to make enough to serve a crowd.
Looking for more Halloween recipes? Check out my collection of Healthy Halloween Treats for mummy granola bars, monster smoothie jars, witch finger cookies, and more.
Halloween Dip Ideas: Spiderweb Queso
Need an easy Halloween Dip for a spooky movie night or party? Turn an everyday appetizer into fun Halloween food with just a few tweaks! (No food coloring required.)
Ingredients
1

batch

queso dip

½

cup

sour cream or Greek yogurt

2

black olives

, pitted

tortilla chips

, for serving
Instructions
Prepare the queso dip and transfer it to a serving bowl. Add the sour cream or Greek yogurt to a piping bag fitted with a narrow decorating tip. Or use a ziplock bag and cut one of the ends off to create a quick piping option.

Pipe the sour cream into the shape of a spiderweb, first by making an X over the dip. Add 2 more diagonal lines, then make connecting lines in the center to create a spiderweb look.

Slice the black olives in half. Cut one of the olives into 8 thin pieces to create spider "legs." Arrange an olive half, cut side down, on the spiderweb, then place 4 legs on each side to look like a spider. Serve the dip right away with tortilla chips or sliced veggies.
Notes
Nutrition information is for roughly 1/4 cup of dip, not including chips. This information is automatically calculated using generic ingredients and will vary based on the type of dip you prepare.
This technique can be used over the top of any dip you love. Feel free to try it over guacamole, 7-layer dip, bean dip, and more!
Make it Vegan: Use vegan queso and your favorite vegan sour cream as the topping.
Nutrition
Calories:
138
kcal
,
Carbohydrates:
5
g
,
Protein:
7
g
,
Fat:
10
g
,
Saturated Fat:
6
g
,
Polyunsaturated Fat:
0.01
g
,
Monounsaturated Fat:
0.1
g
,
Trans Fat:
0.001
g
,
Cholesterol:
36
mg
,
Sodium:
791
mg
,
Potassium:
128
mg
,
Fiber:
0.2
g
,
Sugar:
4
g
,
Vitamin A:
311
IU
,
Vitamin C:
0.2
mg
,
Calcium:
181
mg
,
Iron:
0.1
mg
I hope you'll enjoy one of these Halloween Dip ideas soon. I can't wait to hear which one you try first!