These healthy Halloween treats are quick & easy to make, without using gluten or artificial food coloring. They are the perfect way to get into the holiday spirit!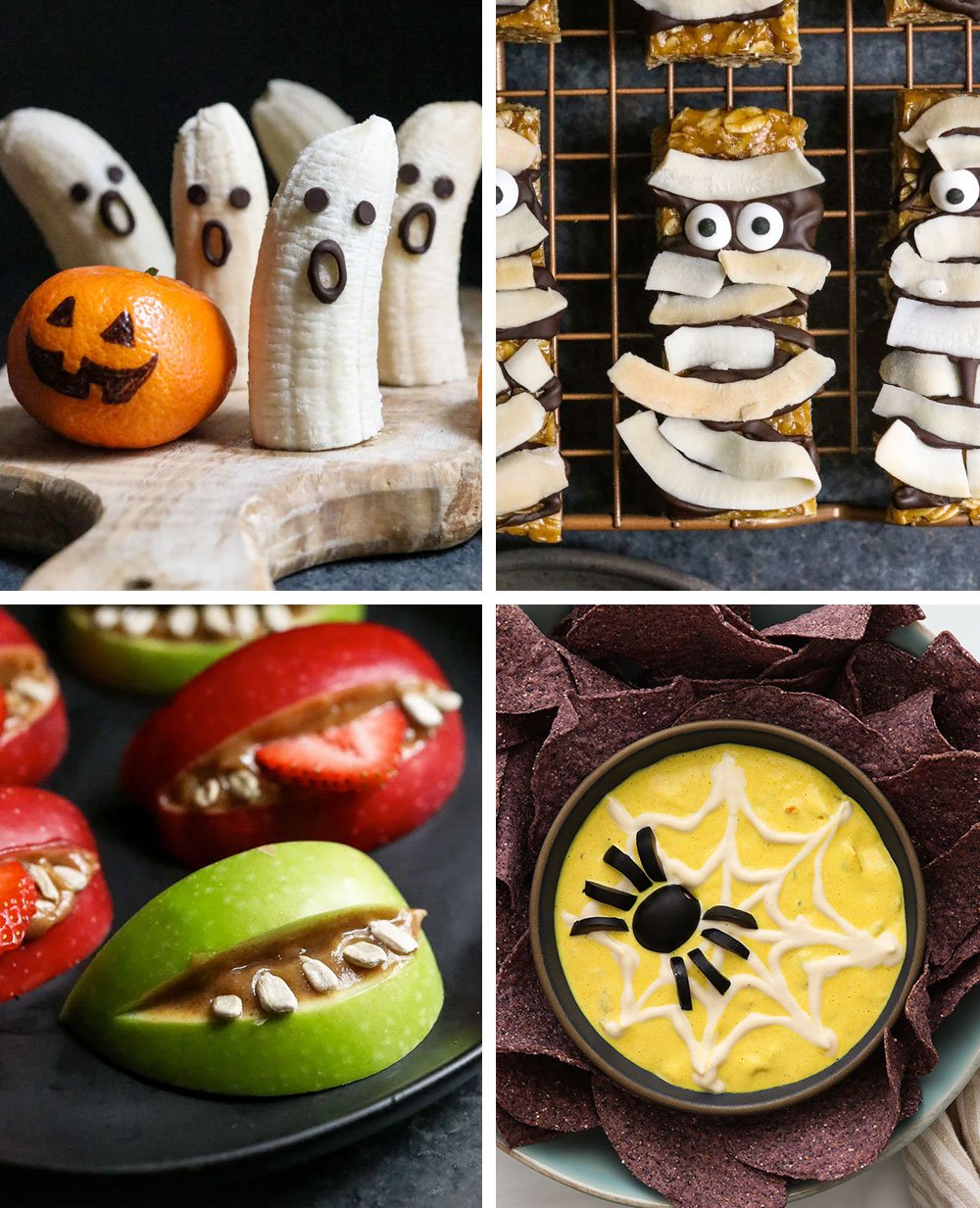 Healthy Halloween Snack Ideas
These healthy Halloween snacks are quick to prepare and naturally gluten-free. With just a few simple tweaks, you can turn an everyday recipe into impressive Halloween food!
1. Green Monster Smoothies
How do you make a green smoothie recipe even more fun? Use a black marker to draw a Frankenstein face on your glass! It makes drinking your veggies a treat.
Use a dry eraser to draw on a dry glass, or a black permanent marker if you want it to last a little longer. It will wipe off easily when the glass sweats from the smoothie, or you can use nail polish remover to clean the glass later.
I topped my smoothies with an easy 3-ingredient vegan chocolate sauce for Frankenstein's "hair" but that's totally optional. You could also use chocolate shavings as a topping.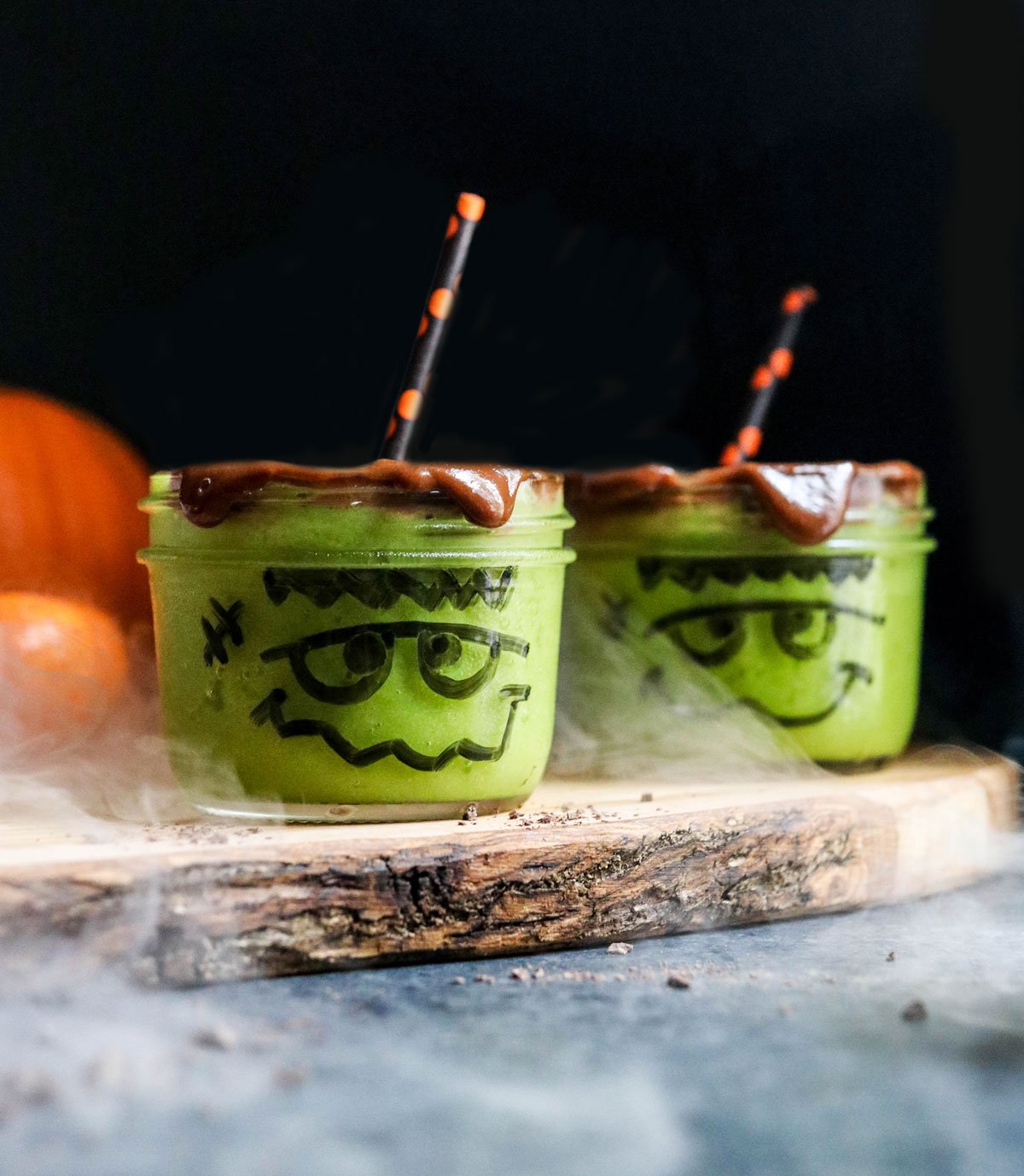 2. Banana Ghosts & Orange Jack-O-Lanterns
This is a perfect after-school snack because it takes just 5 minutes to assemble. Stick a few mini chocolate chips into half of a banana, and it looks like a ghost! I stick mine on popsicle sticks, for an easy handheld snack. (Use melted chocolate if you want to draw on mouths, and pop them in the freezer until the chocolate is firm.)
You can freeze the bananas for a frozen treat on a stick, too. Frozen bananas have the texture of ice cream!
Draw a cute little jack-o-lantern face on your mandarin oranges for a fun lunchbox treat, too. No carving is necessary, and the peel comes right off when it's time to eat.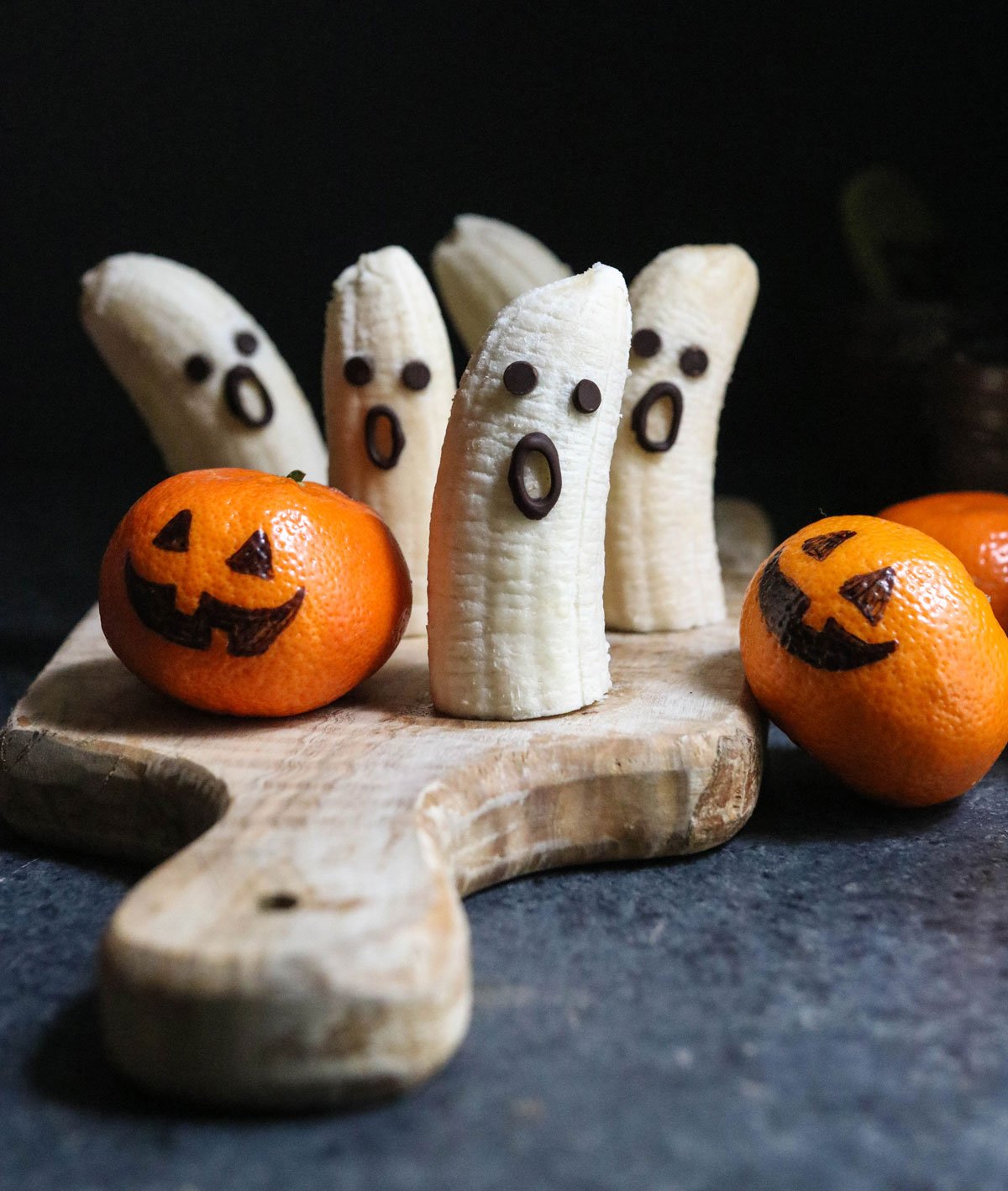 3. Mummy Granola Bars
Here's another fun snack that doesn't take much extra effort. Drizzle homemade granola bars with melted dark chocolate, and then stick some crunchy coconut chips on top for a "mummy" look.
I added a few candy googly eyes on mine for the cuteness factor, but kids won't usually eat those. (They are too hard for their teeth, so they tend to just pick them off.)
You can also use blueberries as the eyes, 2 chocolate chips, or mini marshmallows if you prefer.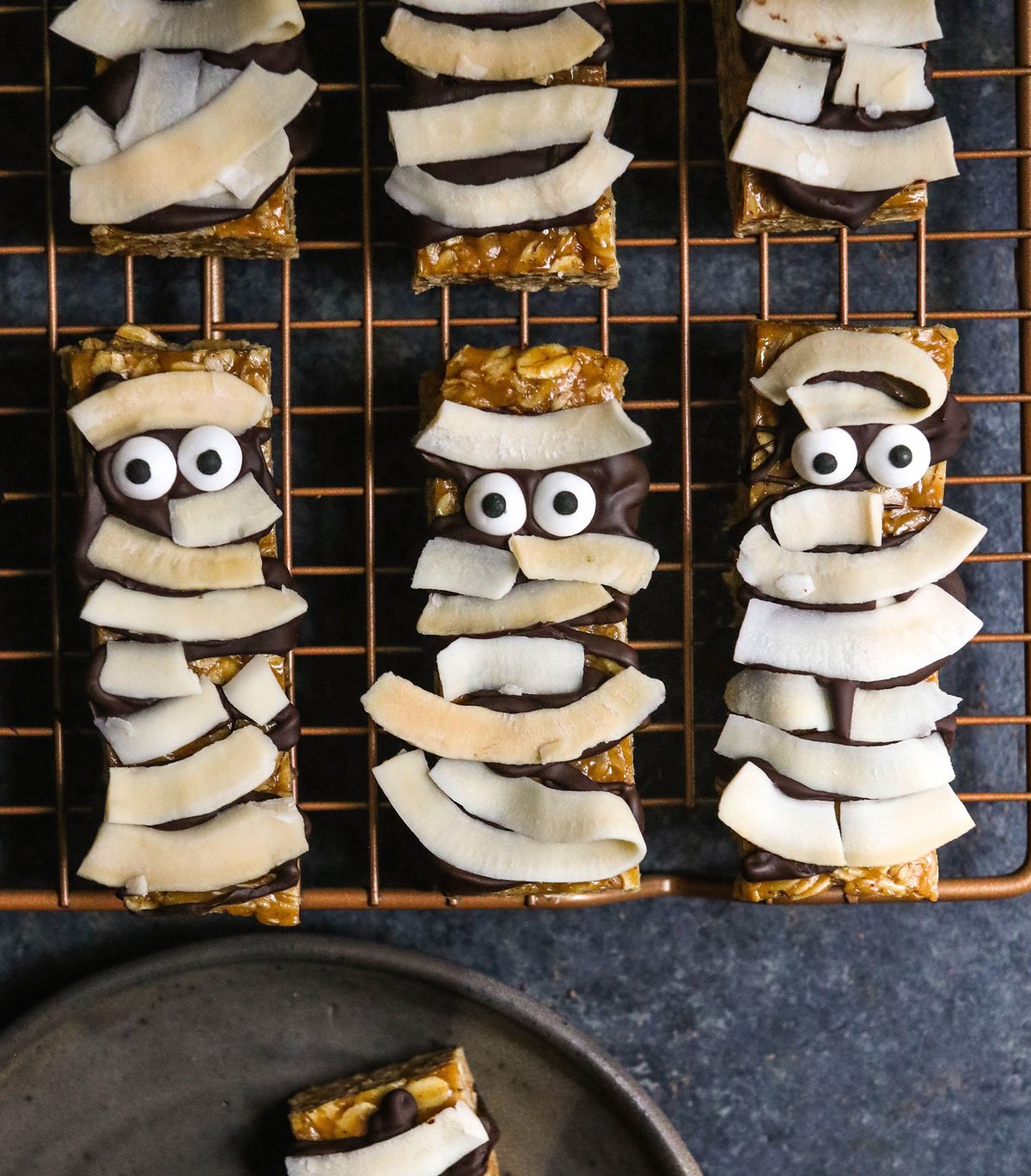 4. Apple Monster Mouths
You've probably seen these on Pinterest, but this is my slightly lazier (and faster) take on it. Take a quarter of an apple, then slice a little wedge out of the outside.
Spread peanut butter or date caramel inside the wedge you just cut out.
Instead of attempting to stick the sunflower seeds (or pumpkin seeds) physically into the apple to look like real teeth, just lay them into the nut butter or caramel sauce. I think it gets the look across, without as much effort.
Add a sliced strawberry for a "tongue" if you'd like to, and use a mix of red and green apples on a serving dish for a fun look. They are easier to make than caramel apples and taste just as delicious!
5. Spooky Spider Dip.
Use Greek yogurt or vegan sour cream to drizzle a "spider web" on your favorite savory dip recipe. Vegan queso was used for this photo, but guacamole, bean dip, or hummus will work, too. 
Cut black olives into slices to create spider legs, and arrange 4 on each side of a black olive half to create a spider on top of the dip. Serve with tortilla chips, sliced carrots, bell peppers, or any other veggies you have.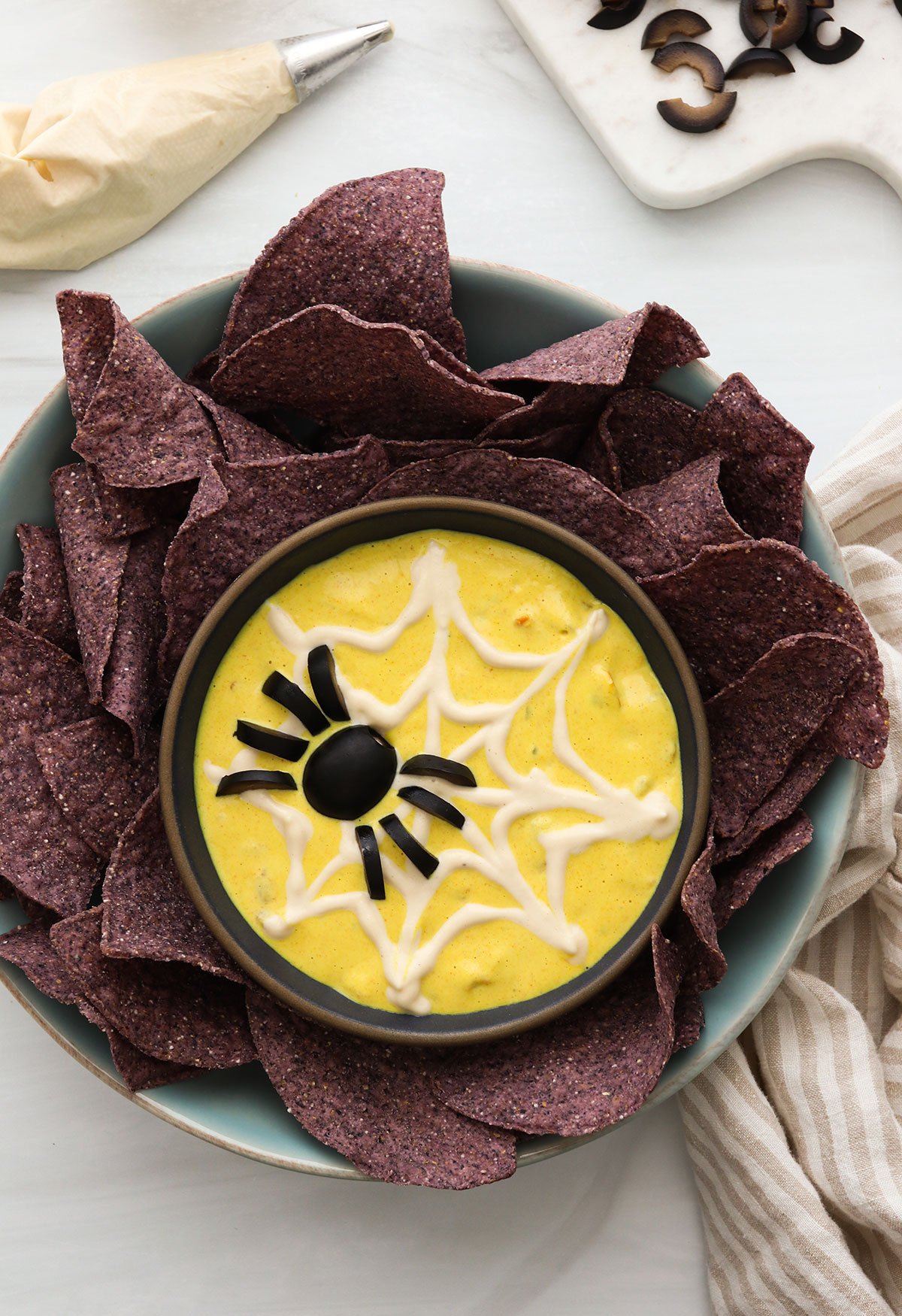 6. Date Caramel
If you want to host a healthy Halloween party, serve this naturally sweet date caramel dip with sliced apples and crunchy pretzels. It makes a fun Halloween snack!
Easy Halloween Treats
If you are looking for some healthier dessert ideas, these sweets are sure to impress!
7. Cemetery "Dirt" Cups
Take your favorite healthy pudding recipe, like avocado pudding or chocolate chia pudding, and turn it into a "dirt" cup, with extra fiber in each bite.
Use green matcha cookies to make the RIP tombstone and crumble an almond flour cupcake or chocolate cookie on top.
You can also use a crumbled brownie bite (which is date-sweetened), a crumbled brownie, or chocolate cookies to make the dirt layer on top. Any cookie recipe will do for the tombstone.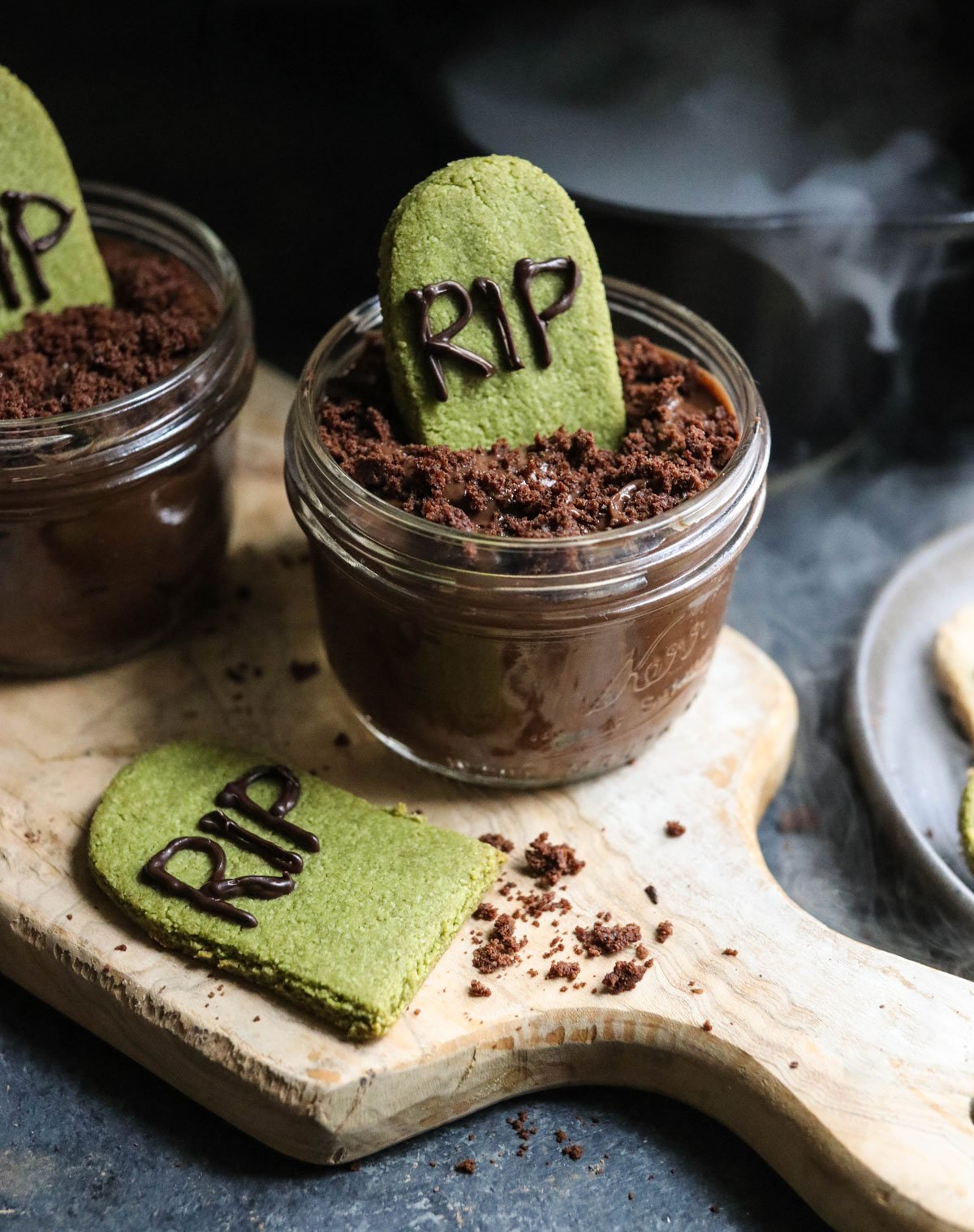 8. Frankenstein Cookies
Take my mint matcha cookies (which are naturally green!) and give them a Frankenstein makeover. Roll the dough between two pieces of parchment paper, then use a cookie cutter (if you have it), or just slice them into rectangles for a more monster-shaped head.
You can't taste the matcha flavor at all, thanks to the addition of peppermint. Dip the cookies in melted dark chocolate for Frankenstein's hair, then transfer the melted chocolate to a piping bag to finish adding a scar on his forehead, eyes, and a smile. (You can also use candy eyes here if you prefer.)
9. Witch Fingers
Matcha cookies make great Witch Fingers, too! Or you can use your favorite sugar cookie recipe and still add the fingernails.
Add a dark chocolate chip at the end before baking, and when the cookies are still warm from the oven, press a sliced almond into the melted chocolate as a "finger nail." The almond will stick in place once the chocolate cools and hardens.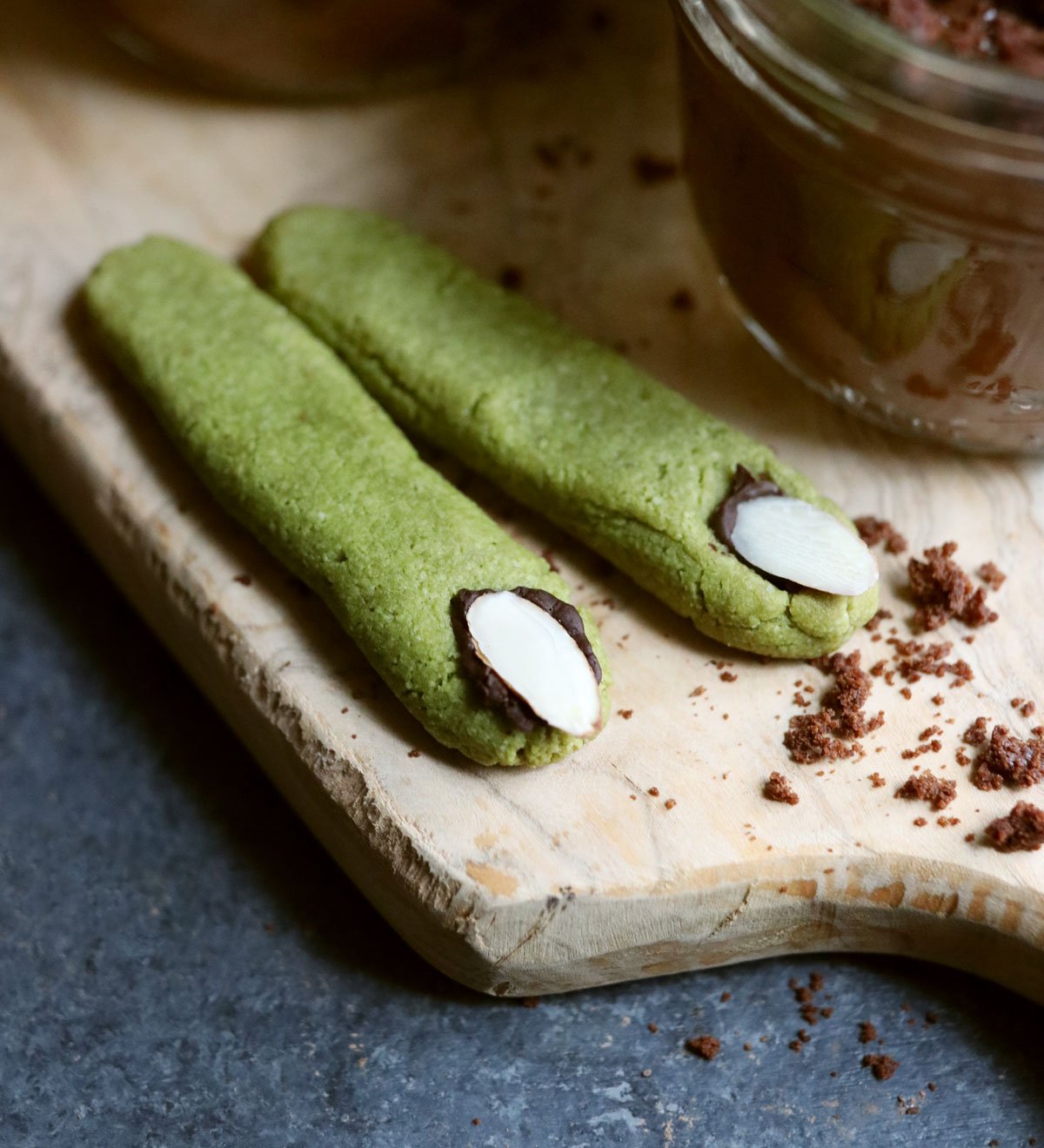 10. Homemade Butterfingers
If you want something that tastes like the candy you'd buy at the store, make homemade Butterfingers.
While popular recipes call for melted candy corn, these homemade candy bars are made with just 5 all-natural ingredients. They taste ridiculously authentic!
11. Healthy Snickers Bars
Yes, you can make vegan Snickers bars at home! These no-bake candy bars feature a homemade date-sweetened nougat, topped with a fast homemade caramel layer, crunchy peanuts, and a naturally-sweet chocolate coating.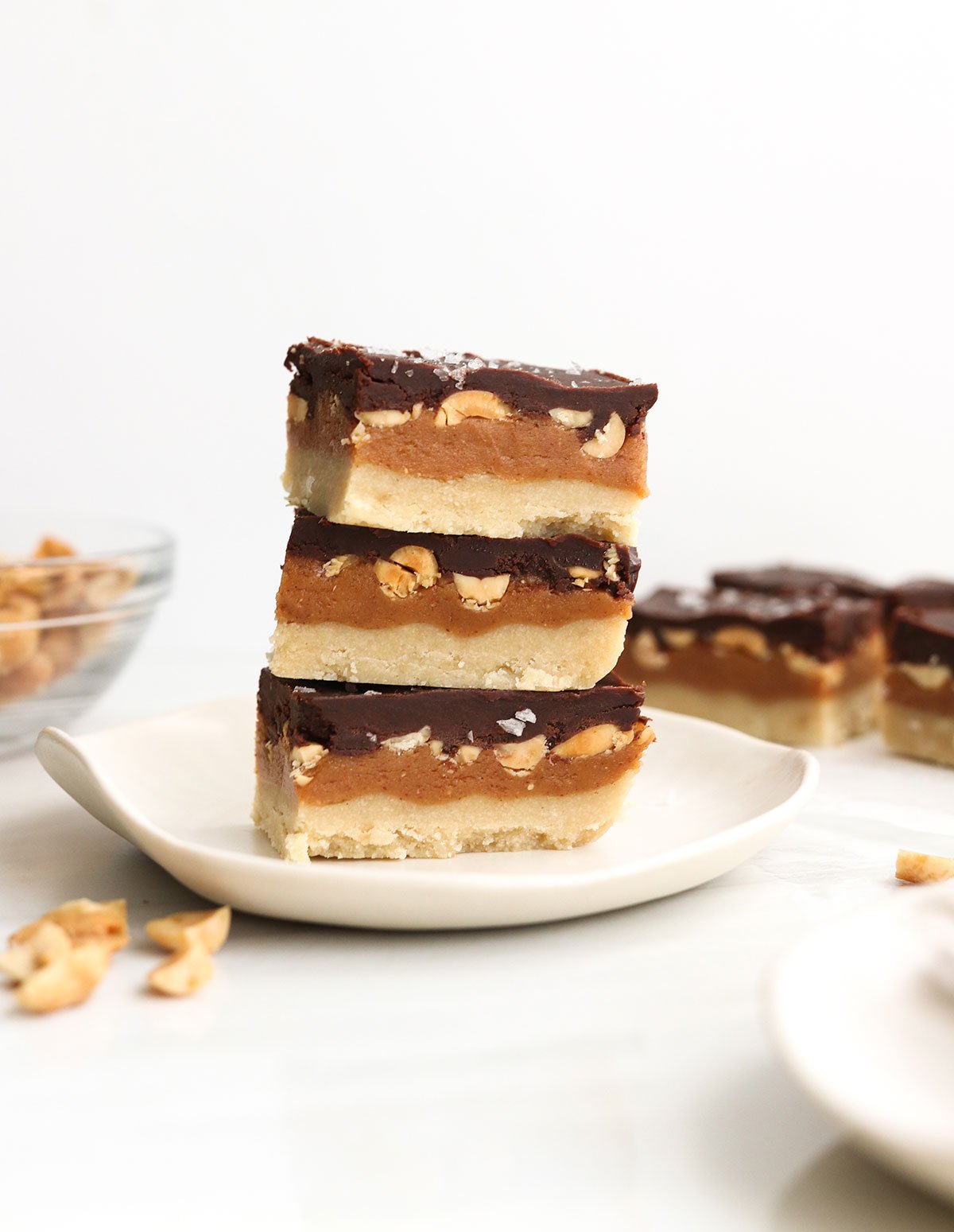 12. Halloween Cupcakes
Take your favorite chocolate cupcake recipe, and top with colorful sweet potato frosting!
Sweet potatoes come in two colors that are perfect for Halloween– orange and purple! (The purple potatoes I find are called Stokes Purple potatoes.)
You can use the same frosting recipe using either variety of potato. It looks super-festive, without using any artificial food dyes.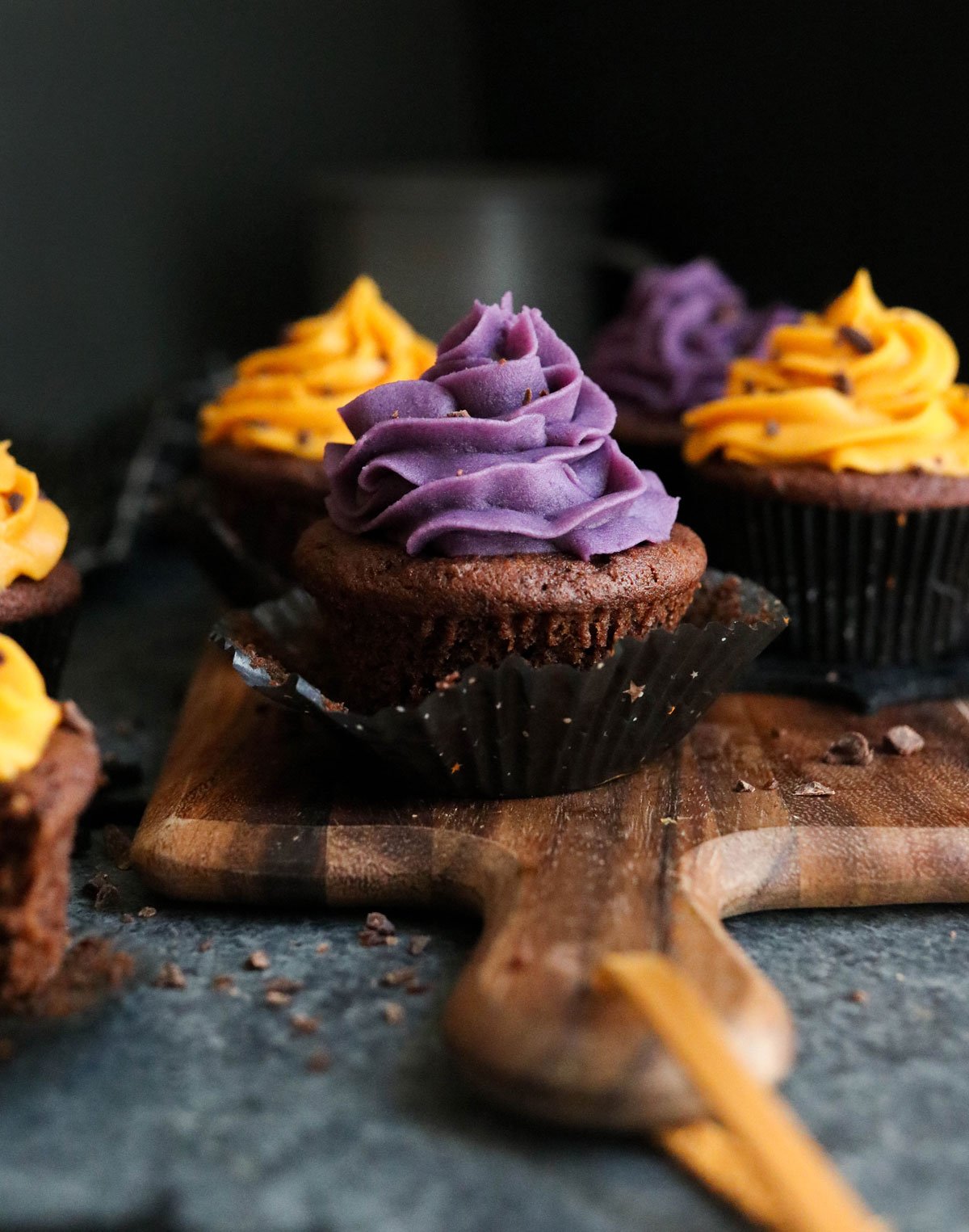 13.  Mini Vegan Peanut Butter Cups
Make your own delicious peanut butter cup candy at home! These mini peanut butter cups take just a few minutes to assemble. Sprinkle some sea salt on top to take the flavor up a notch!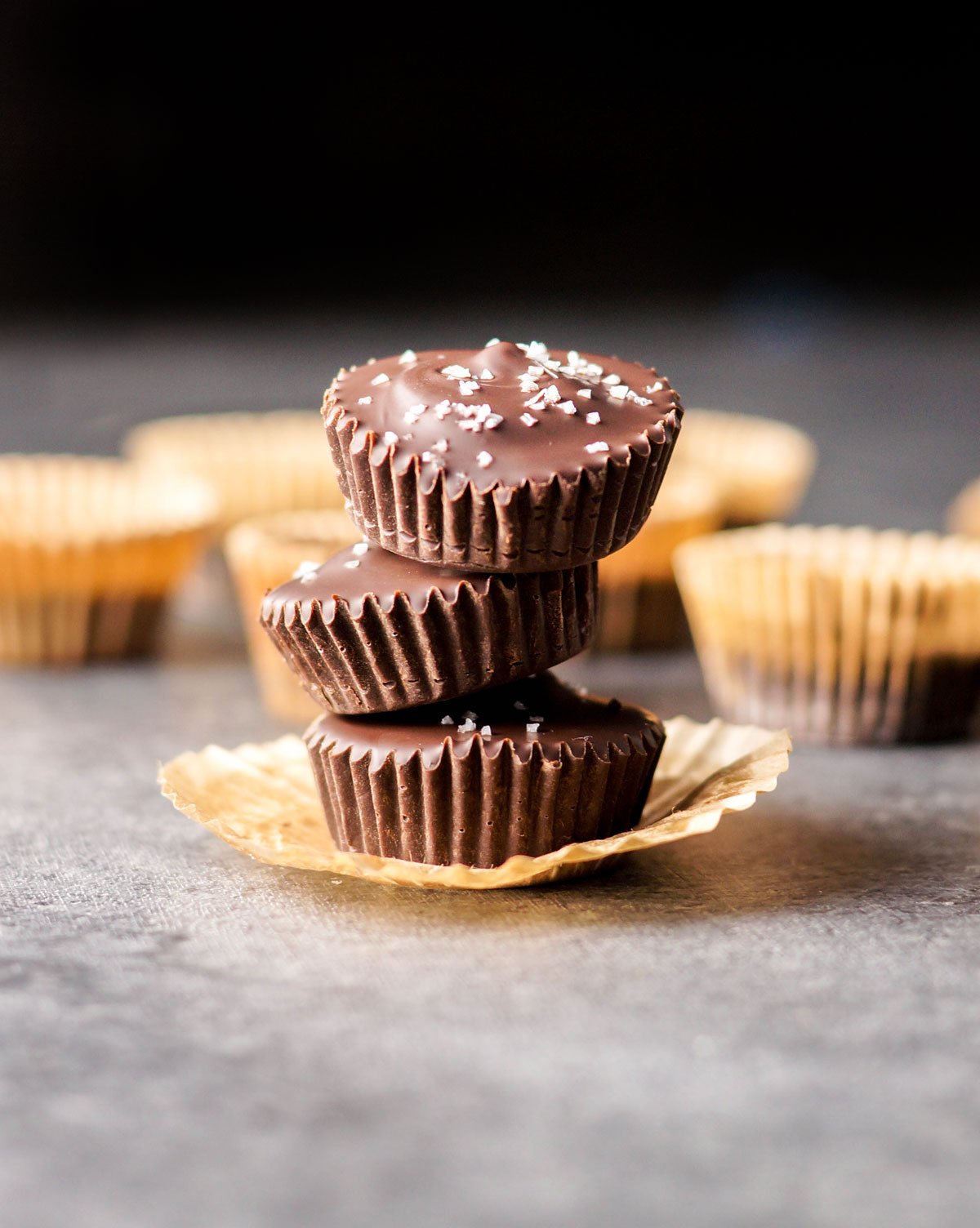 Looking for more homemade candy ideas? Try my popular Crunch Bars or Almond Butter Cups, too.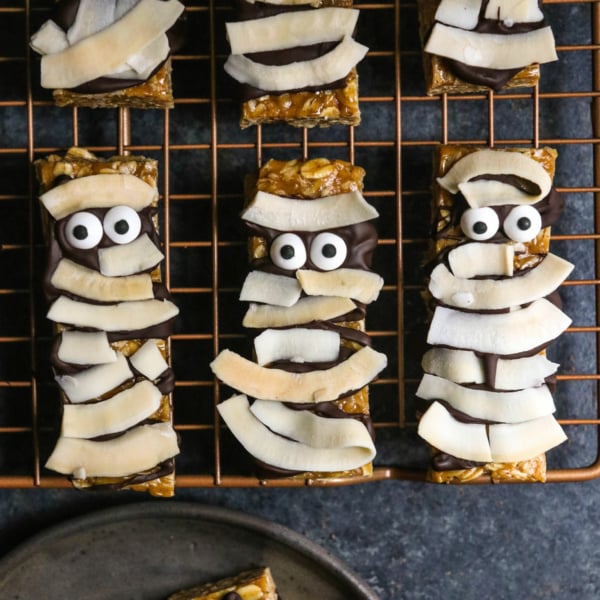 Healthy Halloween Treats: Mummy Granola Bars
These healthy Halloween treats are naturally gluten-free, without using artificial food coloring. They make a fun activity for both kids & adults!
Instructions
In a large bowl, combine the rolled oats and salt, and mix well. Set this aside nearby, along with the measured-out peanut butter, since this recipe will move quickly.

Add the honey to a small saucepan over medium-high heat, and bring the honey to a boil. Once the honey is fully boiling, set a timer for 1 minute. When the timer goes off, remove the pan from the heat and stir in the peanut butter.

Pour the peanut butter honey mixture into the large bowl of oats, and stir well. The honey may start to stiffen up as you stir, so just be patient and keep mixing until everything looks evenly coated.

Press the mixture into the bottom of an 8-inch square pan lined with parchment paper. You'll need to press firmly to make sure the bars will hold together well when they cool. Place the pan in the fridge or freezer to help the bars cool off faster. As soon as they are cool, you can slice them into 10 to 12 bars.

To make a "mummy" look, melt the chocolate chips in a double boiler, or you can use the microwave, stirring after 30-second intervals. Spread the melted chocolate on one of the bars, and while the chocolate is still wet, add a few coconut chips on top to look like a mummy wrapping. Leave space toward the top to add eyes. (Candy eyes are too hard to bite into, but they make a cute mummy bar. Sometimes we use blueberries instead, or dried fruit.) Repeat the process until all of the bars look like mummies. Let them cool completely, and once the chocolate is firm they are ready to eat.

Store homemade granola bars in an airtight container in the fridge for up to 2 weeks. They will soften slightly if you leave them out at room temperature for a while, but they are still delicious that way, too.
Video
Notes
Nutrition information is for 1 of 12 granola bars, assuming you use all of the melted chocolate chips. (You might not!) This information is automatically calculated, and is just an estimate, not a guarantee.
For a nut-free recipe, use sunflower seed butter, instead.
Nutrition
Calories:
168
kcal
,
Carbohydrates:
21
g
,
Protein:
4
g
,
Fat:
8
g
,
Saturated Fat:
3
g
,
Polyunsaturated Fat:
1
g
,
Monounsaturated Fat:
3
g
,
Trans Fat:
0.003
g
,
Cholesterol:
0.2
mg
,
Sodium:
110
mg
,
Potassium:
146
mg
,
Fiber:
2
g
,
Sugar:
12
g
,
Vitamin A:
3
IU
,
Vitamin C:
0.1
mg
,
Calcium:
16
mg
,
Iron:
2
mg
I hope you'll enjoy these healthy Halloween treats soon. I can't wait to hear which ones you try!
SaveSaveSaveS