This Healthy Creole-Style Cauliflower Jambalaya is a fast skillet meal that you can prepare in just about 30 minutes. It comes from my second cookbook, No Excuses Detox, which features fast and affordable recipes to help you eat better everyday.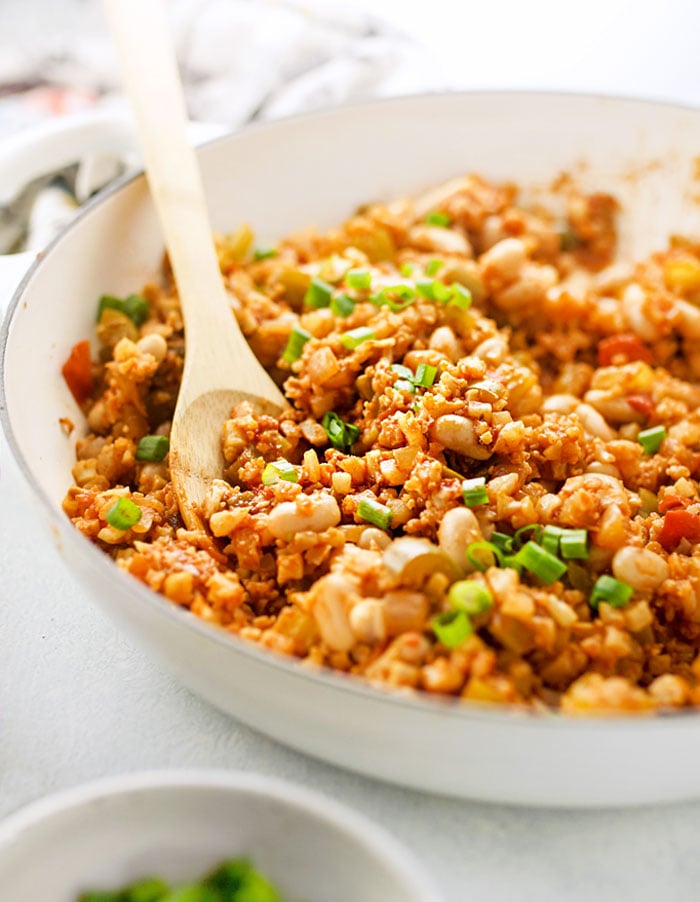 Due to popular demand, I've dedicated two entire chapters of this book to main entrée recipes. First, there's a Comfort Food & Casseroles chapter, with recipes for Vegan Sloppy Joes, Philly "Cheesesteak" Stuffed Squash, Spinach & Artichoke Casserole, Nut-Free Vegan Mac n' Cheese, Vegan Shepherd's Pie, Speedy Veggie Burgers, Baked Ziti, and more.
The second main entrée chapter focuses on Quick Skillet Meals that can be made on a weeknight, all in about 30 minutes or less. This Cauliflower Jambalaya comes from that chapter, and you'll also find recipes like Pasta Primavera, Butternut Stuffing (which tastes like Thanksgiving in a bowl!), One-Pot Quinoa "Fried" Rice, Singapore Sweet Potato Noodles, and more.
What you'll also find in this book is a collection of quick recipes that I turn to when I feel "too busy" to eat healthy. Some of my favorites include:
Freezer Waffles. Just thaw them in the toaster each morning!
Cashew Butter Spice Muffins. This might be my favorite recipe in the whole book. They are unbelievably moist, fluffy, and super-easy to make.
Skillet Breakfast Hash. A quick low-carb, one-skillet breakfast.
Knock-Off Italian Dressing. Tastes like the kind that would come over a salad with unlimited breadsticks.
Pizza Salad. This totally solves my craving for pizza when I feel like I should be eating a salad.
Creamy Kale Salad. This salad makes kids eat kale. Enough said.
Savory Sweet Potato Crackers. A homemade cracker with a sneaky serving of sweet potato inside!
Cinnamon Oat Crackers. This is my alternative to store-bought graham crackers for my son!
Easy Party Mix. This tastes just like Chex Mix, but without grains!
Southwest Lettuce Wraps with Sweet Cilantro Dressing. These are inspired by my prior obsession with the deep-fried Avocado Egg Rolls from the Cheesecake Factory.
Sloppy Joe Stuffed Sweet Potatoes. These are so comforting, and family-approved.
Overnight Quinoa Pizza. This is my new go-to pizza crust, because it's faster than the cauliflower version and still packs a sneaky veggie inside.
Cauliflower Baked Ziti. This is a low-carb dish has all the flavor of lasagna you love, without nearly as much effort!
Speedy Black Bean Burgers. These are seriously fast to prepare and taste amazing. I keep a stash in the freezer for a quick weeknight meal!
Butternut Stuffing. This vegetable-based dish tastes like Thanksgiving in a bowl. I could eat it year-round!
Rainbow Lo Mein. This skillet meal tastes amazing hot or cold. I'd pack the leftovers for lunch.
Deep Dish Chocolate Chip Cookie. This was the winner among my cookbook team– everyone went home and made it for their families after tasting it on the set of the photo shoot!
Coconut Oatmeal Cookies. These cookies are naturally gluten-free, nut-free, dairy-free, and egg-free to accommodate special diets and allergies. Sometimes I make them with raisins, but they're also great with chocolate chips!
5-Minute Freezer Fudge. This is my go-to dessert for my toddler, and he can help me make it because it only requires one bowl and 5 minutes of his attention span.
Vegan Chocolate Cake. This cake is gluten-free with only one type of flour, which is really unusual but makes it super-speedy to prepare. It's a little sticky to remove from the pan, but the flavor and texture are worth the effort.
Coconut Lime Pie. This is the easiest Key Lime Pie ever, and tastes amazing!
Okay, I just realized that's a lot of favorites.
All of the recipes in No Excuses Detox are vegetarian and gluten-free, with about 80 of them being vegan or vegan-friendly. (So you can swap honey for maple syrup, or leave out the cheese to make them vegan.) At the bottom of some recipes, I do offer suggestions when I think meat could be added for a properly combined meal to accommodate a variety of diet needs. My family tends to have a mix of both vegetarians and meat eaters, so I wanted to offer something for everyone.
If you'd like to virtually "flip through" the new book, I made a quick one-minute video to help you do just that:
(If the video above doesn't load for you, you can watch it on YouTube.)
Now, let's eat.
Cauliflower fried "rice" has become a staple in my family's diet, so I wanted to come up with a new way to spice it up—and this Healthy Creole-Style Cauliflower Jambalaya has been declared a new favorite! As written, the dish is purely vegetable-based, but you can bulk it up as a main course by adding more protein. My husband prefers meat, but vegetarians can use cooked beans for an extra boost of protein and fiber.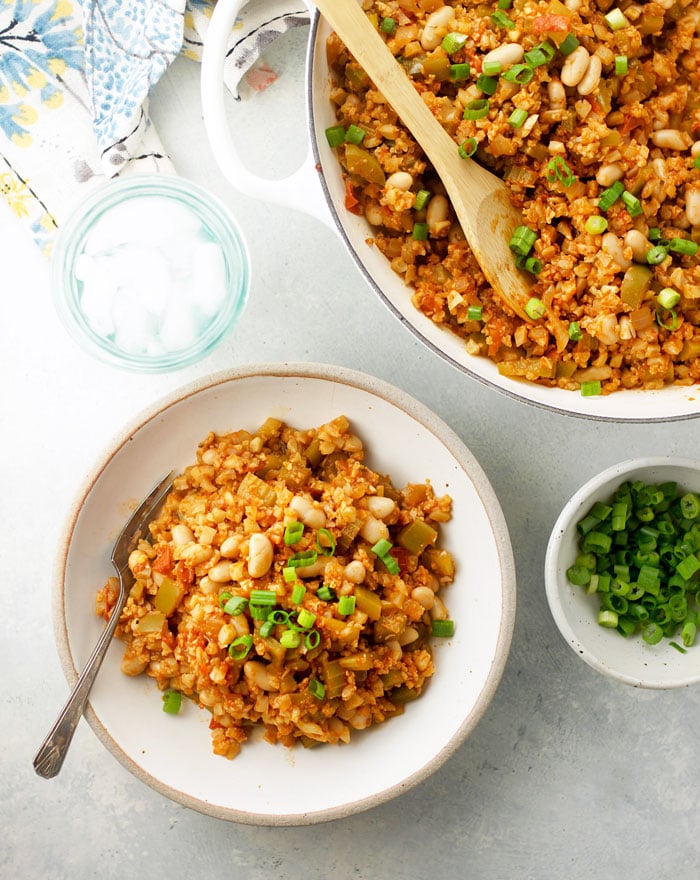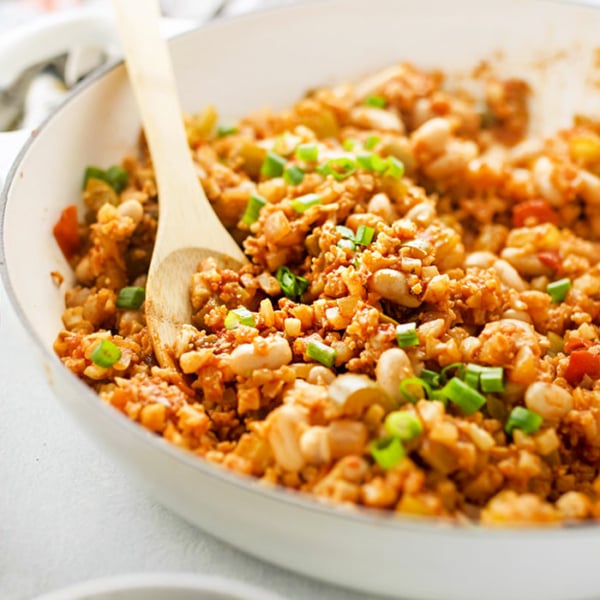 Healthy Creole-Style Cauliflower Jambalaya
A quick and easy way to cook with cauliflower rice, with a spicy kick! This recipe is vegan, paleo, and entirely vegetable-based as written, but you can add beans or meat to bulk it up with more protein.
Ingredients
1

tablespoon

coconut oil

1

yellow onion

, chopped

1

green bell pepper

, chopped

4

celery stalks

, chopped 3 cloves garlic, minced

1

⁄2 jalapeño chile

, seeded and finely chopped

2

large tomatoes

, chopped

11

⁄2 teaspoons paprika

1

teaspoon

garlic powder

1

⁄4 teaspoon cayenne pepper

1

⁄2 teaspoon dried oregano

1

head of cauliflower

(about 2 pounds), cut into florets

11

⁄2 teaspoons fine sea salt

1

⁄4 cup tomato paste

1

teaspoon

tamari

(gluten-free soy sauce)

1 1/2

cups

cooked beans

, or 1 (15-ounce) can beans, rinsed and drained (optional)
Instructions
In a large 5.5-quart Dutch oven, melt the coconut oil over medium heat and sauté the onion, bell pepper, and celery until they start to soften, about 5 minutes. Add the garlic, jalapeño, tomatoes, paprika, garlic powder, cayenne, and oregano and sauté until the tomatoes release their juices and cook down, about 5 minutes more.

While the veggies are cooking, pulse the cauliflower florets in a food processor until a ricelike texture is achieved. Add the cauliflower rice to the sautéed vegetables, along with the salt, tomato paste and tamari and sauté until tender, about 10 minutes more. Add the beans, if using. Stir occasionally while cooking to prevent sticking.

Once all of the vegetables are tender and any added protein is cooked thoroughly, taste and adjust the seasonings. Serve warm. Store leftovers in an airtight container in the refrigerator for up to 3 days.
Nutrition
Calories:
136
kcal
,
Carbohydrates:
20
g
,
Protein:
6
g
,
Fat:
3
g
,
Saturated Fat:
3
g
,
Sodium:
119
mg
,
Potassium:
406
mg
,
Fiber:
7
g
,
Sugar:
4
g
,
Vitamin A:
310
IU
,
Vitamin C:
28
mg
,
Calcium:
46
mg
,
Iron:
1.3
mg
Per Serving: Calories: 136, Fat: 3g, Carbohydrates: 20g, Fiber: 7g, Protein: 6g
I hope you enjoy it, and thank you all so much for your support. This book wouldn't be possible without all of you!
Get your copy: