This Carrot Juice recipe is about to become your new favorite! Paired with ginger and orange, it's a delicious way to get more nutrients into your life.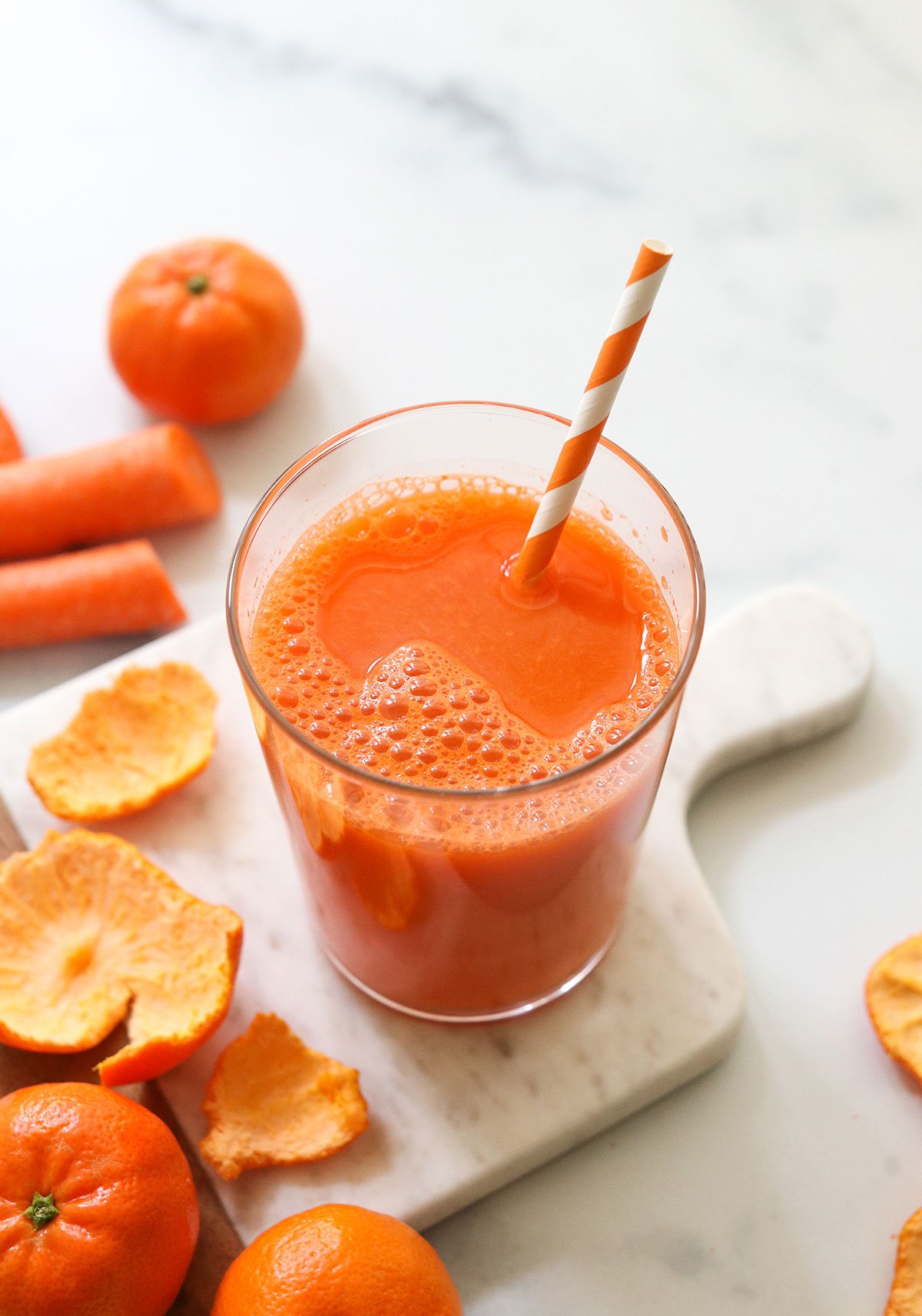 Why You'll Love It
It tastes amazing. Carrots are naturally sweet and contain more liquid than you might expect! The sweet taste pairs perfectly with spicy ginger and tangy oranges.
It's easy to customize. While carrots tend to be available year-round, you can pair them with different fruits and veggies depending on the season. If you can't find in-season oranges, you can swap them for lemon juice, instead. Carrots are also delicious with green apple, or a splash of pineapple juice or orange juice, if that's easier for you to find at the store.
It has potential health benefits. Carrot juice is high in beta carotene and other carotenoids like lutein, and zeaxanthin, which may help to promote eye health. This juice also contains vitamin C and vitamin B6, which may help to boost immunity.
It's easy to make. When you own a juicer, making this juice is as simple as washing off your produce and running it through the juicer chute! It's ready to drink in just minutes. If you don't own a juicer, check out the tips below for making this in a blender, instead.
Have purple carrots on hand? One study suggests that the anthocyanins found in purple carrots may help to balance blood sugar levels, due to their anti-inflammatory properties. (Similar research hasn't been conducted on traditional orange carrots, yet.)
Ingredients You'll Need
To make carrot juice, all you need is carrots! But, it tastes even better when you add oranges and a little fresh ginger. The orange typically adds a tangy flavor (and a little bitterness if you leave the peel on), so you can swap it for half of a lemon for a similar effect.
You can dilute the sweetness of the juice by including a cucumber, celery, or some romaine lettuce, all of which add extra minerals and antioxidants, too.
How to Make the Best Carrot Juice
1. Prepare the produce.
Depending on the juicer you are using, you may or may not have much prep work to do. Wash the produce well, and then cut it down to size to fit through the chute of your juicer. A centrifugal juicer, like the Breville model I use, requires no additional cutting, because the chute is large enough to fit a whole apple through it.
A masticating juicer, like this one, might require you cut the produce down into more narrow pieces to fit through the chute.
Note: There is no need to peel the ginger or carrots before juicing them. The orange peel has nutrients inside, so you can keep that on as well, but it will add a bitter flavor to your juice, so you might prefer to remove the orange peel in that case. If your carrots have greens on top, those are edible, but I tend to remove them for this juice recipe and save them for later.
2. Run it through the juicer.
If your juicer has two settings, you'll use the "high" one for this recipe. Add the carrots, ginger, and oranges into the juicing chute, a handful at a time (or as much as will fit at once), and use the tamper to press the produce against the blades of the juicer, keeping your hands and fingers safely away.
The order of the ingredients doesn't matter much in this case, but to prevent the ginger from flying around, you can sandwich it between the carrots as they are pressed into the juicing chute.
3. Enjoy!
Freshly pressed juice is best served right away for the best flavor and nutrition. The produce will oxidize once it is juiced, so it will gradually lose its nutrition over time.
(Masticating juicers are slower, and therefore will help the juice retain its nutrients a little longer– up to 72 hours when stored in the fridge.)
How to Make Carrot Juice with a Blender
If you are not ready to commit to a juicer yet, you can make carrot juice with a blender, too! In this case, you'll need to cut the carrots, oranges, and ginger into 1-inch pieces to help them blend easier.
Add them to your blender pitcher, along with a 1/2 cup of water. Secure the lid and blend until the produce is totally smooth and pulverized. You may need to add more water, just 2 tablespoons at a time, to help with blending.
Once the produce has been broken down, pour it through a nut milk bag or fine mesh strainer to remove the pulp. The juice is ready to serve right away once it has been strained!
Prefer not to strain the juice? You might prefer smoothies, like my famous Detox Smoothie, Beet Smoothie, or Zucchini Smoothie for more sneaky veggies in each sip.
How to Use Leftover Juice Pulp
Juice pulp can be added to soups or muffin recipes, but for the best flavor, I recommend juicing the carrots first and reserving their pulp separately from the ginger and orange. (This way you'll have a neutral-flavored pulp that will go well with practically any other recipe.)
If you juice the produce all at once, you'll end up with a ginger-flavored juice pulp that will pair well with carrot cake & pumpkin spice recipes. Try adding the leftover juice pulp to carrot cake oatmeal or pumpkin overnight oats, for an easy way to sneak more fiber into your life.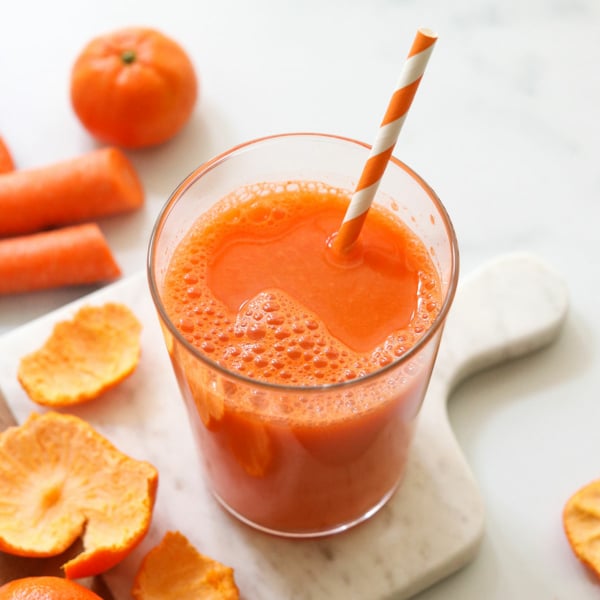 Carrot Juice with Ginger & Orange
Carrot Juice is a delicious way to sneak more nutrients into your day. Paired with oranges and ginger, you'll enjoy every last sip!
Equipment
Ingredients
1

pound

carrots

, tops removed

2

clementines

, peeled (or 1 large orange)

1

inch

fresh ginger
Instructions
If your juicer has two speeds, turn it on using the high speed. Add the juice ingredients into the chute, then use the tamper to press them against the blades of the juicer. Repeat until you've juiced all of the carrots, oranges, and ginger. (Tip: If your juicer has a large chute, place the ginger between a few carrots, so it won't fly around or go straight into the pulp basket.)

Enjoy the juice right away for the best flavor and the most nutrients. If you need to store any leftovers, fill an airtight container all the way to the top, then secure the lid to slow down oxidation. Aim to drink the rest of the juice within 24 hours for the best flavor. (See the notes if you need to store longer.)
Notes
Nutrition information is for the whole batch. This information is automatically calculated, and is just an estimate, not a guarantee.
If you want to make a large batch of juice to store for up to 3 days, you may want to consider using a cold-press or masticating juicer, which could help to slow down the oxidation process compared to the more affordable centrifugal juicers.
Need to freeze the juice? Be sure to leave an inch of space in your airtight storage container, so the juice can expand as it freezes without shattering the container. Frozen juice can be stored for up to 6 months in the freezer.
Nutrition
Calories:
218
kcal
,
Carbohydrates:
50
g
,
Protein:
5
g
,
Fat:
1
g
,
Sodium:
215
mg
,
Potassium:
1238
mg
,
Fiber:
12
g
,
Sugar:
29
g
,
Vitamin A:
52150
IU
,
Vitamin C:
146.9
mg
,
Calcium:
150
mg
,
Iron:
1.1
mg
If you try this Carrot Juice recipe, please leave a comment and star rating below letting me know how you like it!