This Beet Smoothie recipe is one of my new favorites. It's an easy way to sneak beets into your day, without tasting too earthy. You can whip it up in less than 10 minutes!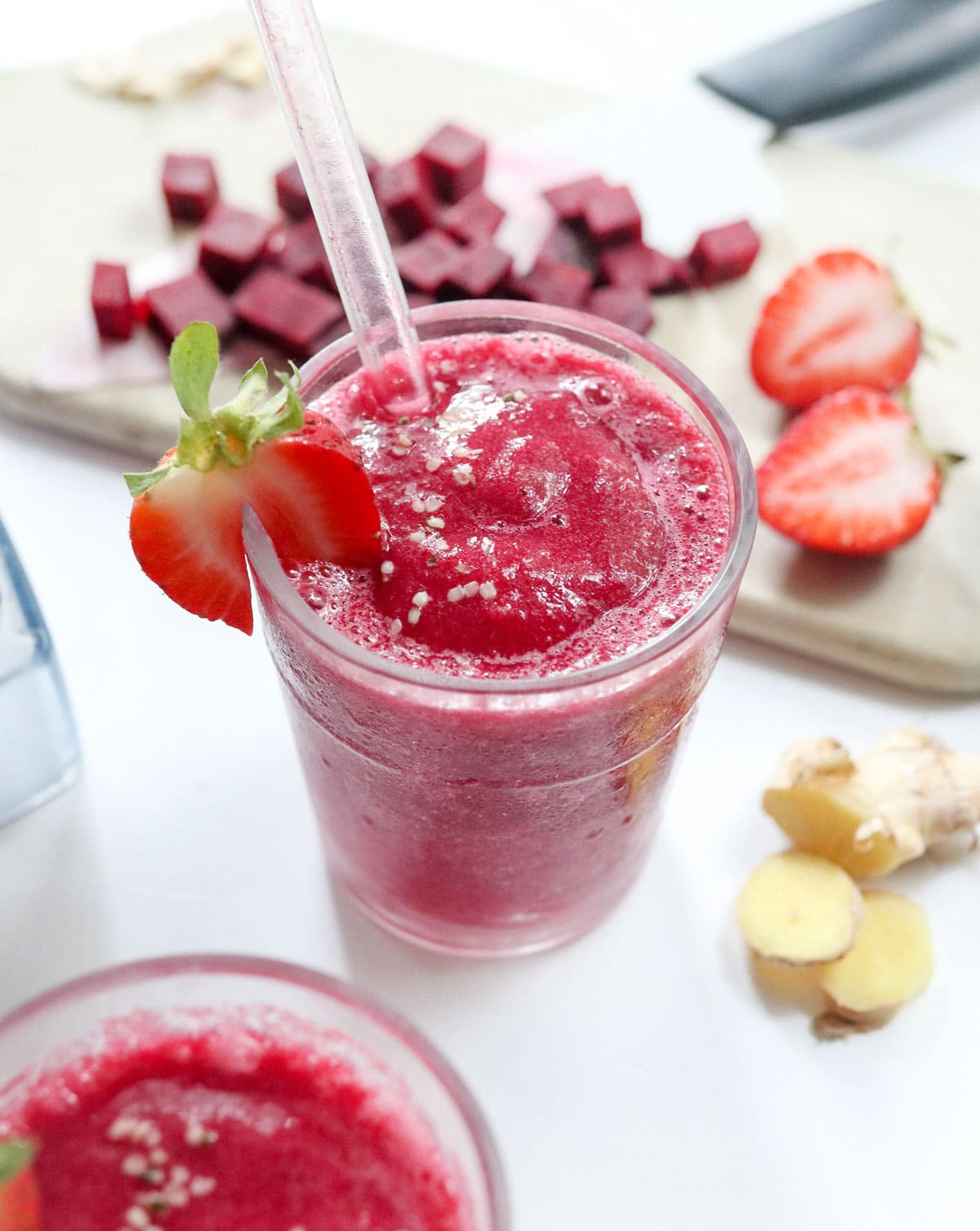 What Fruit Goes Well with Beets?
Beets go well with strawberries and banana in this smoothie, but they are mild-flavored enough to pair well with almost any fruit you happen to have on hand. Using frozen fruit gives this smoothie a nice slushy texture.
If you want to hide the beet flavor even more, try using some frozen raspberries!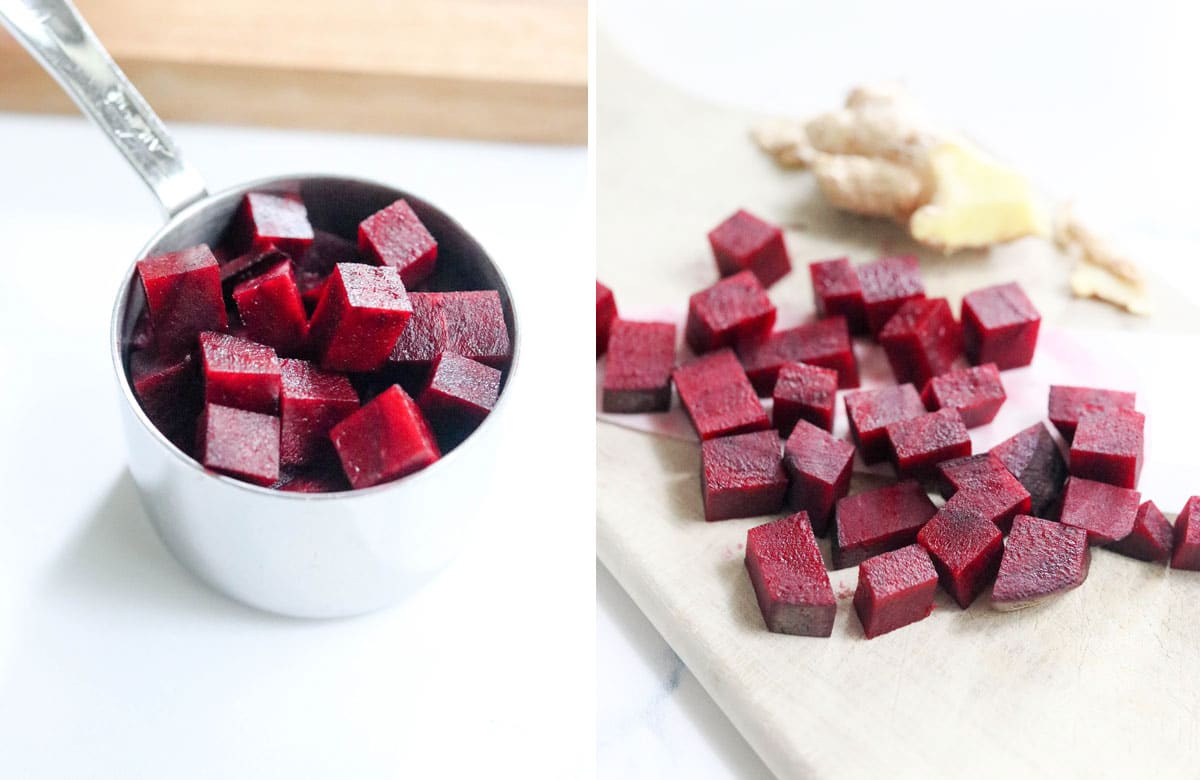 What makes this smoothie extra-special is the addition of fresh ginger. Ginger and beets are a match made in heaven, and cover up any "earthy" flavor you might otherwise taste from adding beet to a smoothie.
The combination makes me want to drink this smoothie every day!
Tip: I freeze bananas whole, and break them up into chunks right before blending. I've got a whole tutorial on how to freeze bananas if you want extra guidance!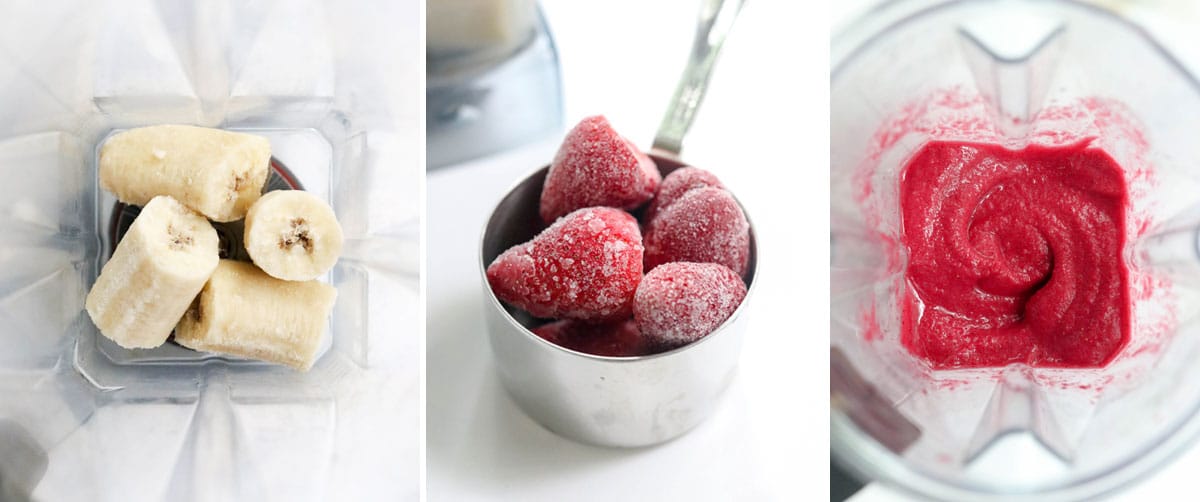 What Are Beets Good For?
There are several potential health benefits associated with beets, so I love finding new ways to sneak them into my day. Be sure to try my favorite beet salad, too, if you haven't yet!
Here's what I love about them:
Dietary nitrate levels peak around 2 to 3 hours after consuming them, so if you're hoping that eating beets will improve your athletic performance, it's best to eat them 2 to 3 hours before you need that extra boost.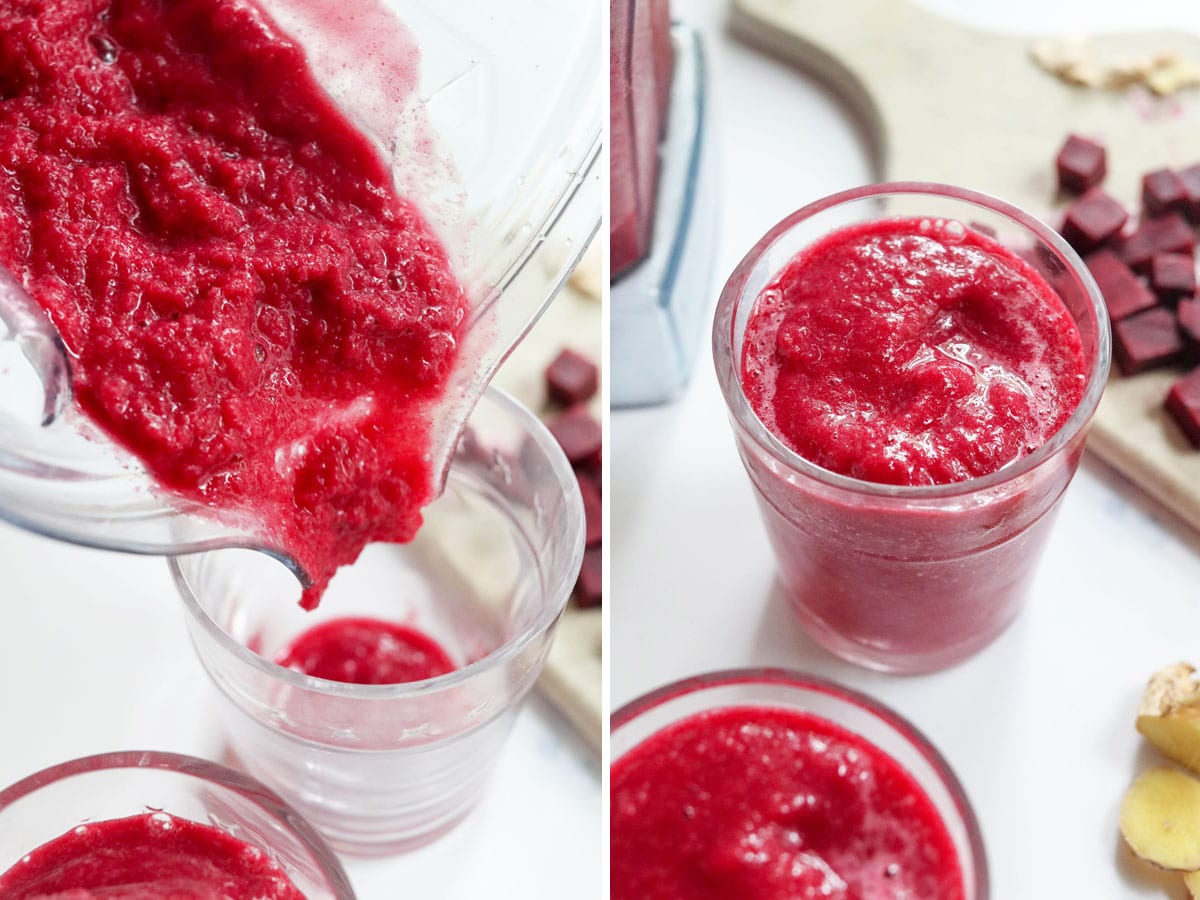 Can You Freeze Beets for Smoothies?
I only tested this recipe using fresh beets, because that's what I have on hand most often. If you have some fresh beets that you don't think you'll use up right away, you can definitely freeze them for later.
When you freeze fresh beets, be sure to cut them in to chunks first, so they'll be easy to measure out for this beet smoothie. Check out my how to freeze strawberries tutorial if you want step-by-step photos to follow along with– the method for freezing fresh beets, and other varieties of fruit, will be the same!
You might need to add a little extra liquid to the blender if using frozen beets, but you can just add that as you go, until the smoothie reaches your desired texture.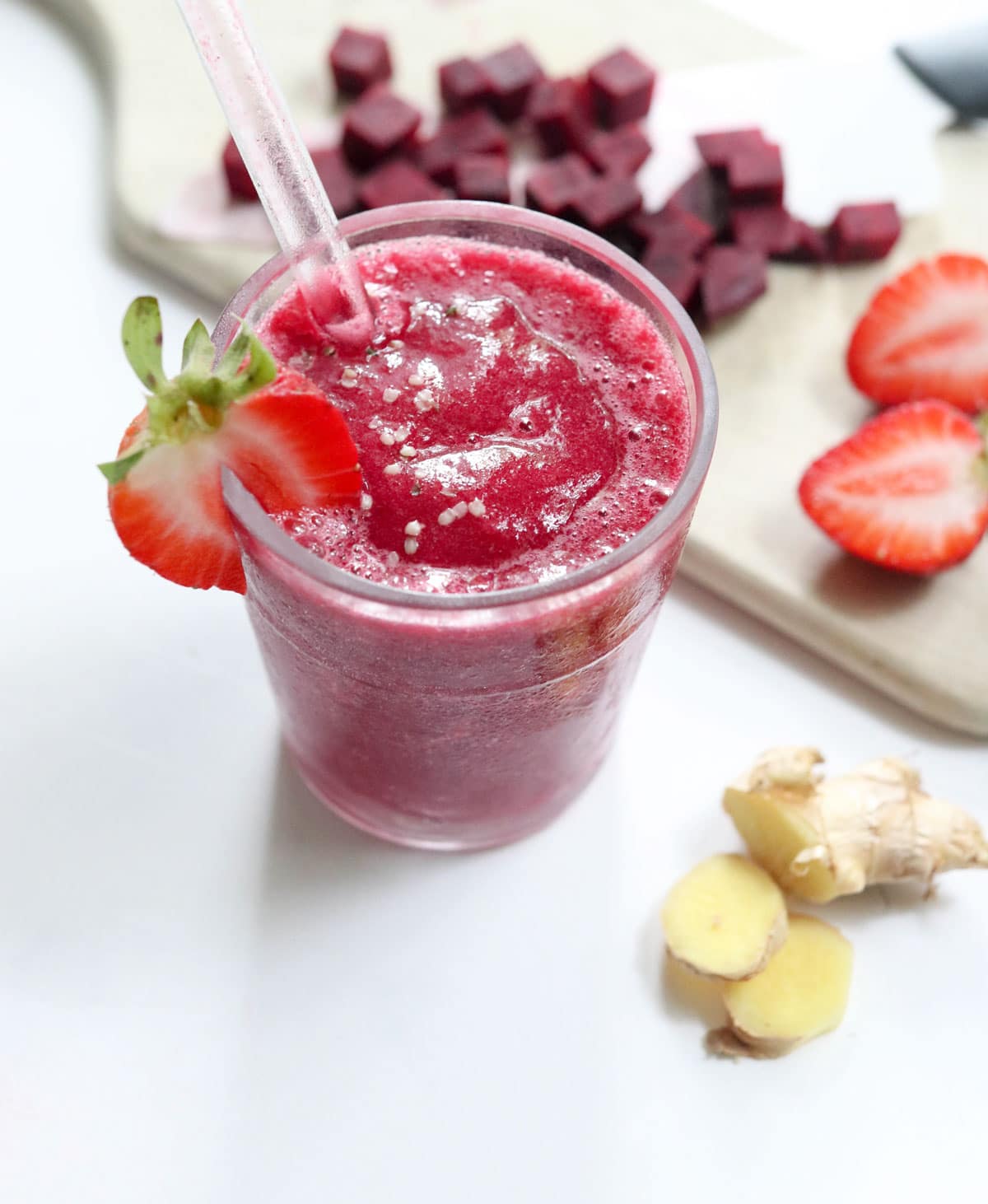 Optional Add-Ins
This smoothie is a great way to sneak more nutrients into your day, but it's not hefty enough to act as a meal replacement.
To make it more filling, try adding one of the following:
Hemp hearts (a complete source of plant-based protein)
Chia or Flax seeds (for extra fiber & omega-3 fatty acids)
Almond butter (for healthy fat & fiber)
Avocado (another great source of healthy fats)
Feel free to experiment with whatever you have on hand. I'd love to hear what else you try!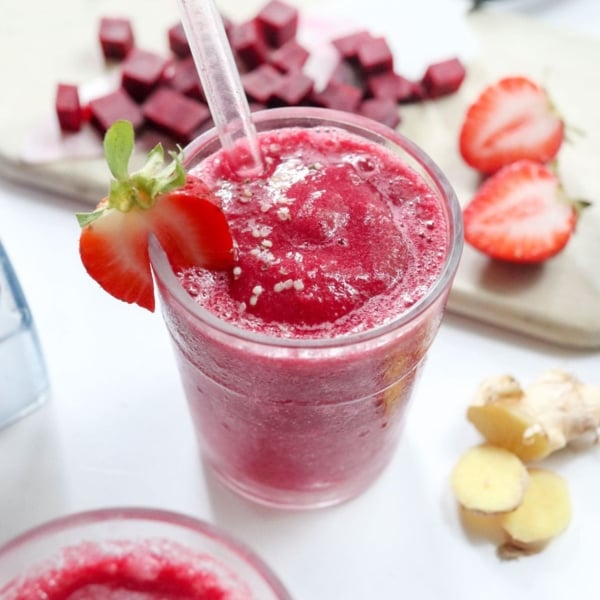 The Best Beet Smoothie
This Beet Smoothie is a delicious way to sneak more veggies into your day!
Equipment
Ingredients
1/2

cup

fresh beet

, chopped (I don't peel it)

1/2

-inch piece

fresh ginger

(peeled, see note)

1/2

cup

orange juice

1/2

cup

water

1

frozen banana

, cut into pieces

1

cup

frozen strawberries
Instructions
Combine the beets, ginger, orange juice, and water in a blender and blend until very smooth, with no visible pieces of beet or ginger remaining. Add in the frozen strawberries and banana, and blend until smooth. Serve right away

If you're using a high-speed blender, like the Vitamix, you can just add everything to the blender and blend it all together. It should break it down into a slushy texture effortlessly.

This smoothie has the best taste and texture when you serve it right away, but you can save leftovers in the fridge for up to 24 hours. (I also like to freeze leftover smoothie in popsicle molds for a cool treat later!)
Notes
If you have a high-speed blender, you don't need to chop the ginger at all before adding it into this smoothie recipe. If you don't think your blender can pulverize it completely, I'd recommend mincing it with a microplane first, so you don't wind up drinking a big chunk of ginger later.
Feel free to add in any extras you like to make this smoothie more filling. You can add hemp hearts for plant-based protein, or chia seeds or ground flax for extra omega-3 fatty acids and fiber. You can also use your favorite type of milk, instead of water, for a creamier texture.
Nutrition
Calories:
237
kcal
,
Carbohydrates:
58
g
,
Protein:
4
g
,
Fat:
1
g
,
Saturated Fat:
1
g
,
Sodium:
63
mg
,
Potassium:
1112
mg
,
Fiber:
8
g
,
Sugar:
37
g
,
Vitamin A:
324
IU
,
Vitamin C:
160
mg
,
Calcium:
48
mg
,
Iron:
2
mg
Nutrition information is for the whole batch. This information is automatically generated and is just an estimate, not a guarantee.
If you try this beet smoothie, please leave a comment below and let me know what you think. And if you make any modifications, I'd love to hear about those, too!
–
Reader Feedback: What's your favorite smoothie combination?