Cauliflower is one of the world's most versatile vegetables. Not only does it make a perfect pizza crust and a tasty fried rice, it's also a surprisingly delicious alternative to traditional mashed potatoes. This Mashed Cauliflower is lower in carbs, higher in nutrients, and tastes amazing!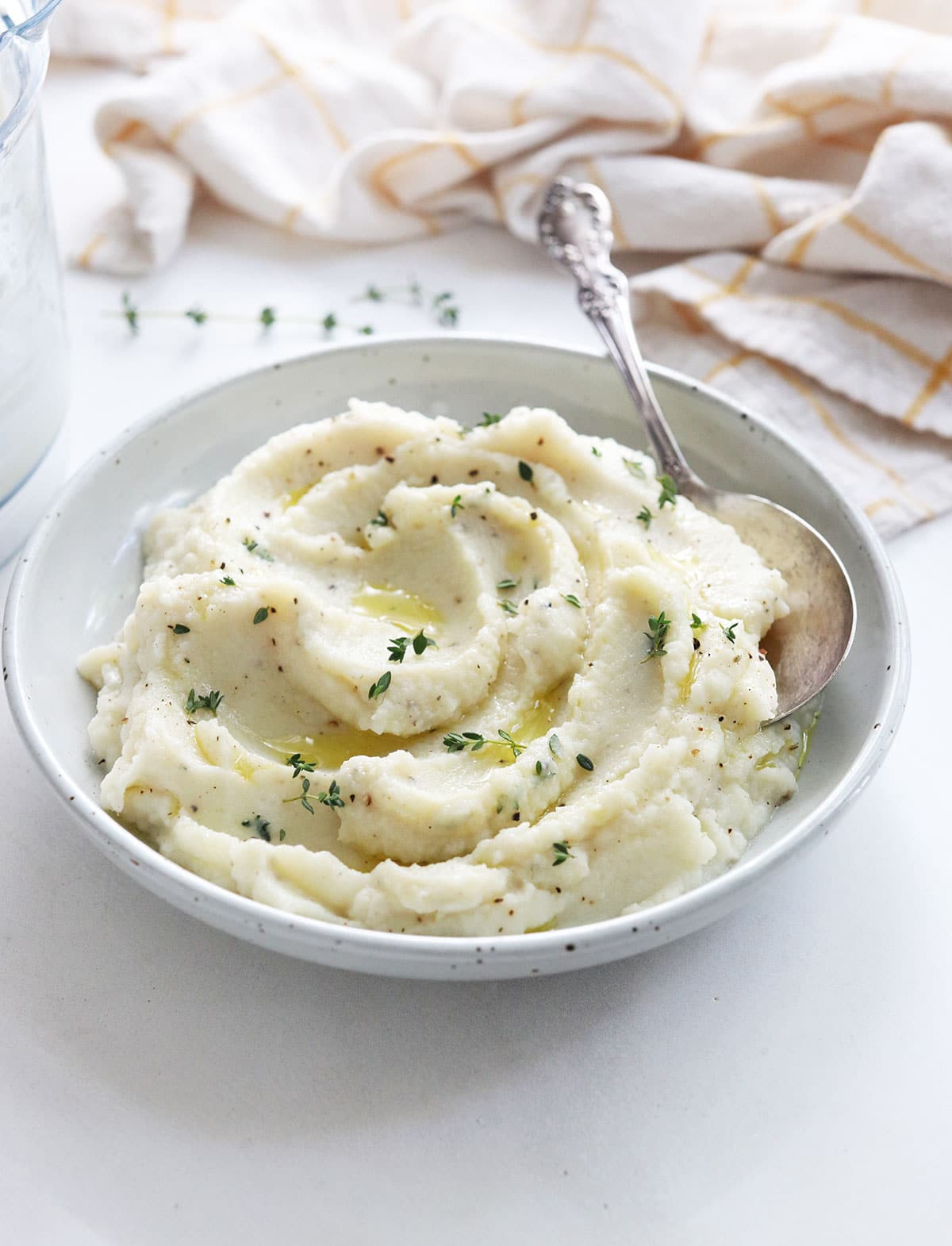 Benefits of Cauliflower
Mashed cauliflower makes a healthy and satisfying alternative to mashed potatoes. Don't get me wrong, I still love real mashed potatoes, but if you need to avoid starches (like if you're following a specific carbohydrate diet or GAPS protocol), or are following another special diet around the holidays, this recipe makes the perfect side dish.
Here's what I love about cauliflower:
Compared to potatoes, cauliflower has less than half the calories per the same 100 gram serving. (source)
Cauliflower has only 3 grams of "net carbs" per 100 gram serving, while potatoes have 14 grams of net carbs. (Net carbs = total carbohydrates – total fiber.)
Just 1 cup of cauliflower contains 35% of your vitamin C needs for the day. (Based on recommended daily values.)
Since it's a cruciferous vegetable, cauliflower is high in antioxidants, particularly glucosinolates and isothiocyanates, which have been linked to slowing growth of cancer cells.
Cauliflower is 92% water, and eating more water-dense and low-calorie is linked to weight loss.
I also love how quickly cauliflower cooks! This is a side dish that is ready in just about 20 minutes from start to finish.
What Does Mashed Cauliflower Taste Like?
Cauliflower is a mild-tasting vegetable, which is why it works so well as Cauliflower Rice, and even as Cauliflower Buffalo Wings. These mashed "potatoes" will taste like whatever you add to them!
I recommend adding a hefty seasoning of salt and pepper, and I also like to pulse a batch of quickly sauteed garlic in for an extra boost of flavor. But, you don't have to stop there! You can stir in your favorite cheese (my mom always used cream cheese when I was growing up, but now I'll use soft goat cheese because I prefer the flavor and how it digests easier than cow's milk).
To keep this side dish vegan, try stirring in some hummus for creaminess! I was inspired to do this after using hummus to make my Vegan Pasta creamy, and the results are unbelievably delicious. You can use store-bought hummus for convenience, or make your own. (Try my Zucchini Hummus if you want a bean-free option.)
How Long Does this Cauliflower Mash Last?
Mashed cauliflower can last up to 5 days in the fridge when stored in an airtight container. Try it with my Vegan Gravy for a totally vegetable-based meal, that's also dairy-free and gluten-free!
How to Make Mashed Cauliflower (1-minute video):
Mashed Cauliflower (Keto & Low-Carb)
Mashed cauliflower is an easy way to lighten up a holiday meal, since it's low in calories and carbohydrates. You can stir in your favorite seasonings to make it taste like the real thing!
Ingredients
1

Medium-sized head of cauliflower

, chopped into florets (about 1 1/2-2 lbs.)

1

tablespoon

extra-virgin olive oil

6

garlic cloves

, minced

1

teaspoon

fresh thyme leaves

salt and pepper

, to taste
Instructions
Fill a large saucepan with about an inch of water, and insert a steamer basket. Bring the water to a boil, and add the cauliflower florets. Reduce the heat to a simmer and cover, allowing the cauliflower to steam for 10 minutes, or until fork tender.

Drain the cauliflower and set it aside. Return the pan to the heat and add in the olive oil and garlic. Saute briefly, just until the garlic is softened and fragrant, about 2 minutes.

Transfer the cauliflower and garlic to the bowl of a large food processor fitted with an "S" blade. Season with salt and pepper, and the fresh thyme. (I start with 1/2 teaspoon of salt and about 5 grinds of the pepper mill.)

Process until the mixture is smooth and resembles mashed potatoes. You can add a splash of water if needed, but usually the cauliflower already has enough moisture that you won't need it. Taste and adjust the seasoning, adding more salt if desired. You can also stir in cheese or hummus at this point, for extra creaminess.

Serve warm (you can return the prepared mash to the pan to heat up again, if needed) with gravy on top, if desired. Leftovers can be stored in an airtight container in the fridge for up to 5 days.
Notes
This mashed cauliflower dish makes a great base for any of your favorite add-ins. If you prefer cheesy mashed potatoes, try adding 2-3 ounces of creamy goat cheese, or a sprinkling of nutritional yeast for a vegan variation. You could also add in some extra chives and a few spoonfuls of plain goat yogurt for a "sour cream & onion" flavor. The options are endless! Also, be sure to note the serving size on this recipe. One medium head of cauliflower only made enough to serve two people in our house-- we love to heap it onto our plates! If you're serving a bunch of mashed potato fans, you may want to double or triple this recipe, to be on the safe side.
Nutrition
Calories:
57
kcal
,
Carbohydrates:
11
g
,
Protein:
4
g
,
Sodium:
68
mg
,
Potassium:
678
mg
,
Fiber:
4
g
,
Sugar:
4
g
,
Vitamin A:
45
IU
,
Vitamin C:
110.9
mg
,
Calcium:
50
mg
,
Iron:
1.1
mg
Mashed Cauliflower Nutrition (per cup of mash): Calories: 57, Fat: 0g, Carbohydrates: 11g, Fiber: 4g, Protein: 4g
Recipe Notes:
One head of cauliflower makes roughly 2 cups of mash, which only serves about 2 in my household. We love mashed "potatoes!" If you are okay with smaller 1/2 cup servings, this should serve 4 people.
Anything you love to add to mashed potatoes, you can add to mashed cauliflower. You can add yogurt or sour cream, cream cheese, cheddar, bacon, green onions, or chives. For a vegan version, definitely try stirring in some hummus for added creaminess!
—
Reader Feedback: Have you tried mashed cauliflower before? Let me know if you have any other tips to share!