Air Fryer Brussels Sprouts are ultra-crispy on the outside, and perfectly tender on the inside. I love how quickly this recipe comes together, for an easy weeknight side dish.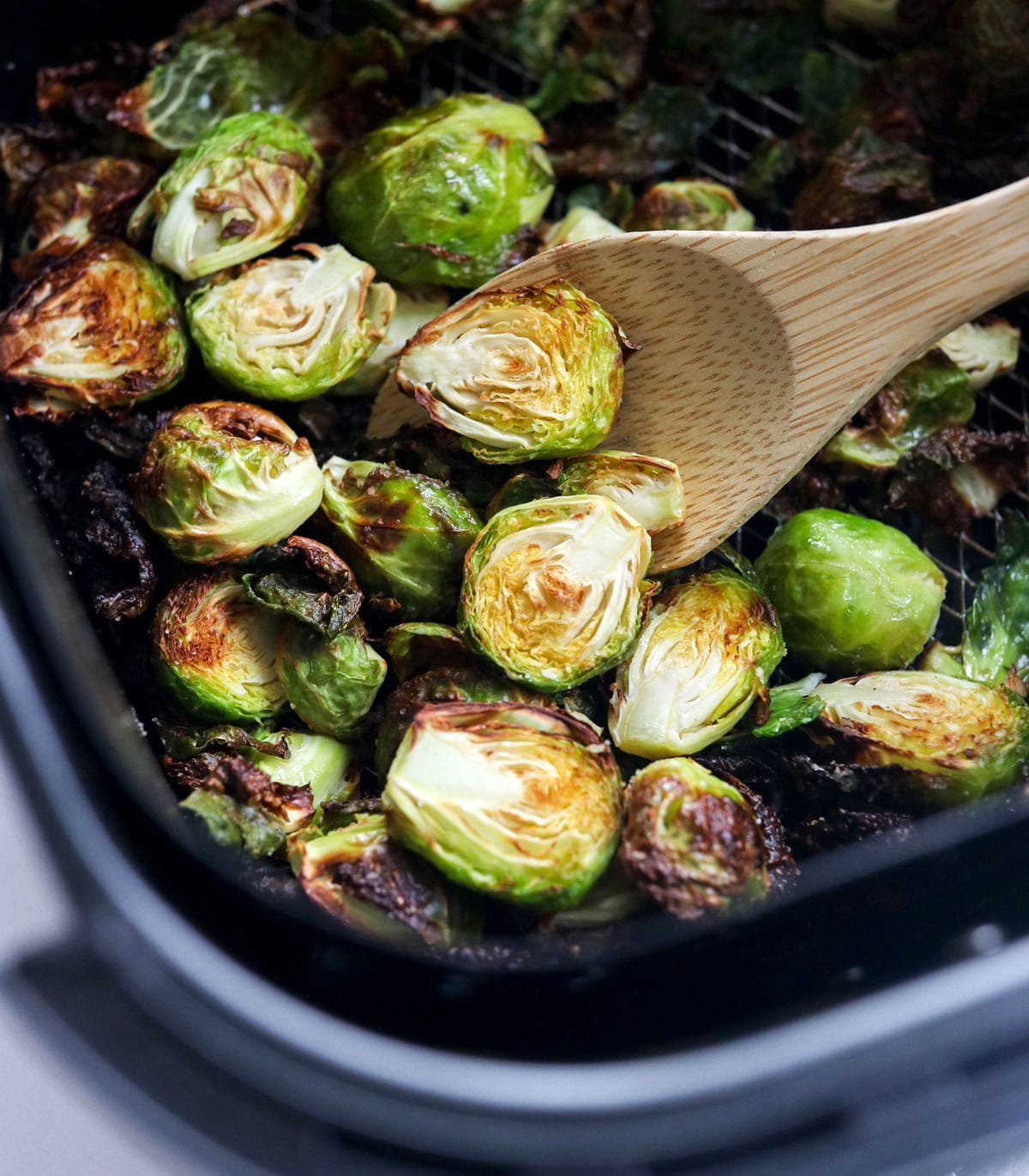 How to Prepare Them
The air fryer cooks food quickly, so the Brussels sprouts will crisp up fast. I prefer to cook Brussels sprouts whole, as the leaves will get nice and crispy on the outside, with a soft and tender inside.
If you have a particularly large sprout, you can cut it in half to help it cook evenly with the rest of the veggies. I love the contrast of texture with this preparation. The crispy outsides are unbelievable!
How to Make Crispy Brussels Sprouts (Like chips!)
If you prefer very crunchy Brussels sprouts, almost like biting into a potato chip, then you may want to cut all of the Brussels sprouts in half. They will become crunchier throughout, without the super-soft and tender middles that you expect from oven-roasting them.
If you have leaves that separate and fall off the Brussels sprouts when you cut them, feel free to throw those in the air fryer, too. They really do turn into crunchy little chips! They should be done cooking around the 15-minute mark, but the rest of the sprouts may need up to 20 minutes to finish cooking.
As you can see in the photos here, the Brussels sprouts get very dark and crispy in the air fryer. I found that I they got almost-burnt when I cut them in half, which is why I prefer cooking them whole.
Oven Roasted vs. Air Fryer Brussels Sprouts
If you've ever tried Oven Roasted Brussels Sprouts before, you'll know that the resulting vegetable is ultra-tender and caramelized, with a slightly crisp outside. Usually the outer leaves that fall off will get crispy, but the rest of the sprouts are pretty tender.
The air fryer produces Brussels sprouts that are totally different. They become soft and tender on the inside if you leave them whole, but the outside is unbelievably crispy and crunchy.
It will sound like you are biting into a handful of potato chips.
Do I Preheat the Air Fryer?
In my experience, it isn't always necessary to preheat your air fryer, but I usually do for a recipe that cooks quickly. Some models of air fryers will force you to preheat before the cooking cycle will begin to countdown. (The Breville Air Fryer is an example of this.)
I always suggest preheating the air fryer in recipes, to ensure your food will be done when the cooking cycle is complete, but when cooking something that requires a very long cook time, like Air Fryer Sweet Potatoes or Air Fryer Baked Potatoes, I'll usually just set them in the machine while it's cold, because I know it will reach the correct temperature in about 3 minutes.
How to Season Brussels Sprouts
The simplest way to make roasted Brussels sprouts is to season them with olive oil and salt. You really don't need much more than that, but here are some other options you might want to consider.
Red wine or Balsamic vinegar. Add 1 tablespoon while tossing the veggies with the oil and salt. It gives them a bright and tangy flavor!
Garlic. I tried tossing fresh garlic with the Brussels sprouts before cooking them, and the garlic burned in the air fryer. So, you may want to consider tossing them with garlic powder instead, or sauteing a little garlic in olive oil in a separate skillet so that you can toss the cooked Brussels sprouts with it when they are done in the air fryer.
Lemon Juice. Add a squeeze at the end of cooking to brighten the flavor.
Parmesan. Sprinkle a little bit over the Brussels sprouts immediately after they cook, so it can melt into them. (It will burn if you add it into the air fryer.)
I hope you'll enjoy these Brussels sprouts the next time you have some on hand! Their lightly salty flavor and crunchy texture is addictive.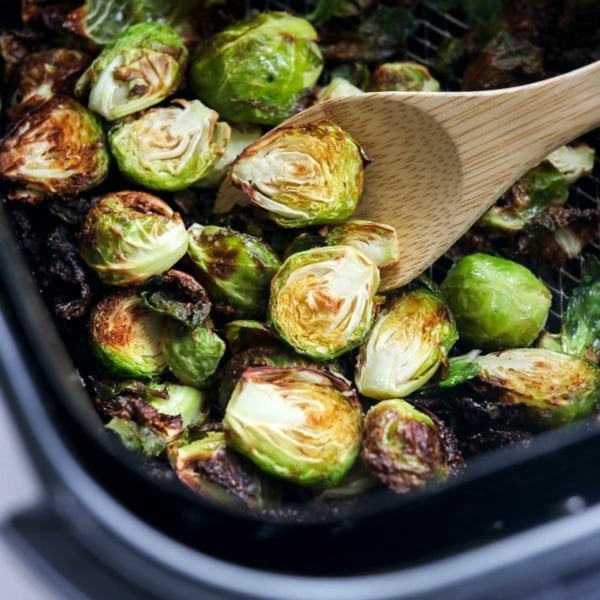 Air Fryer Brussels Sprouts
Air Fryer Brussels Sprouts are crispy on the outside and perfectly tender on the inside. They make an easy weeknight side dish!
Equipment
Ingredients
1

pound

Brussels sprouts

, ends trimmed

1

tablespoon

olive oil

fine sea salt
Instructions
Preheat the air fryer to 360ºF.

I like to leave the Brussels sprouts whole, but if you have any particularly large ones (around 2-inches thick) you may want to cut them in half to promote even cooking. For extra-crispy Brussels sprouts that aren't particularly soft in the center, you can cut them all in half. Toss the sprouts in the olive oil, and season generously with fine sea salt. (You can use up to 1/2 teaspoon-- make sure you rub it into the oiled veggies so that it is evenly distributed.)

Pour the Brussels into the air fryer tray, and shake to distribute them into a single layer. Cook at 360ºF for 15 minutes. When the cooking time is up, remove any crispy leaves that are done.

Test one of the Brussels sprouts for tenderness by piercing it with a fork, or cut one in half. The insides should be very tender, like they will melt in your mouth, with a very crispy outside. If they are not done yet, return them to the air fryer to cook for 5 more minutes.

Serve warm. These are best enjoyed right away, but you can store any leftovers in the fridge for up to 5 days. (They will loose their crispiness as they cool, but they can still be added to salads and stir-fries later.)
Notes
If you have the Cuisinart Air Fryer, it tends to run hot-- up to 50ºF hotter than a basket air fryer. So, you may want to cook these at 325ºF in that particular model.
Nutrition
Calories:
80
kcal
,
Carbohydrates:
10
g
,
Protein:
4
g
,
Fat:
4
g
,
Saturated Fat:
1
g
,
Sodium:
28
mg
,
Potassium:
441
mg
,
Fiber:
4
g
,
Sugar:
2
g
,
Vitamin A:
855
IU
,
Vitamin C:
96
mg
,
Calcium:
48
mg
,
Iron:
2
mg
Nutrition information is for 4 oz. of cooked Brussels sprouts. This information automatically generated using generic ingredients and is just a general estimate, not a guarantee.
Need More Air Fryer Recipes?
If you want to get the most out of your air fryer, try the following recipes next!
–
Reader Feedback: What's your favorite thing to cook in the Air Fryer? Let me know if you have any more recipe requests!