This Pesto Vinaigrette is about to become your new favorite salad dressing. You can whip it up in just minutes, and it's delicious over salad, baked chicken, roasted vegetables, and more.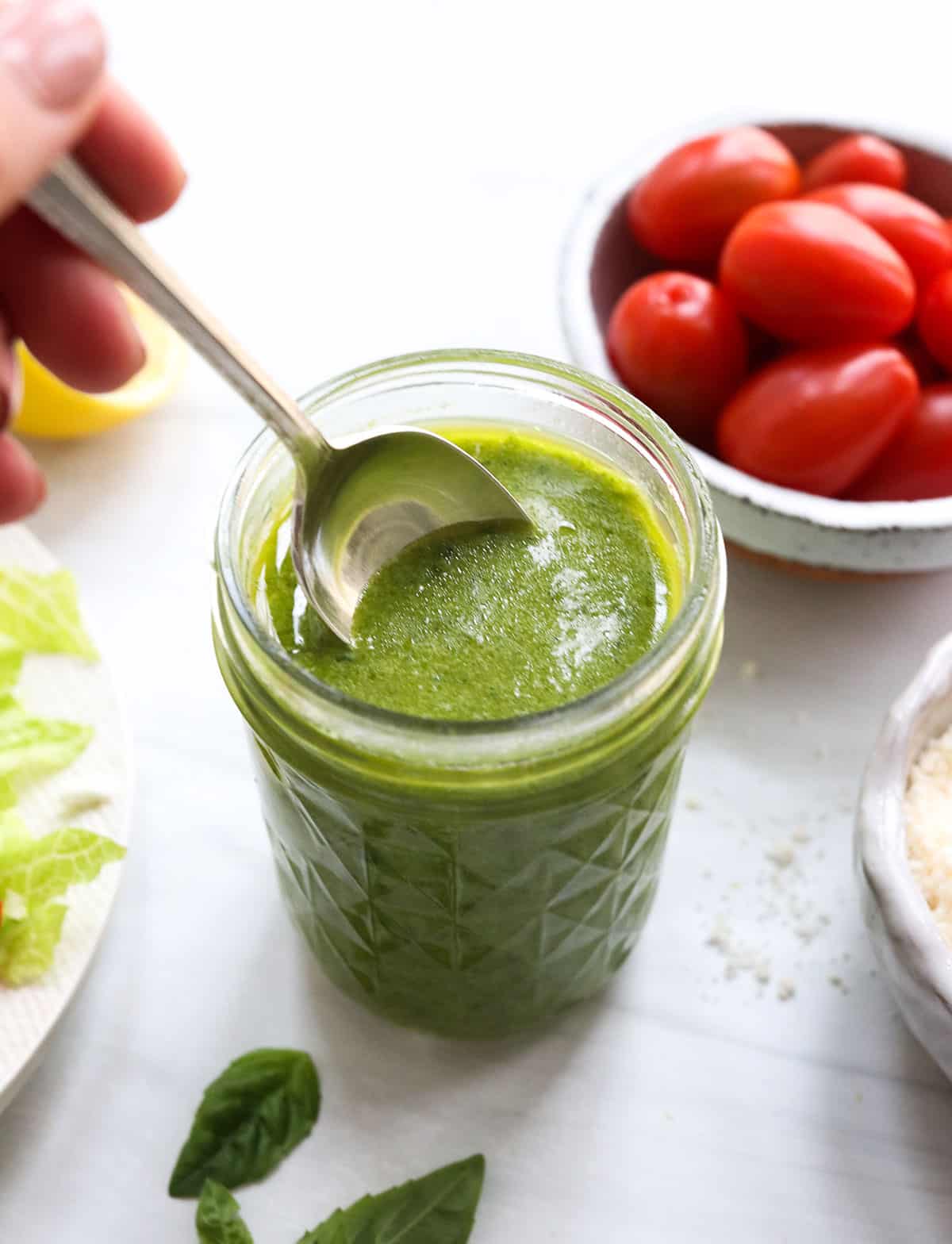 If you've ever wondered, "can pesto be used as a salad dressing?" It sure can, but pesto usually has a thick texture that isn't easily distributed over green salads. After trying a pesto salad dressing while on vacation last month, I was determined to make a homemade salad dressing that is just as delicious!
This homemade pesto salad dressing is even better than using a prepared pesto as the base, because the pesto flavor is evenly distributed throughout the dressing. (In other cases, the pesto can sink to the bottom of the olive oil, which isn't as delicious.)
Why You'll Love It
It tastes amazing. There is so much flavor packed into this pesto salad dressing, it's hard to believe the ingredients are so simple! It tastes like your favorite basil pesto, but in a convenient dressing that you can drizzle on everything.
It's easy to make. Just toss a few ingredients into a blender, and blend until smooth. It's ready to use in just minutes, and is naturally gluten-free and nut-free.
It's versatile. This pesto sauce can be used over quinoa bowls, pasta salads, potato salads, roasted vegetables, or as a marinade for chicken or tofu. It's so delicious, you'll want to eat it straight from the blender!
It can be customized. If you need a dairy-free or vegan salad dressing, you can omit the Parmesan cheese. It's still delicious without it, and there are substitution ideas below if you want other ways to add creaminess.
It's made with simple ingredients. Instead of calling for leftover pesto (which can seriously vary if you're buying it from the store), this recipe calls for just a handful of ingredients that create a fresh pesto flavor.
Ingredients You'll Need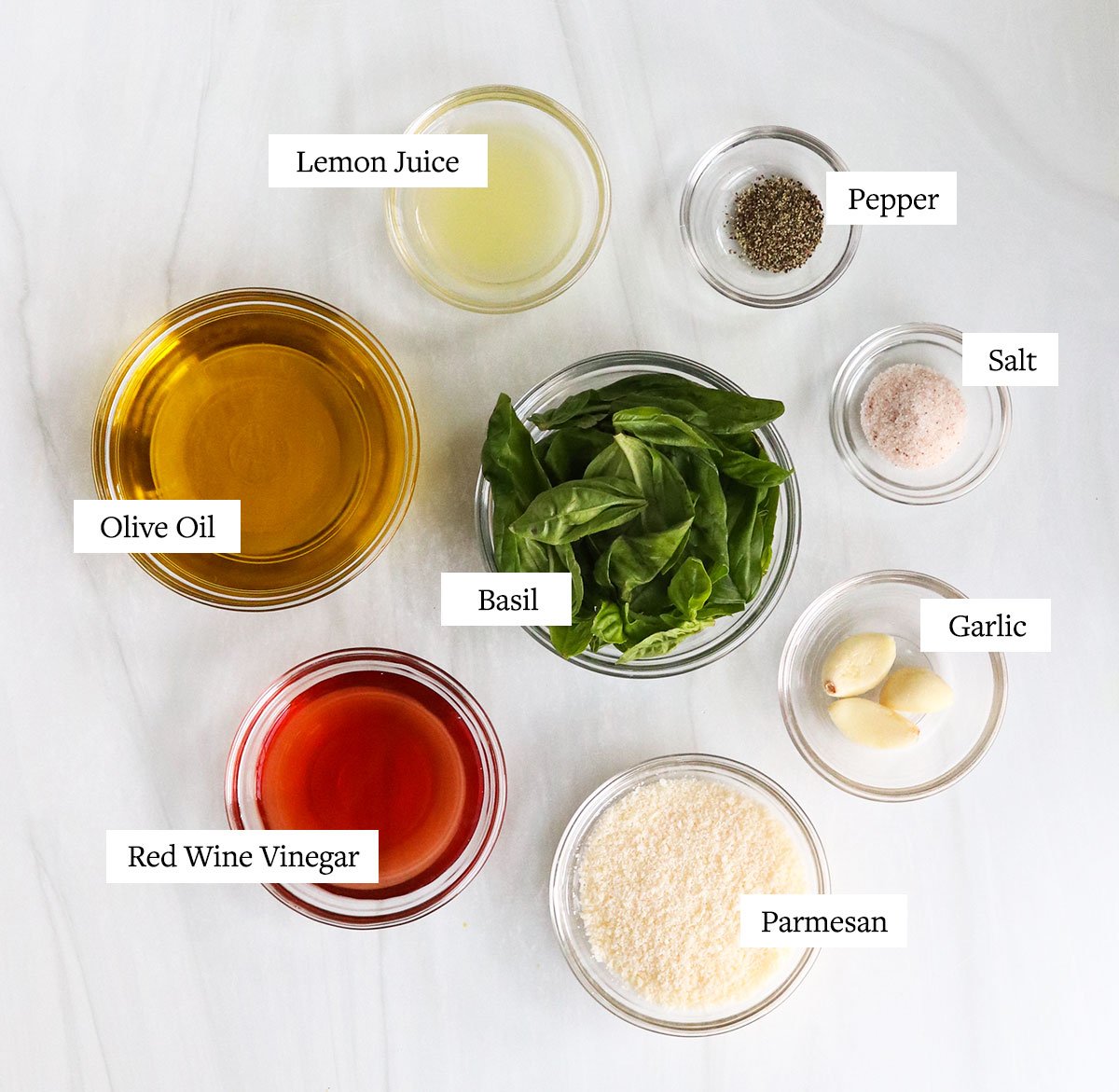 Fresh basil is a must here, as the dried version won't provide the same flavor.
With that being said, pesto is also flexible and can be made with a mix of fresh herbs and greens, so if you want to add in a handful of fresh baby spinach, or a little parsley or cilantro, feel free to experiment with it!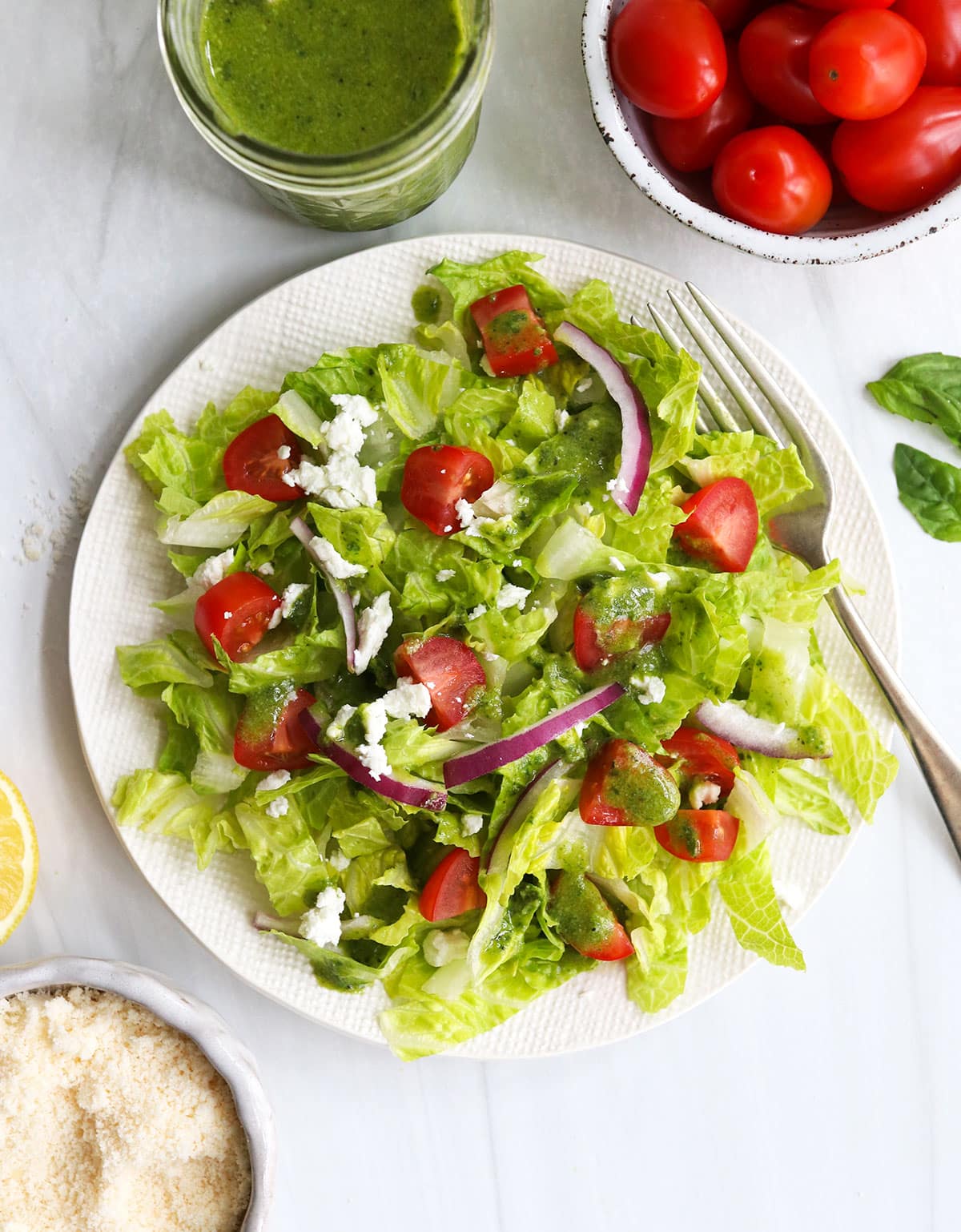 How to Make Basil Pesto Dressing
1. Blend.
In a high-speed blender, or food processor, combine the extra-virgin olive oil, red wine vinegar, fresh lemon juice, garlic, Parmesan cheese, fresh basil leaves, salt, and black pepper.
Secure the lid and blend until the basil breaks down and the dressing looks nearly a uniform green color. It's okay if you still see a few flecks of basil throughout the dressing, but the goal here is for the dressing to be uniform, so you'll get lots of flavor in each bite! (We don't want an oily dressing that separates from the other ingredients.)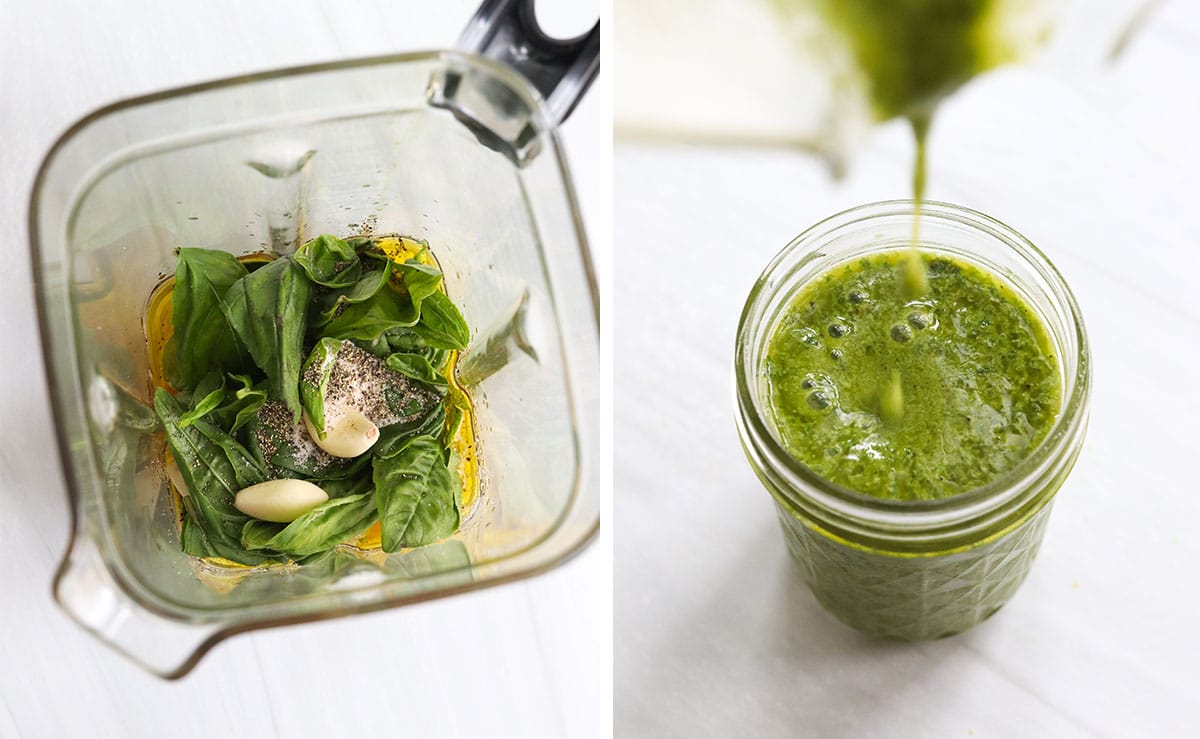 2. Adjust.
Once the dressing is smooth, taste and make any adjustments, as needed. You can add extra basil, if you want to thicken the dressing even more, or add a pinch of red pepper flakes, if you'd like a little extra spice.
Pour the dressing into an airtight container with a lid. You should get about 1 cup of dressing from this recipe, so an 8 to 12 ounce mason jar is the perfect size. Store it in the refrigerator until you're ready to use it.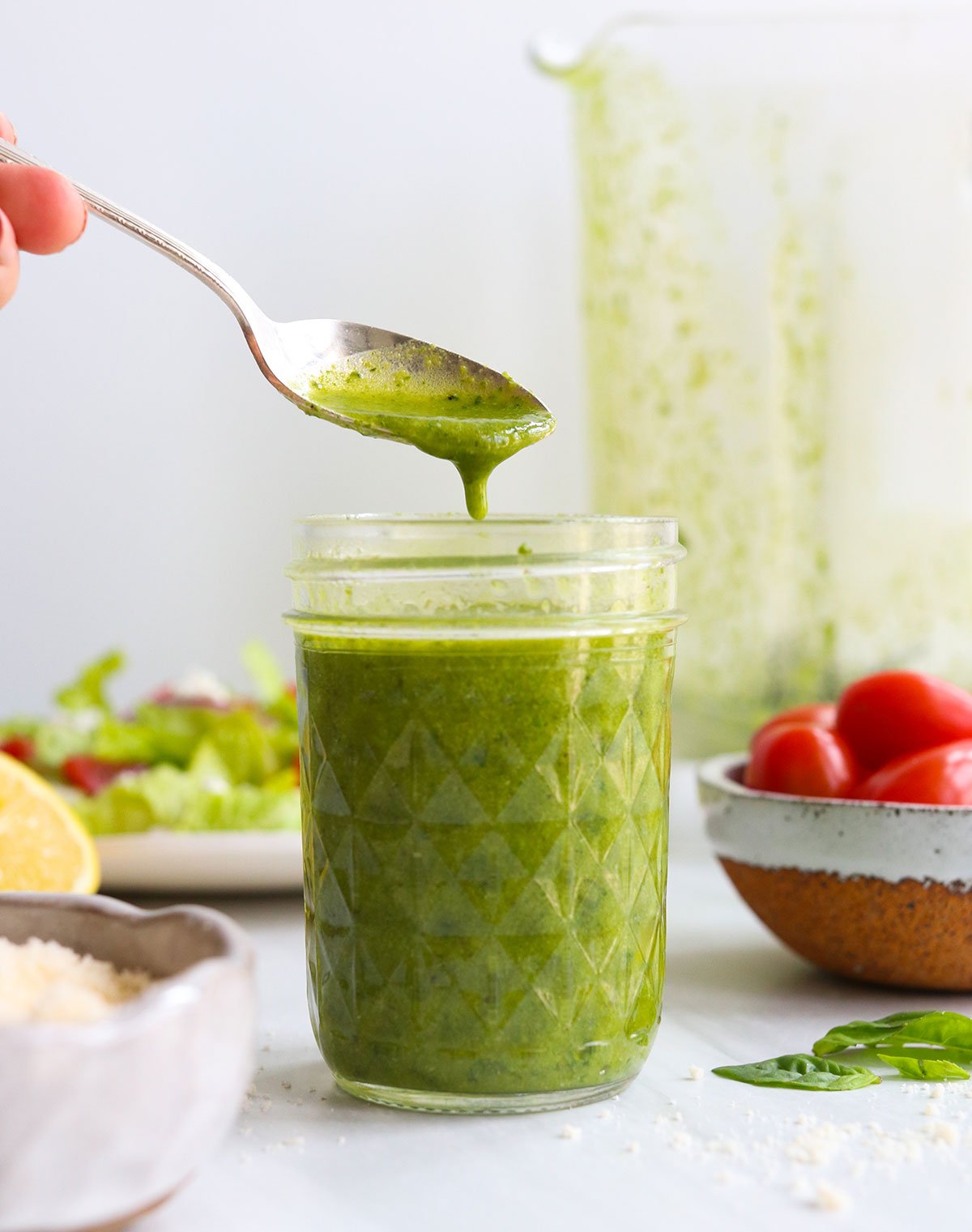 3. Enjoy!
When you're ready to use the dressing, give the sealed jar a shake to make sure it's well mixed, then drizzle it over your favorite salad ingredients, like romaine lettuce, cherry tomatoes, and sliced red onion.
It's also delicious over roasted veggies, pizza, quinoa bowls, or your favorite cooked protein.
Storage Tip: This basil pesto vinaigrette will thicken when chilled in the fridge overnight. The best way to thin it out again is to let it sit on the counter for about 30 minutes before you plan on using it again. Or, to speed things up, you can hold the sealed jar until warm running water until it has a runny consistency again.
Frequently Asked Questions
Can I replace the Parmesan cheese?
Yes, if you need a dairy-free dressing you can replace the Parmesan cheese with pine nuts, walnuts, or even almonds, which will also add creaminess. Or, for more of a cheesy flavor, try adding a small spoonful of white miso, which tastes like concentrated Parmesan cheese. (That's why I use it in Vegan Cream Cheese and my cashew-based Caesar Salad!)
Can I use a different vinegar?
Yes, you can replace the red wine vinegar with apple cider vinegar or white wine vinegar for a similar flavor. (Balsamic vinegar might compete with the pesto taste, FYI.) Or, you can omit the vinegar and simply use more lemon juice, for a slightly less tangy flavor.
Can this dressing be frozen?
Yes! Pour the dressing into ice cube trays and place it in the freezer. Once frozen, you can pop out the cubes and store them in an airtight container to help preserve the flavor. When you're ready to thaw the pesto dressing, place the cubes in an mason jar and let it thaw on the counter until it reaches a runny consistency again. Once it looks like salad dressing, you can store it in the fridge.
Can I make it creamy?
You can add more Parmesan cheese to this recipe for a creamier base, or try my other creamy pesto salad dressing, which is dairy-free.
Looking for more salad recipes? Try my favorite Italian Salad, Kale & Peach Salad, or Kale Caesar Salad for more ideas.
Pesto Salad Dressing
This Pesto Vinaigrette is super-easy to make, and will add a bright, fresh flavor to your next salad. It's also delicious over roasted veggies, pasta, chicken, and more!
Equipment
Ingredients
½

cup

extra-virgin olive oil

3

tablespoons

red wine vinegar

1

tablespoon

lemon juice

¾

cup

fresh basil leaves

(tightly packed; stems removed)

¼

cup

grated Parmesan cheese

3

garlic cloves

1

teaspoon

fine sea salt

¼

teaspoon

black pepper
Instructions
In a high-speed blender, combine the olive oil, vinegar, lemon juice, basil, Parmesan, garlic, salt, and black pepper. Secure the lid and blend until very smooth, about 60 seconds.

Stop and scrape down the blender, as needed, and once the dressing looks evenly blended, give it a taste and make any adjustments you like. Serve the dressing right away, or store it in an airtight mason jar in the fridge for up to 5 days. It will thicken when chilled, so be sure to let it come to room temperature again before serving the leftovers.
Notes
Nutrition information is for roughly 2 tablespoons of dressing. This information is automatically calculated, and is just an estimate, not a guarantee.
See the FAQ section of this post for substitution ideas & storage tips.
Nutrition
Calories:
136
kcal
,
Carbohydrates:
1
g
,
Protein:
1
g
,
Fat:
14
g
,
Saturated Fat:
2
g
,
Polyunsaturated Fat:
1
g
,
Monounsaturated Fat:
10
g
,
Cholesterol:
3
mg
,
Sodium:
346
mg
,
Potassium:
22
mg
,
Fiber:
0.1
g
,
Sugar:
0.1
g
,
Vitamin A:
146
IU
,
Vitamin C:
2
mg
,
Calcium:
35
mg
,
Iron:
0.2
mg
If you try this pesto salad dressing recipe, please leave a comment and star rating below letting me know how you like it.