This post is sponsored by USA Pulses & Pulse Canada.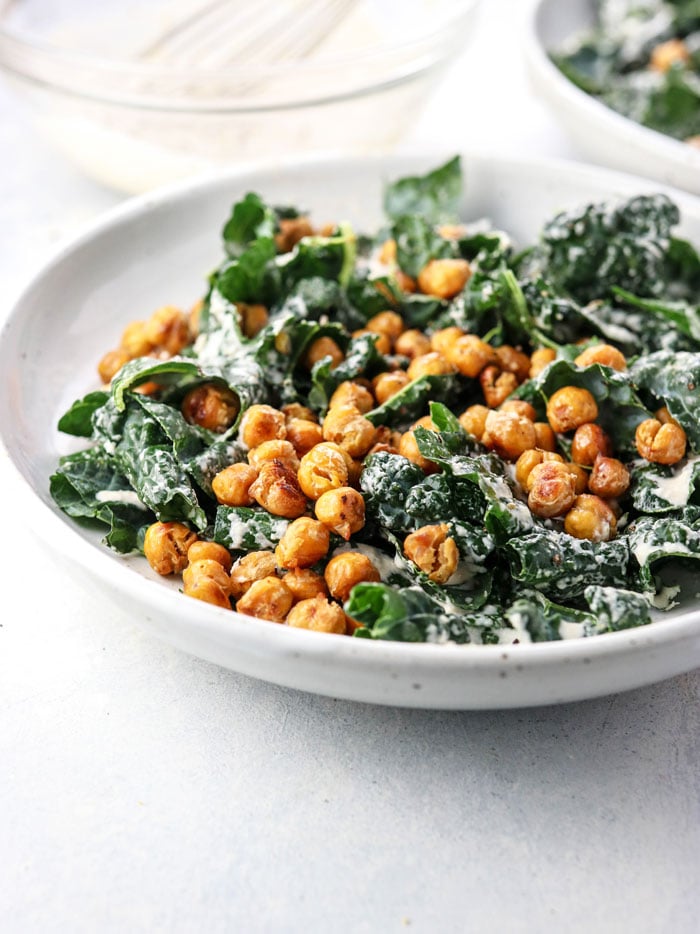 I don't know about you, but I don't always get excited about eating kale.
Sure, it's a nutritional powerhouse loaded with iron, vitamin K, and antioxidants, but its chewy texture and dark-leafy-green-flavor can sometimes be a bit intimidating. That's why I'm so excited to share this Vegan Kale Caesar Salad with Garlic Roasted Chickpeas, because it's making me crave kale on a near-daily basis. 
This untraditional Caesar dressing gets its creaminess from raw tahini, a paste made of ground raw sesame seeds (in most cases, no oil is added). Sesame seeds are naturally high in calcium, and their mild flavor blends seamlessly into this garlicky dressing. Paired with fresh garlic, a splash of lemon juice, and a hefty pinch of salt and pepper, this dressing can be stirred together in minutes and compliments the flavor of raw kale perfectly.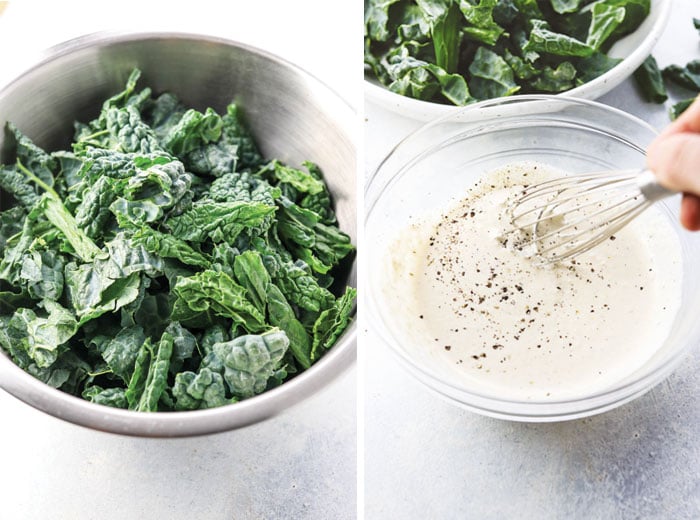 Of course, what's a Caesar salad without croutons?
In this case, we're giving this salad another nutritional upgrade by using garlic roasted chickpeas as a grain-free swap for bread-based croutons. Chickpeas, also called garbanzo beans, are packed with plant-based protein and fiber, which can help keep your blood sugar levels stable and aid in weight loss. Chickpeas, like many other pulses, are also thought to help balance cholesterol levels and protect again heart disease, while providing essential nutrients like iron, zinc, folate, and B vitamins.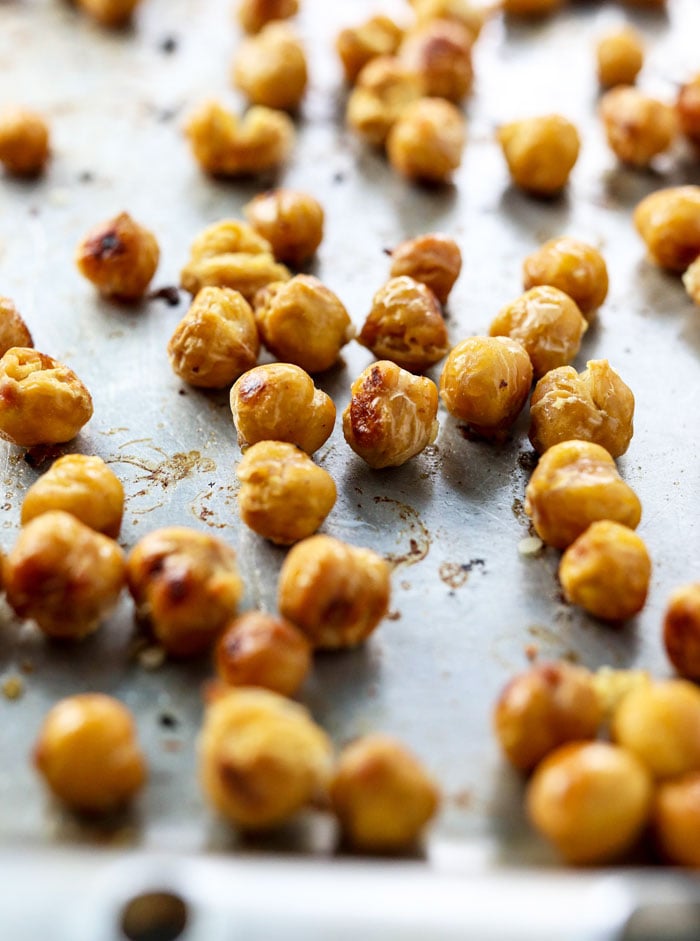 Though the chickpeas take 45 minutes to roast to crispy perfection, they take only a few minutes of hands-on preparation so you won't have to spend too much time in your kitchen. Just toss in a bit of olive oil and garlic, pour them into a pan, and bake! You can make them as soft or as crunchy as you like. (Start checking on them around the 30-minute mark if you don't want them to be too crisp.)
Half Cup Habit
This is the perfect time to dig-in to this salad, since June 21st kicks off a new challenge called the Half Cup Habit. This 4-week challenge encourages readers to add 1/2 cup serving of pulses (beans, lentils, chickpeas, or dry peas) to their diets three times a week. In other words, you simply have to eat 1 1/2 cups of cooked pulses a week. By participating, users will receive free recipes, pulses cooking tips and more.
Click here to join me in taking the Half-Cup Habit today!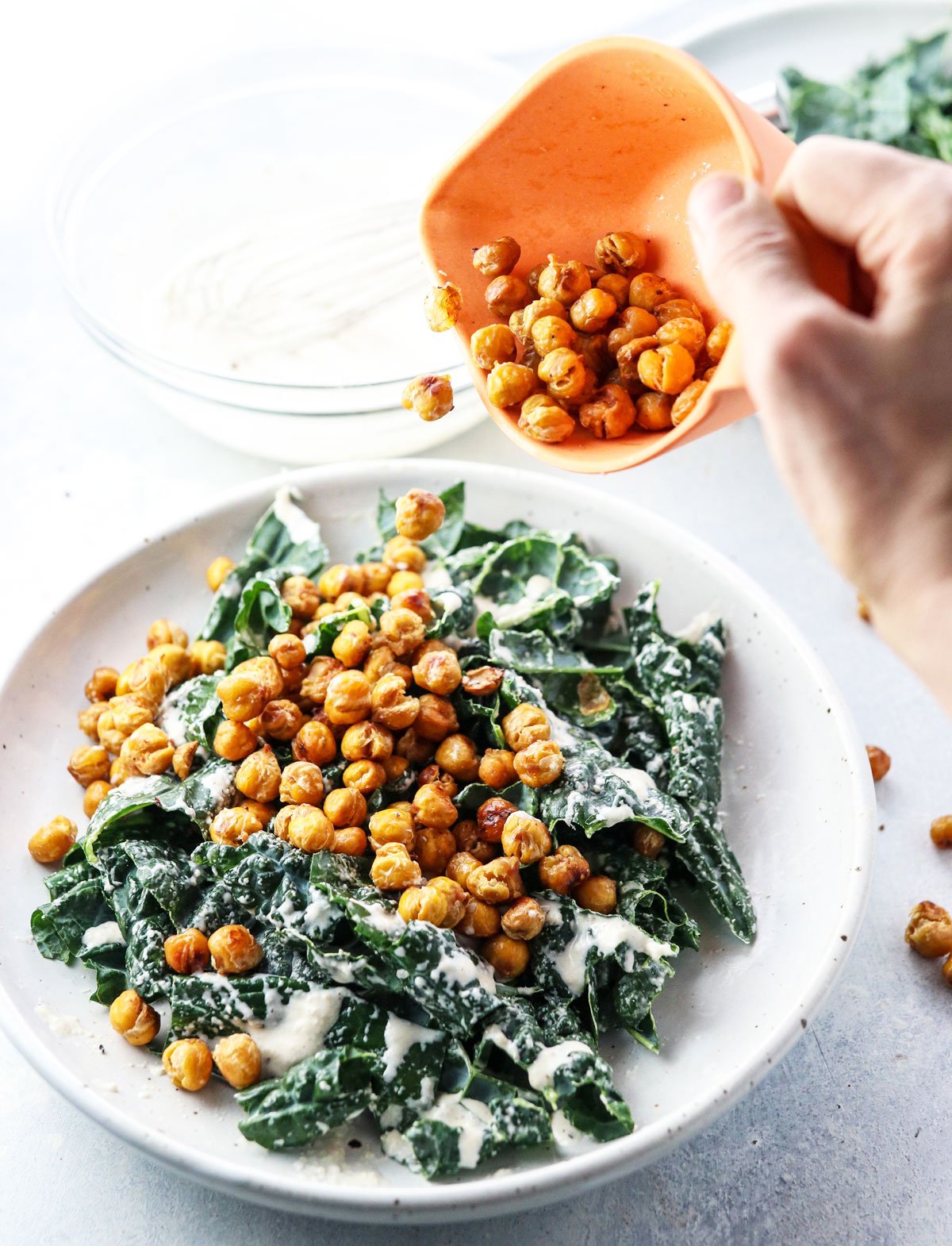 Vegan Kale Caesar Salad with Garlic Roasted Chickpeas
This Vegan Kale Caesar Salad is tossed with a creamy garlic tahini dressing, and topped with Roasted Chickpeas as a healthy grain-free crouton alternative.
Ingredients
Garlic Roasted Chickpeas
1 1/2

cups

cooked chickpeas

(or one 15-ounce can, drained)

1

tablespoon

olive oil

1

clove

garlic

(minced)

1/4

teaspoon

fine sea salt
Kale Caesar Salad
1/4

cup

raw tahini

4

teaspoons

freshly squeezed lemon juice

1/4

cup

water

2

cloves

garlic

(minced)

1/2

teaspoon

dijon mustard

1/4

teaspoon

salt

freshly ground black pepper

1

large bunch

kale

(any variety)
Instructions
Preheat the oven to 400ºF. To prepare the Garlic Roasted Chickpeas, toss the cooked chickpeas with olive oil, garlic, and salt in a large bowl, then pour them into a rimmed baking sheet. Arrange them into a single layer, then bake until crisp, about 45 minutes.

While the chickpeas are baking, prepare the dressing. Stir together the tahini, lemon juice, water, garlic, mustard, salt, and freshly ground black pepper to taste. Stir until smooth and adjust any seasonings as you like.

To assemble the salad, remove the tough stems from the kale leaves and use your hands or a sharp knife to rip the kale into small pieces. Toss the leaves with the dressing and let them marinate in the fridge while you wait for the chickpeas to be done.

When the chickpeas are done roasting, remove the pan from the oven and let them cool for 10 minutes. Sprinkle them generously over the kale salad and serve. Leftovers can be stored separately in an aitigt container in the fridge for up to 4 days. (The chickpeas do soften with time, but you can toast them in the oven again to re-crisp.)
Nutrition
Calories:
237
kcal
|
Carbohydrates:
16
g
|
Protein:
7
g
|
Fat:
16
g
|
Saturated Fat:
2
g
|
Sodium:
633
mg
|
Potassium:
209
mg
|
Fiber:
4
g
|
Vitamin A:
35
IU
|
Vitamin C:
2.1
mg
|
Calcium:
61
mg
|
Iron:
1.9
mg
 Substitution Notes:
If you don't have raw tahini on hand, you might want to try using a mild nut butter such as cashew butter instead.
As always, if you make a substitution please leave a comment below letting us know what you tried so we can all benefit from your experience.
For more healthy recipes made with protein-packed pulses, like dry peas, chickpeas, lentils and beans, be sure to visit Pulses.org.
Reader Feedback: Do you eat some variety of pulses each week? 
Disclosure: I developed this recipe as part of my ongoing sponsorship with USA Pulses and Pulse Canada. I love having an extra excuse to experiment with pulses!
For more pulse-based recipes, you might enjoy:
SaveSave
SaveSave
SaveSave
SaveSave
SaveSave