If you need some fresh cooking inspiration, this is a good week for you.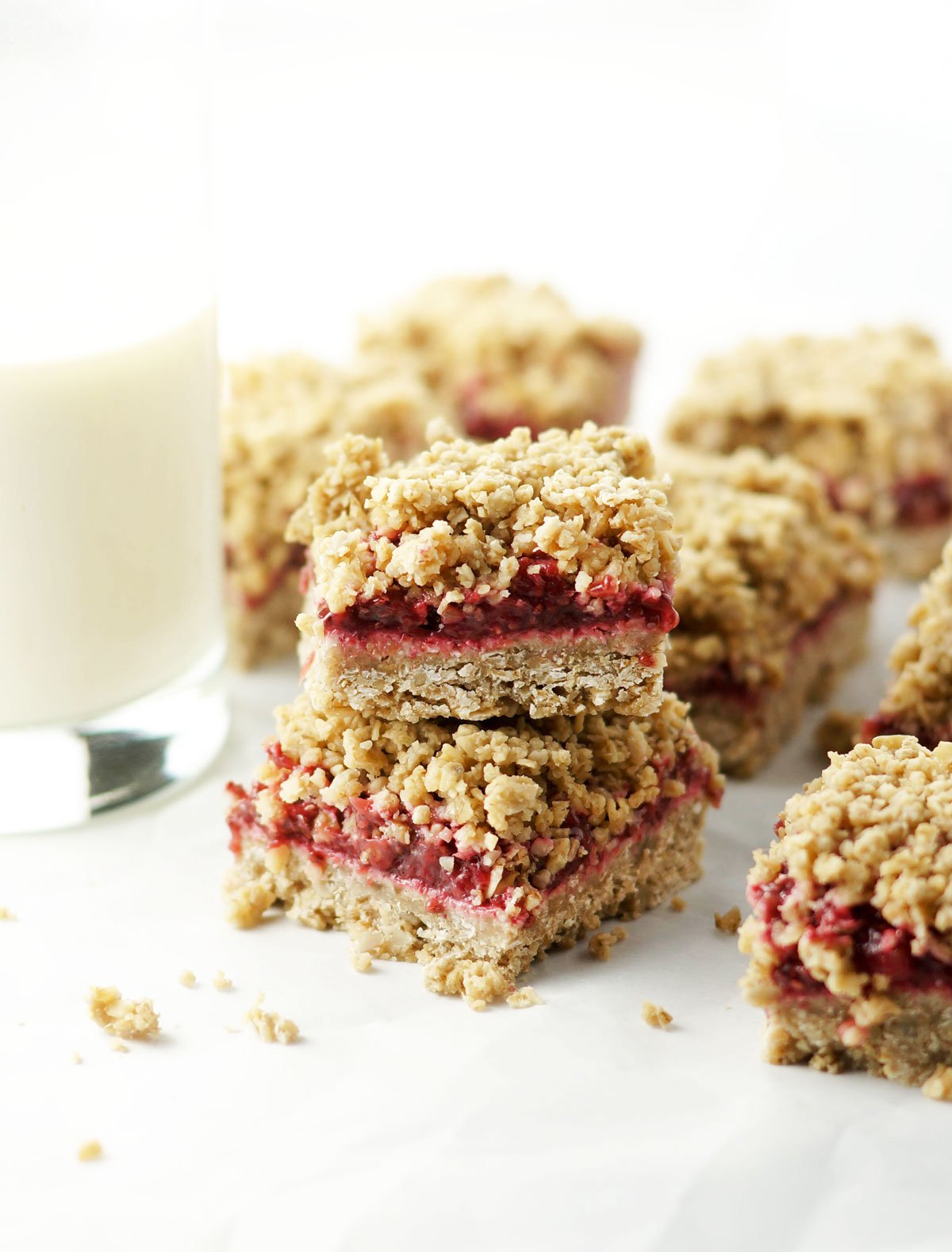 My friend Angela's second cookbook, Oh She Glows Everyday, hits bookstores this week and it is loaded with plant-based dishes (like these Strawberry Crumble Bars; recipe below!) that aim to make this style of eating convenient every day of the week– even on holidays and special occasions.
What I love about Angela's plant-based recipes is that they celebrate whole food ingredients, rather than relying on packaged veggie burgers or processed soy crumbles. This new book covers a little bit of everything, including recipes like Morning Detox Smoothie, Crowd-Pleasing Caesar Salad, Super Seed Crackers, Golden French Lentil Stew, Eggplant Parmesan, Cookie Dough Balls, and High-Rise Pumpkin Cupcakes. Just like her last book, Angela also includes some recipes for homemade staples and tips to make recipes kid-, freezer-, and allergy-friendly whenever possible.
I made these Strawberry Oat Crumble Bars from the new book this past weekend (which are made with a delicious homemade chia jam!), and Angela has generously allowed me to share the recipe with you all, too. I hope you enjoy them!
—
Strawberry Oat Crumble Bars
Serves 12 to 16
Vegan, Gluten-free, Nut-free, Soy-free, Kid-Friendly, Freezer-Friendy
(Advance Prep Required)
These delicious "anytime" bars are vegan, lunchbox-friendly, gluten-free, and made with a refined sugar-free strawberry-vanilla chia seed jam. (With the chia jam, the bars will be lightly sweet; if you use store-bought jam, they'll be much sweeter.) It's hard to resist gobbling them up once you slice them, but I actually find that they taste better the following day, after the flavors have had a chance to meld in the fridge overnight. I also recommend making the chia jam in advance, so it has time to cool in the fridge before you begin making the recipe. Once chilled, the bars firm up (thanks to the coconut oil), but at room temperature they soften and will virtually melt in your mouth while you eat them! Hubba, hubba. Either way, you are going to go crazy over the roasted sunflower seed "cookie" crust. Enjoy these as a quick breakfast with tea or coffee, as an afternoon snack when you need a boost, or warmed up for dessert with a scoop of ice cream (it'll remind you of a berry crisp!).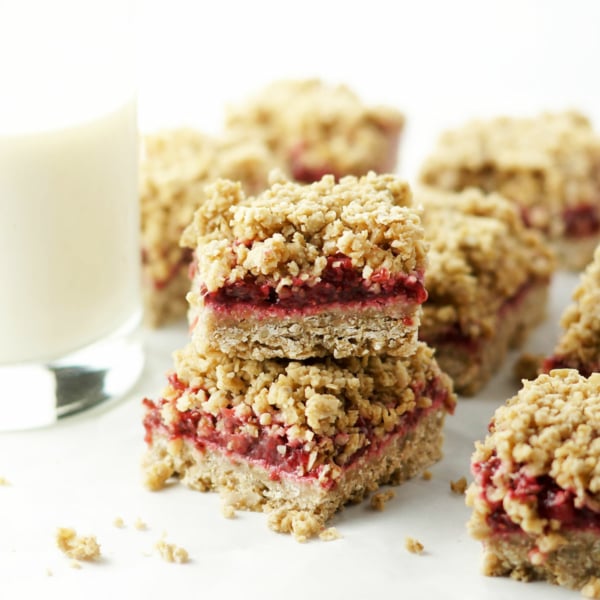 Strawberry Oat Crumble Bars
A naturally-sweetened fruit crumble bar made with oats and sunflower seeds, and a homemade chia jam.
Ingredients
1 1/4

cups

(300 mL) Strawberry-Vanilla Chia Seed Jam (see below) or store-bought jam

1

cup

(250 mL) hulled sunflower seeds

3

cups

(750 mL) gluten-free rolled oats

1/4

teaspoon

plus 1/8 teaspoon

(1.5 mL) fine sea salt

1/2

cup

(125 mL) virgin coconut oil

1/4

cup

(60 mL) pure maple syrup

3

tablespoons

(45 mL) brown rice syrup

1

tablespoon

(15 mL) Homemade Sunflower Seed Butter, or store-bought
Instructions
If desired, roast the sunflower seeds: Preheat the oven to 325°F (160°C). Spread the seeds over a large rimmed baking sheet in an even layer. Roast for 9 to 12 minutes, until lightly golden in some spots. Remove from the oven and set aside.

Increase the oven temperature to 350°F (180°C). Line a 9-inch (2.5 L) square pan (or an 8-inch/2 L pan for a slightly thicker bar) with parchment paper, leaving some overhang, which will make it easy to lift out the bars later.

In a food processor, combine the sunflower seeds, oats, and salt and process until you have a coarse flour.

In a small pot, melt the oil over low heat. Remove from the heat and whisk in the maple syrup, brown rice syrup, and sunflower seed butter until combined. Pour the wet mixture on top of the oat mixture in the food processor and process until the mixture comes together, 10 to 15 seconds. The dough should feel quite heavy and oily, and there shouldn't be any dry patches. If there are, process for 5 seconds more. If for some reason it's still too dry, try adding water, a teaspoon (5 mL) at a time, and processing again until it comes together.

Set aside 1¼ cups (300 mL) of the oat mixture for the topping. Crumble the remaining oat mixture over the base of the prepared pan in an even layer. Starting at the center, push down with your fingers (you can lightly wet them if they stick) to spread out and pack down the crust. Press the dough down tightly. Even out the edges with your fingertips. Prick the crust with the tines of a fork 9 times to allow steam to escape.

Prebake the crust for 10 minutes. Remove from the oven and let cool for 5 minutes. (If the crust puffed up while baking, gently press down on it to release the air.) Spread the jam in an even layer over the crust. Crumble the reserved 1¼ cups (300 mL) oat mixture evenly over the jam.

Bake, uncovered, for 14 to 18 minutes more, until the topping is lightly firm to the touch. The topping will not turn golden in color; it will remain the same shade as it was before baking. Let cool in the pan on a cooling rack for 45 to 60 minutes, then transfer the pan to the freezer for 30 minutes until completely cool. Lift out the slab and slice it into squares or bars. Leftovers can be stored in an airtight container in the fridge for several days, or wrapped up and stored in the freezer for 4 to 5 weeks.
Notes
If you have a food processor with less than an 11-cup (2.6 L) capacity, you might need to process the crust in two batches and then stir it all together in a large bowl before measuring.
Nutrition
Calories:
339
kcal
,
Carbohydrates:
40
g
,
Protein:
9
g
,
Fat:
18
g
,
Saturated Fat:
9
g
,
Polyunsaturated Fat:
5
g
,
Monounsaturated Fat:
2
g
,
Sodium:
113
mg
,
Potassium:
161
mg
,
Fiber:
6
g
,
Sugar:
16
g
,
Vitamin C:
45.4
mg
,
Calcium:
50
mg
,
Iron:
3.2
mg
Per Serving: Calories: 339, Fat: 18g, Carbohydrates: 40g, Fiber: 6g, Protein: 9g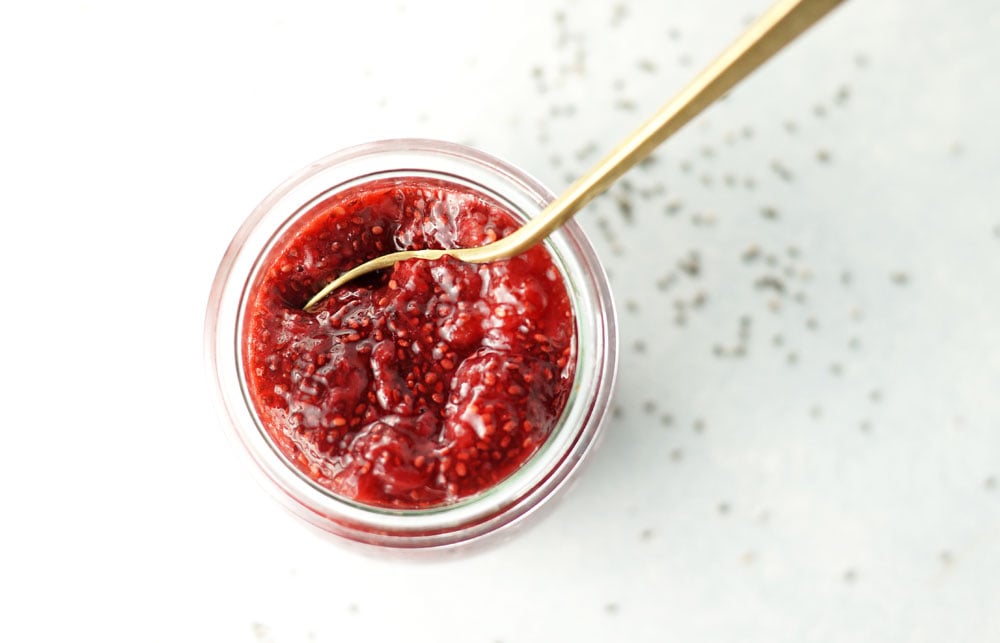 Berry Chia Seed Jam
Makes roughly 1 1/2 cups
Vegan, Gluten-free, Nut-free, Soy-free, Grain-free, Oil-free, Kid-friendly, Freezer-friendly
Chia seed jam has been my go-to quick-and-easy jam recipe for years. While not a traditional jam by any means, I certainly don't miss all the refined sugar of traditional versions when I enjoy this fresh, vibrant spread. You can use any kind of berry you prefer, and have fun changing it up with different mix-ins like lemon juice or zest, orange juice or zest, vanilla bean seeds or extract, cinnamon, cardamom, and any other spices or extracts you enjoy. Since berries vary in terms of sweetness, feel free to adjust the sweetener to suit your own taste with each batch. You'll be happy to know that chia seed jam also freezes well. I like to portion individual servings into a silicone mini-muffin tray, freeze them until they're solid, and then pop them out and store them in a freezer bag. This way you can have chia seed jam ready anytime! Simply thaw it in the fridge or at room temperature. If I'm making overnight oats, I will often thaw a cube of chia seed jam in the fridge overnight while the oats thicken. Then it's all ready for me to enjoy in the morning without any fuss. How's that for easy?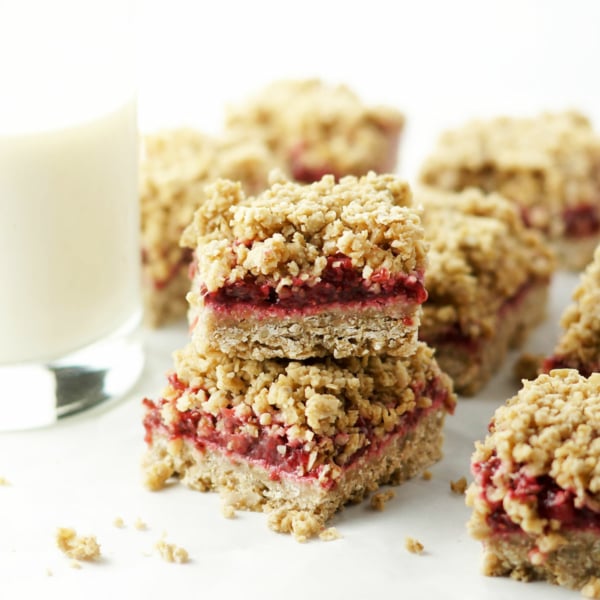 Berry Chia Seed Jam
This Chia Seed Jam that is used for the Strawberry Oat Crumble Bars or is delicious on its own!
Ingredients
3

to 4 cups

(750 mL to 1 L/about 17 ounces/475 g) frozen strawberries, raspberries, pitted sweet cherries, or blueberries

1/4

cup

(60 mL) pure maple syrup, or to taste

Dash of fine sea salt

2

tablespoons

(30 mL) chia seeds

1/2

teaspoon

(2 mL) pure vanilla extract

1/2

teaspoon

(2 mL) pure vanilla bean powder, or 1 large vanilla bean, split lengthwise and seeds scraped out

Squeeze of fresh lemon juice
Instructions
In a medium pot, stir together the berries, maple syrup, and salt until combined. Bring to a simmer over medium-high heat and cook for 5 to 7 minutes, until the berries have softened (they will release a lot of liquid during this time).

Reduce the heat to medium and carefully mash the berries with a potato masher until mostly smooth. The jam will still look very watery at this point, but this is normal!

Add the chia seeds and stir until combined. Simmer over low-medium heat, stirring frequently (reducing heat if necessary to avoid sticking) for 8 to 15 minutes more, until a lot of the liquid has cooked off and the mixture has thickened slightly.

Remove from the heat and stir in the vanilla extract, vanilla bean powder, and lemon juice (if using). Transfer the mixture to a bowl and refrigerate, uncovered, until cool, at least a couple of hours. For quicker cooling, pop the jam into the freezer, uncovered, for 45 minutes, stirring every 15 minutes. The chia seed jam will keep in an airtight container in the fridge for up to 2 weeks. It also freezes well for 1 to 2 months.
Notes
For the Strawberry-Vanilla Chia Seed Jam: Use 3 1/2 cups (875 mL/about 17 ounces/475 g) frozen strawberries, 1/4 cup (60 mL) pure maple syrup, a dash of salt, 2 tablespoons (30 mL) chia seeds, 1 teaspoon (5 mL) fresh lemon juice, and 2 seeded vanilla beans or 1/2 teaspoon (2 mL) pure vanilla bean powder.
For the Raspberry-Almond Chia Seed Jam: Use 2 1/2 cups (625 mL/ 10 ounces/300 g) frozen or fresh raspberries, 1/4 cup (60 mL) pure maple syrup, 2 tablespoons (30 mL) chia seeds, 1/4 teaspoon (1 mL) pure almond extract, and a pinch of fine sea salt.
Nutrition
Calories:
357
kcal
,
Carbohydrates:
67
g
,
Protein:
4
g
,
Fat:
7
g
,
Sodium:
11
mg
,
Potassium:
333
mg
,
Fiber:
8
g
,
Sugar:
50
g
,
Vitamin C:
21.2
mg
,
Calcium:
239
mg
,
Iron:
1.9
mg
Per Serving: Calories: 357, Fat: 7g, Carbohydrates: 67g, Fiber: 8g, Protein: 4g
Reprinted from Oh She Glows Every Day by arrangement with Avery Books, a member of Penguin Group (USA) LLC, A Penguin Random House Company. Copyright © 2016, Glo Bakery Corporation. 
I hope you enjoy the new recipes!
—
Reader Feedback: What's your favorite plant-based recipe lately?