Sweet Potato Chips are a crunchy, healthy snack that you can make at home. No deep fryer required! You can make them at home in just a little over 30 minutes.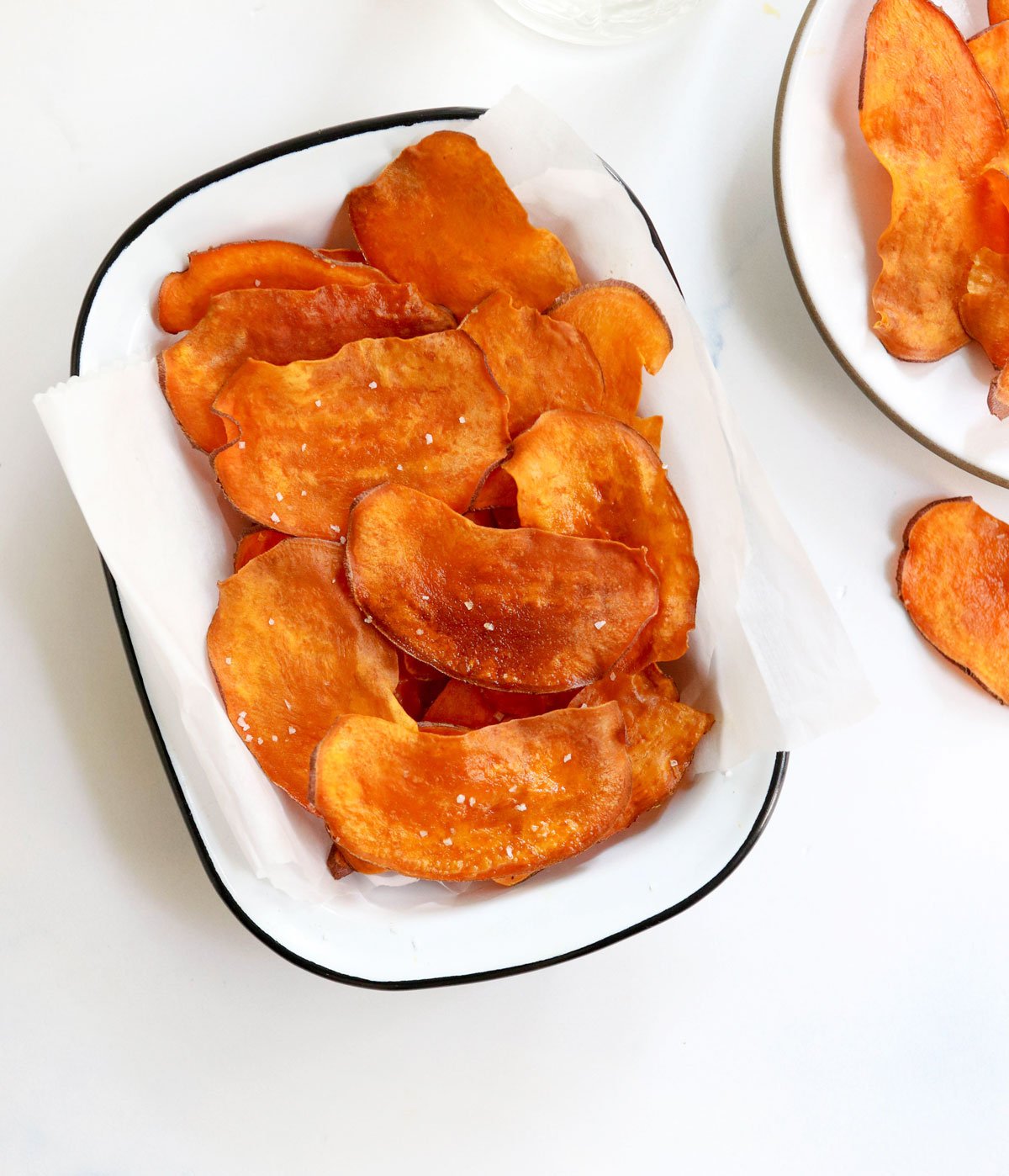 How to Cut the Potatoes
The easiest way to prepare sweet potato chips is by using a mandoline slicer. This handy kitchen tool will help you create paper-thin slices, which are best for getting crispy chips.
If you slice the potatoes too thickly, they won't crisp up. You want them to be roughly 1/16th" thick, which is hard to achieve using a knife alone.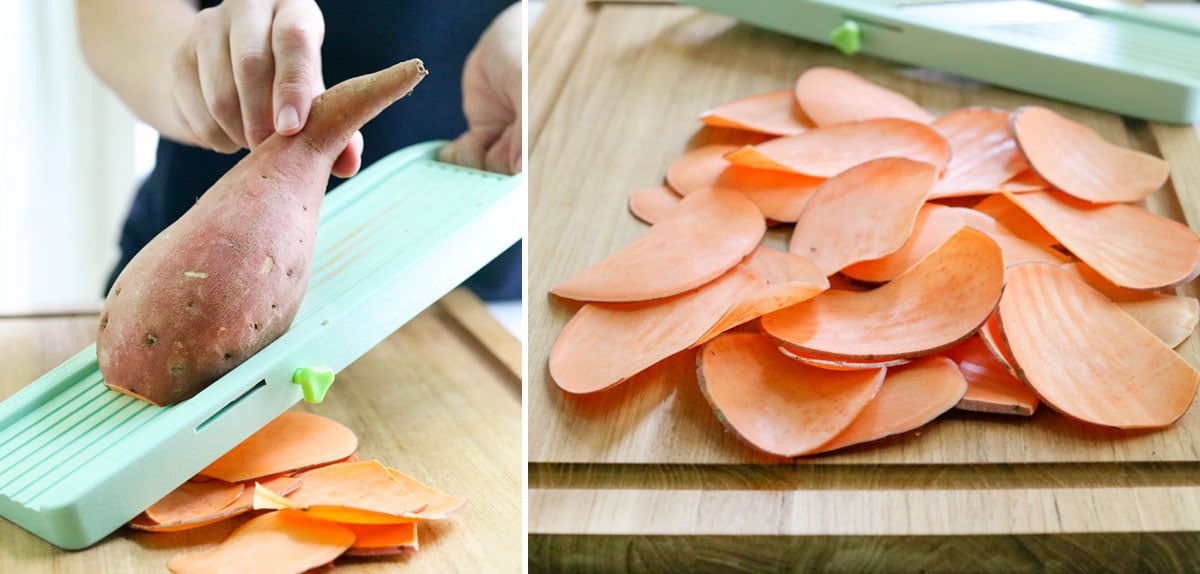 Be sure to hold the potato at an angle when slicing the potato, to make the slices as large as possible. The potato slices will shrink significantly as they cook, so the larger slices will mean you're not left with teeny-tiny baked sweet potato chips.
If you have a food processor with a slicing blade, that might work, too, but you won't have as much control over that as you do with a mandoline slicer.
Have a sweet potato that is wider than your mandoline slicer? Simply slice the side off until it fits, so you can easily slide the potato back and forth over the blade.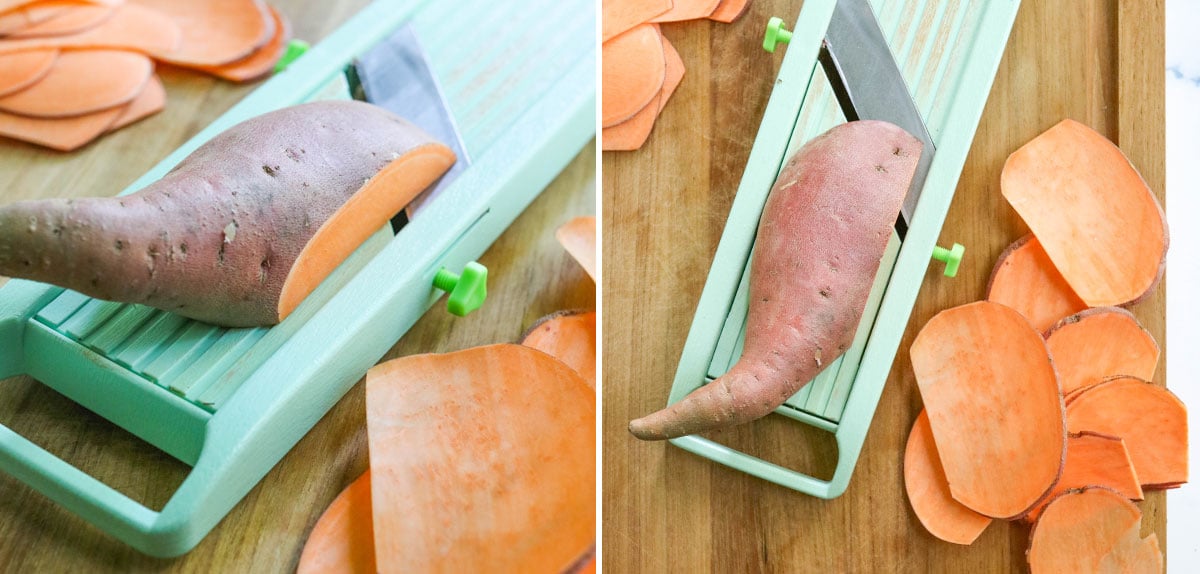 Safety Tip: As your sweet potato gets smaller and smaller when using the mandoline slicer, be sure to use the finger guard that the slicer comes with, to protect your hands. It's very easy to slice your fingers on the sharp blade! (It happened to me once, and I'll never let it happen again.)
Why Are They Healthier?
Are sweet potato chips healthy? Since these chips are baked, instead of fried, they use less oil and have no artificial preservatives added. All you need is olive oil and salt to make them!
When baking sweet potato chips, you can skip the oil all together, but the mouth feel won't be the same as store-bought potato chips. In fact, oil-free potato chips are pretty dry and unappealing in texture.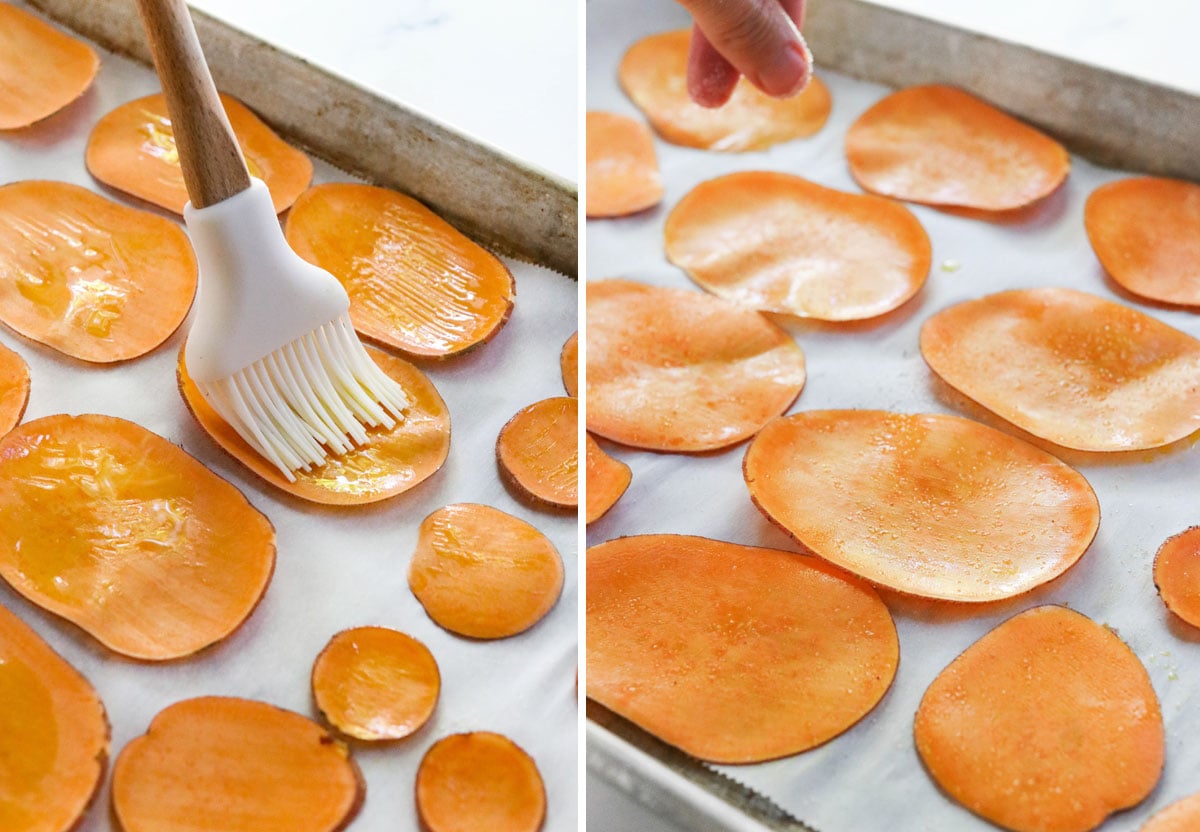 Instead, I recommend brushing each potato slice lightly with olive oil (on both sides) so that they bake evenly, with a melt-in-your-mouth crispness.
You don't want to use so much oil that they are dripping, but you want to use enough that they have a shine to them with they go into the oven.
How to Cook Them
I've been baking sweet potato chips for years, and have experimented with all sorts of time and temperatures. In my opinion, it's best to bake sweet potato chips at 300ºF so they won't burn too quickly.
If you try baking sweet potato chips at 350ºF or 400ºF, they tend to get too brown before they get that melt-in-your-mouth crispiness that we come to expect when eating a chip.
Setting your oven slightly lower and cooking them a little longer gets that perfect crispy texture, without waiting too long for your homemade sweet potato chips.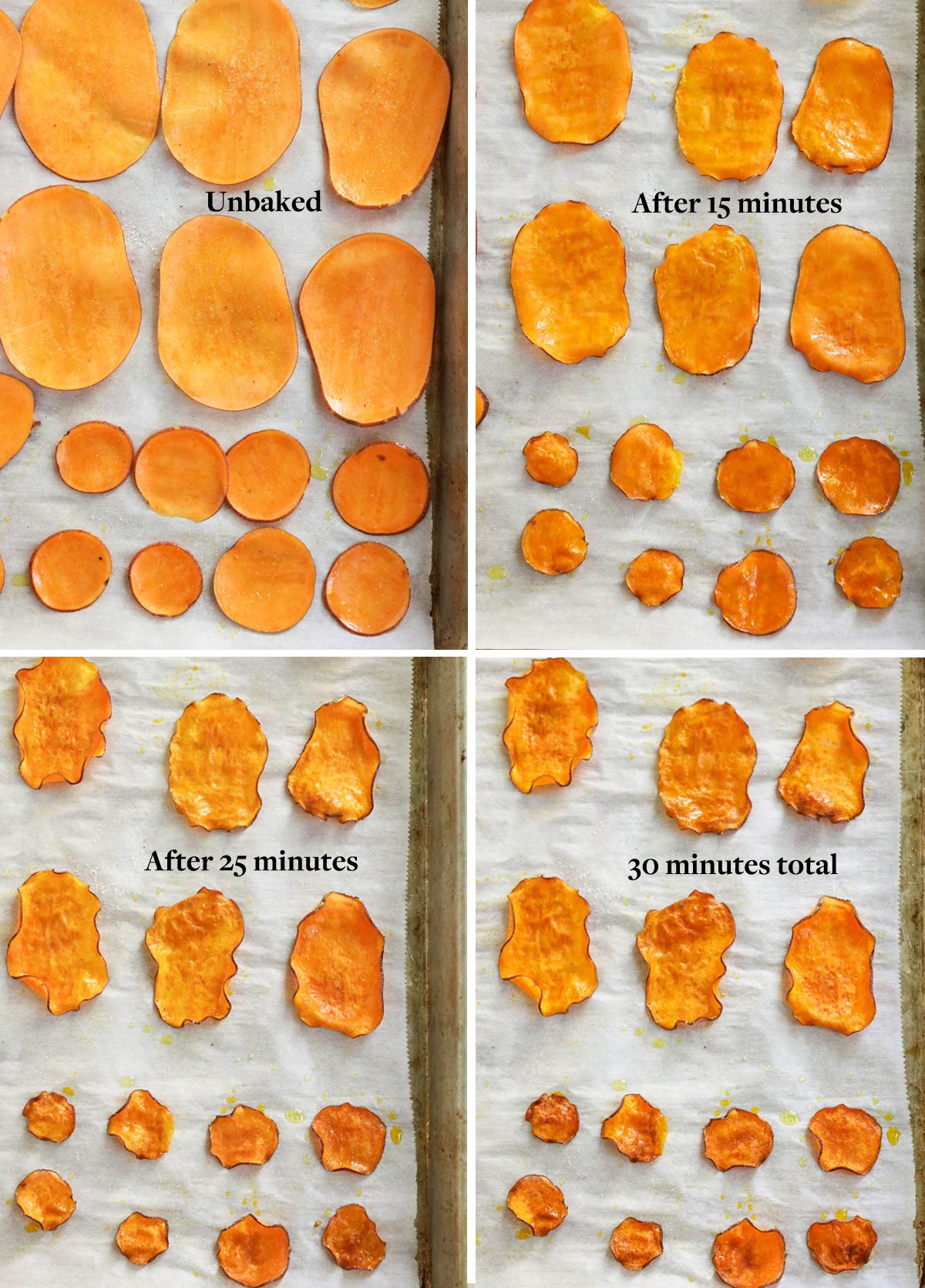 You'll probably notice that smaller chip slices will cook faster than the larger ones. After roughly 25 minutes of baking is usually when I need to remove the smaller pieces, and then the larger slices will need 30 to 35 minutes of baking total.
If you find that your chips aren't nearly done after 35 to 40 minutes of baking, that probably means they were sliced too thick. You can continue to bake them until they crisp up more, but they may never be quite as crunchy as a store-bought chip when they are thicker.
How to Serve Them
What do you eat with sweet potato chips? These homemade chips are a little more earthy-tasting than the deep-fried kind you'd buy at the store, so I think they go best with a dip, like homemade guacamole or vegan ranch dressing.
They also make a great side dish for my favorite veggie burgers.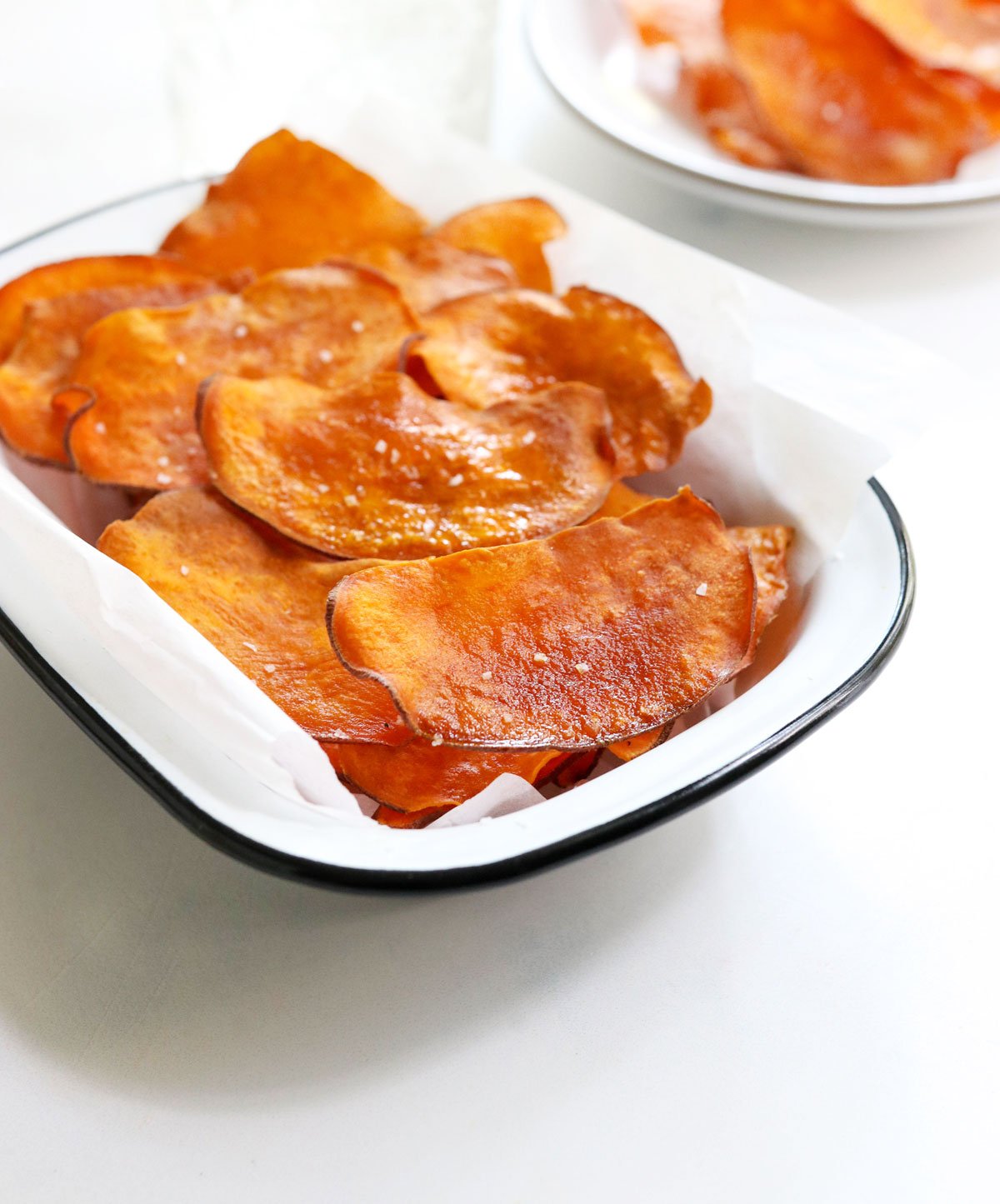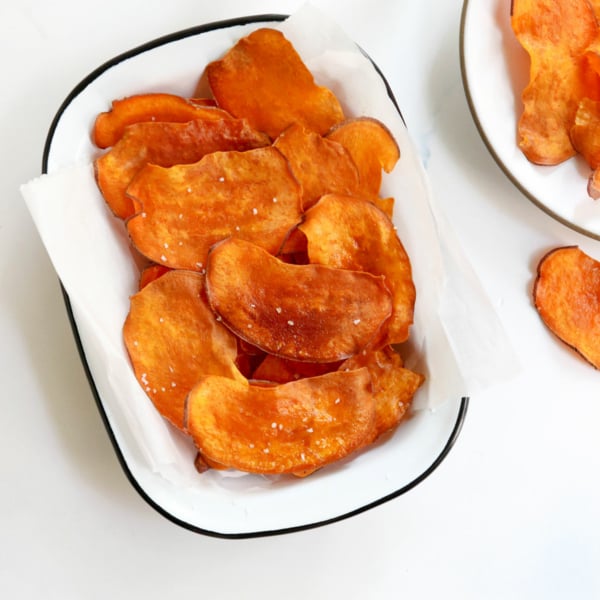 Baked Sweet Potato Chips
Sweet Potato Chips are baked, instead of fried, for a healthy, crunchy snack that bakes in 30 minutes. All you need is olive oil & salt to make them!
Equipment
Ingredients
1

sweet potato

, washed and scrubbed (about 8 oz.)

2

tablespoons

olive oil

Fine sea salt

, as needed
Instructions
Preheat the oven to 300ºF and line 2 baking sheets with parchment paper.

Use a mandoline slicer to cut the potatoes into paper-thin slices. You want them to be almost-transparent, but not quite. The thinner they are, the faster they will cook, and the crispier they will be.

Arrange the potato slices in a single layer on both baking sheets, without much overlap. Brush both sides of each potato slice with oil, then sprinkle with sea salt.

Bake at 300ºF for 15 minutes, then flip the chips over and bake for another 10 minutes. Be sure to watch the oven closely if your chip slices are particularly small, as they will cook the fastest. You want the chips to be lightly golden all over to get the crispiest results.

Remove any small chips that are looking browned at the 25-minute mark, then continue to bake for 5 more minutes. If the chips aren't all uniformly golden at the 30-minute mark, continue to bake them in 5-minute intervals until they are done, removing any brown pieces as you go, so they won't burn.

Let the chips cool on the pan for at least 5 minutes. They will crisp up even more as they cool. Serve right away with your favorite dip, or as a side dish.

Homemade chips don't store particularly well. They will get a little softer if you store them in the fridge overnight, but you can re-heat them in the oven again, if you want to crisp them up the next day.
Notes
For air fryer or dehydrator methods, be sure to check out the additional tips in this post below!
Nutrition
Calories:
221
kcal
,
Carbohydrates:
23
g
,
Protein:
2
g
,
Fat:
14
g
,
Saturated Fat:
2
g
,
Sodium:
62
mg
,
Potassium:
381
mg
,
Fiber:
3
g
,
Sugar:
5
g
,
Vitamin A:
16031
IU
,
Vitamin C:
3
mg
,
Calcium:
34
mg
,
Iron:
1
mg
Frequently Asked Questions
Can you Use a Dehydrator?
If you would prefer to use a dehydrator to bake these chips, I recommend using the highest setting on your dehydrator. (This can range from 165ºF to 176ºF on the models I own.) At 165ºF, I need to let the sweet potato chips cook for 4 to 6 hours to get crispy. The thinner you slice them, the faster they will cook. Dehydrated chips don't quite have the same mouthfeel as a baked chip, but you don't have to worry about them burning this way.
–
Can you cook sweet potato chips in an Air Fryer?
If you want to experiment with your air fryer, you won't be able to cook as many chips at one time. Bake at 300ºF for 15 minutes, then open the air fryer and separate any chips that have stuck together. The air fryer's circulation usually causes the chips to fly around, so they stick together more with this method. Once they are separated, return to the air fryer and cook for 10 to 15 more minutes at 300ºF until they are lightly golden all over.
Can I use white potatoes?
Yes! You can use white potatoes instead of sweet potatoes if that's what you have on hand. Just keep in mind that they might cook slightly faster, so keep an eye on them in the oven.
If you try these Baked Sweet Potato Chips, please leave a comment below and let me know how you like them! And if you make any modifications, I'd love to hear about those, too. We can all benefit from your experience.
—
Reader Feedback: What kind of snacks do you crave?