This Veggie Burger recipe is one of the best I've ever tasted. All you need is a few minutes to prepare the patties, and then you can cook them up in a skillet, or throw the whole batch in the oven. No eggs required!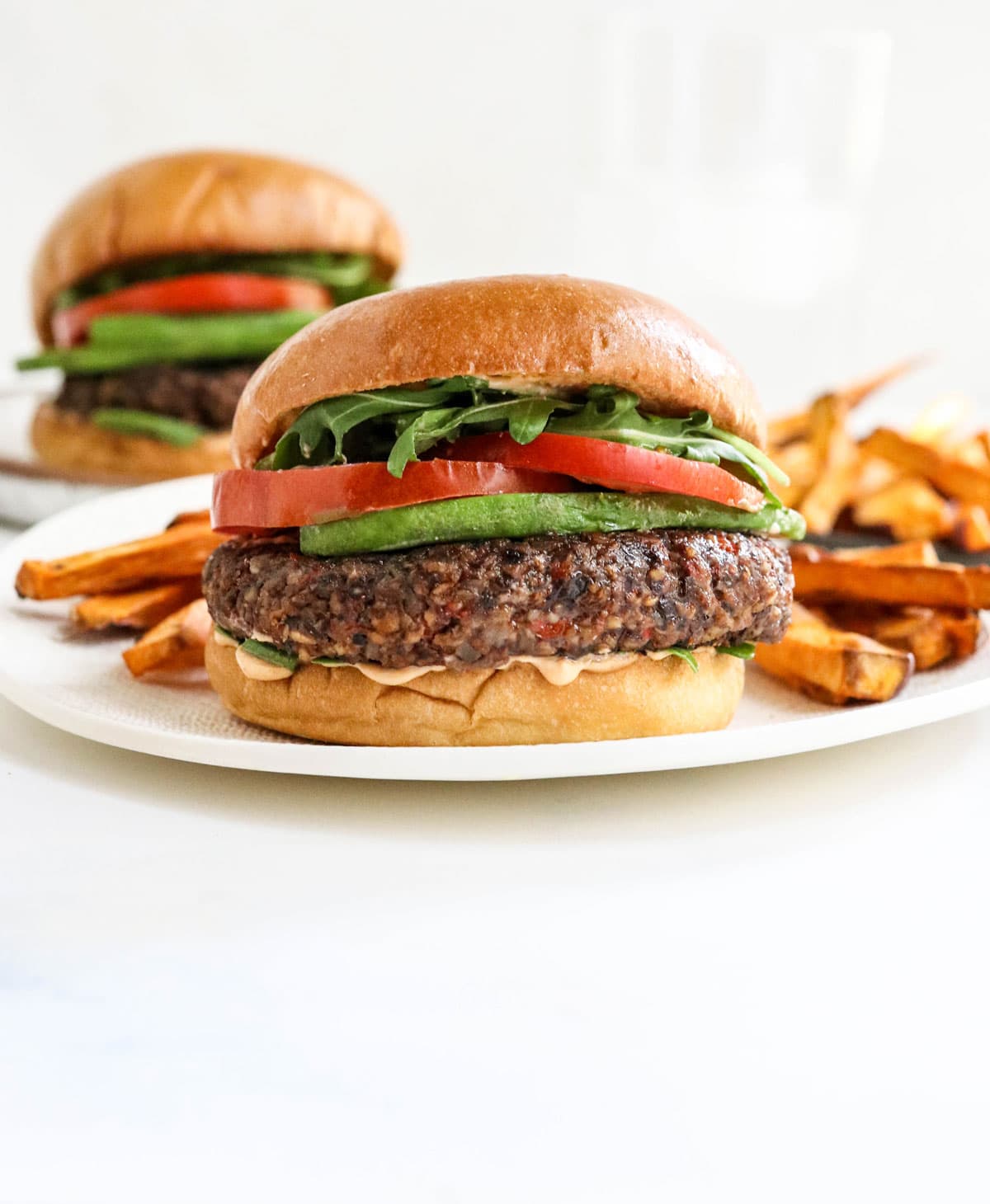 How Do You Keep Veggie Burgers From Falling Apart?
Veggie burgers usually require a binder to hold them together, like eggs, but there are other egg-free binding options, too.
Here are a few ways to keep them together:
Use an egg substitute. Flax eggs are a popular choice.
Add a starchy ingredient. Adding flour or oats can help the burgers stick together, without using eggs.
Mash everything together well. The more pulverized the veggie burger mixture gets, the better the patties will stick together. (But don't puree them, or the final texture will be off.)
Keep the patty size reasonable. If you make the veggie burgers too large, they are more likely to fall apart. I recommend using a 1/3 cup measure when portioning out the patties.
The recipe below doesn't require any special egg substitutes! A mix of beans, veggies, and gluten-free oats will create perfect veggie burgers that don't fall apart.
What Ingredients Go In a Veggie Burger?
This particular veggie burger recipe comes from my friend Erin's new book, The Well Plated Cookbook. If you haven't seen it yet, it's gorgeous! (And thank you to Erin, for sending me an early copy.)
Erin's recipes are always well-tested, and this book includes a huge variety (with 130 recipes!) ranging from whole wheat pancakes, to easy sheet pan chicken dinners, to decadent desserts– including a fudgy cookie recipe made with avocado.
This book isn't designed to be vegetarian or gluten-free, but I still found a ton of inspiration inside. (You can see that I've tabbed over 20 recipes to try already!)
I especially appreciate Erin's healthy spins on classic Midwestern food, like Macaroni Salad, and how she shares ideas for serving classic staples multiple ways– like stuffed sweet potatoes or roasted vegetables. And the photos inside are gorgeous!
As soon as I saw Erin's veggie burgers, I knew this was a perfect recipe to share with you. The ingredient list is surprisingly simple.
Here are the veggie burger ingredients you'll need:
Black beans
Rolled oats
Walnuts (these help with the texture)
Onion
Garlic
Mushrooms
Roasted red peppers (homemade or jarred from the store)
Seasonings
Erin suggests toasting the walnuts before getting started, but, to be more time-efficient, I skipped that step and still think these veggies burgers are outstanding.
How to Make Healthy Veggie Burgers
To make these vegetarian burgers, you'll need to sauté a few veggies first.
This boosts their flavor, and helps get rid of any excess moisture, so the final veggie burgers won't be soggy in the middle.
While the veggies are cooking away, you can be efficient by adding the rest of the ingredients into the bowl of a large food processor fitted with an "S" blade. (I use this 12-cup food processor.)
When most of the moisture has evaporated from the veggies in the skillet, add them to the food processor along with everything else, and pulse several times until the mixture looks relatively uniform.
You want the batter to stick together, without being totally smooth or pulverized, for the best texture.
Use a 1/3 cup measure to scoop the batter, then press it between your hands to flatten out the burger patties. They should be about 3/4-inch thick, and around 4 to 5 inches in diameter.
This recipe makes 6 to 7 veggie burger patties, and you can cook them two ways: on a skillet, or in the oven.
How to Cook Them on the Stove
To cook the veggie burgers in a skillet, you can cook about 3 at a time, so you'll need to work in at least 2 batches.
Grease the skillet with olive oil, then cook them at medium-high heat for about 2-3 minutes on each side.
Both sides should be lightly golden, and the burgers will be easy to flip. When the first batch is done, set them aside on a plate lined with a towel to absorb any excess oil. Repeat with the remaining patties until they are all cooked.
How to Bake Them
If you prefer to bake the whole batch of veggie burgers at once, preheat the oven to 400ºF.
Brush the veggie burgers lightly with olive oil on both sides, so they won't dry out as they bake. This also gives them a lightly crunchy exterior, and better mouthfeel.
Bake the burgers for 15 minutes, then flip them over and bake for an additional 5 minutes. The patties should be lightly golden on both sides.
Serve the burgers with your favorite buns and toppings. I highly recommend using my Vegan Sriracha Mayo (pictured here) or my Vegan Special Sauce, to take the flavor over the top!
How to Store Them
You can store leftover veggie burgers in an airtight container in the fridge for up to a 3 days, or you can freeze them (with parchment paper in between the patties) for up to 3 months.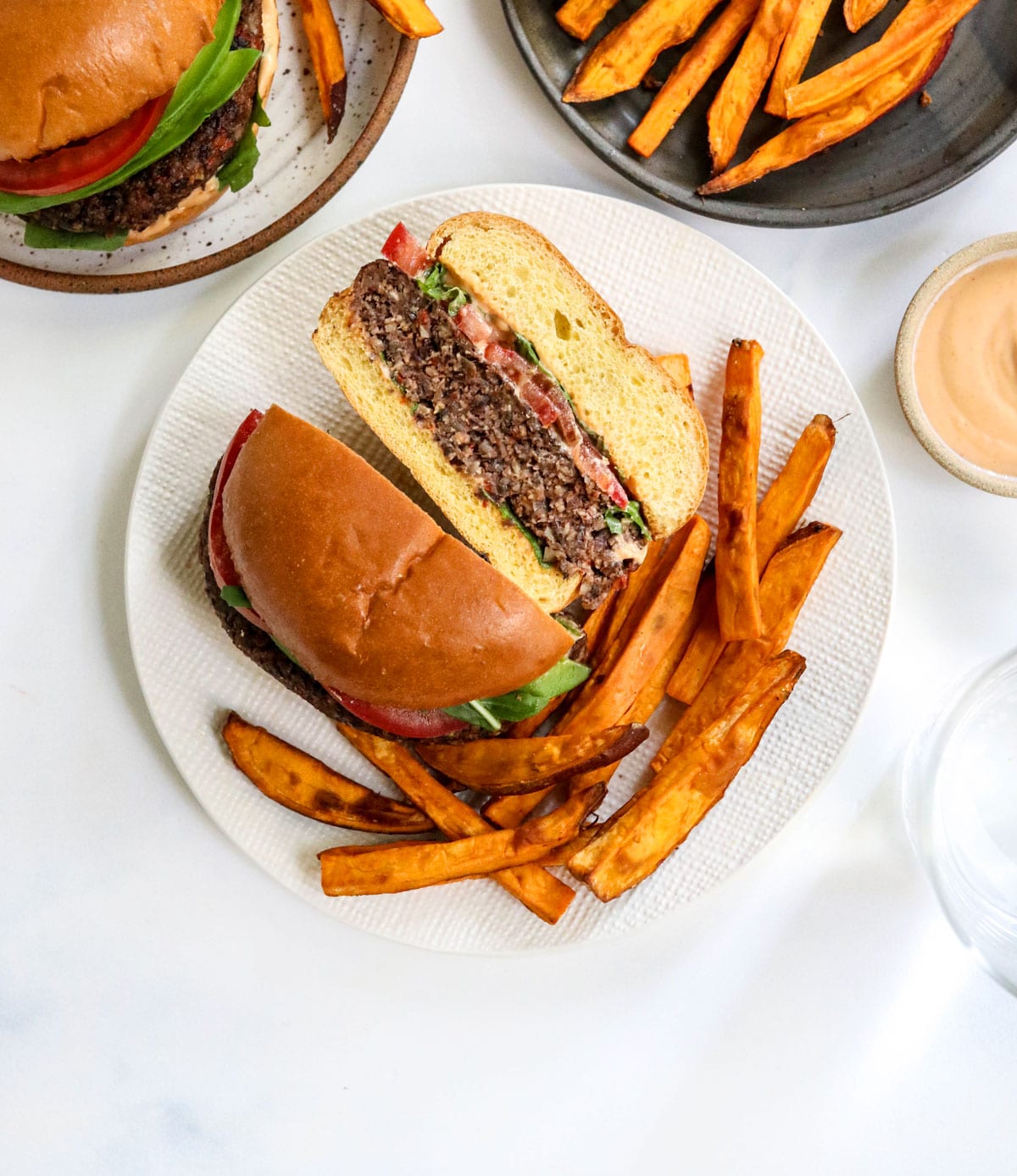 Best Veggie Burger Recipe
Here's how to make veggie burgers, without using eggs or flour! This recipe has a great texture and flavor, so you won't miss the meat at all.
Equipment
Ingredients
2

tablespoons

olive oil

, divided

8

ounces

cremini (baby bella) mushrooms

, roughly chopped (about 2 1/2 cups)

2

cloves

garlic

, minced (about 2 teaspoons)

1

medium

shallot

, minced (about 1/2 cup)

4

roasted red bell peppers

(about 3/4 cup, diced)

1

teaspoon

fine sea salt

, divided

1

(15 oz) can

black beans

, rinsed and drained

3/4

cup

old-fashioned rolled oats

, plus more as needed

1/2

cup

raw walnut halves

1/2

teaspoon

smoked paprika

1 1/2

teaspoons

ground cumin

1

tablespoon

vegan Worcestershire sauce

Freshly ground black pepper
Instructions
Heat 1 tablespoon of oil in a large skillet over medium-high heat, and add the mushrooms, garlic, shallot, red peppers, and 1/2 teaspoon of salt. Sauté until the vegetables soften and most of the liquid has cooked away, about 6 to 8 minutes.

While the vegetables are cooking, add the black beans, oats, walnuts, paprika, cumin, Worcestershire, several grinds of black pepper, and the remaining 1/2 teaspoon of salt to the bowl of a large food processor fitted with an "S" blade.

When the vegetables are tender, transfer them to the food processor, too. Pulse the mixture in 5-second bursts until it's combined, but still slightly chunky. (about 15 to 20 seconds total) The burger mixture should stick together easily when you press it between your fingers, without being totally pureed.

Scoop the mixture using a 1/3 cup measure, then press it between your hands to shape the patties. You should get 6 to 7 patties from this recipe, that are 3/4-inch thick.

To cook the burgers, use the same skillet you used for sauteeing the veggies. (See the notes for an oven-baked method.) Add 1/2 tablespoon of oil to the pan and heat it over medium high heat.

When the pan is hot and the oil is easy swirl around (but not smoking), add 3 patties to the pan and cook until the first side is crispy, about 2 to 3 minutes. Flip and cook until the other side is crisp, and the burgers are heated through, about 2 to 3 additional minutes.

Remove the burgers to a plate lined with towel, then repeat with the remaining burger patties, using the remaining oil to grease the pan again. Serve warm with your favorite toppings.
Make Ahead & Storage Tips:
Shaped, uncooked burger patties can be individually wrapped (or separated by parchment paper in an airtight container) and stored in the fridge for up to 4 days. Cook as directed.

Leftover cooked burgers can be stored in the fridge for up to 3 days. Reheat in a lightly oiled skillet.

You can freeze fully cooked patties for up to 3 months. Store them in an airtight container, separated by parchment paper to prevent the patties from sticking together. Let them thaw in the fridge overnight, then reheat in a 350ºF oven for 12 to 15 minutes until warmed through.
Notes
To bake the burgers, preheat the oven to 400ºF. Line a baking sheet with parchment paper, and arrange the patties into a single layer on the pan. Generously brush both sides of the patties with olive oil, then bake for 15 minutes. Flip and bake for another 5 minutes until heated through.
Recipe shared with permission from Erin Clarke's The Well Plated Cookbook.
Nutrition
Calories:
319
kcal
,
Carbohydrates:
40
g
,
Protein:
11
g
,
Fat:
14
g
,
Saturated Fat:
2
g
,
Sodium:
908
mg
,
Potassium:
539
mg
,
Fiber:
9
g
,
Sugar:
2
g
,
Vitamin A:
203
IU
,
Vitamin C:
13
mg
,
Calcium:
65
mg
,
Iron:
4
mg
Nutrition information is for 1 veggie burger. This information is automatically calculated, and is just an estimate, not a guarantee.
If you try this veggie burger recipe, please leave a comment below and let me know what you think! And if you make any modifications, I'd love to hear about those, too. We can all benefit from each other's experiences!
–
Reader Feedback: What's your favorite meatless meal? My Lentil Bolognese and Vegan Meatloaf are also family favorites, if you need some fresh ideas!