Zucchini Lasagna is a delicious way to enjoy the lasagna flavor you love, without the noodles. This easy casserole is packed with 3 pounds of zucchini, and has all the cheesy, classic lasagna flavor you love. It's perfect for those following food combining, or a low-carb or keto diet plan, and it's naturally gluten-free. My dad loves this recipe so much he's asked me to serve this at our holiday dinner this year– and that's really saying something!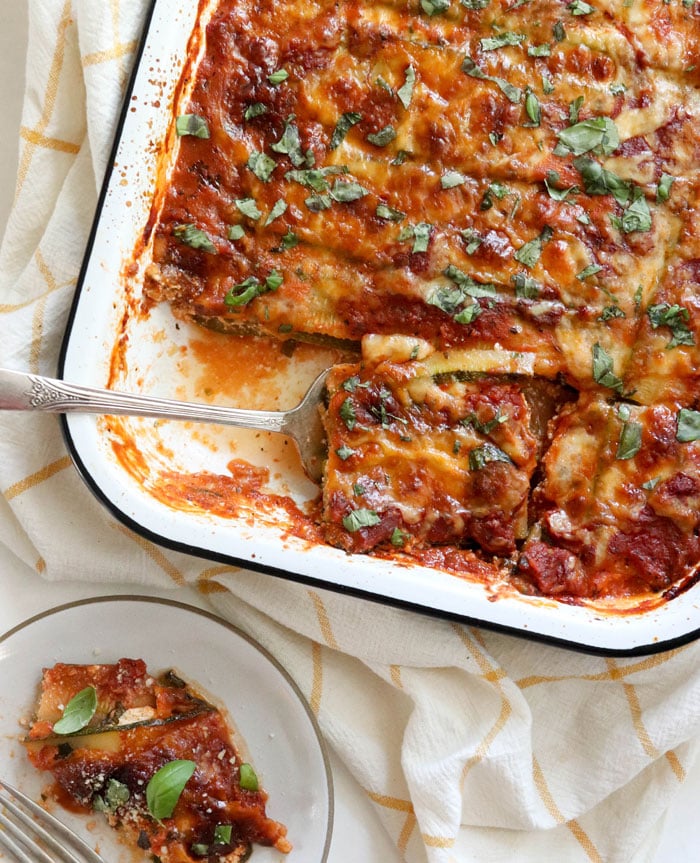 As an Amazon Affiliate, I earn on qualifying purchases.
Traditional lasagna made with real noodles can have close to 30 "net carbs" per serving, but this Zucchini Lasagna has only 6 "net carbs" per serving, along with 17 grams of protein to help keep you feeling full. (Net carbs = total carbohydrates – fiber)
How Do You Cut Zucchini into Lasagna Noodles?
The easiest way to cut zucchini into lasagna noodles is to use a sharp knife, or a mandoline slicer. I tend to use a mandoline slicer most often because it makes all of the noodles a uniform thickness, but if you don't have one a knife will do, too.
To cut the zucchini with a knife, I recommend slicing the ends off of the zucchini first, then holding the zucchini upright (so it's vertical and standing up on one of the sliced ends) and using the knife to slice down, starting from the top, creating 1/4-inch thick slices. I've found this method makes the most uniform slices when using a knife.
I usually save the curved ends of the zucchini to add to a smoothie recipe, since the green skin isn't super appealing as a lasagna noodle.
How Do you Get the Water out of Zucchini Slices?
Once you have the slices cut, you'll want to arrange them on a large baking sheet. (You'll need to do this in batches, or use 3-4 large baking sheets to do it all at once.) Salt the zucchini noodles on both sides and let them rest for 10 minutes to sweat and release some of their moisture.
After the 10 minutes have passed, blot the zucchini on both sides to remove the salt and moisture. Then I like to bake the zucchini on the pans for 15 minutes to help dry them out even more. This will prevent a watery lasagna later!
How Many Layers Should Lasagna Have?
According to Bon Appetit, a lasagna should always have 3 or more layers to really count as lasagna. I've settled on 4 layers for this Zucchini Lasagna recipe, because preparing more zucchini noodle layers than that would be too labor intensive for my taste. As written, my family thinks this recipe is perfection!
Speaking of labor intensive, I've made this lasagna recipe as easy as possible by leaving out the meat. The layers of cheese in this dish already add plenty of protein and satiating fats, and I like to add an egg to the ricotta to add additional structure between the zucchini layers. (Though, you can easily leave out the egg if you need to!)
If you prefer to add meat, feel free to sauté it while the zucchini noodles are drying out in the oven and then stir it into the marinara sauce before layering your lasagna in the pan.
How to Make Zucchini Lasagna
As soon as the noodles are done in the oven, your lasagna is ready to assemble! To get started, you'll spread a bit of the marinara sauce on the bottom (this prevents sticking) and then you'll add the first layer of zucchini noodles, mostly covering the bottom of the pan.
On top of that, you'll add a layer of the ricotta mixture, then mozzarella, a sprinkling of Parmesan cheese, and some freshly chopped basil (you could add some fresh spinach here if you like, too). Then you'll repeat it! Zucchini noodles, marinara sauce, ricotta, mozzarella, Parmesan, and basil. Repeat again, so you'll have 3 layers of zucchini noodles, sauce, and cheese.
Top the lasagna with one final layer of zucchini noodles, the rest of your sauce, and the remaining mozzarella and Parmesan cheese. Bake until the top is golden brown and bubbly, about 45 minutes. Let it cool briefly, then serve!
You still might find a small amount of water in the bottom of your pan as you serve this lasagna, but it shouldn't transfer to your plate when you use a flat spatula or slotted serving utensil.
Zucchini Lasagna Video Tutorial (1-minute):
Zucchini Lasagna (Low-Carb & Keto)
This Zucchini Lasagna recipe is easy & delicious! I love that it's low-carb and keto friendly, while packing 3 pounds of zucchini into a single pan.
Ingredients
3

pounds

zucchini

(about 4 large ones)

Salt

, as needed

1

(25 - 28 oz.)

jar marinara sauce

, no sugar added

15

oz

ricotta cheese

1

egg

(optional)

2

cups

shredded mozzarella cheese

1/2

cup

grated Parmesan cheese

1

cup

fresh basil leaves

(chopped and loosely packed)
Instructions
Preheat the oven to 400ºF and line 3 to 4 large baking sheets with parchment paper. (You can do this in batches, if needed.)

Cut the ends off of the zucchini, then use a mandoline slicer or a knife to cut the rest into long, wide slices that are 1/4-inch thick. Arrange the slices on the prepared baking sheets and sprinkle them generously with salt. Flip the slices over and salt the other side, too. Let the rest for 10 minutes.

When 10 minutes have passed, blot the zucchini with a towel, removing the salt and excess moisture. Place the pans of zucchini in the oven to bake for 15 minutes at 400ºF.

Meanwhile, add the ricotta and egg to a large bowl, and stir them well to combine. You can add a pinch of salt to this, and any other dried Italian herbs you love for extra flavor.

When the zucchini is done, remove it from the oven and lower the temperature to 375ºF.

To assemble the lasagna, start by spreading 3/4 cup of marinara sauce evenly into the bottom of a 9" x 13" casserole pan. Arrange a layer of zucchini noodles on top of that, followed by 1/3 of the ricotta mixture, 1/2 cup of shredded mozzarella, and 2 tablespoons of Parmesan. Sprinkle 1/3 of the fresh basil over that.

Repeat the layers, starting with another layer of zucchini, followed by 1/2 cup of marinara sauce, and another 1/3 of the ricotta, 1/2 cup of mozzarella, Parmesan and basil. Repeat this layering one more time, with another layer of zucchini, the rest of the ricotta, another 1/2 cup of mozzarella, 2 tablespoons of parmesan, and the rest of the fresh basil. The final layer will be the last of the zucchini noodles, followed by the rest of the sauce, mozzarella and Parmesan.

Bake the zucchini lasagna for 45 minutes at 375ºF, or until the top is golden brown and bubbly. Allow the casserole to cool for 15 minutes before slicing and serving. Leftovers can be stored in the fridge for 3-5 days in an airtight container.
Notes
Make Ahead: You can assemble this casserole as directed (making sure to dry out the zucchini noodles first) then tightly cover the casserole and freeze for up to 1 month. Thaw overnight before you plan on serving it, then bake as directed.
Nutrition
Calories:
241
kcal
|
Carbohydrates:
8
g
|
Protein:
17
g
|
Fat:
16
g
|
Saturated Fat:
9
g
|
Cholesterol:
75
mg
|
Sodium:
338
mg
|
Potassium:
545
mg
|
Fiber:
2
g
|
Sugar:
5
g
|
Vitamin A:
1008
IU
|
Vitamin C:
31
mg
|
Calcium:
356
mg
|
Iron:
1
mg
Zucchini Lasagna Nutrition (1/8 of the casserole): Calories: 241, Fat: 16g, Carbohydrates: 8g, Fiber: 2g, Protein: 17g
Recipe Notes:
If you skip the zucchini noodle drying out process, your lasagna will be watery. If you don't mind that, feel free to jump ahead in this recipe to save time.
For a vegan lasagna, try my sweet potato lasagna recipe. It has an easy dairy-free bechamel sauce if you want to try that with zucchini noodles, too!
More Healthy Zucchini Recipes:
Reader Feedback: What's YOUR favorite way to use zucchini? Let me know in the comments below!