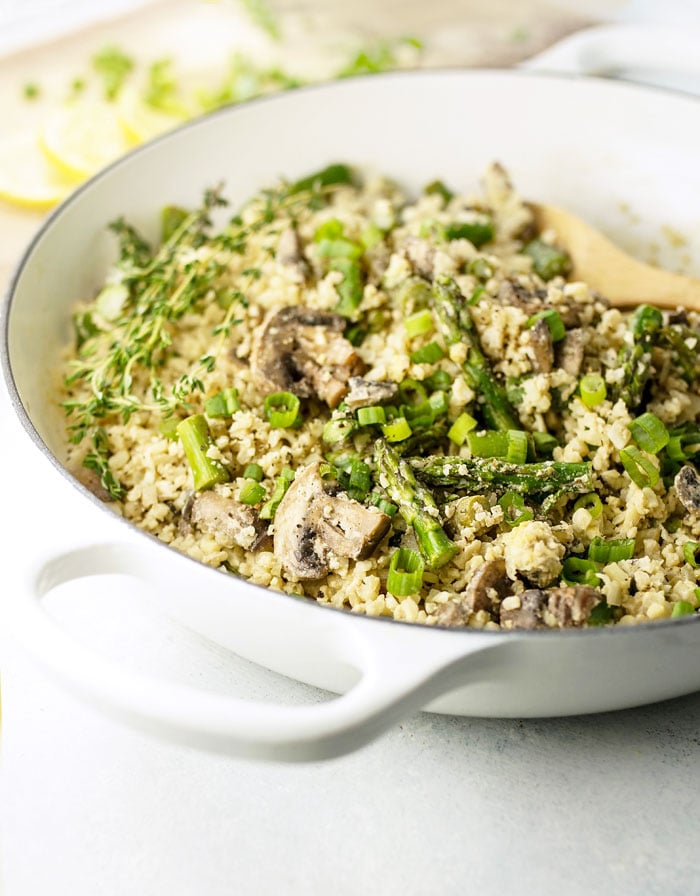 I went a little overboard on the cauliflower rice this week. With the #EatYourDaily10 challenge fully underway, I accidentally bought 4 bags of prepared cauliflower rice. I forgot that I had already bought 2 pounds of cauliflower rice at Trader Joe's, and then picked up another 2 pounds of cauliflower at Coscto. Whoops.
Guess who's eating a LOT of cauliflower this week?
Luckily, I needed most of that rice to get this recipe just right. I've seen several recipes for cauliflower "risotto" out there, but many of them call for several types of cheese (and quite a lot of them at that!) which I think kind of defeats the point of this "healthy makeover." I wanted to make this Cauliflower Rice Risotto completely dairy-free and vegan, and the resulting recipe has plenty of flavor without the need for cheese. Of course, you're always welcome to add a sprinkling of cheese, vegan or otherwise, right before serving, if you'd like to.
I use the term "risotto" very lightly when it comes to this recipe, because I think the term risotto technically refers to a method of cooking rice. We're not cooking real rice here, so you won't have the traditional texture that comes in the classic version, and I've also omitted the butter to keep it vegan. Oh, and I left out the wine because I never have wine on hand. I've always found that I can usually substitute a touch of balsamic vinegar for wine in most recipes, and I think in works well in this case, too.
Essentially, I've created a cauliflower risotto recipe that is:
Alcohol-free
Dairy-free and vegan
Gluten-free and grain-free
Low-carb
Low in calories
Ready in 30 minutes or less
And totally delicious
It's probably unlike any "real" risotto that you've ever tried. Feel free to call it a cauliflower rice stir-fry if you'd prefer. Either way, it's super delicious so I hope you'll enjoy it. As written, this recipe serves two adults as a full meal, but it could probably serve four if you serve it with a side dish, or as a side dish.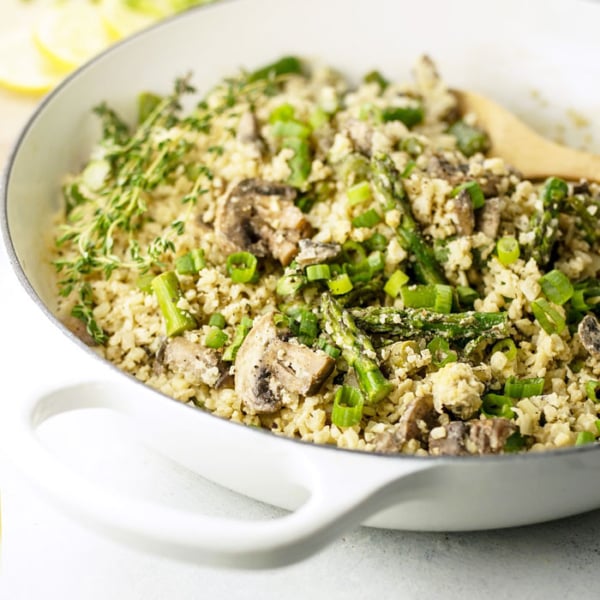 Vegan Cauliflower Rice "Risotto" with Asparagus & Mushrooms
This Cauliflower Rice Risotto with Asparagus and Mushrooms is the best low-carb alternative.
Ingredients
1

tablespoon

extra virgin olive oil

1

large yellow onion

, diced

8

ounces

mushrooms

, sliced

12

ounces

asparagus

, cut into 1-inch pieces

1

clove

garlic

1

tablespoon

high quality balsamic vinegar

1/2

teaspoon

dried thyme

(or 1 teaspoon fresh)

1

pound

cauliflower rice

3/4

cup

coconut milk

Fine sea salt

Sliced green onions

, for garnish

Black pepper

, for garnish
Instructions
Heat the olive oil in a large skillet or Dutch oven over medium heat. Sauté the onion until it starts to soften, about 5 minutes, then add in the mushrooms and asparagus and cook for 5 more minutes.

If you haven't purchased prepared cauliflower rice for convenience, this would be a good time to to prepare the rice while the vegetables are sauteeing. Simply break up a head of cauliflower into florets and then pulse them in a food processor, or grate them with a box grater, to create a rice-like texture.

Add in the garlic, balsamic vinegar, and thyme and sauté for another minute. Add in the prepared cauliflower rice, coconut milk, and 1 teaspoon of salt, then stir well.

Bring the coconut milk to a simmer and cover the pot with a lid. Lower the heat and let the vegetables cook until the cauliflower rice is tender, about 10 minutes. Remove the lid. If any excess liquid remains at the bottom of the pan, you can raise the heat to simmer it off. Adjust any seasoning to taste, adding more salt if desired. (I added another 1/2 teaspoon to mine-- I find that cauliflower needs quite a bit of seasoning!)

Serve warm with sliced green onions and black pepper on top. Leftovers can be stored in an airtight container in the fridge for up to 4 days.
Nutrition
Calories:
156
kcal
,
Carbohydrates:
9
g
,
Protein:
6
g
,
Fat:
9
g
,
Saturated Fat:
3
g
,
Polyunsaturated Fat:
1
g
,
Monounsaturated Fat:
5
g
,
Sodium:
1173
mg
,
Potassium:
534
mg
,
Fiber:
7
g
,
Sugar:
5
g
,
Vitamin A:
1050
IU
,
Vitamin C:
73.4
mg
,
Calcium:
240
mg
,
Iron:
3.2
mg
Per Serving: Calories: 156, Fat: 9g, Carbohydrates: 9g, Fiber: 7g, Protein: 6g
Substitution Notes:
I've tested this recipe using lemon juice and red wine vinegar instead of the balsamic, and both versions turned out fine. I prefer the flavor of the balsamic vinegar more, but feel free to use what you have on hand and just adjust the seasonings to your taste. (The longer the balsamic vinegar has aged, the better it will taste, too. I used one that was aged for a minimum of 3 years.)
If asparagus isn't in season where you live, I've also tested this recipe using fresh green beans, and that was delicious, too. I imagine a number of seasonal veggies could be used throughout the year.
The coconut milk in this recipe adds creaminess, but you can replace it with water or almond milk for a lower-fat and coconut-free version. I used water and added a 1/4 cup of tahini during one recipe trial, and that also added creaminess as an alternative.
Because this is a skillet meal, you can pretty much make any changes you want to and just taste as you go. If you make any other substitutions please let us know in the comments below so we can all benefit from your experience.
Enjoy!
—
Reader Feedback: What's your favorite way to enjoy cauliflower rice? 
SaveSave