This post is sponsored by Rockridge Press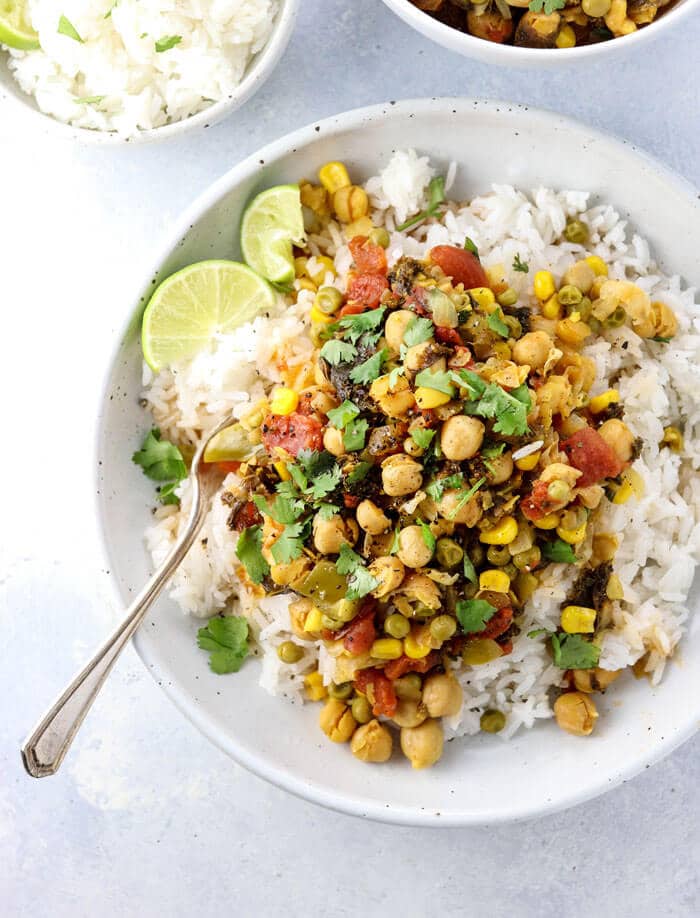 When I first bought my Instant Pot a couple years ago, I had NO IDEA what to make in it. In fact, for the first year I think I only used it for cooking quinoa and plain chicken. I definitely wasn't using it to its full potential.
Eventually I got braver, branching out into making coconut milk yogurt, cooking black beans from scratch, and even making one-pot burrito bowls. But, I could still use some fresh ideas, which is why I happily accepted a complimentary copy of The Instant Pot® Electric Pressure Cooker Cookbook, by Laurel Randolph.
MY LATEST VIDEOS
This cookbook is packed with 100+ recipes all exclusively designed for the Instant Pot. I get some of my best recipe ideas from traditional cookbooks like this one. It's not necessarily a "healthy cookbook" in the sense that some of the recipes do call for white sugar or pasta, but a lot of the recipes are centered around whole foods, like the vegan Chickpea Curry recipe I'm sharing below.
The recipes in this book range from breakfast porridges, to vegetable sides, to some vegetarian main entrees, to more traditional meat-based entrees, to some pressure cooker desserts made with real sugar. Though you might need to make a few substitutions here and there, I like that the pressure cooking times are all set out for me— figuring that part out can be the trickiest part of cooking in an electric pressure cooker!
For example, the recipe for this Vegan Chickpea Curry calls for a tablespoon of sugar in the book, but I decided to use maple syrup instead. It's a totally easy swap.
A few other whole food recipes from the book include:
Eggplant & Roasted Red Pepper Dip, Page 35
Quick Zucchini Ratatouille, Page 38
Refried Beans, Page 55
Red Beans and Rice, Page 59
Vegan Black Bean Soup, Page 70
Thai-Style Corn Chowder, Page 73
Veggie Chili, Page 84
Vegetable Stock (a great way to use up leftover veggie scraps!), Page 141
The Chickpea Curry recipe below comes from the Instant Pot® cookbook, and it's one of the first curry recipes I've made that doesn't call for any sort of cream or dairy-substitute, like coconut milk. It's a lighter, tomato-based curry that's full of flavor and happens to be super simple to make. I hope you'll enjoy it!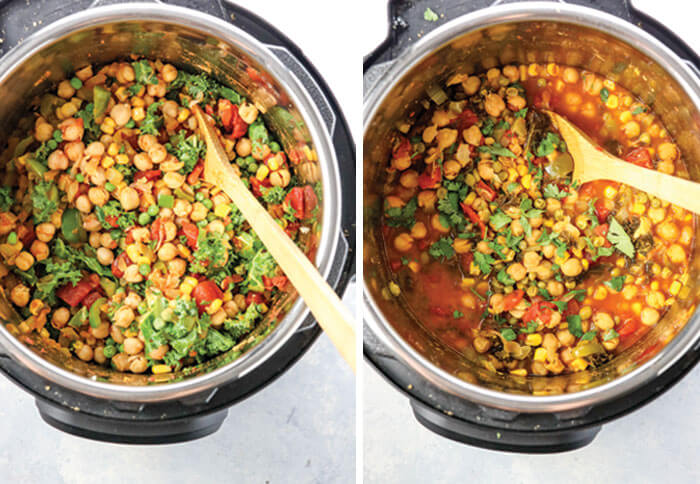 Vegan Chickpea Curry
This Vegan Chickpea Curry make a fast vegetarian dinner, especially when cooked in an electric pressure cooker like the Instant Pot.
Ingredients
2

tablespoons

olive oil

1

onion

, diced

1

small green bell pepper

, diced

2

large garlic cloves

, minced

1

tablespoon

curry powder

2

(15-ounce) cans

chickpeas

, rinsed and drained

1

(14.5 ounce) can

crushed or diced tomatoes

(with juice)

1

cup

frozen corn

1

cup

sliced okra

1

cup

packed kale leaves

1

cup

vegetable broth

1

tablespoon

maple syrup

1

teaspoons

fine sea salt

1/4

teaspoon

freshly ground black pepper

Juice of 1 lime

2

tablespoons

cilantro leaves
Instructions
Preheat the Instant Pot by selecting Sauté.




Once hot, add the oil and onion and stir. Cook for 4 minutes until the onion is translucent and starting to brown. Add the bell pepper and garlic and cook for 2 minutes more.

Add the curry powder and stir. Cook for 30 seconds before adding the chickpeas, tomatoes with juice, corn, okra, kale, broth, and maple syrup. Stir and secure the lid.

Select Manual and cook at high pressure for 5 minutes.

Once cooking is complete, use a natural release.

Add the salt, pepper, and lime juice. Stir and taste, adding more salt as needed.

Top with cilantro leaves and serve over cooked rice.

Recipe Notes:
Feel free to use any veggies you prefer or need to use up in your fridge– I imagine that you could use practically any vegetable you like. I personally don't care for the texture of okra, so I used frozen peas instead.
I served this curry with jasmine rice that I also cooked in the Instant Pot. To make it, I combined 1 cup dry rice with 1.25 cups of water and used the "Rice" setting. (12 minutes at low pressure.)
As always, if you make a substitution to this recipe, please leave a comment below letting us know what worked for you, so we can all benefit from your experience.
Stove Top Directions:
Don't have an Instant Pot? You can make this curry on the stove by simply sautéing the onion, bell pepper, and garlic in a Dutch oven over medium-high heat. Add in the rest of the ingredients, as directed above, then bring the liquid to a boil. Lower the heat to a simmer and cover to let the flavors mingle for 15 minutes. Remove the lid, add in the salt, pepper, and lime juice, and serve over rice.
Giveaway
If you'd like to try some more Instant Pot recipes from this book, the publisher has offered to send 3 of my readers a free copy! Simply leave a comment below this post as your entry.
Entry rules: Open to residents in the USA and Canada only; entry period will end on Wednesday, August 9th at 11:59 PST. I'll contact the winners via email.
—
Reader Feedback: If you've already been cooking with the Instant Pot, what has been your favorite recipe so far? Any requests for future Instant Pot recipes?
SaveSave
SaveSave
SaveSave
SaveSave
SaveSave
SaveSave
SaveSave
SaveSave
SaveSave