This post is sponsored by USA Pulses and Pulse Canada.
These Vegan Thai Lettuce Cups make a light and refreshing meal, loaded with fiber and plant-based protein from a hearty green split pea filling. They are a great way enjoy one of your half-cup servings of pulses this week!
If you're not familiar with green split peas, they are a variety of pulse with over 16 grams of fiber per serving. Soluble fiber, like the kind found in legumes, is thought to regulate blood sugar levels and may help to lower LDL cholesterol, possibly reducing the risk for heart disease. Split peas also contain potassium, which may help lower blood pressure.
If you're used to cooking other popular pulses, like red lentils, you should know that green split peas take slightly longer to cook. In fact, I've found that they take even longer to cook than their packaging states. Some say they will take 35 to 45 minutes of simmering to get tender, but for me it took closer to an hour for my green split peas to become tender. The preparation is a breeze, but you'll have to plan on staying near your kitchen while this plant-based filling simmers away on the stove.
These vegetarian lettuce cups are naturally gluten-free when you use tamari, a gluten-free soy sauce, and you can make them soy-free by using coconut aminos, if you'd like to. This filling is ultra-simple, but so hearty and flavorful that no one will miss the meat in this vegan version. I hope you'll enjoy it!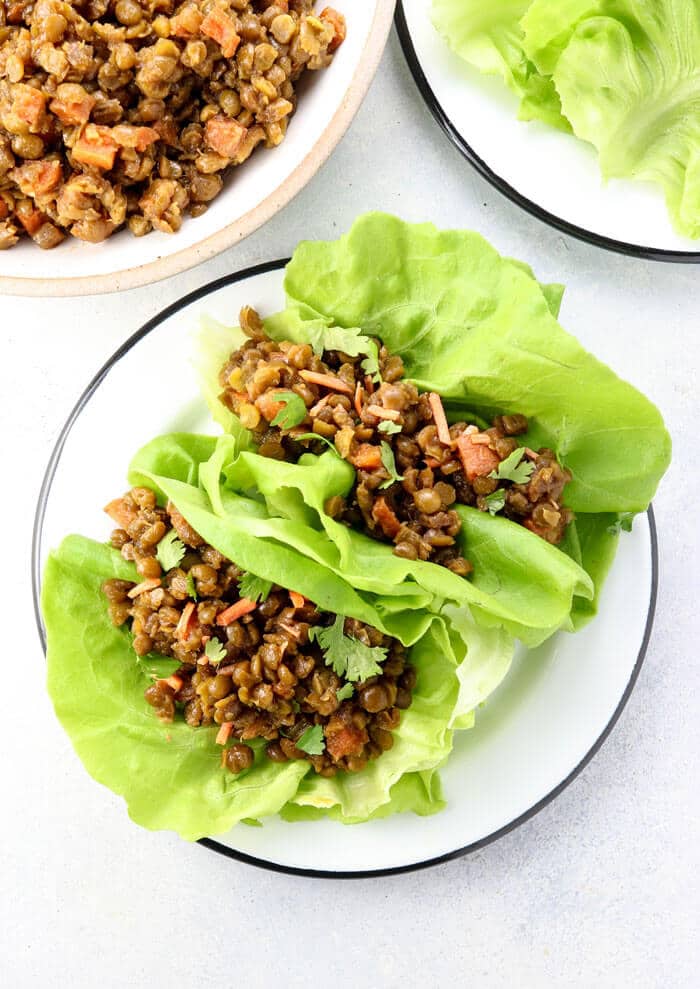 Vegan Thai Lettuce Cups with Green Split Peas
These vegetarian Thai lettuce cups taste like the popular version from PF Chang's, but they feature a tender green split pea filling loaded with plant-based protein.

Ingredients
Green Split Pea Filling
1

tablespoon

olive oil

1

red onion

, chopped

2

carrots

, chopped (about 3/4 cup)

2

celery stalks

, chopped (about 3/4 cup)

1

tablespoon

fresh ginger

, minced

1

garlic clove

, minced

1/4

cup

tamari

(gluten-free soy sauce)

2

tablespoons

maple syrup

1

cup

green split peas

3

cups

water
For Serving:
1

head butter lettuce

shredded carrots

, for garnish (optional)

chopped fresh cilantro

, for garnish (optional)

fresh lime slices

, for garnish (optional)
Instructions
Heat the oil in a Dutch oven or large deep skillet over medium-high heat, and saute the onion, carrots, and celery until they start to soften, about 5 minutes.

Add in the fresh ginger and garlic and saute until fragrant, about one more minute.

Add in the tamari, maple syrup, split peas, and water and bring the mixture to a boil. Lower the heat to a simmer, so that the mixture is still gently bubbling, and cover with a lid to simmer until the liquid is absorbed and the split peas are tender. (Packages say this takes up to 45 minutes, but it's always taken about an hour when I cook these at home.)

Remove the lid and stir well to allow any remaining liquid absorb or evaporate. The filling should not be watery. Allow the filling to cool for at least 5 minutes before spooning it into butter lettuce leaves. I recommend using 2 layers of lettuce leaves per wrap to help make them sturdier.

Garnish each wrap with shredded carrots, fresh cilantro, and a squeeze of fresh lime juice, if desired, and serve right away. Leftover filling can be stored in an airtight container for up to a week. Store the lettuce leaves separately to help prevent them from wilting.
Nutrition
Calories:
269
kcal
,
Carbohydrates:
44
g
,
Protein:
14
g
,
Fat:
4
g
,
Sodium:
868
mg
,
Potassium:
823
mg
,
Fiber:
14
g
,
Sugar:
13
g
,
Vitamin A:
6610
IU
,
Vitamin C:
7.1
mg
,
Calcium:
85
mg
,
Iron:
3.2
mg
Calories per serving: 269, Fat: 4g, Carbohydrates: 44g, Fiber: 14g, Protein: 14g
Substitution Notes:
If you don't have green split peas on hand, I think another variety of pulse could probably work well in its place, particularly lentils or another small legume.
Since the filling is made in the skillet, you can always taste as you go and adjust any seasonings as you see fit. As always, please leave a comment below letting us know if you make a modification, so we can all benefit from your experience.
Have you signed up for the Half Cup Habit?
This 4-week challenge encourages readers to add 1/2 cup serving of pulses (beans, lentils, chickpeas, or dry peas) to their diets three times a week. In other words, you simply have to eat 1 1/2 cups of cooked pulses a week. By participating, users will receive free recipes, pulses cooking tips and more.
Click here to join me in taking the Half-Cup Habit today!
—
Reader Feedback: What's your favorite way to cook with pulses?
Disclosure: I developed this recipe as part of my ongoing sponsorship with USA Pulses and Pulse Canada.