These 4-Ingredient Peanut Butter Cookies have a rich peanut butter flavor and are SO EASY to make. I love that they're naturally gluten-free, and can be made vegan, too!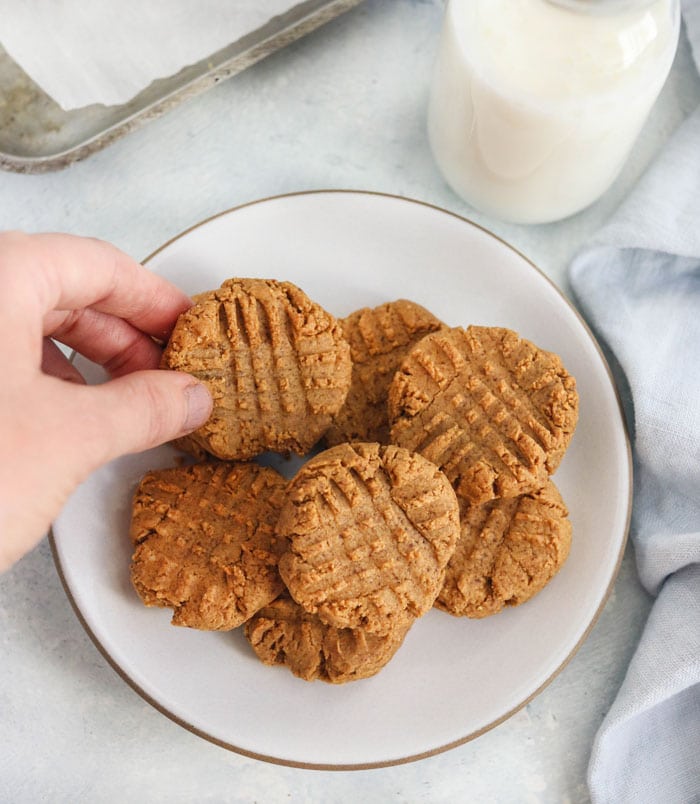 How to Make 4-Ingredient Peanut Butter Cookies
These cookies are made with just 4 ingredients you probably already have on hand. I use coconut sugar as a low-glycemic option compared to white sugar, and all-natural peanut butter for maximum peanut butter flavor, but you can use any variety you happen to have.
Pair those two ingredients with an egg and baking soda, and you've got the easiest cookies ever. I also recommend adding an extra pinch of salt, especially if you're using unsalted peanut butter, but that's optional.
Peanut Butter Cookies without Eggs
If you are vegan or have an egg allergy, you can also make these 4-Ingredient Peanut Butter Cookies without using eggs. You can use a flax egg instead!
To make a flax egg, simply stir together 1 tablespoon of ground flaxseeds with 3 tablespoons of water. The mixture will begin to "gel" and thicken up in about 10 minutes, and then you can use it in place of an egg in this recipe. The resulting cookies are a little softer and more fragile, but that's exactly how I like my cookies.
Peanut Butter Chocolate Chip Cookies
If you like the combination of peanut butter + chocolate (like my husband does!) you can also add a few dark chocolate chips to this recipe, if you like. I just press the chocolate chips into the tops of the cookies, right before baking.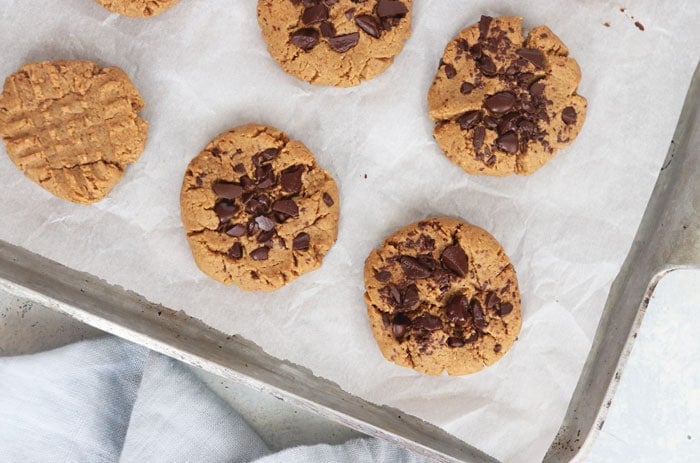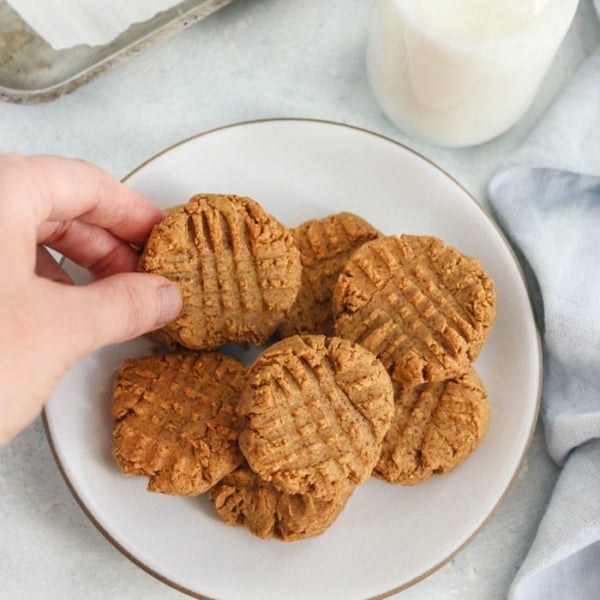 4-Ingredient Peanut Butter Cookies
These 4-INGREDIENT PEANUT BUTTER COOKIES have the best flavor, and are so easy to make! I love that they're gluten-free and can be made without eggs.

Ingredients
1

cup

peanut butter

1/2

cup

coconut sugar

1

egg

(or a flax egg; see notes)

1/2

teaspoon baking soda
Instructions
Preheat the oven to 350ºF and line a baking sheet with parchment paper.


In a large bowl, combine the peanut butter, coconut sugar, egg, and baking soda. Add a pinch of salt, if desired. (If using unsalted peanut butter, add at least 1/4 to 1/2 teaspoon of fine salt to compensate.)


Drop the cookie dough by the tablespoon onto the lined baking sheet, then use a fork to flatten them in a criss-cross shape. Once all of the cookies have been flattened, bake them until lightly golden, about 10 to 12 minutes at 350ºF.


Let the cookies cool on the pan for 10 minutes, then transfer them to a wire rack to cool completely. These cookies can be served at room temperature, or place them in the freezer to firm up even more. My husband likes to eat them straight from the freezer for a crispy texture.


Store the cookies at room temperature for up to 3 days, or in the fridge or freezer for up to 3 months in an airtight container.

Nutrition
Calories:
92
kcal
,
Carbohydrates:
6
g
,
Protein:
3
g
,
Fat:
6
g
,
Saturated Fat:
1
g
,
Cholesterol:
8
mg
,
Sodium:
70
mg
,
Potassium:
86
mg
,
Sugar:
3
g
,
Vitamin A:
10
IU
,
Calcium:
7
mg
,
Iron:
0.3
mg
Per cookie: Calories: 92, Fat: 6g, Carbohydrates: 6g, Fiber: 0g, Protein: 3g
Recipe Notes:
To make these cookies egg-free, use a flax egg. (Or chia egg!) Combine 1 tablespoon of ground seeds with 3 tablespoons of water, and let them "gel" for about 10 minutes before using in this recipe.
You can use any other nut-butter you like for this recipe, such as almond butter or sunflower seed butter. (Sunflower butter might turn green in the center, as a result of a safe chemical reaction with baking soda.)
Prefer to use another sweetener? Try my Flourless Peanut Butter Honey Cookies or Date-Sweetened Peanut Butter Cookies instead.
–
Reader Feedback: Have you tried these cookies? Let me know what you think about them in the comments below! And if you make any modifications, please let us know how that worked out for you, too. We can all benefit from your experience.