You may recall my excitement earlier this summer, when I decided to try using henna as an all-natural alternative to hair dye. I've always enjoyed changing-up my hair color, and thanks to a good friend of mine who happens to be a very talented hair stylist, I've had the opportunity to change it rather often.
However, looking for a more natural hair-coloring option, I decided to take a chance and try a henna hair dye that you can use at home.
I had heard great things about Lush's henna line, so while on a vacation in Palm Springs, my good friend and I decided to have a little hair-dying party in our hotel room– where no one could see us make fools of ourselves!
—
Here are a few things I learned from our experience:
1. Using Lush's henna is pretty easy and straight-forward.
You simply melt the whole brick in a bowl with hot water, until a mud-like consistency is achieved.
It takes a little elbow-grease to break the brick down at first, but before you know it, you'll have an earthy-smelling mix that's ready to apply.
—
2. It will get messy.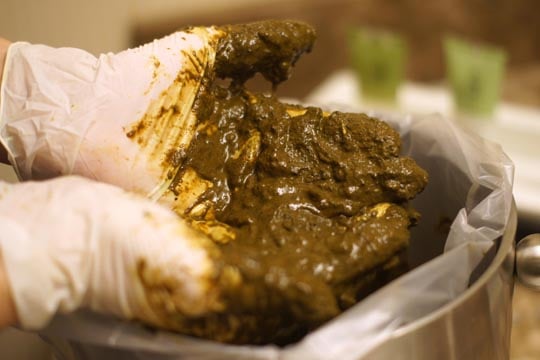 Really messy.
Like most hair dyes, you'll want to use gloves when handling this mix. (Lush provided these for us when purchasing at their store.) I also recommend standing in your shower while applying to your hair, so that any spills are contained!
—
3. It will stain everything.
Again, a good reason to stand in your shower, to avoid staining your counters and floors.
It's also a good reason to protect your skin! We used Lush's Ultrabalm, an all-natural alternative to Vaseline, as a protective shield around our faces.
Apply to your forehead, ears and neck to prevent staining.
—
4. This dye takes a long time to set.
Depending on the vibrancy you want, the package says it can take one to six hours for the color to develop!
That's a long time to have your scalp wrapped in plastic. (This was another recommendation from the store employee– the plastic wrap keeps the dye warm, and therefore, more effective.)
I only lasted two hours before I couldn't take it anymore.
—
5. Henna will not even-out your hair color.
In my experience, if you have roots or highlights when you start the process, you'll still have roots or highlights when you're finished.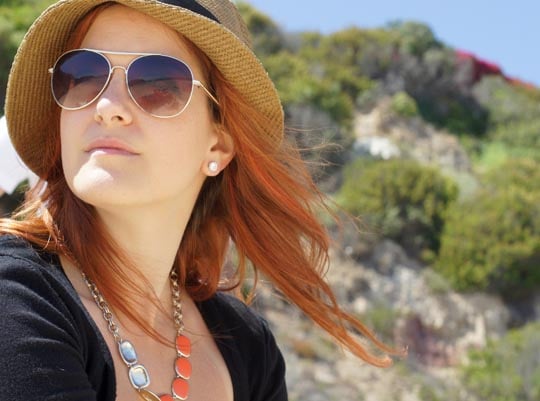 I happened to have roots AND highlights at the time (you can see before pictures here)–> so you can see how the reddish color varies throughout my hair, where I had more blonde highlights. I was hoping for a more even color, so this aspect was a little disappointing for me.
However, if you have natural highlights (without roots) it could turn out very pretty!
—
6. You must be careful when dying your hair AFTER using henna.
Only after using the henna hair dye did a hairstylist tell me that you shouldn't use any permanent dye on top of the henna. So, if you don't like the resulting color from the henna dye, you may not have a whole lot of options in order to correct it. (This will vary by stylist– I've heard that some are still willing to work with post-henna-dyed hair.)
Gosh, that would have been nice to know before we got started.
Luckily, you can safely use semi-permanent dye as a temporary fix–> which means going darker, rather than lighter with your color. My stylist had to put the semi-permanent color on twice, because the first time around my henna-dyed hair didn't absorb the color very well.
—
I hope these tips prove helpful for anyone interested in trying henna, too!
Reader Feedback: Do you color your hair? Have you ever tried using henna hair dye, or would you like to? I think I would have been very happy with the results had I started with an even hair color… but thanks to my pesky roots, I see some some semi-permanent dye in my future. I may even try a "test strand" with highlights– just to see what happens! I've heard horror stories of hair smoking while applying permanent color after using henna (certain brands have compounds added to it), so that's a scary thought! As I understand it, the henna dye is permanent, so you'll have to wait until your hair grows out before making any drastic changes.