I owe you a recap of my elimination diet! After cutting out dairy, gluten, peanuts, and several other items for three weeks, I reintroduced them one by one to see if I noticed any symptoms.
How to Reintroduce Foods after an Elimination Diet
After taking my food sensitivity test and following an elimination diet for a full 3 weeks, I was told that I should reintroduce each food that I eliminated one at a time. After introducing one food, I waited 4 days before introducing another one, because side effects may not always appear right away.
This reminded me of introducing food to my kids for the first time. When we introduced a new food to them, I had read that you should introduce a new food over a period of 4 days, to see if any food allergies show up. In that case, I gave my children the new food once each day (in the morning) for 4 days straight.
However, Everywell's physician told me that for food sensitivity testing, I should only introduce the new food once on the first day, and then wait 4 days to see if any symptoms appear. (Without eating that food again until the 4 days have passed).
For example, when I wanted to reintroduce eggs, I ate several of them scrambled for breakfast (without including any other foods that I had eliminated) and then I waited 4 days to see if any symptoms or side effects would appear. As a result, I ended up staying on the elimination diet longer than 3 weeks, because it took time to gradually introduce each food back into my diet, with 4 days between each one.
Symptoms I Noticed from my Eliminated Foods
When testing for food sensitivities, sometimes the symptoms are instant and noticeable, and other times they are really subtle. Or you may find that you have no noticeable symptoms at all.
Here are the symptoms I noticed after my reintroduction phase:
Peanuts: A few pimples popped up on my face (I rarely breakout, so this was noticeable)
Gluten: Gives me extreme fatigue shortly after eating. Almost to the point that I feel like I've been drugged with a sleeping pill.
Dairy: Slight swelling in my fingers, a little congestion in my nose & throat, and constipation. (I noticed these symptoms with cow's dairy, but not as much with goat's milk products.)
Eggs: No noticeable symptoms
Soy: Gives me heart burn/acidic feeling in my throat & chest
Chia seeds: Gave me bloating when I reintroduced them, but not so much after including them regularly
Lemon: No noticeable symptoms
Cinnamon: No noticeable symptoms
Pineapple: No noticeable symptoms
What I'm Eating Now
I feel lucky that I didn't have any dramatic reactions to the foods I eliminated, so I don't feel extremely limited in my diet moving forward.
The exhaustion I felt from eating gluten was probably the most uncomfortable symptom I had, and it will keep me from eating gluten for the most part, but there will still be rare moments when I choose to indulge. (I'll just know the consequences ahead of me when I make that choice.) The same goes for dairy, soy, and peanuts, because I know I feel better without them. I'll still enjoy those foods on occasion, but not on a daily basis.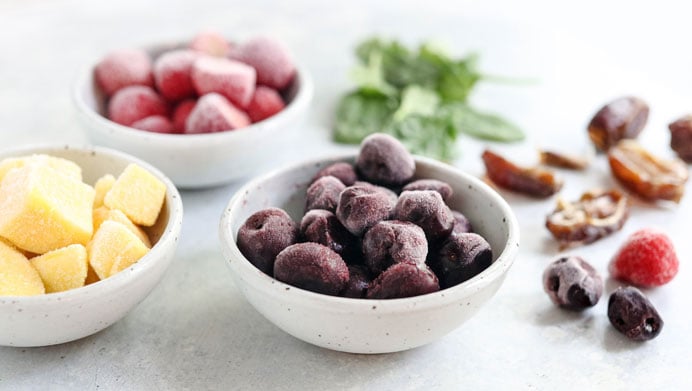 The Downside of an Elimination Diet
The only downside of the elimination diet for me was that it left me feeling pretty restricted, so when I had finally re-introduced all of the foods I had eliminated, I felt the urge to go overboard with the foods that had been off-limits to me. This isn't uncommon with restrictive diet plans, and it's why I don't follow strict diets or food rules on a regular basis. (Because in my experience, it almost always leads to some level of binge eating, and it took me years to get over my binge eating issues already.)
Luckily, I was mentally prepared for this side-effect, so it didn't throw me off for too long. I did indulge in everything I was craving (including bagels with cream cheese and real pizza) so that I could move forward in a healthy head space, with no feelings of restriction. I've found that once I give myself "permission" to have anything I want to eat, most of the foods that make me feel tired or sluggish lose their appeal quickly.
Final Thoughts on my Elimination Diet
Overall, I'm happy I followed through with my elimination diet and saw how certain foods might be affecting me. With my kids and job(s), I have no time to be tired, so knowing how gluten affects me, in particular, is helpful for keeping my energy levels up!
I think the elimination diet was also helpful in the sense that it made me more mindful of what I was eating and forced me to get creative with my meals. I think the hardest aspect for me was being totally dairy-free, as I love a splash of cream in my morning coffee, but that made me come up with my favorite coffee smoothie— which is an insanely delicious alternative. I'm hoping to keep up some of the new habits I established now that my elimination diet is over. It was a little bit of a "reset" for me, and now I'm feeling inspired to make more gluten-free and dairy-free recipes going forward. Stay tuned for that!
—
Reader Feedback: Have you ever done an elimination diet before? If so, please share any symptoms that popped up for you, so that other readers can benefit from your experience! We can all learn from each other.