These Paleo Pancakes are a game-changer! They are light & fluffy, and unlike Almond Flour Pancakes or Coconut Flour Pancakes, you don't need any specialty flours to make them.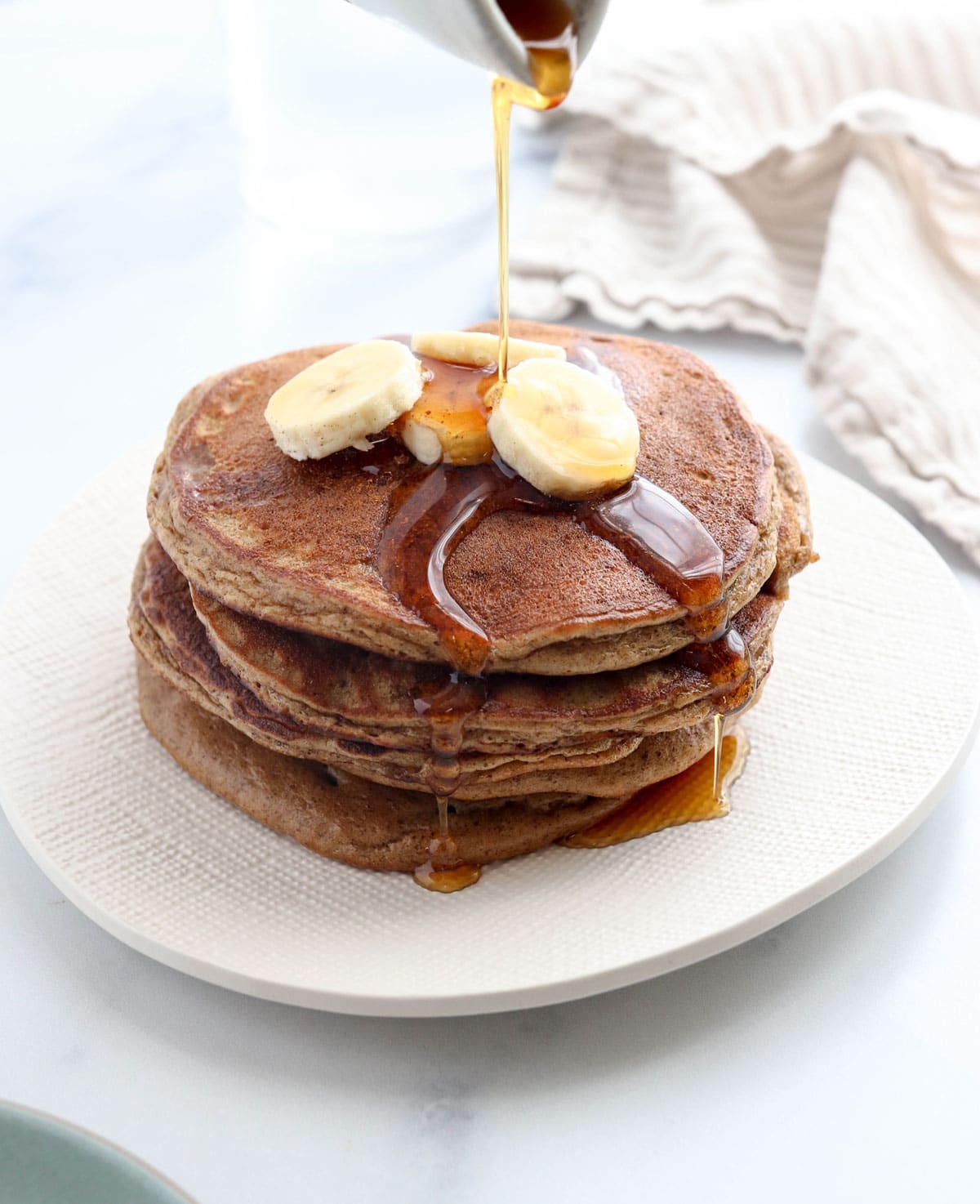 Ingredients You'll Need
What are Paleo Pancakes made of? Grain-free pancakes can be made with almond flour, coconut flour, or cassava flour, but this recipe doesn't require any specialty flours.
Here's what you'll need:
Almond Butter
Eggs
Applesauce or mashed banana
Baking soda
Vanilla
You can add a dash of cinnamon and a pinch of salt if you want to, as well! These pancakes are super-easy, and you can stir the batter together in just minutes.
How to Make Them
To make these Paleo Pancakes, you'll combine everything together in a bowl, and whisk it together until smooth.
If you're using a banana for this recipe, I like to mash it first, then measure it out to get consistent results. (Since bananas vary wildly in size.)
Scoop the batter using a 1/4 cup measure, so that the pancake will stay relatively small in size. This keeps it easier to flip in the pan.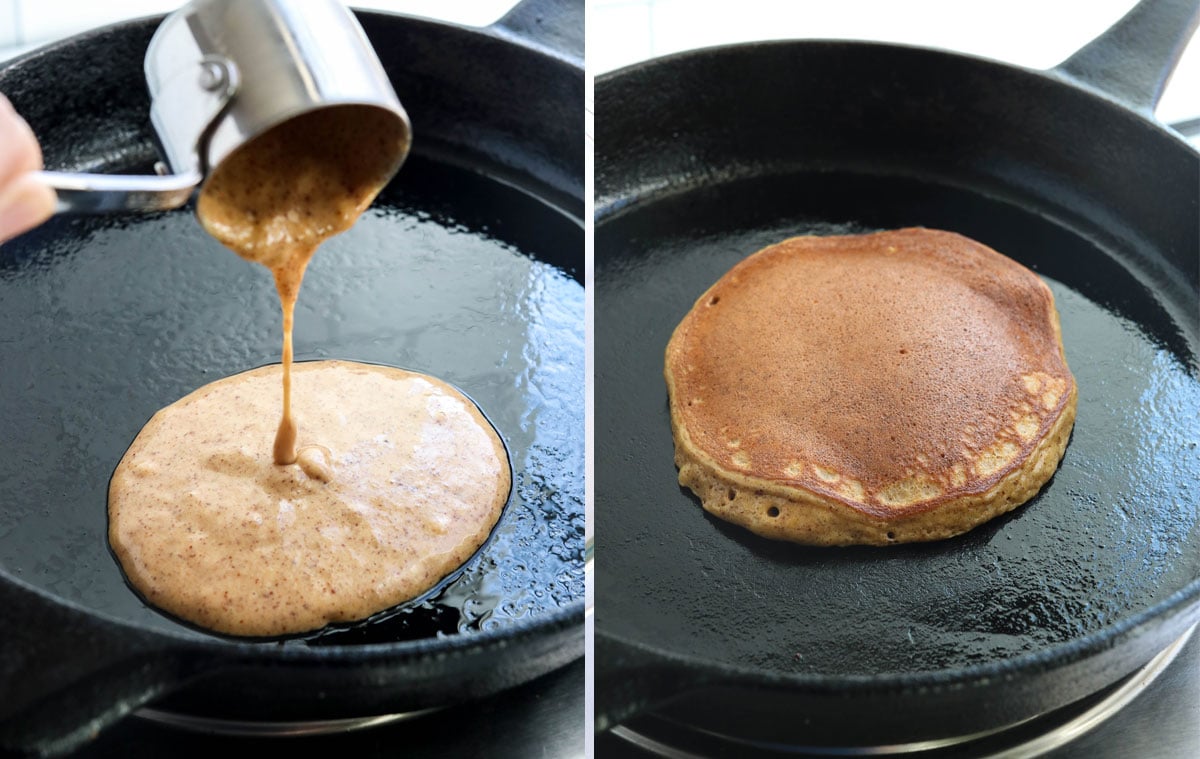 Cook on medium-low heat until bubbles form in the middle of the pancake, then flip them over and cook on the other side. They should be lightly brown on both sides when they are done.
Repeat with the remaining batter, then serve warm with your favorite toppings.
How to Bake Pancakes
If you've been following me for long, you know that my preferred method for cooking pancakes is to bake them in the oven all at once! It's such a time saver, and you don't have to add any oil to the pan.
To bake these Paleo Pancakes, instead of pan frying them, pour the batter on a baking sheet lined with parchment paper. (Not wax paper!) A silicone baking mat doesn't work quite as well as parchment paper does, in this case, either.
I use 1/4 cup measure for the pancakes here, too, and I space them about 2 inches apart to account for spreading. This recipe makes roughly 6 pancakes, so use 2 baking sheets if you don't have a large one.
Bake them for 10 to 12 minutes at 350ºF, until they look firm to the touch in the center. There's no need to flip them!
Baked pancakes do look different than pan-fried pancakes, so keep that in mind.
My kids don't know any different, because I've been making pancakes like this since they were born, but if I'm serving company, I'd still pan-fry my pancakes so they look more normal.
How to Serve Them
These grain-free pancakes are naturally sweet on their own, thanks to the addition of applesauce or banana, but you can still serve them with a drizzle maple syrup, if you want to!
I also like to top them with fresh fruit, and my kids love their pancakes topped with peanut butter. (Which is not Paleo, by the way, but other nut butters are.)
However you serve these healthy pancakes, I hope you'll enjoy them soon!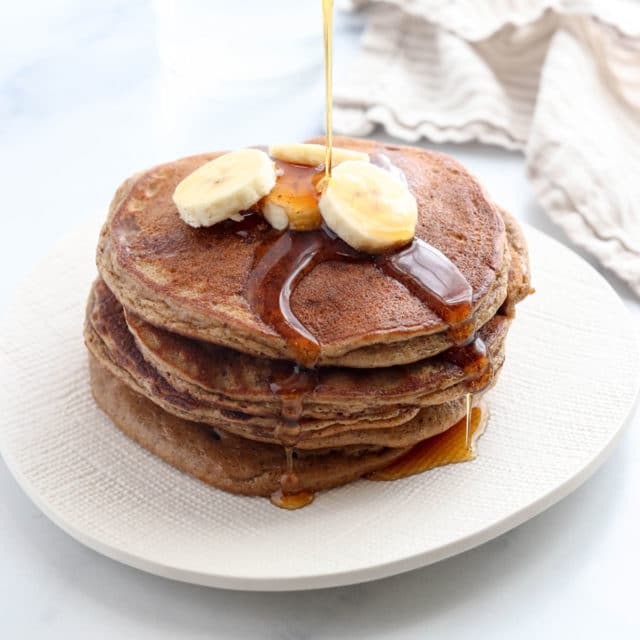 Best Paleo Pancakes (Flourless!)
These Paleo Pancakes are light & fluffy, and they're made NO flour or sugar. They are the perfect recipe for a gluten-free weekend brunch, especially when you bake them!
Instructions
Preheat your oven to 350ºF and line a baking sheet with parchment paper (not wax paper!), if you plan on baking these. In a medium bowl, combine all of the ingredients and use a whisk to mix until a smooth.

To pan fry the pancakes, grease a skillet and heat it over medium-low heat. When a drop of water sizzles on the pan, it's ready to cook the pancakes. Scoop the batter using a 1/4 cup and pour it in the center of the pan. When bubbles form in the center of the pancake, flip it and cook the other side. The pancakes are done when they are golden on both sides. Repeat with the remaining batter. You may want to lower the heat as you cook these, since the pan wil retain its heat as it cooks each pancake.

To bake the pancakes, scoop the batter using a 1/4 cup onto the lined baking sheet, to form roughly 6 pancakes. You may need two lined baking sheets, if you'd like to bake these all at once. Bake for 10-12 minutes at 350ºF, until the pancakes are fluffy and golden.

Serve the pancakes warm, with your favorite toppings.
Notes
Nutrition information is for 1 of 6 pancakes. This information is automatically calculated, and is just an estimate, not a guarantee.
Nutrition
Calories:
163
kcal
,
Carbohydrates:
6
g
,
Protein:
6
g
,
Fat:
13
g
,
Saturated Fat:
1
g
,
Cholesterol:
62
mg
,
Sodium:
114
mg
,
Potassium:
192
mg
,
Fiber:
2
g
,
Sugar:
3
g
,
Vitamin A:
93
IU
,
Vitamin C:
1
mg
,
Calcium:
81
mg
,
Iron:
1
mg
If you try these Paleo Pancakes, please leave a comment below letting me know how you like them. And if you make any modifications, I'd love to hear about those, too!
—
Reader Feedback: What are in your favorite pancakes?