These Almond Flour Pancakes are some of the best I've ever tasted, even when compared to traditional versions! They have an amazingly fluffy texture and an addictive flavor, using just 5 main ingredients.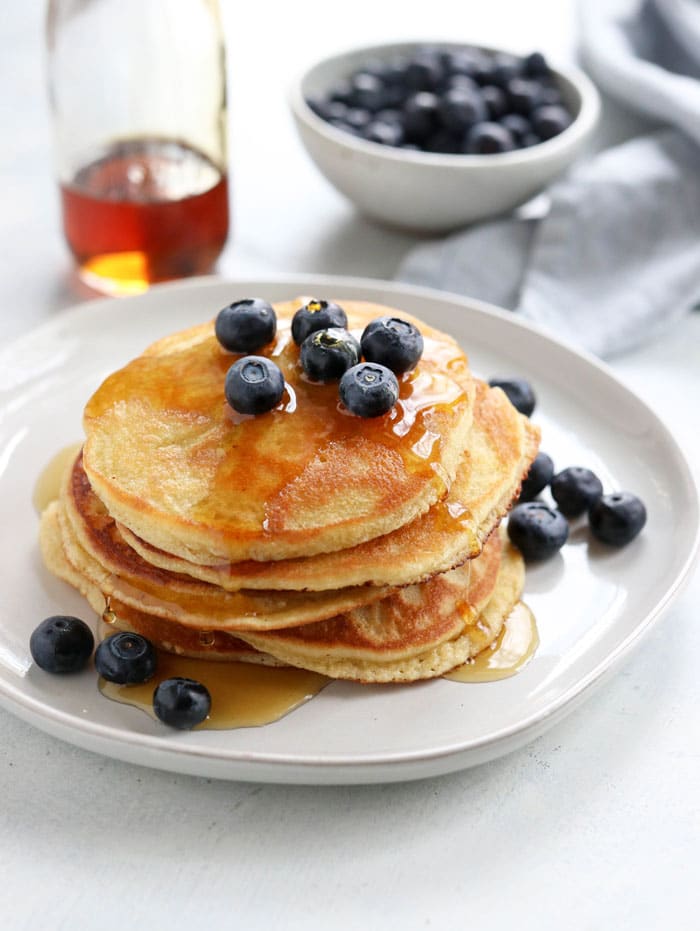 Keto Almond Flour Pancakes
If you or someone you know is following a Keto diet, these almond flour pancakes are a great brunch option. They are made with low-carb almond flour and protein-rich eggs, and you can leave out the maple syrup to keep them sugar-free. (Just add water as needed to thin out the batter instead.)
Is Almond Flour better than Regular Flour?
I'm often asked which flour is the "best" option, but the answer will vary depending on your dietary needs. I do prefer using almond flour over regular all-purpose flour, because almond flour is minimally processed (it's just ground blanched almonds!), low in carbohydrates, and high in fiber and healthy fats.
The only downside to almond flour is that it's high in calories and can be easy to over-consume. So, keep in mind that these almond flour pancakes are very filling!
Can You Substitute Almond Flour for All-Purpose Flour?
Since I'm always asked about substitutions in the comment section, I want to address this right away. If you have a nut allergy or would rather use what you have on hand in your pantry, I've heard that you can swap all-purpose flour for almond flour using a 1:1 ratio. I have not tested that on this particular recipe, so please leave a comment below letting me know if you try it!
Other Gluten-Free Pancake Recipes
I usually recommend that you look for a recipe calling for the specific flour you want to use. Here are some other pancake recipes you might want to check out if you don't have almond flour on hand:
Do you have a favorite pancake recipe? Feel free to share it in the comments below!
How to Make Almond Flour Pancakes
Making these Almond Flour Pancakes is incredibly quick and easy– you just need one bowl and about 5 minutes of prep time. Start by preheating your skillet on low heat, since the batter will come together so fast. (Alternatively you can preheat your oven if you'd like to bake the whole batch at once.)
Stir together all of the ingredients, keeping in mind that the batter won't be quite as runny as traditional pancake batter. When the batter is too wet, they are difficult to flip, so I don't add any extra water to thin out the mixture.
It's important to keep your pancakes relatively small so that they will cook evenly and are easy to flip in the skillet. I use about 3 to 4 tablespoons of batter per pancake, then I use a spatula to spread out the pancake on the pan so that it's about 1/4 to 1/2-inch thick. (About 4-6 inches in diameter.)
Just like traditional pancakes, you'll cook these for about 3 to 4 minutes on one side, until the batter bubbles a bit on top, and then you'll flip them over and cook for another 2-3 minutes. Keep the cooked ones warm in the oven if you can't serve them right away, then top them with fresh fruit or any of your other favorite pancake toppings. Extra pancake syrup isn't really necessary with these, but you can add it if you want to!
Almond Flour Pancakes (Keto-friendly)
These Almond Flour Pancakes are my favorite gluten-free recipe! They are low-carb, keto-friendly, and easy to make with just 5 main ingredients.

Servings
6
small pancakes
Instructions
Skillet Pancakes
Preheat a skillet over medium-low heat on the stove. As it heats, stir together the almond flour, eggs, maple syrup (if using), olive oil, baking powder, vanilla, and salt in a large bowl. The batter will be a little thicker than traditional pancake batter.


Grease the preheated skillet with butter or olive oil, then pour 3 to 4 tablespoons of the batter into the center of the skillet (I use a scant 1/4 cup). Use a spatula to spread the batter out into a round pancake shape, about 1/4 to 1/2-inch thick.


Cook until little bubbles start to form around the edges of the pancake, and as soon as the bottom feels sturdy enough to flip (about 3 to 4 minutes of cooking time), use a spatula to flip the pancake and cook the other side, about 2 to 3 more minutes.


Repeat with the remaining batter, until all of the pancakes are cooked. I usually get about 6 pancakes from this batch that are roughly 4 to 6 inches in diameter. Even though they are on the smaller side, they are very filling! Serve warm with your favorite toppings.

Oven-Baked Pancakes
Prepare the batter as directed above, but instead of using the stove preheat the oven to 350ºF and line a large baking sheet with parchment paper.


Pour the prepared batter by a scant 1/4 cup onto the lined baking sheet, and use a spoon or spatula to spread the batter into a round pancake shape until it's 1/4-inch thick. Leave about 1-inch between each pancake, and repeat with the remaining batter until you have roughly 6 pancakes on the pan.


Bake at 350ºF for 10 minutes. The pancakes should puff up, and you don't need to flip them, as long as they look like they are thoroughly cooked through. I like to flip them over for serving, so the browned side is on top. Serve warm, with your favorite pancake toppings.

Nutrition
Calories:
175
kcal
|
Carbohydrates:
4
g
|
Protein:
6
g
|
Fat:
15
g
|
Saturated Fat:
1
g
|
Cholesterol:
62
mg
|
Sodium:
118
mg
|
Potassium:
88
mg
|
Fiber:
1
g
|
Vitamin A:
85
IU
|
Calcium:
76
mg
|
Iron:
1
mg
Per pancake (made with maple syrup): Calories: 193, Fat: 15g, Carbohydrates: 9g, Fiber: 1.5g, Protein: 6g
Keto pancakes (sugar-free syrup): Calories: 175, Fat: 15g, Carbohydrates: 4g, Fiber: 1g, Protein: 6g
Recipe Notes:
I have not had success making egg-free almond flour pancakes yet. I've tried replacing the egg with both a banana and arrowroot starch, and neither works very well. (I definitely wouldn't serve them to company.) I'll keep you updated as I test more vegan versions, though! Be sure to check out the other pancake recipes I linked to above in this post, for more vegan pancake options.
Do not use other flours in this recipe. Instead, check out the other pancake recipes I posted earlier in this post for substitution ideas.
–
Reader Feedback: Do you have a favorite pancake recipe? Please feel free to share more ideas in the comments below!