This Avocado Cilantro Dressing is light and refreshing, perfect for dressing a summer salad. Made with just a handful of fresh ingredients, it's dairy-free and vegan, and calls for only one tablespoon of olive oil. I want to pour it over everything!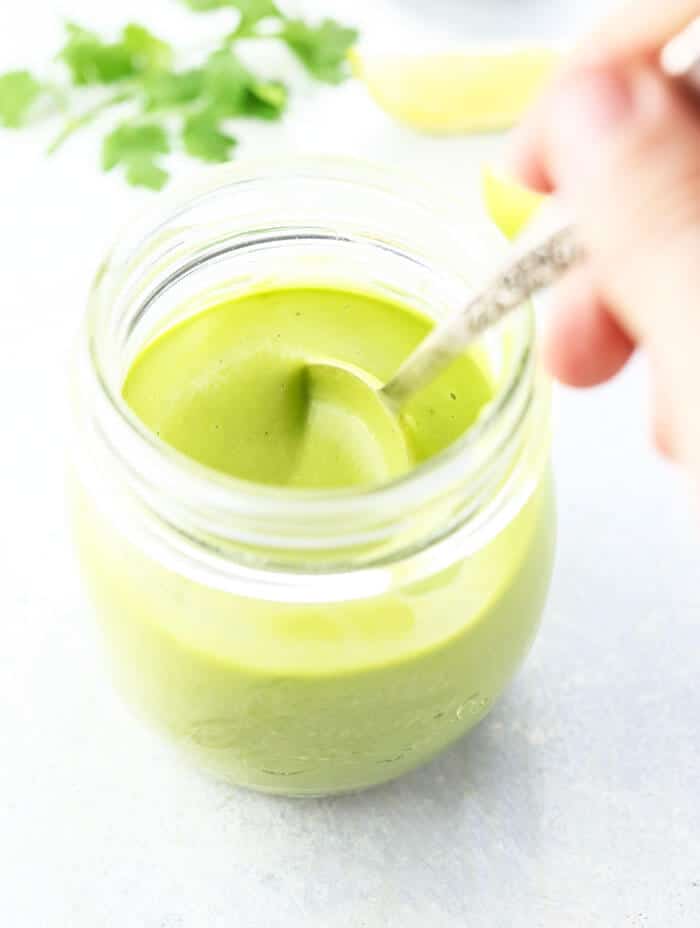 Cilantro is one of those herbs that you either love or hate. Not so long ago, I was a cilantro hater. When I was in college, you couldn't pay me to eat anything with cilantro on top! (I thought it tasted like soap.)
Don't ask me what changed, but now I find the flavor of cilantro super-refreshing. Maybe it just eventually grew on me? Or perhaps it was pregnancy? Even though I'm no longer pregnant, certain preferences and aversions have definitely stuck with me– for example, I really didn't like bananas in smoothies when I was pregnant, and I still don't care for them now. (I also hated peanut butter when I was pregnant, but that one didn't stick.)
Whatever the reason, I'm now a pretty big fan of adding fresh cilantro to guacamole, tacos, salads, and dressings like this one. (You should also try the Sweet Cilantro Dressing on page 104 of No Excuses Detox— it's addictive!)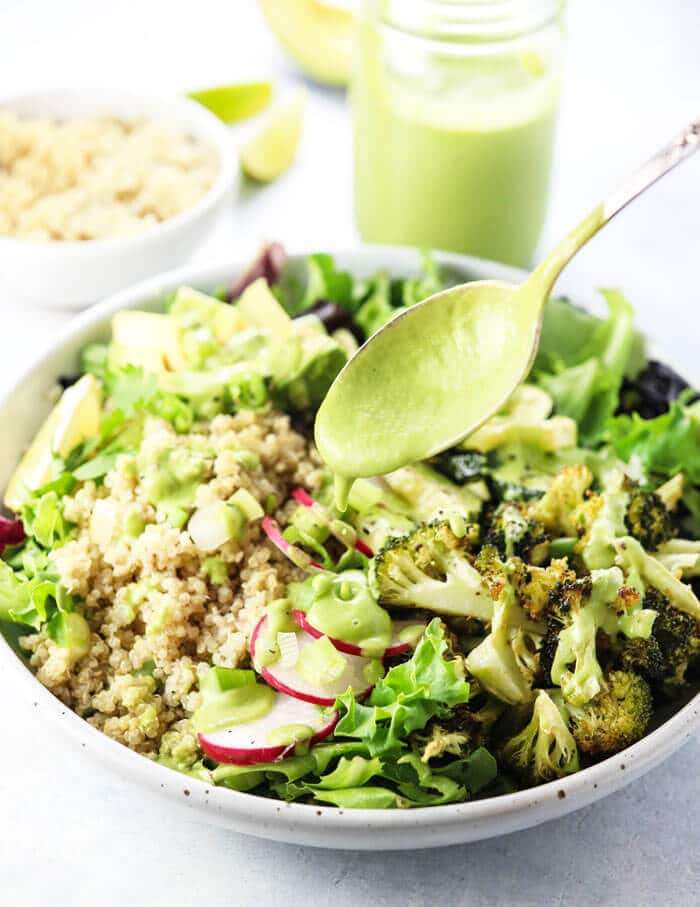 As an added bonus, fresh cilantro is a healthy addition to your diet. Cilantro is thought to bind heavy metals like arsenic, aluminum, and lead that may be stuck in your tissues, helping to loosen and remove them from the body (source). Cilantro may also aid liver function and help to lower blood sugar levels (source).
This mild and creamy dressing goes well over a number of salad combinations and I'm looking forward to enjoying it all summer long. Last night, I served it over a bed of mixed greens, cooked quinoa, roasted veggies, and extra sliced avocado, but I think it would also be delicious over tacos or a burrito bowl, too. I hope you'll enjoy it!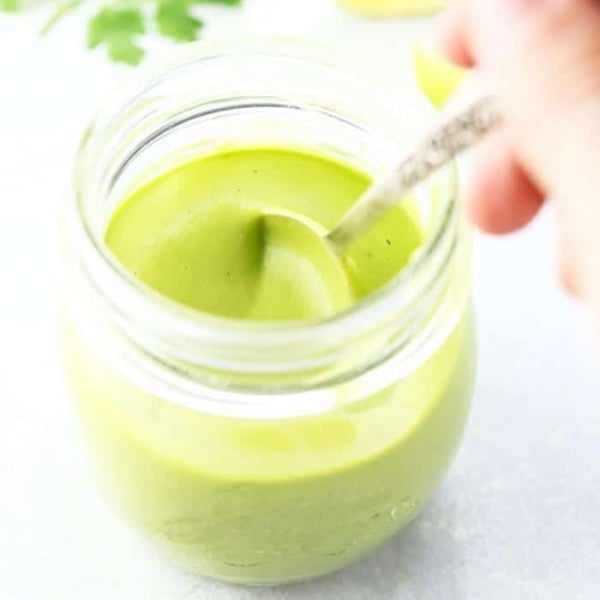 Avocado Cilantro Dressing
This Avocado Cilantro Dressing is dairy-free and vegan, made with just a handful of all-natural ingredients. It takes just minutes to prepare!

Ingredients
1/2

avocado

(about 6 tablespoons)

3

tablespoons

lime juice

3/4

cup

water

1

tablespoon

olive oil

(optional)

1

cup

fresh cilantro

, loosely packed

1

clove

garlic

, minced

1

teaspoon

maple syrup

1/2

teaspoon

fine sea salt

black pepper

, to taste
Instructions
Combine all of the ingredients in a high-speed blender and blend until smooth. Adjust any seasoning to taste, then store it in the fridge until ready to use.


Leftover dressing can be stored in an airtight container in the fridge for up to 4 days.

Nutrition
Calories:
53
kcal
,
Carbohydrates:
3
g
,
Fat:
4
g
,
Sodium:
198
mg
,
Potassium:
103
mg
,
Fiber:
1
g
,
Vitamin A:
205
IU
,
Vitamin C:
4.8
mg
,
Calcium:
4
mg
,
Iron:
0.1
mg
Recipe Notes:
If you're on an oil-free diet, feel free to omit the tablespoon of olive oil. I think it helps to emulsify the dressing nicely, but it still has plenty of creaminess and healthy fat without it.
If you'd like a more tangy flavor, I'd try adding 1 to 2 teaspoons of apple cider vinegar, as I think that often balances dressings made of lemon or lime juice.
If you don't love cilantro, feel free to use fresh parsley or basil. You definitely won't need to use a full cup of fresh basil, so just add it to taste.
As always, if you make a substitution, please leave a comment below letting us know what worked for you so we can all benefit from your experience.
—
Reader Feedback: What's your favorite summer salad dressing? Are you a fan of cilantro?