Frozen bananas are the perfect way to avoid wasting any overripe bananas on your counter. Below, you'll learn how to freeze bananas two ways, so they'll be ready whenever you are!
Why You'll Love Frozen Bananas
They make amazing smoothies. Bananas magically develop the texture of ice cream when they are frozen. They are cold, creamy, and naturally sweet, so they are perfect for adding an ice cream texture to your favorite smoothie recipe.
They turn into healthy ice cream. If you've never tried banana ice cream, you are missing out! All you have to do is toss a frozen banana into a food processor, add in any flavors you like, and process until it has a soft serve consistency. 
They are delicious on their own. Frozen bananas can be sliced into pieces that taste like mini bites of ice cream. (My daughter loves them as a snack!) You can also dip them in melted chocolate for a frozen banana bite, or stick them on a popsicle stick for a Chocolate Covered Banana. 
They reduce waste. If you have overripe bananas sitting on your counter, and you don't plan on making banana bread, storing the bananas in the freezer is the next best way to keep them edible until you plan on using them.
How to Freeze Whole Bananas
This is the #1 method for freezing bananas because it requires minimal effort. Plus, many recipes call for either a whole banana or half of a banana, so keeping the banana intact when you freeze it will make measuring easier later. 
To freeze a whole banana, remove the peel and place the whole peeled banana in an airtight container. You can repeat the process with as many ripe bananas as you have on hand, in case you have bunches of bananas to use up. The bananas are relatively easy to separate once they are frozen, as long as you don't press them into each other when you secure the lid.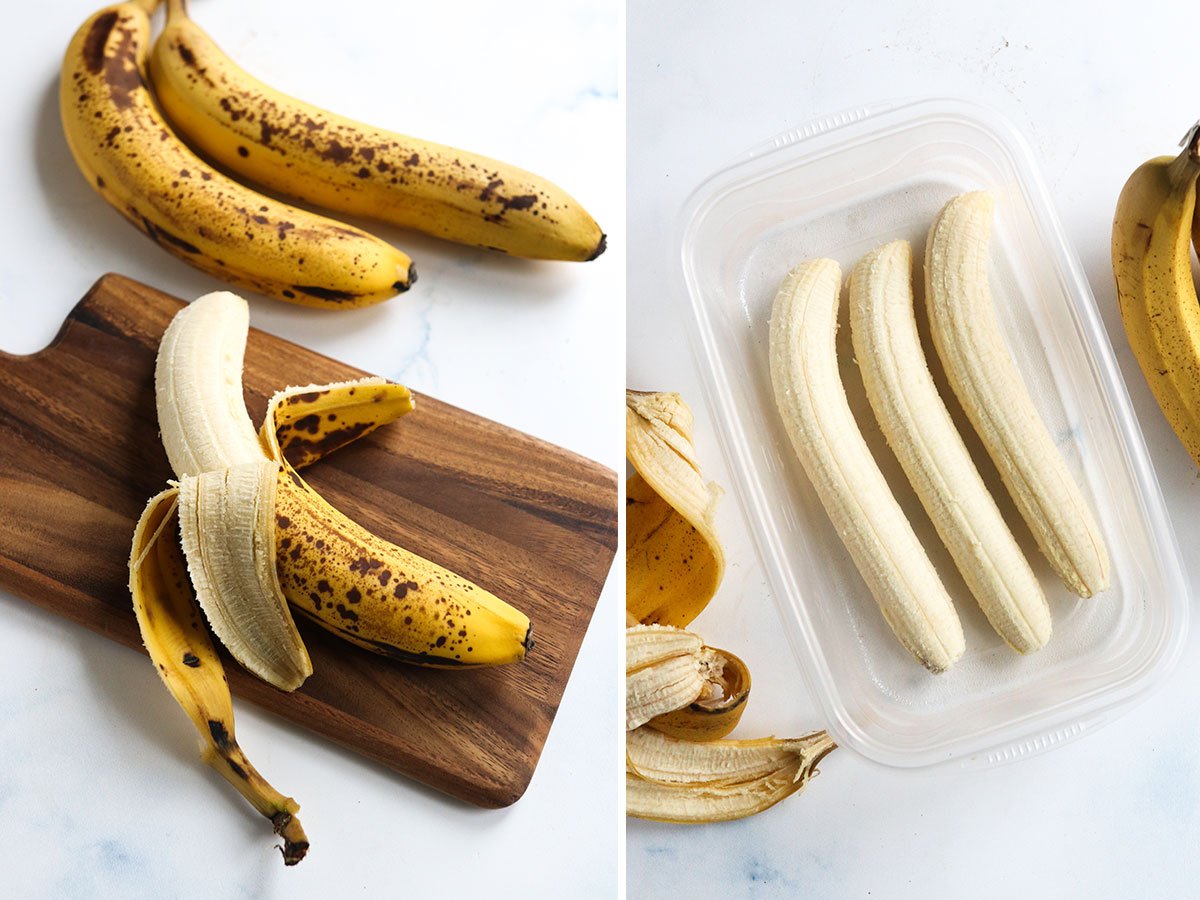 Storage Tip: Look for a large container (I use this 9-cup size) so the entire banana will fit lengthwise. While we usually use glass storage containers at home, I prefer using lightweight plastic containers for this purpose, so they don't get too heavy & I don't have to worry about my kids breaking them when they reach for a frozen banana. 
If you don't have an airtight container that will hold a whole banana, you can also store them in a gallon-size freezer bag. They are more likely to get squished with this method, but they will also be more flexible when it comes to fitting in your freezer this way.
Note: Do not store unpeeled bananas in the freezer. The peel is quite difficult to remove once it freezes to the whole banana! Your life will be easier if you take the time to peel them first.
How to Freeze Sliced Bananas
If you prefer to keep chunks of frozen bananas on hand, rather than whole ones, you can slice the ripe, peeled bananas before freezing them. For the best results, slice the banana and arrange the slices in a single layer on a baking sheet lined with parchment paper or a silicone baking mat.
Be sure to use a pan or tray that will fit on a flat shelf in your freezer. If you have a narrow freezer, you may need to use two lined plates instead of a large baking sheet.
Let the banana slices freeze for 1-2 hours, then transfer them to a freezer-safe bag or airtight container, to prevent freezer burn. This will help preserve their flavor. Freezing them individually on the lined baking sheet makes them easy to measure since they won't stick together in a big clump.
How to Use Frozen Bananas
Add them to a smoothie. Many smoothie recipes call for frozen bananas, so you'll be all set when you keep a stash in your freezer! If your blender is powerful, you might be able to simply break the frozen banana in half as you add it to the smoothie. Or, cut it into frozen banana slices first, for easier blending.
Make banana ice cream. Use a food processor or blender to pulverize the frozen banana pieces into a creamy, healthy dessert. (Also called "nice cream.")
Bake with them. You can thaw these bananas and use them in your favorite banana bread recipe, or make healthy banana muffins. Keep in mind that thawed bananas will look quite mushy and unappealing, but when you mash them, they will work just as well as freshly mashed bananas do. 
How to Thaw Frozen Bananas: You can thaw these bananas quickly by popping them in the microwave for 60-90 seconds or leaving them out in a bowl at room temperature for 2 hours. Or, you can let them thaw in a container in the refrigerator overnight. 
Note: When frozen fruit thaws, it tends to release quite a bit of excess liquid. (Thawed bananas look slimy, brown, and unappealing, but don't let this scare you.) You can use the liquid they release in baking recipes that call for mashed bananas because fresh bananas contain the same moisture.
How to Freeze Bananas
Frozen Bananas are a great way to preserve the ripe bananas sitting on your counter. Use them in smoothies, baking, ice cream, and more!
Equipment
Ingredients
3

ripe

bananas

(with black spots on the skin for best flavor)
Instructions
Freezing Whole Bananas
Remove the peel from each banana, then gently arrange them in a large airtight container. Don't overfill the container, as you don't want the bananas to get mashed together. (This will make them harder to separate later.)

Secure the lid and store the bananas in the freezer overnight. You can store them in the freezer for up to 3 months, and use them as needed in smoothies, nice cream, and more.
Freezing Banana Slices
Peel the bananas, then sliced them into roughly 1-inch chunks.

Arrange the slices in a single layer on a large baking sheet that is lined with parchment paper. Transfer the pan to the freezer, and freeze until the slices are firm, about 1 to 2 hours. (If a baking sheet won't fit on a flat shelf in your freezer, use a plate instead.)

Transfer the frozen slices to an airtight container with a lid to prevent freezer burn. Keep them in the freezer until ready to use, for up to 3 months for the best flavor.
Nutrition
Calories:
105
kcal
,
Carbohydrates:
27
g
,
Protein:
1
g
,
Fat:
1
g
,
Saturated Fat:
1
g
,
Sodium:
1
mg
,
Potassium:
422
mg
,
Fiber:
3
g
,
Sugar:
14
g
,
Vitamin A:
76
IU
,
Vitamin C:
10
mg
,
Calcium:
6
mg
,
Iron:
1
mg
I'd love to hear else you might use frozen bananas. Please let me know by leaving a star rating and comment below!