If you wind up with more ripe bananas than you can use, freezing them is one of my favorite ways to make sure that they will eventually go to good use. That way you'll always have a perfectly ripe one on hand when you need it!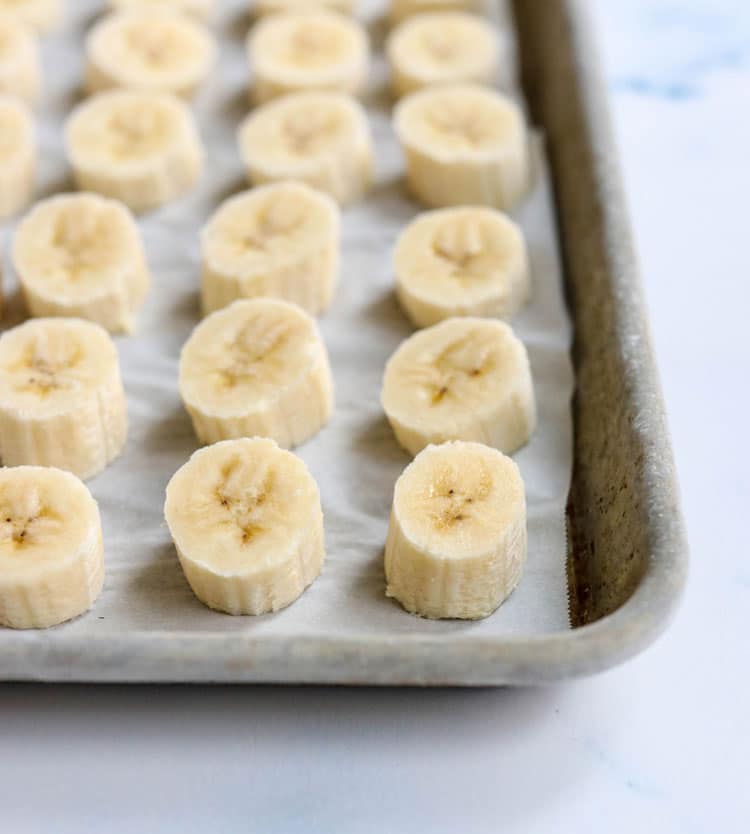 How to freeze bananas
The first thing you need to know about freezing bananas is that you MUST peel them before placing the bananas in the freezer.
I made the rookie mistake once of placing a whole bananas in the freezer, with the peel still on, and then I realized later that the peel is nearly impossibly to remove once the banana is frozen. So, remove the peel first, and you'll thank yourself later.
Can you freeze whole bananas?
Peeling a banana and storing it whole is hands-down my favorite way to freeze bananas. It involves almost zero effort, and then you're left with bananas that are easy to measure.
Most smoothie recipes call for 1 banana, or half of a banana, and whole frozen bananas are easy to break in half for measuring, too.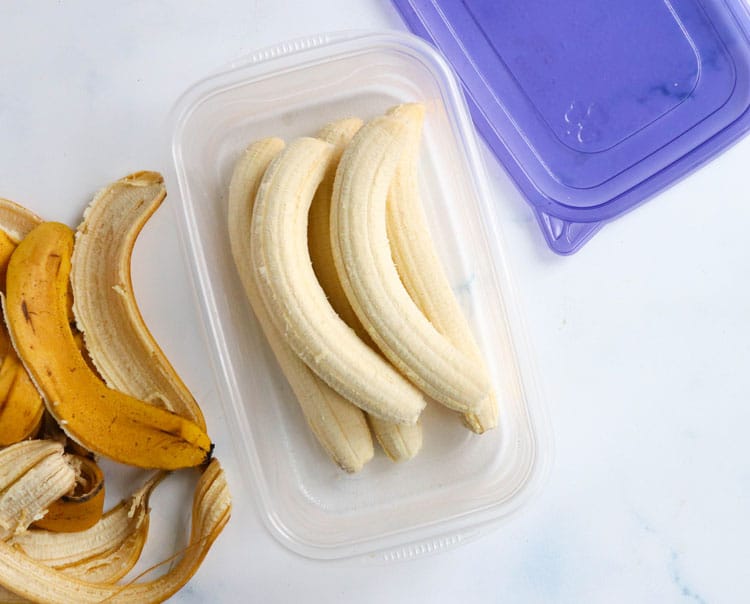 To freeze a whole banana, simply remove the peel, and then place it in an airtight container. I can usually fit up to 10 whole bananas into one of these large rectangle containers. (Feel free to break a banana or two in half to make it fit into the side of the container.)
When you add a frozen whole banana to a smoothie, you can break it into thirds, or just in half, pretty easily with your hands, so that it will break down faster. You can also use a knife to cut a frozen banana into smaller pieces.
Note: Normally I use glass containers for our storage needs, but I like how lightweight these Ziploc containers are for frozen bananas. My kids reach into our freezer a lot, so I like that these aren't breakable, either!
How to Freeze Sliced Bananas
If you don't think your blender can handle breaking down a whole banana (or even half of one), or you want to make banana ice cream, I recommend freezing your banana as slices instead. This makes them very easy to break down in a blender or food processor.
To freeze banana slices, you'll line a baking sheet with parchment paper, or a silicone mat, so that the banana won't stick to the pan. Slice the banana into roughly 1-inch chunks, then arrange them into a single layer on the prepared pan, so that the bananas won't stick together.
Freeze the bananas until firm, about 2 to 3 hours, then transfer them to an airtight container and store them in the freezer. (This will prevent them from getting freezer burn.)
How do you freeze them without turning brown?
If you've had frozen bananas turn brown before, that probably means that they have been exposed to too much air in the freezer. This can happen when the container that they are stored in doesn't get sealed properly.
To prevent your bananas from browning, make sure they are stored in a securely sealed airtight container, and use them within 3 months for the best flavor and texture.
Technically, frozen bananas should be safe to eat for 6 months or more, as long as they are stored properly, but that's usually when they start to turn darker and more unappealing, in my experience.
If you cut your banana into 1-inch pieces before freezing, I've found that 1 cup of thick banana slices is roughly equivalent to 1 large banana. If you cut your bananas thinner than 1-inch, it may be closer to 3/4 cup of slices, since they will fit more compactly into a measuring cup.
How to thaw frozen bananas
If you want to use a frozen banana in a baking recipe, like my vegan banana bread, remove the banana from the freezer and let it thaw in a bowl at room temperature for about 2 hours. (You can also let it thaw overnight in the fridge.)
Keep in mind that bananas look pretty unappealing when they thaw from the freezer! The banana will be mushy, and will release a lot of liquid– but you want to use ALL of that in the recipe, since it's the natural moisture found in a fresh banana.
Don't be tempted to drain the liquid, or it might affect your final baked goods.
How to use Frozen Bananas
If you need some ideas for using up your frozen bananas, try one of the following recipes!
How to Freeze Bananas
Here's how to freeze bananas (2 ways!) so you can have them on hand for smoothies, ice cream & baking.
Equipment
Ingredients
3

ripe

bananas

(with black spots on the skin for best flavor)
Instructions
How to Freeze Whole Bananas
To freeze the whole bananas, peel them first. Place the whole bananas in a large container, and seal it with an airtight lid. Transfer them to the freezer, and freeze for up to 3 months.
How to Freeze Banana Slices
Peel the bananas, then sliced them into roughly 1-inch chunks.

Arrange the slices in a single layer on a large baking sheet that is lined with parchment paper. Transfer the pan to the freezer, and freeze until the slices are firm, about 2 to 3 hours.

Transfer the frozen slices to an airtight container with a lid. Keep them in the freezer until ready to use, for up to 3 months for the best flavor.
Nutrition
Calories:
105
kcal
,
Carbohydrates:
27
g
,
Protein:
1
g
,
Fat:
1
g
,
Saturated Fat:
1
g
,
Sodium:
1
mg
,
Potassium:
422
mg
,
Fiber:
3
g
,
Sugar:
14
g
,
Vitamin A:
76
IU
,
Vitamin C:
10
mg
,
Calcium:
6
mg
,
Iron:
1
mg
Nutrition info above is for 1 banana.
–
Reader Feedback: Have any other tips & tricks for freezing bananas, or using them up? Let me know in the comments below!