These Vegan Black Bean Burgers are a delicious vegetarian recipe that you can make ahead of time for a fast weeknight meal. I'm going to show you the secret to making black bean burgers that aren't mushy, and you don't even need a food processor to make them!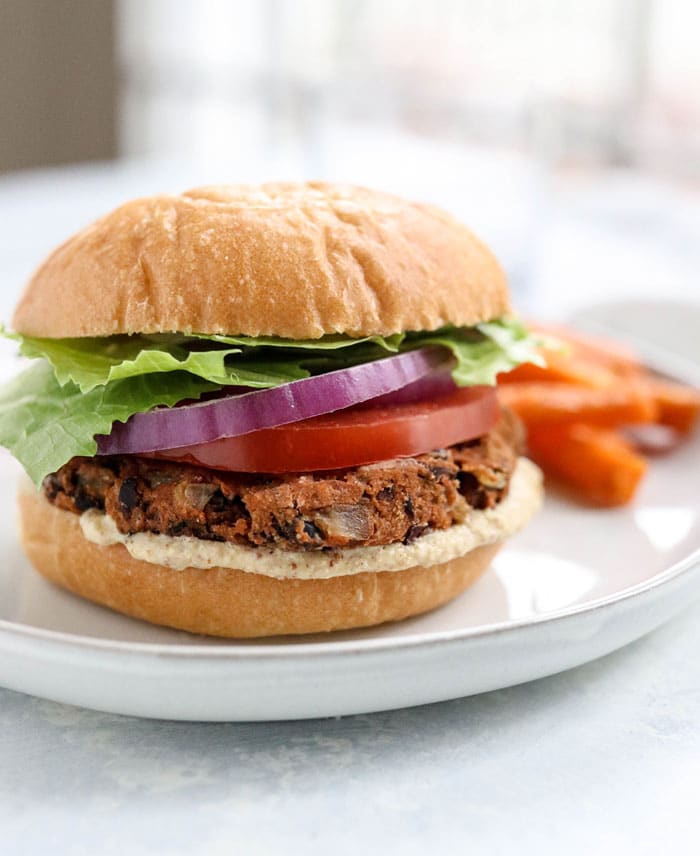 How to Make Perfect Black Bean Burgers
I recently learned from Serious Eats, that the secret to making perfect black bean burgers is to briefly dry out the black beans in the oven first. All you have to do is spread them out on a pan, and leave them in the oven until their skins start to peel away. This takes about 15 minutes at 350ºF, and you can sauté the onion and garlic for the burgers while you wait.
When you dry out the beans like this, you avoid the typical "mushy" texture that some veggie burgers tend to have in the middle. I'm also not using a food processor to make this mixture, so that the beans will retain more of their texture throughout the burger. (Blended burger mixture = mushier burger patties.)
How Do You Make Vegan Black Bean Burgers Stick Together?
Many veggie burgers use egg as a binder to help everything stick together, but this recipe uses sweet potato instead.
Adding a bit of oat flour also helps these vegan burgers come together, but you can use bread crumbs or ground flax seed, if you prefer. (My mom told me that she prefers the flax seed version!) Make sure to look for certified gluten-free labels on your oats or bread crumbs if you need these burgers to remain gluten-free.
Are Black Bean Burgers Good For You?
Black beans are high in fiber and relatively low in calories, making them a healthy choice, if you ask me! One cup of black beans contains 15 grams of protein, and the magnesium and potassium they contain may help promote healthy bones and blood pressure levels.
Do Vegan Burgers Taste like Meat?
These homemade black bean burgers don't taste like meat (and the chunks of black beans sort of give them away), but they are totally delicious in their own right. Adding barbecue sauce to the mix helps boost the flavor, and they pair well with any burger toppings you like!
What are Black Bean Burgers Made Out Of?
This veggie burger recipe is as packed with flavor, while using easy ingredients that you may already have on hand. You'll need:
Canned Black Beans (I've used Instant Pot Black Beans a few times, too!)
Onion & Garlic
Steamed sweet potato (canned pumpkin puree would probably also work)
Your favorite BBQ sauce (Check the label if you're vegan and/or gluten-free)
Oat flour or ground flax seeds
Ground Cumin & Salt
I use sweet potato as a binder for these burgers instead of an egg, but if you're not vegan and don't have sweet potato on hand, feel free to use an egg instead. When you bake these burgers in the oven, they are conveniently ready all at the same time so you don't have to grill them or cook them in a skillet individually.
In my experience, veggie burgers freeze well, so feel free to store any extras in your freezer for a quick weeknight meal in the future. I usually reheat them straight from frozen in my oven at 350ºF for about 10 minutes.
Vegan Black Bean Burgers (Veggie Burgers)
This Vegan Black Bean Burger recipe is easy to make, without a mushy middle! Made with sweet potato instead of egg, they are packed with fiber and plant-based protein.
Ingredients
2

(15 oz.) cans

black beans

, drained and rinsed (or 2 1/2 cups cooked beans)

1

tablespoon

extra-virgin olive oil

1/2

yellow onion

, chopped (about 1 cup)

3

cloves

garlic

, minced

1/2

cup

mashed sweet potato

(steamed, then mashed)

1/4

cup

oat flour

, or ground flax seeds

1/4

cup

BBQ sauce

(see notes)

1/2

teaspoon

ground cumin

1/2

teaspoon

fine sea salt
Instructions
Preheat the oven to 350ºF. Spread out the black beans on a large rimmed baking sheet so that they are in a single layer. Place them in the oven to dry out until they start to split, about 15 minutes.


Meanwhile, heat the olive oil in a skillet over medium high heat. Saute the onion until softened, about 5 minutes, then add in the garlic and stir for one more minute. Remove from the heat.


In a large bowl, combine the sauteed onion and garlic, beans, sweet potato, oat flour (or flax), BBQ sauce, cumin and salt. Use a fork to stir the mixture, mashing the beans to help the batter stick together. You don't want to mash all of the beans, as they help add texture, but you want it mashed enough that you can form and shape the burger patties with your hands.


Use a 1/3 cup measure to scoop out the black bean mixture and use your hands to shape it into a burger about 3/4-inch thick. Line a baking sheet with parchment paper (I use the same one I used for drying the beans) and arrange the burger patties on the pan as you go. Use wet hands to shape the patties to help prevent sticking, if necessary. This recipe should make 8 to 9 burgers.


Bake the burgers at 350ºF for 15 minutes, then use a spatula to gently flip them over and bake for another 5 to 10 minutes. The finished burgers will feel a little dry around the edges, but still slightly soft to the touch in the center. As they cool, they will firm up and dry out a bit more, so you don't want to over cook them.


Serve the burgers warm with your favorite toppings. Leftovers can be stored in an airtight container in the fridge for up to a week, or in the freezer for up to 3 months.

Nutrition
Calories:
106
kcal
,
Carbohydrates:
17
g
,
Protein:
4
g
,
Fat:
2
g
,
Sodium:
449
mg
,
Potassium:
242
mg
,
Fiber:
4
g
,
Sugar:
3
g
,
Vitamin A:
1200
IU
,
Vitamin C:
2.5
mg
,
Calcium:
30
mg
,
Iron:
1.4
mg
Per Serving (1 of 8 burgers): Calories: 106, Fat: 4g, Carbohydrates: 17g, Fiber: 4g, Protein: 4g
Recipe Notes:
I love using BBQ sauce as an easy way to get more flavor into these burgers, without calling for a long list of spices. However, be sure to check the label of the sauce you use if you need to remain gluten-free or vegan. Some sauces have flour added as a thickener, and others may have non-vegan ingredients added in. The New Primal BBQ Sauce that I sometimes use has no added sugar (which I love!), but it does contain bone broth powder, so it's not a vegetarian or vegan option.
If you go with ground flax seeds instead of oat flour for the binder, feel free to add an extra tablespoon if needed to help the mixture bind together. I usually add as I go until the batter is easy to shape. You can also use bread crumbs, if you prefer.
As always, if you try something different with this recipe please leave a comment below letting us know how it worked out. We can all benefit from YOUR experience!
–
Reader Feedback: Have you tried making your own veggie burgers? Let me know if you have any other tips & tricks to share!