Chia Seed Jam is a fast, lower-sugar option you can make at home in just minutes. All you need is 3 ingredients to get started, and you can use fresh or frozen fruit!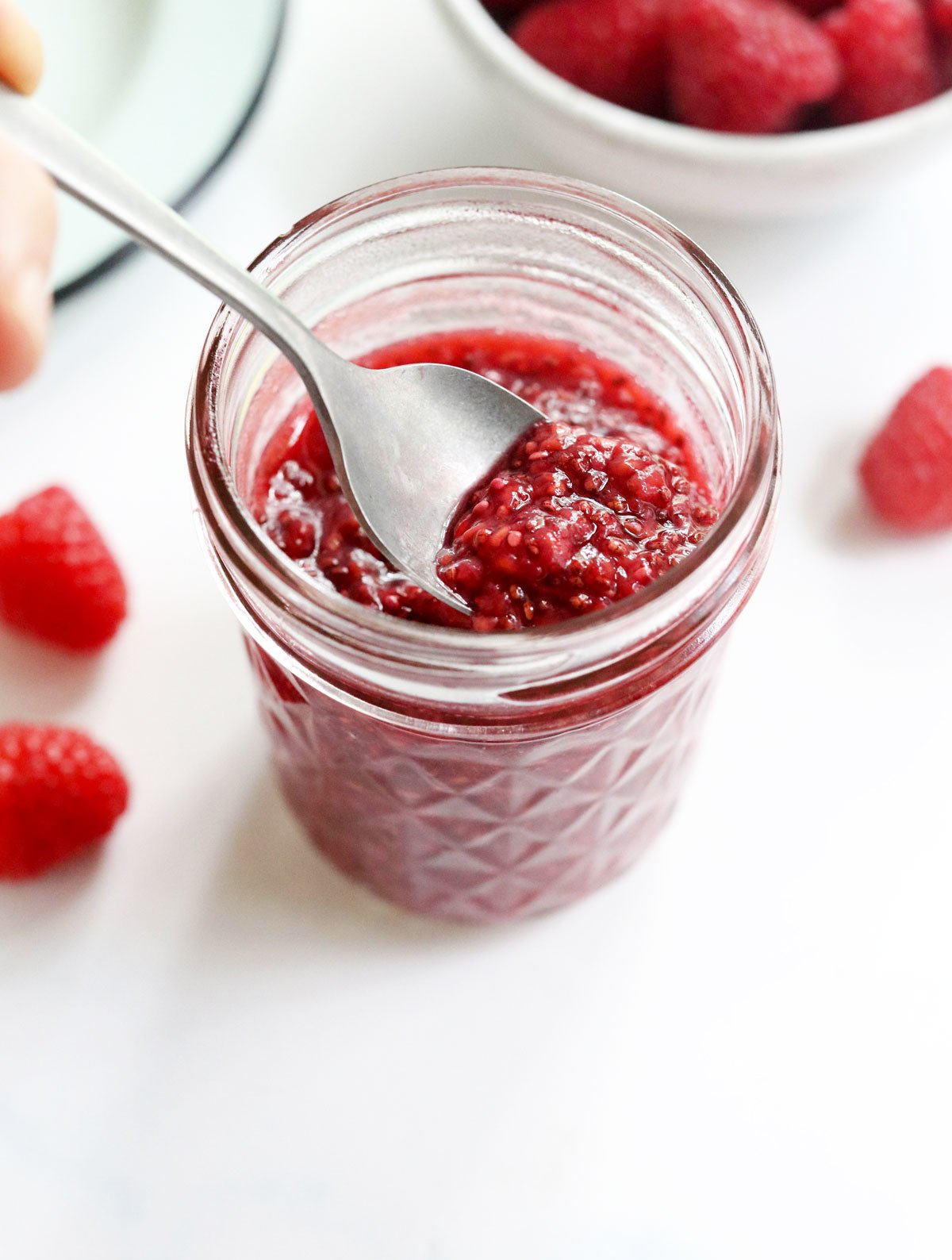 How to Thicken Jam without Pectin
Pectin is often used in jam recipes to help it gel together, but there's no need to buy it at the store for this homemade jam. Pectin is a fiber that's naturally found in many fruits, and it's particularly high in fruits like apples, oranges, and lemons.
Strawberries, blueberries, and raspberries contain lower levels of pectin, but that's where the chia seeds come in. If you've ever tried making chia pudding or chia eggs, you know that chia seeds naturally "gel" after sitting in liquid for about 10 minutes.
In this case, adding chia seeds to this homemade jam recipe thickens it, so you won't have to worry about the pectin.
How to Make Chia Jam
To make this healthy jam recipe, you'll start by boiling together fresh or frozen fruit, with a touch of maple syrup.
I like using raspberries when making this jam, because they are naturally tart and sweet, but if you want to use a more mild-flavored fruit, like strawberries or blueberries, you might also want to add a splash of lemon juice to add a slight tangy, tart flavor. (Lemon is a source of pectin, too, for extra thickening-power.)
It may feel strange adding fresh fruit to a pot without much liquid, but you don't need to add any water to this recipe. The fruit will quickly break down from the heat, and I like to gently mash it with a fork as I go, to help the process along.
Bring the fruit mixture to a bubble, and let it simmer until it looks slightly thickened, about 5 to 7 minutes. You don't want to boil any fruit longer than 15 minutes, or the pectin it naturally contains might break down, and won't help thicken the jam anymore.
Remove the pan from the heat, and stir in the chia seeds. The mixture might look a little runny and juicy at first, but it will thicken up significantly when you let it chill in the fridge.
I like to start by adding just 1 tablespoon of chia seeds to this recipe, but you can add more later, if your jam hasn't thickened up enough.
How Long Does Homemade Jam Last?
Since this chia seed jam isn't as high in sugar as traditional recipes, it won't last as long as store-bought jam either. (Sugar is a preservative, after all.)
I recommend storing this healthy homemade jam in the fridge for up to 1 week, or in the freezer for up to 3 months.
Can you Can Chia Seed Jam?
No, it's not safe to can chia seed jam. Chia seeds have a low-pH level, and might create unsafe conditions for canning. There's a great post on why chia jam is not safe for canning, if you'd like to learn more.
For longer-term storage, I would recommend freezing this jam instead.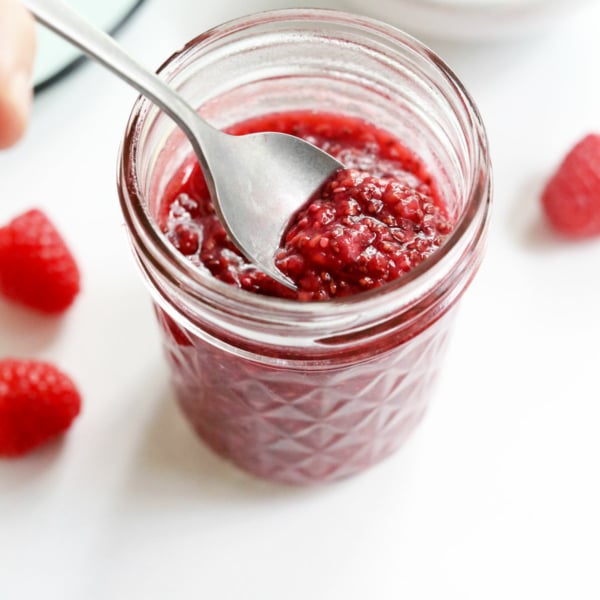 Chia Seed Jam (in 10 minutes!)
Chia Seed Jam is a healthy recipe made with just 3 ingredients. Chia seeds thicken the jam instead of using pectin!
Ingredients
2

cups

fresh or frozen berries

(about 8 ounces)

2

tablespoons

pure maple syrup

1

tablespoon

chia seeds
Instructions
Pour the fruit and maple syrup into a small saucepan over medium-high heat. Bring the fruit to a simmer, gently pressing it with fork or spatula to help it break down.

Let the fruit and maple syrup simmer together for 5 to 7 minutes, until the fruit is totally broken down. It should thicken slightly, but it will still be slightly runny after 7 minutes. That's exactly how it should be!

Remove from the heat, then stir in the chia seeds. Pour the chia seed jam into an airtight glass jar, and let the jam chill in the fridge until thickened, at least 4 hours. This recipe makes roughly 6 ounces of jam, but it can make slightly less than that depending on how long you let the fruit juices simmer and evaporate.

Homemade jam can be stored in an airtight container in the fridge for up to 1 week, or you can freeze it for up to 3 months. I do not recommend canning it for safety reasons. (See the post above for details.)
Notes
You can add more or less maple syrup to this recipe, so feel free to adjust it to your taste. If you don't need a vegan recipe, you can also try using honey as the sweetener, instead.
Nutrition
Calories:
24
kcal
,
Carbohydrates:
5
g
,
Protein:
1
g
,
Fat:
1
g
,
Saturated Fat:
1
g
,
Sodium:
1
mg
,
Potassium:
42
mg
,
Fiber:
2
g
,
Sugar:
3
g
,
Vitamin A:
7
IU
,
Vitamin C:
5
mg
,
Calcium:
15
mg
,
Iron:
1
mg
Nutrition information is for roughly 1 tablespoon of chia seed jam. This is automatically calculated, and is just an estimate, not a guarantee.
If you try this Chia Seed Jam recipe, please leave a comment below and let me know what you think! And if you make any modifications to it, I'd love to hear about those, too. We can all benefit from each others' experiences.
–
Reader Feedback: What's your favorite jam flavor? Mine used to be grape, but now my husband and I are both obsessed with raspberry! I don't even mind the seeds in this case.