These Vegan Chocolate Crinkle Cookies are quick and easy to prepare, using ingredients that you probably already have on hand in your pantry. I love how you don't need flour or eggs to make them, so they are naturally gluten-free and Paleo-friendly.
How to Make Gluten-Free Chocolate Crinkle Cookies
I use gluten-free flour every now and then, but in most cases I prefer to use almond butter as a "flour replacement." It adds a natural source of fat and fiber, without any weird, starchy after-taste. In this case, you don't need any added oil, either!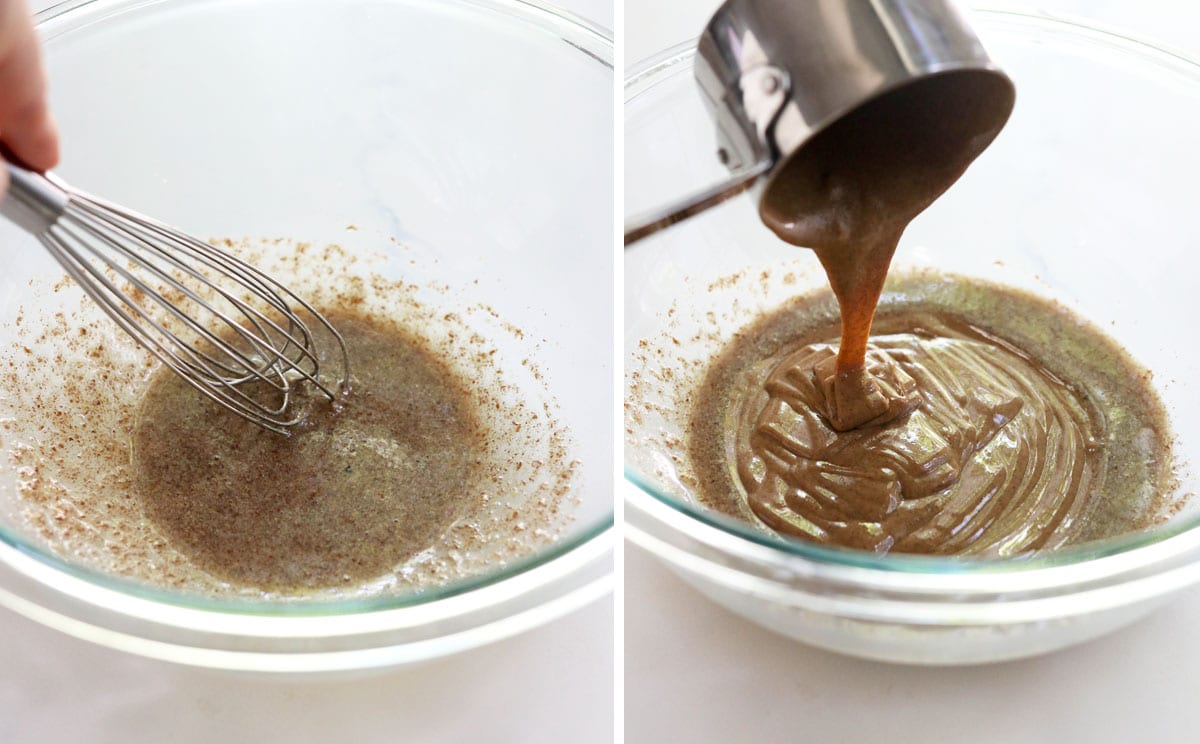 To make these chocolate crinkle cookies, you'll simply stir together the ingredients (only one bowl needed!) until a thick dough is created. Roll them in sugar, if desired, then bake!
They will be fragile when you first take them out of the oven, but like most almond butter cookies, they will firm up as they cool.
Powdered Sugar Alternatives
To get the classic "crinkle effect," this type of cookie is typically rolled in powdered sugar. If you plan on serving these cookies to holiday guests, do that! The overall cookie is still lower in sugar than a traditional recipe. (In these photos, I used organic powdered sugar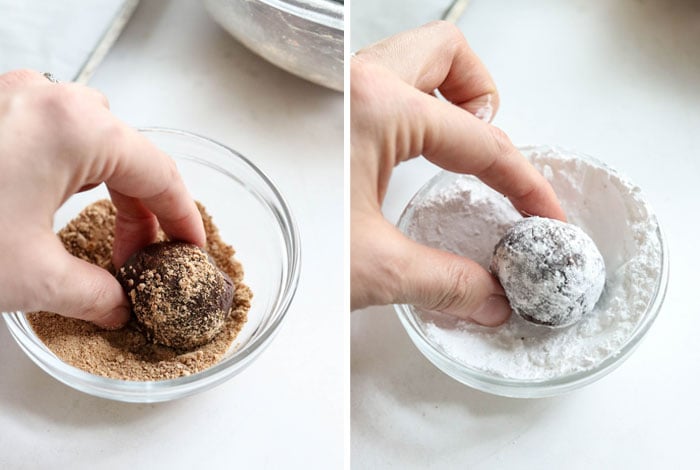 If you'd prefer NOT to use powdered sugar in this recipe, I tested out a few different options, and I want to report on my results:
Powered Coconut Sugar. You can pulse coconut sugar in a blender to make "powdered" coconut sugar, and then roll the cookies in that. The result is delicious, but be warned– the coconut sugar is not visible after these are baked, so the cookie looks like a plain chocolate cookie.
Arrowroot Starch. I've had success rolling my Pecan Snowballs and Puppy Chow in arrowroot or tapioca starch for a powdered sugar look, without the powdered sugar. However, when you try that with this recipe, the arrowroot dissolves as the cookies bake, leaving you with mostly a plain chocolate cookie again.
Ground Coconut. This brilliant idea comes from Feasting on Fruit. She rolls her crinkle cookie recipe in ground coconut, and the look is pretty impressive! However, this won't work for people who don't love the flavor of coconut.
Ultimately, the most authentic look will come from using real powdered sugar, but the choice is up to you! These cookies are delicious, even if you leave them plain. You could also top them with a few cacao nibs or roll them in ground nuts, like walnuts or pecans, for a different look.
These cookies will naturally spread, creating the "crinkled" look on top. Let them cool completely before serving, because they are fragile while they are still hot from the oven.
If you don't need a vegan cookie, you can replace the ground flax seed and water with 1 chicken egg instead. The results should be similar!
These cookies will be the most sturdy if you store them in the fridge or freezer, but they can also be served at room temperature.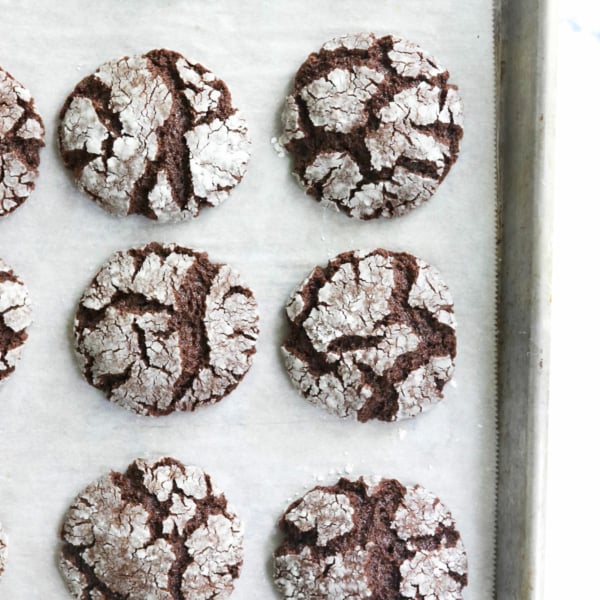 Chocolate Crinkle Cookies (Gluten-Free & Vegan)
This Chocolate Crinkle Cookies are a quick and easy recipe, without flour! They are rich and chewy, with a brownie-like flavor.
Instructions
Preheat the oven to 350ºF and line a baking sheet with parchment paper. In a large bowl, stir together the ground flax seeds and water.

To the "flax egg", add in the almond butter, coconut sugar, cacao powder, baking soda, vanilla, salt, and vinegar, and stir well until a thick batter is formed. As soon as it looks mixed, stop stirring, so that the batter doesn't get oily.

Use a tablespoon to scoop the dough, then roll the ball between your hands. Dip the ball into powdered sugar or ground coconut, if you want the classic white-crackled look on the outside of your cookies.

Arrange the cookies on the prepared baking sheet at least 2 inches apart from each other. They will spread as they cook. Bake for 10 minutes at 350º, or until the tops of the cookies start to crack.

These cookies need to cool completely on the pan in order to firm up. Store them uncovered at room temperature for up to 3 days, or in an airtight container in the fridge for up to a week.
Notes
*If you don't need a vegan cookie, you can most likely swap the ground flax or chia seeds for a real egg. In this case you won't need the 3 tablespoons of water or the added vinegar, either. (The vinegar is simply there to react with the baking soda to help the cookies rise, but eggs will do that anyway.)
*To ensure your cookies are vegan, make sure you buy organic powdered sugar. Organic sugar can't be filtered through bone char, like some sugars can be.
Nutrition
Calories:
110
kcal
,
Carbohydrates:
11
g
,
Protein:
3
g
,
Fat:
7
g
,
Saturated Fat:
1
g
,
Sodium:
93
mg
,
Potassium:
126
mg
,
Fiber:
2
g
,
Sugar:
6
g
,
Calcium:
47
mg
,
Iron:
1
mg
Recipe Notes:
I have only tested this recipe with creamy raw almond butter, but I imagine that you could use sunflower seed butter, cashew butter, or peanut butter with similar results. Whatever you use will change the flavor slightly, so be sure to taste the batter as you go.
Using a granulated sugar is important for the texture in this recipe, so brown sugar would be the most similar substitute. For other sweetener ideas, try my date-sweetened chocolate cookies or my Paleo Chocolate Cookies, which are sweetened with honey.
If you try this recipe, please leave a comment below letting me know how you like it. And if you make any modifications, please let me know how they worked for you! We can all benefit from your experience.
–
Reader Feedback: What's your favorite type of cookie?