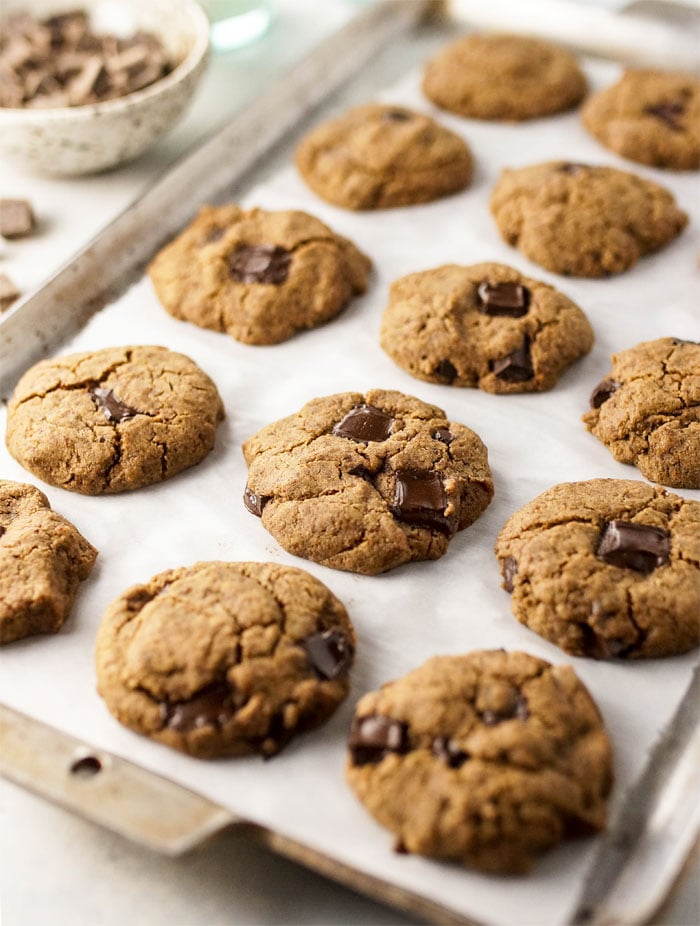 When I shared my Single Serving Buckwheat Cookies on social media last week, I had several readers mention that they wished I had a recipe to make a larger batch– they taste too good to only make two cookies! It can be tricky to increase a recipe by such a large amount, so I took the time to rework it and now I have a perfected recipe to share with you.
I originally made the single-serving recipe because I lacked self-control with freshly baked cookies and I wasn't sure if I would actually like the taste of 100% buckwheat flour in a cookie. Buckwheat can be an acquired taste, but this larger batch is much more my speed now that I'm busier than ever. Spend just 20 minutes in the kitchen, and then enjoy them for the rest of the week!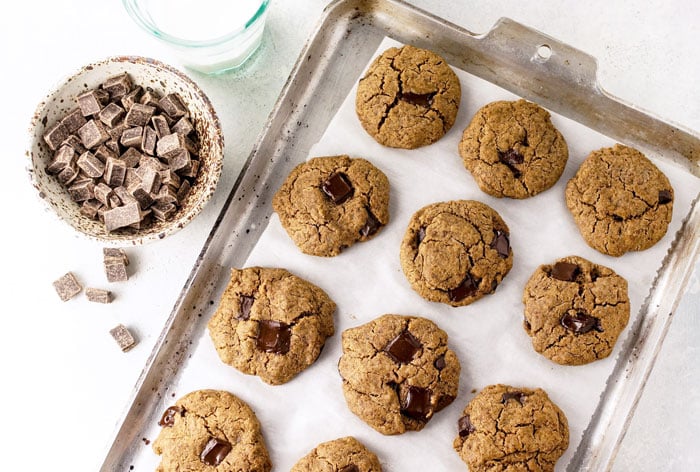 Be aware that store-bought buckwheat flours can vary drastically in flavor. Many buckwheat flours, like this one by Bob's Red Mill, are blue-ish gray in color, and are very bitter in flavor, so I highly recommend looking for one that is light or almost white in color (I found one in the bulk bins at my local Whole Foods).  You can also make your own light-colored buckwheat flour by simply grinding raw buckwheat groats in a coffee grinder or high-speed blender. Your taste buds will thank you!
While you might think increasing my original recipe to produce 6 times more cookies would be a piece of cake, I actually tried doing that first and I didn't love the results. The cookies were too sweet and too dry all at the same time. After testing this recipe 5 more times, I finally found a ratio I love that makes a dozen cookies. The fact that they are nut-free, dairy-free, naturally sweetened, require only one type of flour, and are gluten-free is just icing on the cake! (Or icing on the cookie??)  I guess they could also be considered grain-free, since buckwheat is technically a seed… but that's your call.
I hope you'll enjoy them!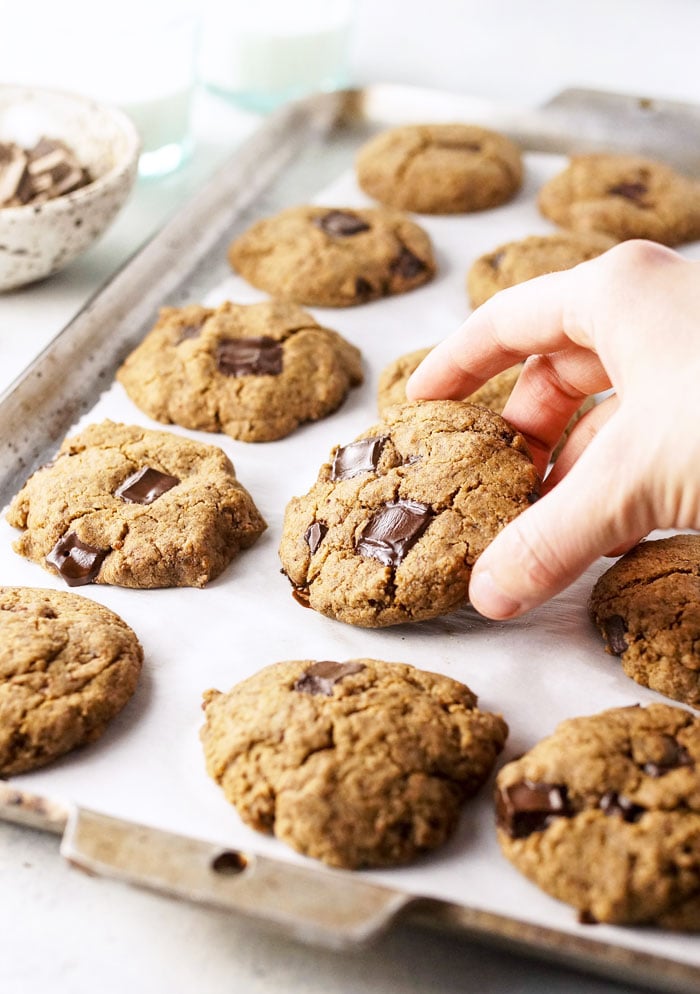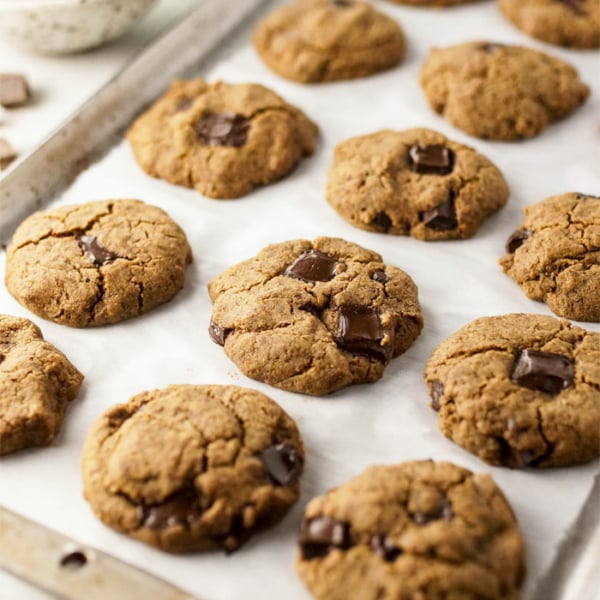 Easy Vegan Buckwheat Chocolate Chip Cookies
The best vegan buckwheat chocolate chip cookies! They are nut-free, gluten-free, grain-free, dairy-free, naturally sweetened, and easy to make.
Instructions
Preheat the oven to 350ºF and line a large baking sheet with parchment paper or a silicone mat.

In a large bowl, stir together the buckwheat flour, coconut sugar, oil, water, vanilla, salt, and baking soda. Then add in the vinegar, which will react with the baking soda to help the cookies rise a bit.

Fold in the chocolate chips, then use a tablespoon to scoop the dough into 12 mounds spaced evenly apart on the lined baking sheet. Flatten each cookie with your hands, as these cookies will only spread slightly. Bake until the edges are firm, about 10 minutes at 350ºF. Let cool at least 10 minutes before serving.
Notes
If you'd like to replace some of the oil in this recipe, I've successfully made them using 1/4 cup melted coconut oil with 1/4 cup unsweetened applesauce. In this case, please omit the water in the recipe. The resulting cookies will be softer due to the applesauce, like a cross between a cookie and a muffin top. If you'd like them to be firmer, place them in the fridge and serve cold.
Nutrition
Calories:
146
kcal
,
Carbohydrates:
4
g
,
Fat:
2
g
,
Saturated Fat:
2
g
,
Sodium:
105
mg
,
Potassium:
47
mg
,
Sugar:
2
g
,
Calcium:
23
mg
,
Iron:
0.1
mg
Per Serving: Calories: 146, Fat: 2g, Carbohydrates: 4g
I always recommend making a recipe as written before you modify it, but if you make a substitution please let us know how it works for you in the comments below! In general, real butter is the best substitute for coconut oil, but then this recipe will no longer be dairy-free and vegan.
—
Reader Feedback: Would you like to see more buckwheat recipes? Let me know what kind of recipes you'd like to see for Spring!