When you want a fancy summer drink, without any alcohol, try this easy mocktail recipe! It's ultra-refreshing, and requires only 3 simple ingredients.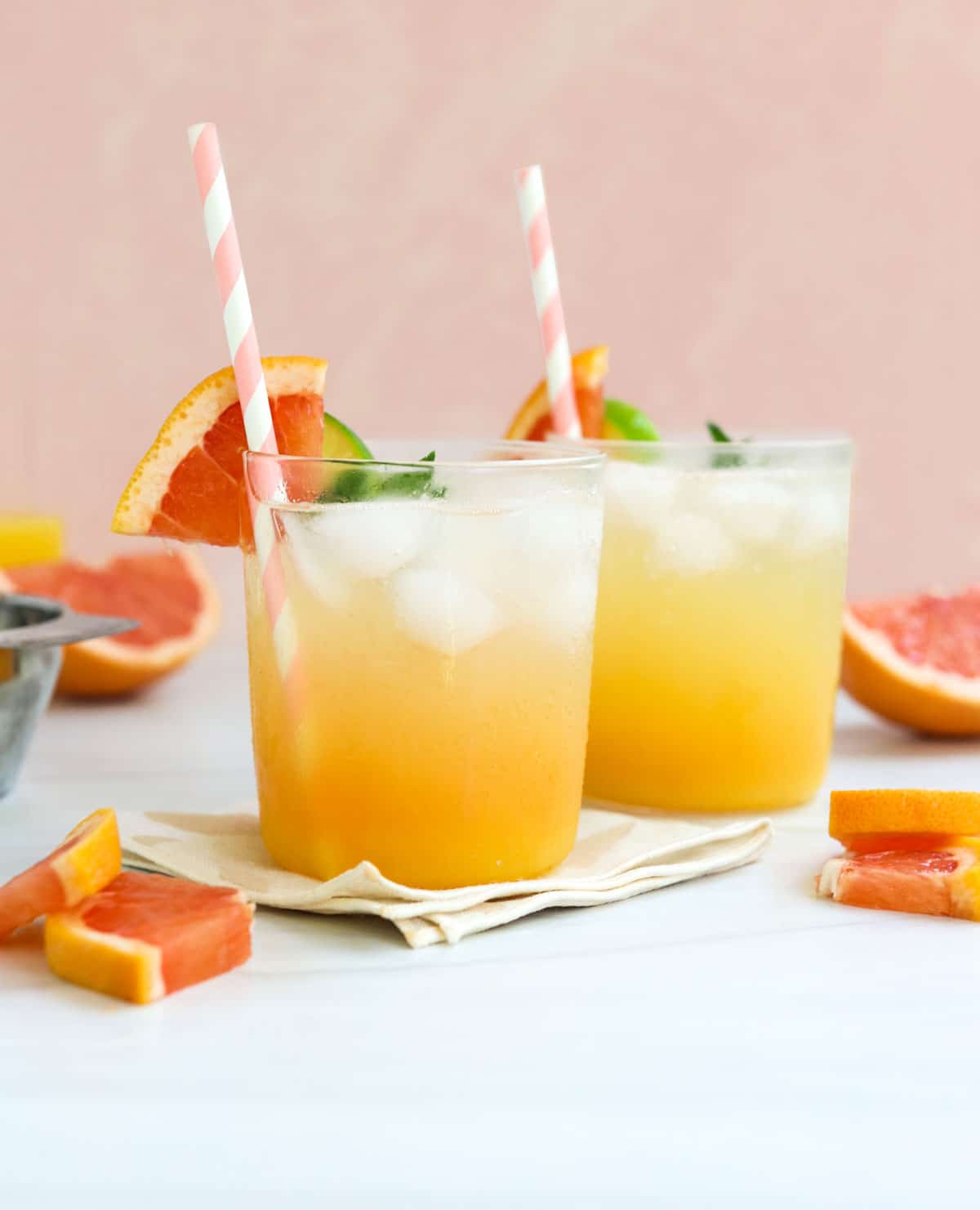 What is a mocktail? It's a handcrafted drink made with no alcohol. They are typically made with a combination of fruit juices, soda water, and ice.
This easy mocktail is inspired by one I recently enjoyed while at a wedding in California. My pregnant friend asked the bartender for a non-alcoholic drink, and once I saw what he made for her, I simply had to try it, too!
Mocktails aren't just for those who need to avoid alcohol; they are also perfect for moments when you want to have a fun drink, without a hangover the next day. If you want to offer a selection of non-alcoholic drinks for a summer party, be sure to also try Honey Lemonade and Orange-Infused Water.
Ingredients You'll Need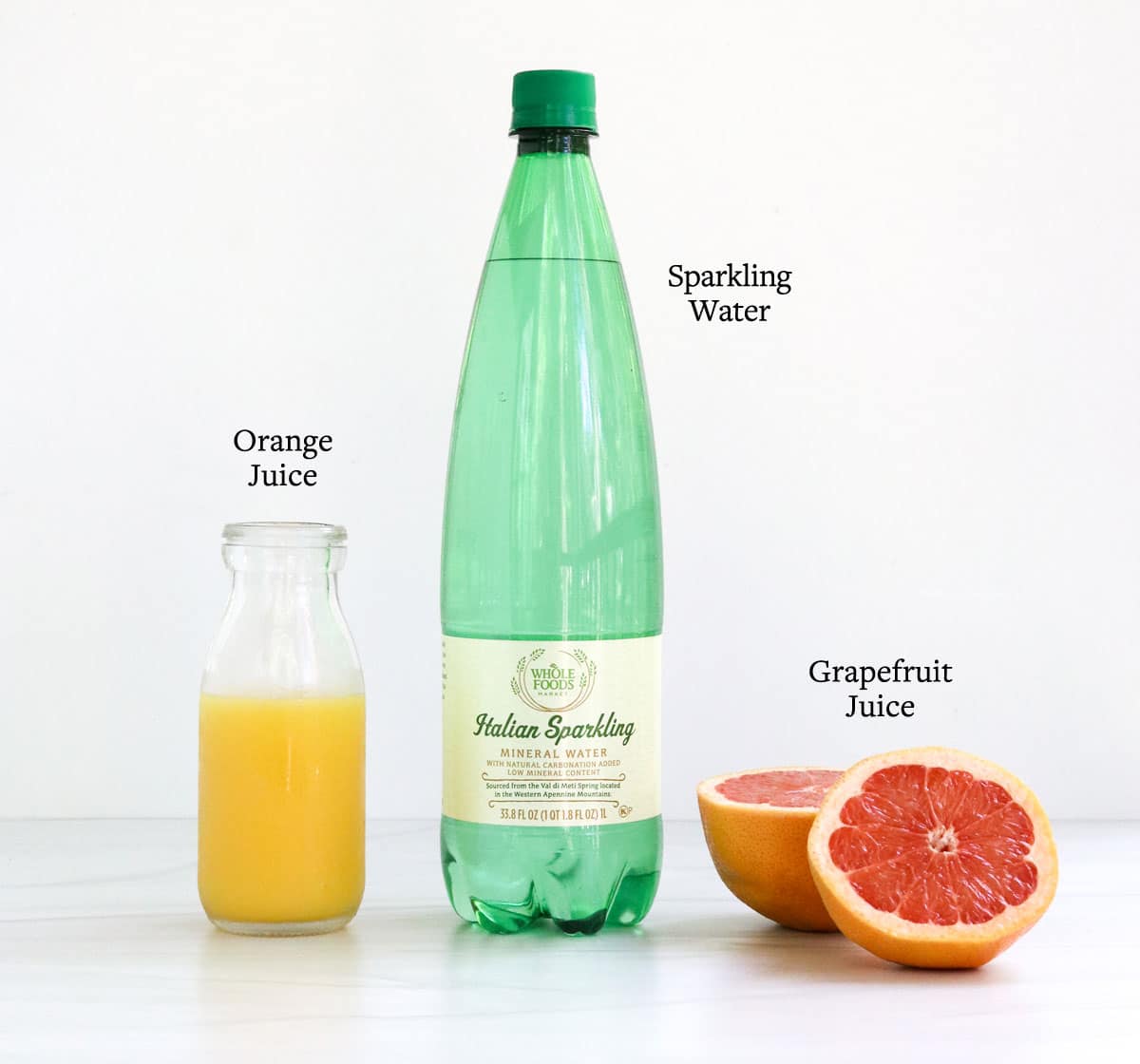 All you need to create a drink that almost tastes like it's made with alcohol is sparkling water (or club soda) and a blend of citrus juices. The bitterness of the grapefruit mimics the flavor of a real cocktail, without using vodka.
Plus, there's no cocktail shaker required, so it's ready to drink in just minutes. You can squeeze a fresh grapefruit, or use bottled grapefruit juice for convenience. Either way, it's delicious!
Don't love grapefruit? Lime juice also makes an excellent substitute. You can swap the grapefruit juice for fresh lime juice or lemon juice. (Use 1 1/2 to 2 tablespoons, instead.)
How to Make a Mocktail
1. Prepare the juice.
You can use store-bought juice for this recipe, or juice your own oranges and grapefruits. When juicing a grapefruit, be sure to use a juicer that will catch the pulp, as there is quite a lot in these large fruits.
You'll usually get roughly 1/2 cup of juice from a large grapefruit, which is enough to make 2 servings. (The same goes for a large orange, if you want to make your own orange juice.)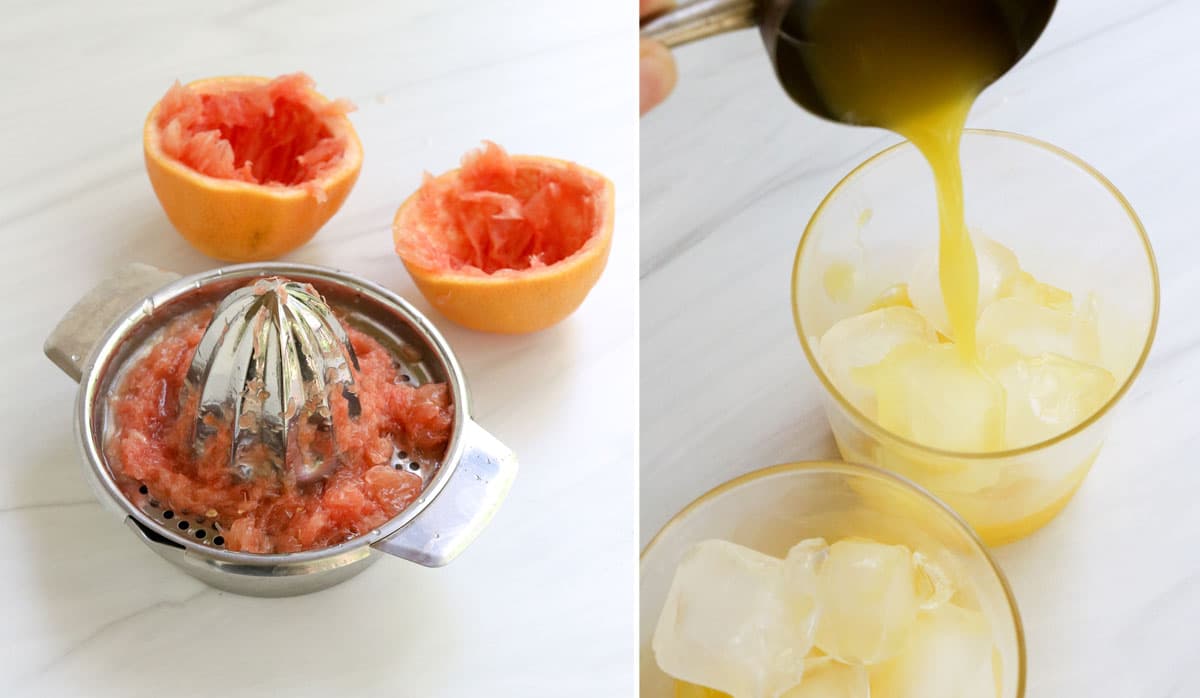 2. Fill the glasses.
Start with two 12-ounce glasses filled with ice, then add a 1/4 cup of grapefruit juice and orange juice to each glass. Top them off with a 1/4 cup of sparkling water or club soda, and then these mocktails are ready to serve.
Note: If you prefer a non-bubbly drink, you can use any other liquid you like. Try using iced tea or water, as a simple variation.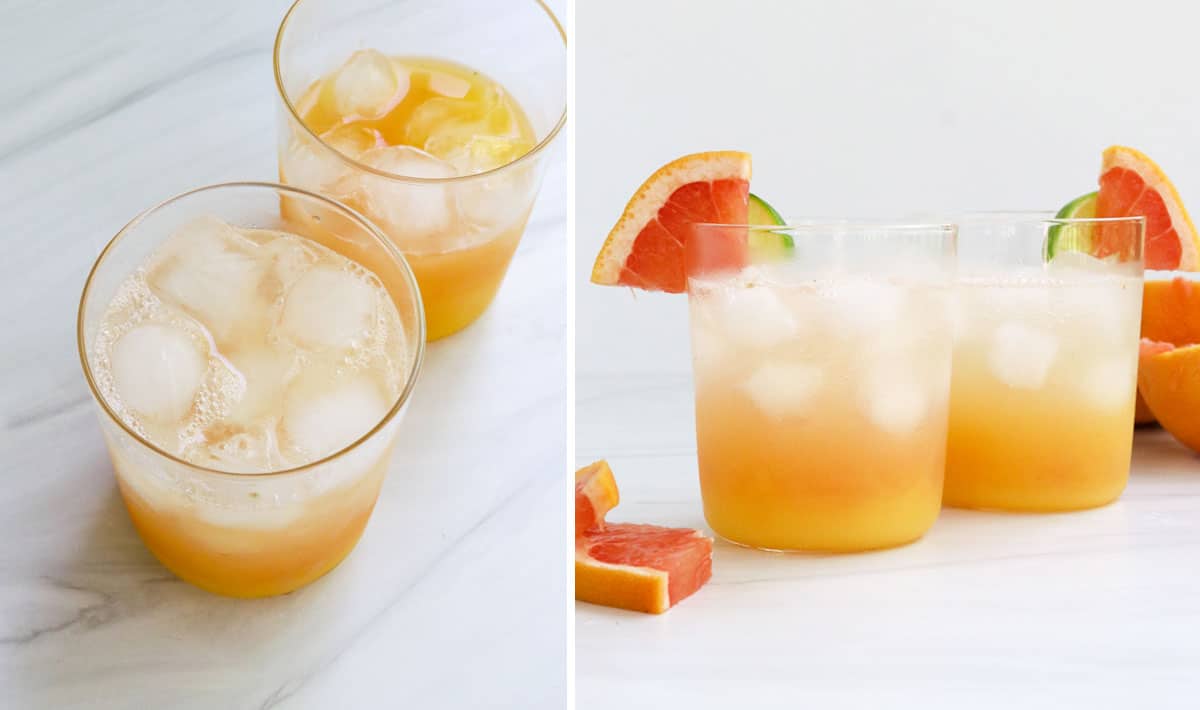 3. Enjoy!
Garnish with sliced grapefruit, orange slices, or lime slices, and a sprig of fresh mint, if you have some on hand.
This drink is best enjoyed right away, so the flavor doesn't get diluted by the melted ice.
Need more sweetness? You can always stir in a splash of maple syrup, or simple syrup, to taste, if you prefer a sweeter drink.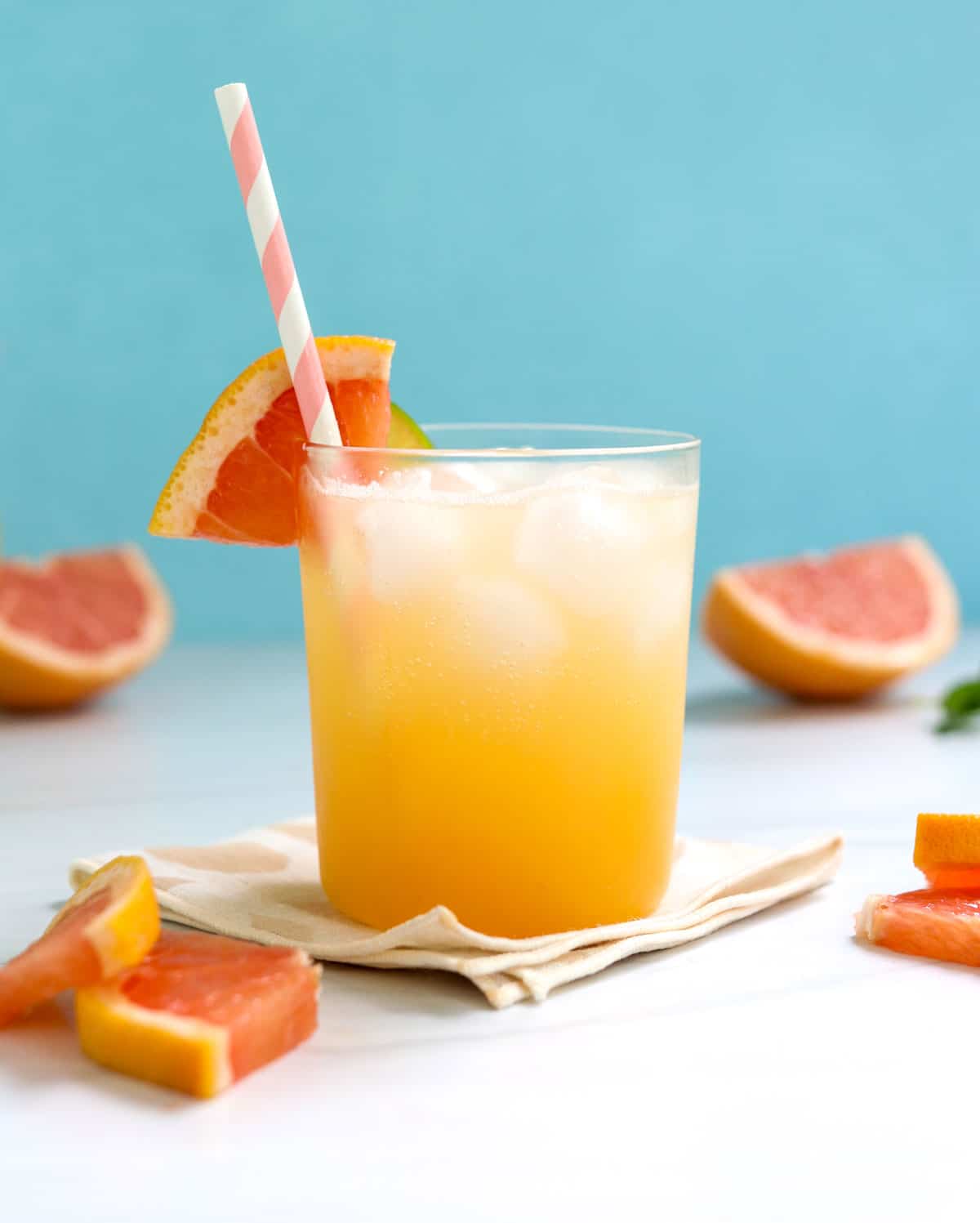 Substitutions & Common Questions
What can I use instead of sparkling water? For another bubbly option, you can use tonic water or ginger ale, which will add extra sweetness, plus more depth of flavor.
What other juices can I add? If you want to get extra-fancy, you can add pineapple juice or a splash of pomegranate juice. You could also use lemonade instead of orange juice, for a different variation. Simply mixing two juices and adding sparkling water can make a drink feel instantly more luxurious.
Can I make this as a punch for a party? Yes, that would be fun! Use store-bought juices in that case, to save yourself from juicing pounds and pounds of citrus fruit, and don't add the sparkling water until just before your guests arrive.
Since this mocktail recipe is a 1:1:1 ratio of juices and sparkling water, it's very easy to scale, as needed. If you want to make a pretty punch bowl, you can have a few slices of grapefruit and oranges floating in the bowl, too.
More Mocktail Ideas
Mock Moscow Mule. Add the juice of half a lime into a glass of iced ginger beer. Instead of using vodka, you can dilute it with a splash of sparkling water for extra bubbles, and serve it in copper mugs for an authentic look.
Mock Margarita. Combine a 1/4 cup orange juice with 2 tablespoons each of lemon juice and lime juice. Serve over ice, with a splash of sparkling water if you'd like a bubbly drink. You can sweeten with agave nectar or maple syrup, to taste.
Virgin Piña Colada. Mix equal parts pineapple juice and coconut milk, then blend it with frozen pineapple, for a creamy frozen drink.
Apple Cider Mocktail. Mix equal parts apple cider with ginger beer, for a festive holiday cocktail. You can top this off with a floating star anise, to make it look pretty and add an extra hint of spice.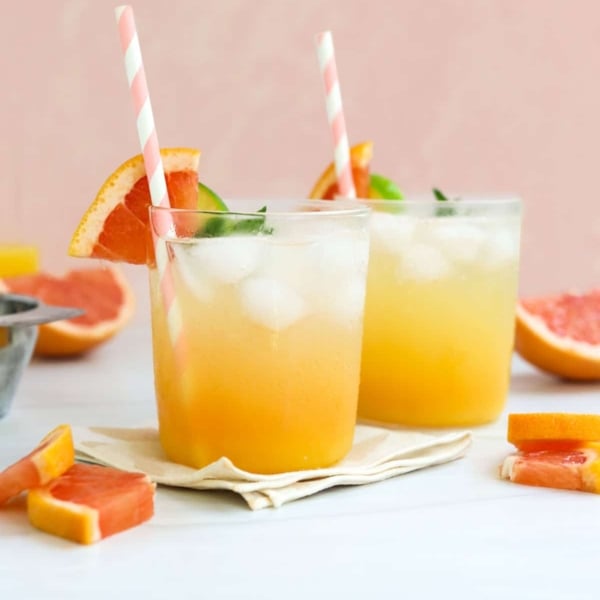 Easy Mocktail Recipe
This mocktail recipe calls for just 3 ingredients, for a refreshing summer drink! It tastes like a cocktail, without using alcohol.
Ingredients
1/2

cup

orange juice

1/2

cup

grapefruit juice

1/2

cup

sparkling water
Instructions
If you're juicing your own grapefruit and oranges to make this drink, be sure to use a juicer that will catch the pulp, so it won't go into the final drink. (Grapefruit is quite pulpy!)

Fill two 12-ounce glasses with ice, and add a 1/4 cup of orange juice, a 1/4 cup of grapefruit juice, and a 1/4 cup of sparkling water to each glass. Garnish with extra slices of grapefruit, or a slice of lime, to complete the drink. Serve right away for the best flavor; the ice will start to dilute the sweetness as it melts.
Notes
Nutrition information is for 1 of 2 drinks. This information is automatically calculated, and is just an estimate, not a guarantee.
To make a larger batch of this drink for a party, please see the tips in the post above!
Nutrition
Calories:
55
kcal
,
Carbohydrates:
13
g
,
Protein:
1
g
,
Fat:
1
g
,
Saturated Fat:
1
g
,
Polyunsaturated Fat:
1
g
,
Monounsaturated Fat:
1
g
,
Sodium:
14
mg
,
Potassium:
221
mg
,
Fiber:
1
g
,
Sugar:
12
g
,
Vitamin A:
128
IU
,
Vitamin C:
47
mg
,
Calcium:
14
mg
,
Iron:
1
mg
If you try this easy mocktail recipe, please leave a comment and star rating below letting me know how you like it.